News
USA Wrestling
High School & Youth
Women
USAW
Five repeat as Junior Women's Nationals champions, Illinois wins team title
by Gary Abbott, USA Wrestling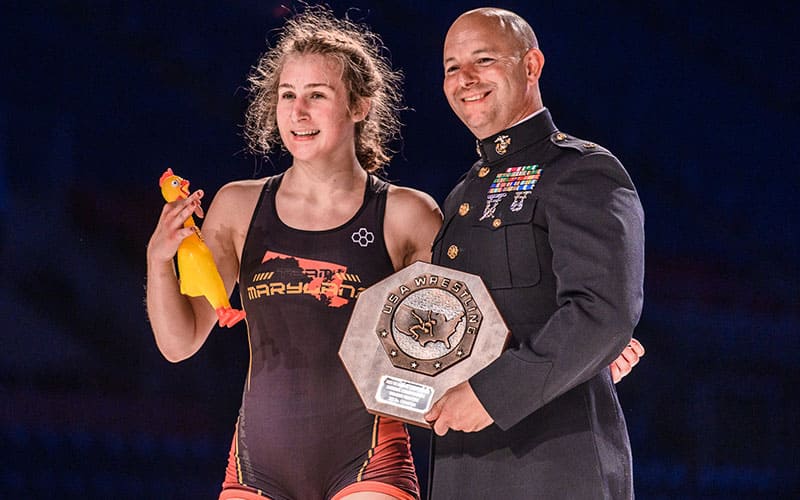 Nebi Tsarni of Maryland, the 144-pound champion, was named Outstanding Wrestler in the Women's Junior Nationals. Photo by Tony Rotundo, Wrestlers Are Warriors
.
FARGO, N.D. - It was a great year for returning champions at the 2023
USMC Junior Women's Nationals
, as five of the 2022 national champions returned to take home another stop sign trophy.
Winning their second straight Junior National titles were
Clare Booe
of Florida (112),
Alexandra Szkotnicki
of Maryland (112),
Cadence Diduch
of Illinois (138),
Sabrina Nauss
of Michigan (180) and
Savannah Isaac
of Ohio (200).
Booe was the first returning champion to earn a repeat at 106 pounds, with a pin over South Carolina star Zao Estrada in 2:52. Booe jumped to a 4-0 lead, but Estrada battled back to close it to 4-3. Booe ran her lead to 10-3, only to see Estrada score again. Booe got Estrada on her back to close it out with the pin.
Szkotnicki claimed her second straight Junior title with an exciting 12-6 win over Calli Gilchrist of Connecticut. Although Gilchrist scored the first takedown, Szotnicki got it rolling to lead 8-2 at the break. Gilchrist made a second period charge to trail by just two points, but Szkotnicki scored two takedowns to close out the win.
Diduch opened up her offense with a dominant 10-0 technical fall victory over Lilly Luft of Iowa in the first period. She opened with a four-point takedown, added a takedown and turn then finished it with another takedown.
Nauss, who has dominated her weight class at both the 16U and Junior levels, repeated at the Junior level with a pin in just 1:36 over Cheyenne Ruiz of Utah. Nauss aggressively goes for the pin in her matches, and was able to get Ruiz to her back for the fall.
Isaac was also on fire in her finals, blitzing Tirza Twoteeth of Montana with a 10-0 technical fall in 1:14. After a takedown, Isaac turned Twoteeth with an ankle lace, then switched to a gut wrench to finish the match with turns.
Led by one champion (Diduch), three runners-up and nine All-Americans,
Illinois
claimed the team title with 151 points, followed by California with 102 points and Michigan with 86 points.
Nebi Tsarni of Maryland was named Outstanding Wrestler after she knocked off returning Junior Nationals champion Sydney Perry of Illinois in a wild, back-and-forth battle at 144 pounds, 12-10. With the score tied at 10-10, Tsarni scored a takedown in the closing seconds to capture an intense match. Tsarni was a 2022 16U Nationals champion.
In a wide-open match at 100 pounds, Gabriele Tedesco of Florida won all the key positions to defeat Val Solorio of Pennsylvania in an 11-0 technical fall. Tedesco scored takedowns, turns and a big throw to lead 9-0 at the break, and closed it out with a takedown in the second period. Solorio competed for Florida earlier in her career.
Heather Crull of Indiana, who qualified for the U17 World Team earlier this year, added a Junior Nationals title with a rapid 51 second pin over Harlee Hiller of Illinois. Hiller scored first, but Crull got a reversal, and was able to turn Hiller and finish off the pin.
At 122 pounds, 2022 Junior Nationals runner-up Aubre Krazer of Pennsylvania controlled her match and moved up to the top of the podium this year with a 5-1 win over Lexie Lopez of Colorado. Krazer scored a pair of two pointers in the second period to open up the bout.
Jaclyn Dehney, a New Hampshire native who wrestles for Team Massachusetts, closed out her Junior career with an impressive 9-4 victory over 2022 Junior Nationals runner-up Emily Sindoni of New York, 9-4. Dehney's strong first period, where she scored six of her points, did not allow Sindoni a chance to make a comeback.
Kaidence Gerg of Idaho showed an explosive offense in her 13-1 technical fall over Netavia Wickson of Illinois in the 138 pound finals. Gerg scored from a number of positions to win her first USA Wrestling stop sign trophy.
Talented Eduarda Rodrigues of California won an entertaining 13-8 finals at 152 pounds over 2022 Junior Nationals runner-up Stella Steigler of Virginia. Rodriguez took a big early lead, only to see Steigler close the gap to one point. Rodriguez scored in clutch situations late in the match.
Naomi Simon of Iowa was dominant during her 13-0 technical fall win over Alexandra Hofrichter of Wisconsin at 164 pounds. Simon powered to an 8-0 lead at the break, and added more in the second period.
In a battle of Californians at 225 pounds, Alysse Phillips drove Gemma Templeman to her back for a pin in 1:04 in the final match of the evening.
USMC Junior Women's Nationals
At Fargo, N.D., July 18
100 pounds
1st - Gabriele Tedesco (Florida) tech fall Valarie Solorio (Pennsylvania), 11-0 3:35
3rd - Katey Valdez (Colorado) tech. fall Mia Zuniga (Washington), 12-2 2:47
5th - Makenize Smith (Indiana) tech. fall Emaline Hicks (Michigan), 11-0 0:49
7th - Tristan Nitta (Hawaii) tech. fall Lauren Nguyen (California), 15-4 5:06
106 pounds
1st - Heather Crull (Indiana) pin Harlee Hiller (Illinois), 0:51
3rd - Chloe Dearwester (Ohio) dec. Alexsys Jacquez (Colorado), 9-6
5th - Lexia Schechterly (Pennsylvania) dec. Aroma Marrufo (Missouri), 12-4
7th - Aspen Blasko (Minnesota) tech. fall Rylee Balcazar (Colorado), 10-0 1:45
112 pounds
1st - Clare Booe (Florida) pin Zao Estrada (South Carolina), 2:52
3rd - Gabriella Gomez (Illinois) tech. fall Lindsey Lopez (Colorado), 13-2 5:39
5th - Janessa George (Colorado) dec. Gigi Bragg (Michigan), 12-3
7th - Diana Gonzalez (California) tech. fall Shayna Ward (California), 10-0 0:50
117 pounds
1st - Alexandra Szkotnicki (Maryland) dec. Calli Gilchrist (Connecticut), 12-6
3rd - Angelina Vargas (Missouri) pin Angelina Cassioppi (Illinois), 5:37
5th - Eden Hernandez (California) tech. fall Fernanda Lopez (Texas), 11-1 5:48
7th - Ava Rose (New Jersey) injury forfeit Emma Albanese (Nevada)
122 pounds
1st - Aubre Krazer (Pennsylvania) dec. Lexie Lopez (Colorado), 5-1
3rd - Olivia Moreno (Texas) tech. fall Rose Kaplan (Indiana), 10-0 1:02
5th - Milana Borrelli (Florida) tech. fall Kira Pipkins (New Jersey), 10-0 2:09
7th - Cali Leng (Ohio) pin Savannah Witt (Pennsylvania), 1:51
127 pounds
1st - Jaclyn Dehney (Massachusetts) dec. Emily Sindoni (New York), 9-4
3rd - Kylie Rule (Wisconsin) tech. fall Tyler Swanigan (Michigan), 12-1 1:19
5th - Eliana White-Vega (Pennsylvania) pin Ragan Retell (New York), 5:14
7th - Kayla Edwards (California) dec. Aubrianna Smith (Oklahoma), 22-18
132 pounds
1st - Cadence Diduch (Illinois) tech. fall Lilly Luft (Iowa), 10-0, 2:12
3rd - Hanna Errthum (Wisconsin) tech. fall Emily Frost (New York), 11-0 1:34
5th - Anna Vogt (Texas) pin Janiah Jones (Missouri), 4:12
7th - Taylor Graveman (South Dakota) tech. fall Kayla Vazquez (New Jersey), 10-0 0:24
138 pounds
1st - Kaidance Gerg (Idaho) tech fall Netavia Wickson (Illinois), 13-1 3:00
3rd - Alondra Morales (Washington) dec. Alissa Caltagirone (Michigan), 12-4
5th - Allyssa Johnson (North Dakota) pin Bridgette Sotomayor (Arizona), 3:26
7th - Gretchen Donally (Montana) pin Faith Bartoszek (Wisconsin), 1:58
144 pounds
1st - Nebi Tsarni (Maryland) dec. Sydney Perry (Illinois), 12-10
3rd - May Cuyler (Virginia) pin Sevreign Aumua (Missouri), 1:51
5th - Skylar Little Soldier (Minnesota) tech. fall Ryen Allen (Michigan), 10-0 4:47
7th - Brenya Crahan (Missouri) dec. Clare Waite (Idaho), 7-6
152 pounds
1st -. Eduarda Rodrigues (California) dec. Stella Steigler (Virginia), 13-8
3rd - Ruby Rios (Washington) pin Lizzie Shunn (Utah), 1:08
5th - Mishell Rebisch (Michigan) dec. Adriana Palumbo (New York), 9-1
7th - Zoey Lints (New York) pin Kaiulani Garcia (California), 1:03
164 pounds
1st - Naomi Simon (Iowa) vs. Alexandra Hofrichter (Wisconsin), 13-0, 5:15
3rd - Ella Pagel (Minnesota) tech. fall Ugochi Anunobi (Maryland), 12-2 2:02
5th - Rachel Schauer (Wisconsin) forfeit Amarisa Manuel (Michigan), 0-0
7th - Madeline Hodges (Texas) dec. Kylee Lindsley (Montana), 10-4
180 pounds
1st - Sabrina Nauss (Michigan) pin Cheyenne Ruiz (Utah), 1:36
3rd - Kami Senlycki (Minnesota) dec. Isabella Renfro (Missouri), 7-6
5th - Bella Porcelli (Iowa) pin Isabella Phillips (Washington), 0:58
7th - Alivia White (Washington) pin Maria Aiono (Nevada), 0:54
200 pounds
1st - Savannah Isaac (Ohio) tech. fall 2Tirza Twoteeth (Montana), 10-0, 1:14
3rd - Kiara Ganey (Illinois) tech. fall Tilisa Matakaiongo (Utah), 11-0 5:46
5th - Mariyah Brumley (Missouri) pin Zoe Adam (South Dakota), 1:41
7th - Maggie Smith (Wyoming) pin Cheyenne Cruce (Florida), 4:06
225 pounds
1st - Alysse Phillips (California) pin Gemma Templeman (California), 1:04
3rd - Chloe Hoselton (Illinois) dec. Brenda Banks (Pennsylvania), 10-10
5th - Aaliyah Grandberry (Illinois) pin Fernanda Canedo (California), 1:32
7th - Ariana Chavez (Texas) injury forfiet Kaylie Musard (Maryland)
Team Standings
1 Illinois 151
2 California 102
3 Michigan 86
4 Pennsylvania 77
5 Colorado 70
6 Missouri 67
7 Maryland 64
8 (tie) Florida, Wisconsin 61
10 (tie) Iowa, Washington 54
12 New York 51
13 Indiana 46
14 Ohio 45
15 (tie) Minnesota, Utah 44
17 Texas 41
18 Virginia 35
19 Idaho, Montana 27
21 Massachusetts 25
22 Connecticut, South Carolina 20
24 New Jersey 14
25 South Dakota 12
26 North Dakota 9
27 Arizona 7 - -
28 (tie) Hawaii, Wyoming 5
30 Nevada 4
31 Oklahoma 2