News
USA Wrestling
High School & Youth
Women
USAW
Seven returning champions were dominant in session one at USMC Junior Women's Nationals in Fargo
by Gary Abbott, USA Wrestling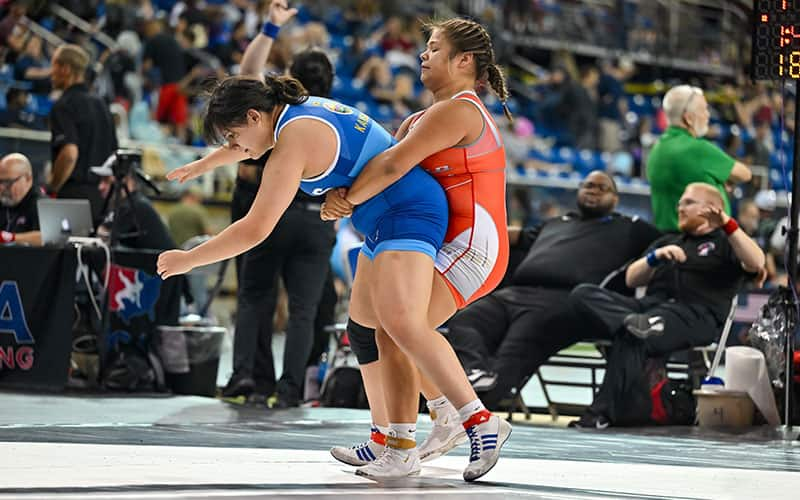 Sabrina Nauss (MI) locks up Karla Martinez (KS) in the first session of the USMC Junior Women's Nationals at 220 pounds. Photo by Jim Thrall, Mat Focus.
FARGO, N.D. – The
2023 USMC Junior Nationals
in women's freestyle had an impressive start on Saturday morning, with high-level action from the opening whistle in the
FargoDome
All seven returning Junior Nationals champions were unbeaten in the first session, including
Clare Booe
of Florida (112),
Alexandra Szkotnicki
of Maryland (112),
Cadence Diduch
of Illinois (138),
Sydney Perry
of Illinois (144),
Mishell Rebisch
of Michigan (152),
Sabrina Nauss
of Michigan (180) and
Savannah Isaac
of Ohio (200). These returning champions were a combined 12-0, with all of their victories by either pin or technical fall.
The Women's Junior Nationals featured 853 entries, and when combined with the 16U Women's Nationals, consisted of 48 states and one U.S. territory. Combined, 1,593 women were in competition on the 30 mats in the FargoDome today. There will be 3,130 matches over the two days in the women's divisions.
The one athlete coming into the Junior Nationals who is eligible for the Junior Women's Triple Crown is
Tilisa Matakaiongo
of Utah at 200 pounds. Earlier this season, Matakaiongo won the Junior Girls Folkstyle Nationals and the National High School Recruiting Showcase. She can became the first ever Junior Women's Triple Crown winner with a gold medal tomorrow night. In the first session, Matakaiongo pinned her first opponent. She will face Zoe Waters of Massachusetts in the next round.
In addition, the six returning Junior Nationals runners-up competing in the Junior division were also without a loss:
Aspen Blasko
of Minnesota (106),
Aubre Krazer
of Pennsylvania (122),
Skylar Little Soldier
of Minnesota (144),
Stella Steigler
of Virginia (152),
Ella Pagel
of Minnesota (164) and
Alivia White
of Washington (180)
There were some early matches which nationally ranked athlete was defeated, or a pair of ranked wrestlers battled. A few included:
• #12 Chloe Dearwester (OH) pin #24 Jayleah Pletz (PA), 3:40 at 106 pounds
• #9 Ashley Naranjo (WA) dec. #17 Sky Langewicz (MI), 6-5 at 112 pounds
• Unranked Elizabeth Rosenstiel (AL) pin #18 Skyla Zimmerman (ID), 4:40 at 117 pounds
• #17 Emily Pedro (TX) dec. #23 Nicole Redmond (KS), 18-8 at 127 pounds
• Unranked Tyler Swanigan (MI) pin #16 Karianne Baldwin (WA), 4:15 at 127 pounds
• Unranked Kennedy Hsu (NV) pin #24 Cassia Zammit (OH), 4:12 at 127 pounds
• #30 Gabriel Perez (FL) tech fall #21 Gianna DiBenedetto (CA), 12-2 at 138 pounds
• Unranked Kiernan Farmer (IL) dec. #22 Kaiulani Garcia (CA), 8-4 at 152 pounds
• Unranked EmmaLee Spurgeon (IA) dec. #21 Mikayla Lancaster (CA), 10-4 at 164 pounds
• Unranked Abigail Chandler (MO) pin #22 Kiona Michel (WA), 4:50 at 200 pounds
• Unranked Sophia Hejnal (CA) dec. No. 14 Margaret Buurma (MI), 10-7 at 132 pounds
• #16 Isabella Phillips (WA) dec. #14 Ella Murphey (TN) at 180 pounds
There are five National Girls High School Pound-For-Pound ranked wrestlers in the Junior draw, all who moved forward without a loss. No. 4 Nauss, No. 9 Szkotnicki, No. 10 Isaac, No. 21
Eduarda Rodrigues
of California and No. 24 White.
Although no teams have scored any points yet, a number have pushed a large group of wrestlers into the championship round of 16. This includes California with 20, Missouri with 15, Illinois with 13, Michigan with 13, New York with 12, Iowa with 11 and Washington with 11.
The second session, which will advance through the quarterfinals, will begin at 4:00 p.m. Central Time.
Enjoy all of the action
live on FloWrestling