News
USA Wrestling
International
USAW
UWW releases Greco-Roman seeds for 2022 Senior World Championships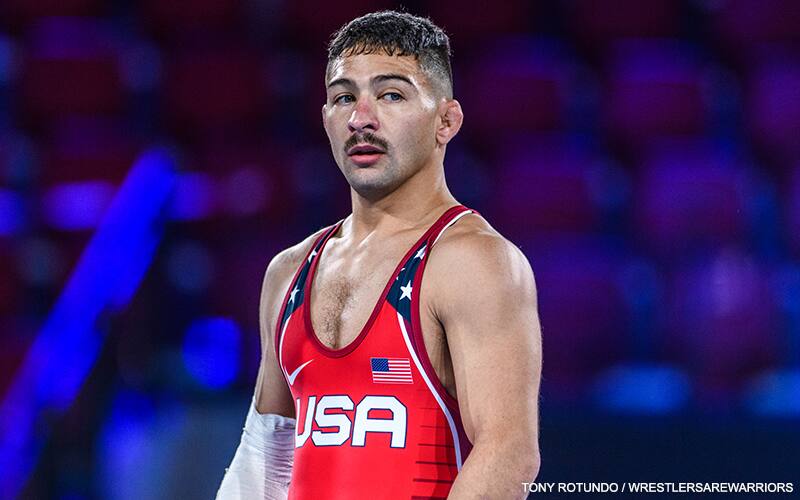 Photo of Max Nowry by Tony Rotundo, WrestlersAreWarriors.com.
United World Wrestling released the top-eight seeds in Greco-Roman for the 2022 Senior World Championships, set for Belgrade, Serbia, September 10-18.

The United States earned one seed in the field, Max Nowry, who is No. 4 at 55 kg.

Check out the men's freestyle seeds and women's freestyle seeds, which were released earlier this week.
Overall, the USA holds 15 top-eight seeds going into Belgrade, including seven in men's freestyle, seven in women's freestyle and Nowry in Greco-Roman.
For a complete review of the seeds and potential matchups in each weight class, check out this outstanding story by Eric Olanowski of United World Wrestling.
55 kg
No. 1 Eldaniz AZIZLI (AZE)
No. 2 Nugzari TSURTSUMIA (GEO)
No. 3 Ekrem OZTURK (TUR)
No. 4 Max NOWRY (USA)
No. 5 Fabian SCHMITT (GER)
No. 6 Amangali BEKBOLATOV (KAZ)
No. 7 Jasurbek ORTIKBOEV (UZB)
No. 8 Koriun SAHRADIAN (UKR)
60 kg
No. 1 Zholaman SHARSHENBEKOV (KGZ)
No. 2 Murad MAMMADOV (AZE)
No. 3 Kenichiro FUMITA (JPN)
No. 4 Gevorg GHARIBYAN (ARM)
No. 5 GYANENDER (IND)
No. 6 Kerem KAMAL (TUR)
No. 7 Haithem MAHMOUD (EGY)
No. 8 Helary MAEGISALU (EST)
63 kg
No. 1 Leri ABULADZE (GEO)
No. 2 Taleh MAMMADOV (AZE)
No. 3 Erik TORBA (HUN)
No. 4 Victor CIOBANU (MDA)
No. 5 Ahmet UYAR (TUR)
No. 6 Hrachya POGHOSYAN (ARM)
No. 7 NEERAJ (IND)
No. 8 Tynar SHARSHENBEKOV (KGZ)
67 kg
No. 1 Mohammadreza GERAEI (IRI)
No. 2 Murat FIRAT (TUR)
No. 3 Hasrat JAFAROV (AZE)
No. 4 Mohamed ELSAYED (EGY)
No. 5 Morten THORESEN (NOR)
No. 6 Mateusz BERNATEK (POL)
No. 7 Hansu RYU (KOR)
No. 8 Witalis LAZOVSKI (GER)
72 kg
No. 1 Kristupas SLEIVA (LTU)
No. 2 Ulvu GANIZADE (AZE)
No. 3 Gevorg SAHAKYAN (POL)
No. 4 Mohammad Reza MOKHTARI (IRI)
No. 5 Valentin PETIC (MDA)
No. 6 Selcuk CAN (TUR)
No. 7 Deyvid DIMITROV (BUL)
No. 8 Robert FRITSCH (HUN)
77 kg
No. 1 Sanan SULEYMANOV (AZE)
No. 2 Mohammadali GERAEI (IRI)
No. 3 Akzhol MAKHMUDOV (KGZ)
No. 4 Viktor NEMES (SRB)
No. 5 Shohei YABIKU (JPN)
No. 6 Yunus BASAR (TUR)
No. 7 Yosvanys PENA FLORES (CUB)
No. 8 Aik MNATSAKANIAN (BUL)
82 kg
No. 1 Rafig HUSEYNOV (AZE)
No. 2 Burhan AKBUDAK (TUR)
No. 3 Pejman POSHTAM (IRI)
No. 4 Mihail BRADU (MDA)
No. 5 Ranet KALJOLA (EST)
No. 6 Harpreet SINGH (IND)
No. 7 Gela BOLKVADZE (GEO)
No. 8 Dias KALEN (KAZ)
87 kg
No. 1 Zurabi DATUNASHVILI (SRB)
No. 2 Turpal BISULTANOV (DEN)
No. 3 Bachir SID AZARA (ALG)
No. 4 Islam ABBASOV (AZE)
No. 5 Nursultan TURSYNOV (KAZ)
No. 6 Mohamed METWALLY (EGY)
No. 7 Sunil KUMAR (IND)
No. 8 Atabek AZISBEKOV (KGZ)
97 kg
No. 1 Mohammadhadi SARAVI (IRI)
No. 2 Alex SZOKE (HUN)
No. 3 Kiril MILOV (BUL)
No. 4 Artur ALEKSANYAN (ARM)
No. 5 Tadeusz MICHALIK (POL)
No. 6 Nikoloz KAKHELASHVILI (ITA)
No. 7 Vilius LAURINAITIS (LTU)
No. 8 Mihail KAJAIA (SRB)
130 kg
No. 1 Iakobi KAJAIA (GEO)
No. 2 Riza KAYAALP (TUR)
No. 3 Yasmani ACOSTA (CHI)
No. 4 Mantas KNYSTAUTAS (LTU)
No. 5 Oskar MARVIK (NOR)
No. 6 Alin ALEXUC CIURARIU (ROU)
No. 7 Amin MIRZAZADEH (IRI)
No. 8 Abdellatif MOHAMED (EGY)