News
USA Wrestling
International
USAW
UWW releases women's freestyle seeds for 2022 Senior World Championships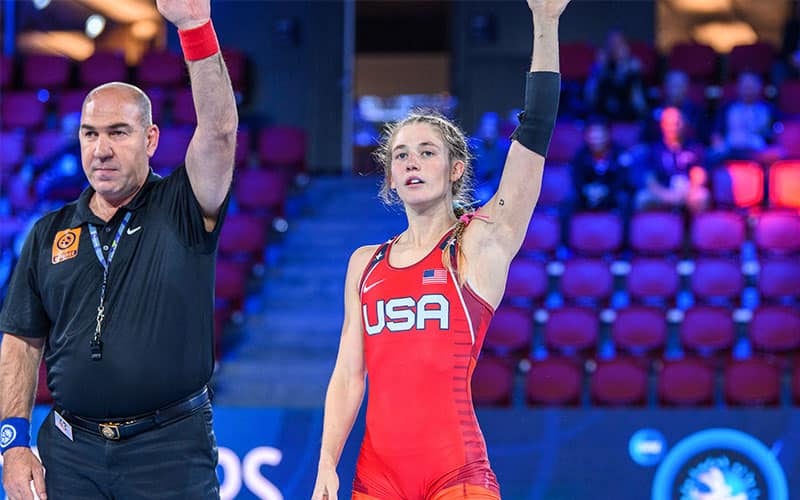 United World Wrestling released the top-eight seeds in women's freestyle for the 2022 Senior World Championships, set for Belgrade, Serbia, September 10-18.

The United States qualified for two No. 1 seeds: Sarah Hildebrandt (50 kg) and Helen Maroulis (57 kg). Maroulis was a 2021 World champion and Hildebrandt won silver in Oslo. Both athletes also claimed bronze medals at the Tokyo Olympics.

Five other U.S. women's freestyle athletes earned seeds. World and Olympic champion Tamyra Mensah Stock earned the No. 2 seed at 68 kg, and 2021 World silver medalist Kayla Miracle comes in at No. 3 at 62 kg. Jacarra Winchester, a 2019 World champion, takes the No. 4 seed at 55 kg, followed by Dom Parrish at No. 7 at 53 kg and 2018 World bronze medalist Mallory Velte at No. 8 at 65 kg.

Greco-Roman seeds will be released later this week. Check out the men's freestyle seeds, which were released Monday.

For a complete review of the seeds and potential matchups in each weight class, check out this outstanding story by Eric Olanowski of United World Wrestling.
50 kg seeds:
No. 1 Sarah HILDEBRANDT (USA)
No. 2 Yui SUSAKI (JPN)

No. 3 Miglena SELISHKA (BUL)

No. 4 Emilia VUC (ROU)

No. 5 Otgonjargal DOLGORJAV (MGL)

No. 6 Madison PARKS (CAN)

No. 7 Mariya STADNIK (AZE)

No. 8 Evin DEMIRHAN (TUR)
53 kg seeds:

No. 1 Akari FUJINAMI (JPN)

No. 2 Iulia LEORDA (MDA)

No. 3 Samantha STEWART (CAN)

No. 4 Katarzyna KRAWCZYK (POL)

No. 5 Emma MALMGREN (SWE)

No. 6 Zeynep YETGIL (TUR)
No. 7 Dominique PARRISH (USA)
No. 8 Maria PREVOLARAKI (GRE)
55 kg seeds

No. 1 Nina HEMMER (GER)

No. 2 Oleksandra KHOMENETS (UKR)

No. 3 Andreea ANA (ROU)
No. 4 Jacarra WINCHESTER (USA)
No. 5 Roksana ZASINA (POL)

No. 6 Karla GODINEZ GONZALEZ (CAN)

No. 7 Sushma SHOKEEN (IND)

No. 8 Marina SEDNEVA (KAZ)
57 kg seeds:
No. 1 Helen MAROULIS (USA)
No. 2 Evelina NIKOLOVA (BUL)

No. 3 Giullia RODRIGUES PENALBER DE OLIVEIRA (BRA)

No. 4 Alma VALENCIA ESCOTO (MEX)

No. 5 Sandra PARUSZEWSKI (GER)

No. 6 Mansi MANSI (IND)

No. 7 Alina HRUSHYNA AKOBIIA (UKR)

No. 8 Anhelina LYSAK (POL)
59 kg seeds:

No. 1 Sarita SARITA (IND)

No. 2 Shoovdor BAATARJAV (MGL)

No. 3 Jowita WRZESIEN (POL)

No. 4 Alyona KOLESNIK (AZE)

No. 5 Anastasia NICHITA (MDA)

No. 6 Grace BULLEN (NOR)

No. 7 Diana KAYUMOVA (KAZ)

No. 8 Elena BRUGGER (GER)
62 kg seeds:

No. 1 Aisuluu TYNYBEKOVA (KGZ)

No. 2 Lais NUNES (BRA)
No. 3 Kayla MIRACLE (USA)
No. 4 Nonoka OZAKI (JPN)

No. 5 Ilona PROKOPEVNIUK (UKR)

No. 6 Marwa AMRI (TUN)

No. 7 Ana Paula GODINEZ GONZALEZ (CAN)

No. 8 Luisa NIEMESCH (GER)
65 kg seeds:

No. 1 Miwa MORIKAWA (JPN)

No. 2 Elis MANOLOVA (AZE)

No. 3 Kriszta INCZE (ROU)

No. 4 Mimi HRISTOVA (BUL)

No. 5 Tetiana RIZHKO (UKR)

No. 6 Koumba LARROQUE (FRA)

No. 7 Asli DEMIR (TUR)
No. 8 Mallory VELTE (USA)
68 kg seeds:

No. 1 Meerim ZHUMANAZAROVA (KGZ)
No. 2 Tamyra MENSAH STOCK (USA)
No. 3 Blessing OBORUDUDU (NGR)

No. 4 Adela HANZLICKOVA (CZE)

No. 5 Natalia STRZALKA (POL)

No. 6 Irina RINGACI (MDA)

No. 7 ZHOU Feng (CHN)

No. 8 Pauline LECARPENTIER (FRA)
72 kg seeds:

No. 1 Zhamila BAKBERGENOVA (KAZ)

No. 2 Buse CAVUSOGLU TOSUN (TUR)

No. 3 Masako FURUICHI (JPN)

No. 4 Davaanasan ENKH AMAR (MGL)

No. 5 Alexandra ANGHEL (ROU)

No. 6 Bipasha BIPASHA (IND)

No. 7 Kendra DACHER (FRA)

No. 8 Anastasiya ALPYEYEVA (UKR)
76 kg seeds:

No. 1 Aiperi MEDET KYZY (KGZ)

No. 2 Samar HAMZA (EGY)

No. 3 Epp MAEE (EST)

No. 4 Yasemin ADAR (TUR)

No. 5 Francy RAEDELT (GER)

No. 6 Anastasiia OSNIACH SHUSTOVA (UKR)

No. 7 Martina KUENZ (AUT)

No. 8 Catalina AXENTE (ROU)