News
USA Wrestling
International
High School & Youth
USAW
Attao to wrestle for bronze, Jacobson pulled into repechage at U20 Worlds
by Taylor Gregorio, USA Wrestling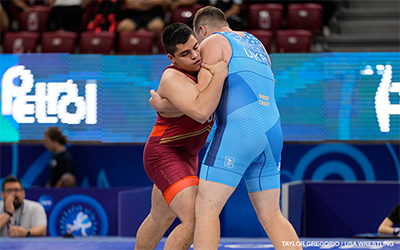 Photo of Aden Attao by Taylor Gregorio, USA Wrestling.
SOFIA, Bulgaria – Aden Attao will wrestle for bronze at the U20 World Championships after falling short in the 130 kg semifinals on Friday in Sofia, Bulgaria.
Medal matches are set for Saturday at 6 p.m. local time (11 a.m. U.S. ET) live on
FloWrestling
.
MORNING SESSION RECAP
Reigning U20 European champion Mykhailo Vyshnyvetskyi of Ukraine used a series of throws to defeat Attao, 10-0. Tomorrow, Attao will face the winner of Junho Park of Korea, who was fourth at the 2022 U20 Asian Championships, and Fekry Eissa of Egypt, a two-time age-group African champion.
Payton Jacobson was pulled into repechage at 77 kg. Jacobson will need to win two matches to advance to the bronze match. First, Jacobson will face U20 Pan Am bronze medalist Diego Macias Torres of Mexico. Should he win that bout, he will take on U23 European champion Khasay Hasanli of Azerbaijan. Waiting in the bronze bout will be Alexandrin Gutu of Moldova, who won bronze at the 2021 U20 Worlds.
The other three Greco-Roman athletes that represented the USA today were eliminated, including Jonathan Gurule (55 kg), Haiden Drury (63kg) and Kodiak Stephens (87 kg).
The tournament continues Saturday with Greco-Roman action at 11 a.m. local time (4 a.m. ET). Semifinals are set for 4:45 pm (9:45 a.m. ET), followed by medal matches at 6 p.m. (11 a.m. ET). Fans can watch all the action live on
FloWrestling
and get live updates on Twitter
@USAWrestling
.
U20 WORLD CHAMPIONSHIPS

Aug. 15-21, 2022 | Sofia, BulgariaU.S. Greco-Roman results
55 kg – Jonathan Gurule (Peralta, N.M./NMU-NTC) – eliminated
LOSS Nuristan Suiorkulov (Kyrgyzstan), 7-2
63 kg – Haiden Drury (Yakima, Wash./Brunson UVRTC) – eliminated
WIN Ziya Babashov (Azerbaijan), 8-0
77 kg – Payton Jacobson (Elkhorn, Wisc./Sunkist Kids/NMU-NTC) – REPECHAGE
LOSS Yuksel Saricicek (Turkey), 9-1
Vs. Diego Yael Macias Torres (Mexico)
87 kg – Kodiak Stephens (Arnold, Calif./Beaver Dam RTC) – eliminated
WIN Surjeet Singh (India), 8-0
LOSS Robin Uspenski (Estonia), 2-1
130 kg – Aden Attao (Boise, Idaho/Suples WC) – BRONZE MATCH
WIN Parvesh Parvesh (India), 12-4
WIN Adolf Bazso (Hungary), fall 3:00
LOSS Mykhailo Vyshnyvetskyi (Ukraine), 10-0


Schedule (local time 7 hours ahead of U.S. ET)

Saturday, Aug. 20
11 a.m. – Qualification rounds (GR 60, 67, 72, 82, 97 kg)
11 a.m. – Repechage (GR 55, 63, 77, 87, 130 kg)
4:45 p.m. – Semifinals (GR 60, 67, 72, 82, 97 kg)
6 p.m. – Medal matches (GR 55, 63, 77, 87, 130 kg)


Sunday, Aug. 21
4 p.m. – Repechage (GR 60, 67, 72, 82, 97 kg)
6 p.m. – Medal matches (GR 60, 67, 72, 82, 97 kg)