News
USA Wrestling
International
High School & Youth
USAW
Attao into Greco-Roman semis, five U.S. women to wrestle for medals on Friday at U20 Worlds
by Taylor Gregorio, USA Wrestling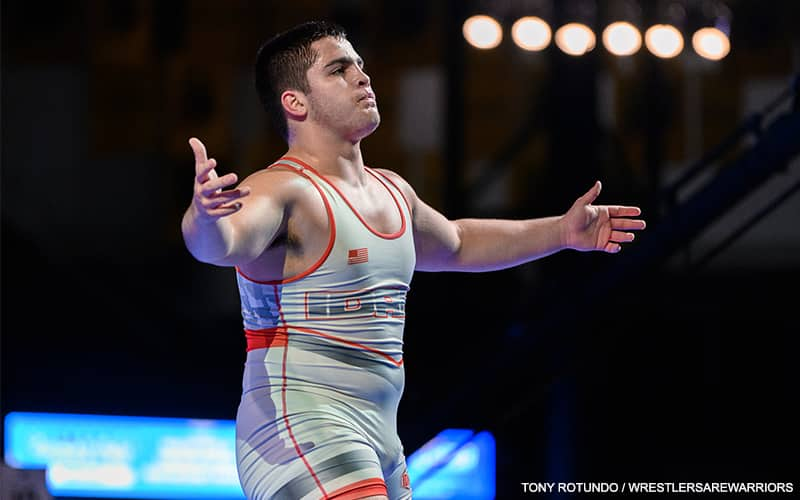 Photo of Aden Attao by Tony Rotundo, WrestlersAreWarriors.com
SOFIA, Bulgaria – Aden Attao earned two huge wins on Friday morning to move on to the U20 World semifinals at 130 kg in Greco-Roman in Sofia, Bulgaria. The U.S. also advanced three women's freestylers to medal matches.
The semifinals will take place Friday at 4:45 p.m. local time (9:45 a.m. ET) followed by medal matches at 6 p.m. (11 a.m. ET) live on FloWrestling.
Greco-Roman
Aden Attao, fresh off a Triple Crown-winning summer, started his World Championships debut in impressive fashion. To open the tournament, Attao scored two headlocks and an arm spin for a 12-4 tech fall against Pravesh of India. In the quarterfinals, he trailed 2019 U17 World bronze medalist Adolf Bazso from Hungary, 8-2. With 10 seconds remaining in the period, Attao picked up four on a body lock and stuck the Hungarian at the first-period buzzer to secure his spot in the semis.
Later today, he will face Ukraine's Mykhailo Vyshnyvetskyi, this year's U20 European champion.
Two U.S. Greco-Roman wrestlers hoped to be pulled into repechage.
At 55 kg, Jonathan Gurule dropped a 7-2 match to 2019 U17 World champion Nuristan Suiorkulov of Kyrgyzstan, who is in the semifinals.
Payton Jacobson is still alive after U20 European bronze medalist Yuksel Saricicek of Turkey, who beat the American in the first round, 9-1, made it to the semifinals.
At 87 kg, two-time U20 World Team member Kodiak Stephens won his first match over Surjeet Singh of India, 8-0, before falling to Estonia's Robin Uspenski, 2-1. Uspenski lost in the quarterfinals, eliminating Stephens from competition.
Competing at 63 kg, U20 Pan Am champion Haiden Drury fell in his opening match to 2019 U17 World silver medalist Ziya Babashov from Azerbaijan, who lost by fall in the quarterfinals, eliminating Drury.
Women's freestyle

All five of USA's women's freestylers are wrestling for medals on Friday.
Three Americans competed in this morning's repechage and won their matches, sending them to their respective bronze-medal bouts tonight.
2021 U17 World champion Katie Gomez faced Nazife Tair from Bulgaria, who was fifth at the 2022 U20 European Championships. Gomez raced out to a 6-0 lead with a takedown and two turns. She finished off the match with a reversal and three laces for 13-2 tech fall.
For 53 kg bronze, Gomez will face 2022 U20 African champion and Senior African bronze medalist Shaimaa Mohamed of Egypt.
At 65 kg, Reese Larramendy avenged her 2019 U15 World finals loss, edging out Enikoe Elekes of Hungary, 10-9, in repechage. Larramendy had a four-point chest wrap that propelled her to a 10-5 lead and she held off a comeback bid by Elekes to win the bout.
For bronze, Larramendy will go up against five-time age-group African champion Khadija Jlassi of Tunisia.
International newcomer Adaugo Nwachukwu competed at 62 kg, where she needed only 1:30 to pin 2022 U20 Asian silver medalist Tynys Dubek from Kazakhstan.
For bronze, Nwachukwu will take on this year's U23 Asian runner-up Bermet Nuridin Kyzy of Kyrgyzstan.
Also wrestling for medals today are Sofia Macaluso (57 kg) and Amit Elor (72 kg) who are in the finals.
Semifinals begins at 4:45 p.m. local time (9:45 a.m. ET) followed by medal matches at 6 p.m. (11 a.m. ET) live on FloWrestling. Follow along for live updates on Twitter @USAWrestling.
For more information on the U20 World Championships, visit USA Wrestling's Special Section.
U20 WORLD CHAMPIONSHIPS

Aug. 15-21, 2022 | Sofia, Bulgaria
U.S. women's freestyle results
53 kg – Katie Gomez (Van Nuys, Calif./Sunkist Kids) – BRONZE MATCH

WIN Emine Cakmak (Turkey), 10-0

LOSS Altyn Shagayeva (Kazakhstan), fall 4:48

WIN Nazife Tair (Bulgaria), 13-2

vs. Shaimaa Mohamed (Egypt)
57 kg – Sofia Macaluso (Otisville, N.Y./Team New York) – GOLD MATCH

WIN Sito Sito (India), fall 5:53

WIN Aurora Russo (ITA), fall 2:11

WIN Melda Dernikci (Turkey), fall 2:36

vs. Ruka Natami (Japan)
62 kg – Adaugo Nwachukwu (San Jose, Calif./Swamp Monsters WC) – BRONZE MATCH

WIN Iris Thiebaux (France), fall 2:56

LOSS Sonam Sonam (India), 5-5

WIN Tynys Dubek (Kazakhstan), fall 1:30

vs. Bermet Nuridin Kyzy (KGZ)
65 kg – Reese Larramendy (Reno, Nev./Nevada Elite Wrestling/Hawkeye WC) – BRONZE MATCH

WIN Zofia Polowczyk (Poland), 12-2

LOSS Mahiro Yoshitake (Japan), 10-0

WIN Enikoe Elekes (Hungary), 13-2

vs. Khadija Jlassi (Tunisia)
72 kg – Amit Elor (Walnut Creek, Calif./NYC RTC/ Titan Mercury WC) – GOLD MATCH

WIN Zaineb Sghaier (Tunisia), fall 1:34

WIN Zsofia Virag (Hungary), 10-0

WIN Reetika (India), 12-1

vs. Anastassiya Panassovich (Kazakhstan)
U.S. Greco-Roman results
55 kg – Jonathan Gurule (Peralta, N.M./NMU-NTC) – awaiting repechage

LOSS Nuristan Suiorkulov (Kyrgyzstan), 7-2
63 kg – Haiden Drury (Yakima, Wash./Brunson UVRTC) – eliminated

WIN Ziya Babashov (Azerbaijan), 8-0
77 kg – Payton Jacobson (Elkhorn, Wisc./Sunkist Kids/NMU-NTC) – awaiting repechage

LOSS Yuksel Saricicek (Turkey), 9-1
87 kg – Kodiak Stephens (Arnold, Calif./Beaver Dam RTC) – eliminated

WIN Surjeet Singh (India), 8-0

LOSS Robin Uspenski (Estonia), 2-1
130 kg – Aden Attao (Boise, Idaho/Suples WC) – SEMIFINALS

WIN Parvesh Parvesh (India), 12-4

WIN Adolf Bazso (Hungary), fall 3:00

vs. Mykhailo Vyshnyvetskyi (Ukraine)
Schedule (local time 7 hours ahead of U.S. ET)
Friday, Aug. 19
11 a.m. – Qualification rounds (GR 55, 63, 77, 87, 130 kg)

11 a.m. – Repechage (WFS 53, 57, 62, 65, 72 kg)

4:45 p.m. – Semifinals (GR 55, 63, 77, 87, 130 kg)

6 p.m. – Medal matches (WFS 53, 57, 62, 65, 72 kg)
Saturday, Aug. 20
11 a.m. – Qualification rounds (GR 60, 67, 72, 82, 97 kg)

11 a.m. – Repechage (GR 55, 63, 77, 87, 130 kg)

4:45 p.m. – Semifinals (GR 60, 67, 72, 82, 97 kg)

6 p.m. – Medal matches (GR 55, 63, 77, 87, 130 kg)
Sunday, Aug. 21
4 p.m. – Repechage (GR 60, 67, 72, 82, 97 kg)

6 p.m. – Medal matches (GR 60, 67, 72, 82, 97 kg)