News
USA Wrestling
International
High School & Youth
USAW
Elor cruises to second-straight U20 World title, Macaluso claims silver, Gomez and Nwachukwu win bronze
by Taylor Gregorio, USA Wrestling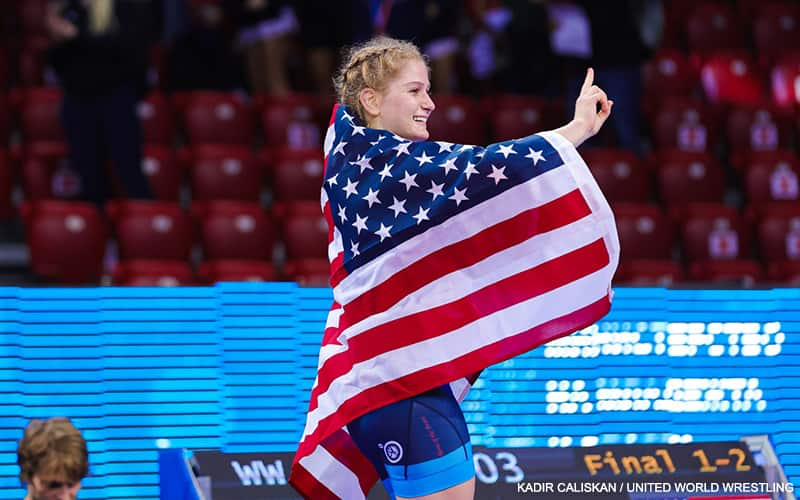 Photo of Amit Elor by Kadir Caliskan/United World Wrestling.
SOFIA, Bulgaria – Amit Elor successfully defended her World Championship title on Friday, winning the 2022 U20 World title at 72 kg in Sofia, Bulgaria.
Amit Elor went 4-0 at the tournament with three tech falls and one pin. For gold, she dominated Kazakhstan's Anastassiya Panassovich, who was seventh at last year's U20 World Championships. Elor used two takedowns and two turns from a lace for an eventual first-period 10-0 tech fall.
Overall, the U.S. collected six medals, including Elor's gold, two silvers and three bronzes for a third-place team finish with 124 points. Japan won the team title with 230 points and India's 160 points took second.
There were three other medalists tonight.
Sofia Macaluso stunned her bracket, taking out two World medalists en route to the 57 kg finals. There she faced 2019 U17 World champion Ruka Natami from Japan. Macaluso struck first with a shot clock point, but Natami earned two takedowns—one a four-pointer—to win the match 6-1.
Macaluso finishes with a U20 World silver medal in her first World tournament.
At 53 kg, 2021 U17 World champion Katie Gomez bounced back from a quarterfinal loss with two wins on Saturday, thanks to an effective leg lace. In the bronze match, she took on 2022 U20 African champion and Senior African bronze medalist Shaimaa Mohamed of Egypt. Gomez got off to a fast start with a four-point swing single. Mohamed scored a takedown of her own but Gomez was on fire with a go-behind into her leg lace for three turns and a 12-2 win for bronze.
Adaugo Nwachukwu made a lasting impression in her international debut this week, grabbing bronze at 62 kg. In her medal match, she cruised past 2022 U23 Asian runner-up Bermet Nuridin Kyzy of Kyrgyzstan, 10-0. All three of her wins throughout the tournament came in dominant fashion, collecting two pins and one technical fall.
Competing at 65 kg, Reese Larramendy, a 2019 U15 World silver medalist, claimed her spot as fifth in the world. Wrestling for bronze, she lost 9-2 to four-time age-group African champion Khadija Jlassi from Tunisia.
Others winning medals in Sofia were silver medalist Audrey Jimenez (50 kg) and bronze medalist Tristan Kelly (76 kg).
Greco-Roman competition, which began today, continues Saturday with Max Black (60 kg), Robert Perez III (67 kg), Richard Fedalen (72 kg), Adrian Artsisheuskiy (82 kg) and Christian Carroll (97 kg) beginning their tournaments.
The tournament continues Saturday, starting at 11 a.m. local time (4 a.m. ET), with semifinals scheduled for 4:45 p.m. (9:45 a.m. ET) followed by medal matches at 6 p.m. (11 a.m. ET). Fans can watch all the action live on FloWrestling and get live updates on Twitter @USAWrestling.
Find all of this week's coverage in the USA Wrestling Special Section.
U20 WORLD CHAMPIONSHIPS
Aug. 15-21, 2022 | Sofia, Bulgaria
U.S. women's freestyle results
50 kg – Audrey Jimenez (Tucson, Ariz./Sunkist Kids) – SILVER
WIN Gultakin Shirinova (Azerbaijan), 13-2
WIN Gabija Dilyte (Lithuania), 11-0
WIN Natalia Walczak (Poland), fall 2:48
LOSS Umi Ito (Japan), 10-0
53 kg – Katie Gomez (Van Nuys, Calif./Sunkist Kids) – BRONZE
WIN Emine Cakmak (Turkey), 10-0
LOSS Altyn Shagayeva (Kazakhstan), fall 4:48
WIN Nazife Tair (Bulgaria), 13-2
WIN Shaimaa Mohamed (Egypt), 12-2
55 kg – Adriana Dorado Marin (Denver, Colo./Army WCAP) – NINTH
LOSS Roza Szenttamasi (Hungary), 12-2
57 kg – Sofia Macaluso (Otisville, N.Y./Team New York) – SILVER
WIN Sito Sito (India), fall 5:53
WIN Aurora Russo (ITA), fall 2:11
WIN Melda Dernikci (Turkey), fall 2:36
LOSS Ruka Natami (Japan), 6-1
59 kg – SaVannah Cosme (Denver, Colo./Sunkist Kids) – 11TH
LOSS Ebru Dagbasi (Turkey), 1-1
62 kg – Adaugo Nwachukwu (San Jose, Calif./Swamp Monsters WC) – BRONZE
WIN Iris Thiebaux (France), fall 2:56
LOSS Sonam Sonam (India), 5-5
WIN Tynys Dubek (Kazakhstan), fall 1:30
WIN Bermet Nuridin Kyzy (KGZ), 10-0
65 kg – Reese Larramendy (Reno, Nev./Nevada Elite Wrestling/Hawkeye WC) – FIFTH
WIN Zofia Polowczyk (Poland), 12-2
LOSS Mahiro Yoshitake (Japan), 10-0
WIN Enikoe Elekes (Hungary), 13-2
LOSS Khadija Jlassi (Tunisia), 9-2
68 kg – Destiny Rodriguez (West Linn, Ore./All-Phase WC) – 11TH
LOSS Laura Godino (Italy), 12-1
72 kg – Amit Elor (Walnut Creek, Calif./NYC RTC/ Titan Mercury WC) – GOLD
WIN Zaineb Sghaier (Tunisia), fall 1:34
WIN Zsofia Virag (Hungary), 10-0
WIN Reetika (India), 12-1
WIN Anastassiya Panassovich (Kazakhstan), 10-0
76 kg – Tristan Kelly (Erie, Colo./Army WCAP) – BRONZE
WIN Ana Julia Dos Santos (Brazil), 9-0
LOSS Ayano Moro (Japan), fall 4:28
WIN Daniela Tkachuk (Poland), fall 3:58
Team standings
1. Japan – 230
2. India – 160
3. USA – 124
4. Turkey – 89
5. Ukraine – 84
6. Kazakhstan – 71
7. Hungary – 56
8. Kyrgyzstan – 51
9. Poland – 36
10. Uzbekistan – 32
Medal match results
50 kg
GOLD – Umi ITO (JPN)
SILVER – Audrey Jimenez (USA)
BRONZE – Gultakin SHIRINOVA (AZE)
BRONZE – Priyanshi PRAJAPAT (IND)
53 kg
GOLD – Antim ANTIM (IND)
SILVER – Altyn SHAGAYEVA (KAZ)
BRONZE – Katie GOMEZ (USA)
BRONZE – Ayaka KIMURA (JPN)
55 kg
GOLD – Moe KIYOOKA (JPN)
SILVER – Albina RILLIA (UKR)
BRONZE – Roza SZENTTAMASI (HUN)
BRONZE – Tuba DEMIR (TUR)
57 kg
GOLD – Ruka NATAMI (JPN)
SILVER – Sofia MACALUSO (USA)
BRONZE – Sito SITO (IND)
BRONZE – Oleksandra KHOMENETS (UKR)
59 kg
GOLD – Sakura MOTOKI (JPN)
SILVER – Viktoria BORSOS (HUN)
BRONZE – Ebru DAGBASI (TUR)
BRONZE – Madina AMAN (KAZ)
62 kg
GOLD – Nonoka OZAKI (JPN)
SILVER – Sonam SONAM (IND)
BRONZE – Adaugo NWACHUKWU (USA)
BRONZE – Iryna BONDAR (UKR)
65 kg
GOLD – Mahiro YOSHITAKE (JPN)
SILVER – Priyanka PRIYANKA (IND)
BRONZE – Khadija JLASSI (TUN)
BRONZE – Dilnaz SAZANOVA (KGZ)
68 kg
GOLD – Ami ISHII (JPN)
SILVER – Nurzat NURTAEVA (KGZ)
BRONZE – Sophia SCHAEFLE (GER)
BRONZE – Nesrin BAS (TUR)
72 kg
GOLD – Amit ELOR (USA)
SILVER – Anastassiya PANASSOVICH (KAZ)
BRONZE – Reetika REETIKA (IND)
BRONZE – Sumire NIIKURA (JPN)
76 kg
GOLD – Ayano MORO (JPN)
SILVER – Priya PRIYA (IND)
BRONZE – Tristan KELLY (USA)
BRONZE – Veronika NYIKOS (HUN)