News
USA Wrestling
International
USAW
U.S. Greco-Roman receives draws for U20 World Championships in Sofia
by Taylor Gregorio, USA Wrestling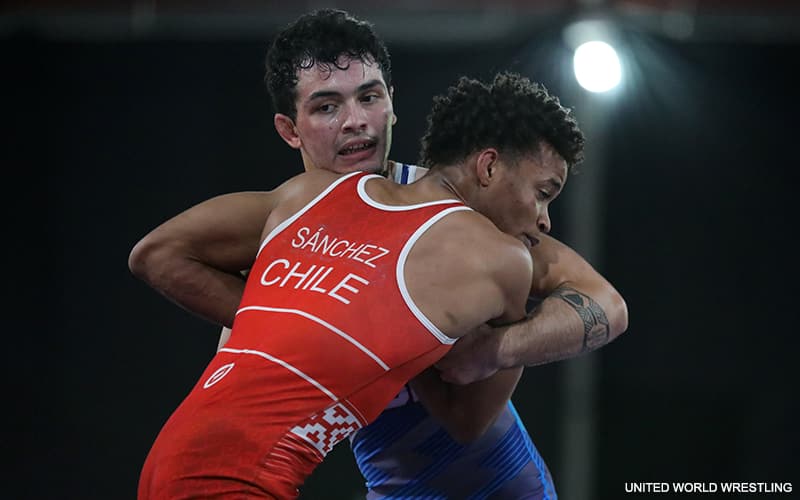 Photo of Robert Perez III by United World Wrestling.
SOFIA, Bulgaria – The U.S. Greco-Roman team received its draws for the U20 World Championships in Sofia, Bulgaria.
Greco-Roman competition wraps up the tournament, Aug. 19-21. Representing the USA on Friday is Jonathan Gurule (55 kg), Haiden Drury (63 kg), Payton Jacobson (77 kg), Kodiak Stephens (87 kg) and Aden Attao (130 kg).
Beginning their tournaments on Saturday are Max Black (60 kg), Robert Perez III (67 kg), Richard Fedalen (72 kg), Adrian Artsisheuskiy (82 kg) and Christian Carroll (97 kg).
Wrestling begins at 11 a.m. local time (4 a.m. U.S. ET) each day with semifinals set for 6:45 p.m. (11:45 a.m. ET). Fans can watch all the action live on FloWrestling and follow along on Twitter @USAWrestling.
Below are the draws for each U.S. women's freestyle athlete. Complete brackets can be found on UWW's website.
U20 WORLD CHAMPIONSHIPS

Aug. 15-21, 2022 | Sofia, Bulgaria
U.S. Greco-Roman draws
55 kg – Jonathan Gurule (Peralta, N.M./NMU-NTC)

vs. Nuristan Suiorkulov (Kyrgyzstan), gold at 2021 U17 World Championships
60 kg – Max Black (Castle Rock, Colo./NMU-NTC)

vs. Saeid Esmaeili Leivesi (Iran), gold at 2019 U17 World Championships, silver at 2021 U20 World Championships
63 kg – Haiden Drury (Yakima, Wash./Brunson UVRTC)

vs. Ziya Babashov (Azerbaijan), silver at 2019 U17 World Championships
67 kg – Robert Perez (Long Beach, Calif./Sunkist Kids/USOPTC)

vs. Shon Nadorgin (Israel), fifth at 2022 U20 European Championships
72 kg – Richard Fedalen (Laurel, Md./Warhawks WC)

vs. Matthias Hauthaler (Austria), 10th at 2022 U20 European Championships
77 kg – Payton Jacobson (Elkhorn, Wisc./Sunkist Kids/NMU-NTC)

vs. Yuksel Saricicek (Turkey), bronze at 2022 U20 European Championships

-OR- Diego Macias Torres (Mexico), bronze at 2021 U20 Pan American Games
82 kg - Adrian Artsisheuskiy (Brooklyn, N.Y./Elite Wrestling Academy)

vs. Odysseas Roungeris (Greece), bronze at 2021 U20 Mediterranean Championships
87 kg – Kodiak Stephens (Arnold, Calif./Beaver Dam RTC)

vs. Surjeet Singh (India), no international credentials
97 kg – Christian Carroll (Elkhart, Ind./Midwest RTC)

vs. Nurmanbet Raimaly Uulu (Kyrgyzstan), silver at 2022 U20 Asian Championships
130 kg – Aden Attao (Boise, Idaho/Suples WC)

vs. Parvesh Parvesh (India), bronze at 2022 U23 Asian Championships
Schedule (local time 7 hours ahead of U.S. ET)
Friday, Aug. 19
11 a.m. – Qualification rounds (GR 55, 63, 77, 87, 130 kg)

11 a.m. – Repechage (WFS 53, 57, 62, 65, 72 kg)

4:45 p.m. – Semifinals (GR 55, 63, 77, 87, 130 kg)

6 p.m. – Medal matches (WFS 53, 57, 62, 65, 72 kg)
Saturday, Aug. 20
11 a.m. – Qualification rounds (GR 60, 67, 72, 82, 97 kg)

11 a.m. – Repechage (GR 55, 63, 77, 87, 130 kg)

4:45 p.m. – Semifinals (GR 60, 67, 72, 82, 97 kg)

6 p.m. – Medal matches (GR 55, 63, 77, 87, 130 kg)
Sunday, Aug. 21
4 p.m. – Repechage (GR 60, 67, 72, 82, 97 kg)

6 p.m. – Medal matches (GR 60, 67, 72, 82, 97 kg)