News
USA Wrestling
International
High School & Youth
USAW
Team USA makes history with three Junior World champs in women's freestyle
by Taylor Miller, USA Wrestling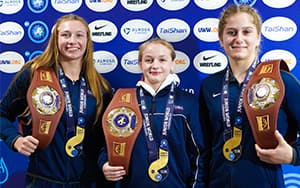 Photo of the three USA champions (L to R): Kylie Welker, Emily Shilson and Amit Elor. Photo by Taylor Miller, USA Wrestling.
UFA, Russia – For the first time in history, Team USA has multiple Junior World champions in women's freestyle as Emily Shilson, Amit Elor and Kylie Welker won gold on Thursday at the 2021 Junior World Championships in Ufa, Russia.
All three women dominated their ways to earning finals bids.
Just weeks after winning a Cadet World gold, Amit Elor won her second World title of the summer, topping the 68 kg Junior bracket. She won both tournaments without surrendering a single point to her opponents. In Thursday's Junior World finals, Elor took on 2021 Junior World bronze medalist Elizaveta Petliakova from Russia. The American earned an early takedown directly into three leg laces for an 8-0 lead. She added two more step outs for a 10-0 shutout. Elor is also a 2019 Cadet World bronze medalist.
Competing at 50 kg, Emily Shilson secured her second age-group World title in dominating fashion, defeating two-time Cadet Asian bronze medalist Enkhzul Batbaatar from Mongolia in the first period of the gold-medal match. Shilson opened the match with an early go-behind takedown. Shortly after, she snagged another takedown and went right into her gut wrench for three turns and a 10-0 technical fall. She became the USA's first Junior World champion in women's freestyle since Maya Nelson in 2017.
Shilson adds to her 2018 Cadet World title, 2018 Youth Olympic Games gold and 2017 Cadet World silver medal.
Winning the final gold of the night was Kylie Welker, who, like her USA teammates, recorded a 10-0 win in the finals at 76 kg. She faced India's Bipasha Bipasha and raced out to a 4-0 lead with a four-point takedown from a single. Welker ended the match shortly after, scoring a takedown into a leg lace for two turns and the victory. Welker, also a 2019 Cadet World bronze medalist, went 4-0 at the tournament, outdoing her opponents with three technical falls and one pin.
The tournament continues tomorrow with the final women's freestyle action and start of Greco-Roman, beginning at 11 a.m. local time (2 a.m. U.S. ET). Medal matches begin Friday at 6 p.m. local time (9 a.m. ET). Fans can watch live on FloWrestling or follow along on USA Wrestling's twitter @USAWrestling.
2021 JUNIOR WORLD CHAMPIONSHIPS

Aug. 16-22 | Ufa, Russia
U.S. women's freestyle results
50 kg: Emily Shilson (Maple Grove, Minn./Titan Mercury WC) – GOLD

WIN Natallia VARAKINA (Belarus), 6-3

WIN Viktoriia ALEKSANDROVA (Russia), 10-7

WIN Simran SIMRAN (India), 10-0

WIN Enkhzul BATBAATAR (Mongolia), 10-0
55 kg: Payton Stroud (Buckley, Wash./McKendree Bearcat WC) – EIGHTH

WIN Antonia VALDEZ ARRIAGADA (Chile), 5-2

LOSS Kalmira BILIMBEK KYZY (Kyrgyzstan), 10-0

LOSS Munkhgerel MUNKHBAT (Mongolia), 10-0
59 kg: Mia Macaluso (Otisville, N.Y./Team New York) – 10th

LOSS Ebru DAGBASI (Turkey), fall 1:25
68 kg: Amit Elor (Walnut Creek, Calif./Titan Mercury WC) – GOLD

WIN Arju ARJU (India), 10-0

WIN Zsuzsanna MOLNAR (Slovakia), 11-0

WIN Elizaveta PETLIAKOVA (Russia), 10-0
76 kg: Kylie Welker (Franksville, Wisc./Titan Mercury WC) – GOLD

WIN Laura KUEHN (Germany), 10-0

WIN Mariia SILINA (Russia), 11-0

WIN Kseniya DZIBUK (Belarus), pin 1:05

WIN Bipasha BIPASHA (India), 10-0