News
USA Wrestling
International
USAW
Elor, Macaluso dominate to secure spots in the U20 Worlds semifinals
by Taylor Gregorio, USA Wrestling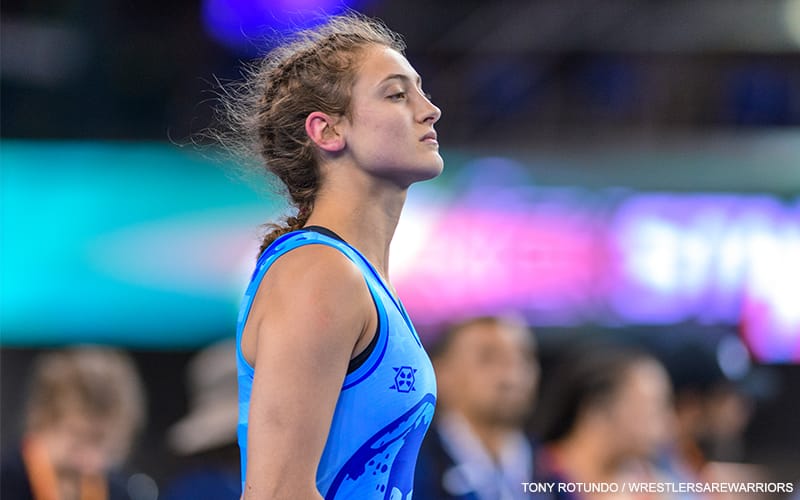 Photo of Sofia Macaluso by Tony Rotundo, WrestlersAreWarriors.com
SOFIA, Bulgaria – In a successful morning session, Team USA advanced two women's freestylers to the U20 World Championships semifinals on Thursday in Sofia, Bulgaria.
The semifinals will take place Thursday at 4:45 p.m. local time (9:45 a.m. ET) followed by medal matches at 6 p.m. (11 a.m. ET) live on FloWrestling.
At 72 kg, defending U20 World champion Amit Elor collected two big wins. In her first bout, she pinned Senior African silver medalist Zaineb Sghaier of Tunisia, who she defeated for bronze at the 2019 U17 World Championships. In the quarters, she downed Zsofia Virag of Hungary, 10-0.
In the semis, Elor will face Reetika of India, who is a 2022 U23 Asian champion.
Sofia Macaluso stunned her bracket at 57 kg with back-to-back pins from upper body exchanges, first over 2021 U20 World bronze medalist Sito of India and then over last year's U20 World silver medalist Aurora Russo from Italy in the quarterfinals.
For a shot at gold, Macaluso will take on this year's U20 European bronze medalist Melda Dernekci of Turkey.
The other three Americans that competed this morning all wrestled their ways into the quarterfinals, where they ultimately dropped their matches. They still have a chance to be pulled into repechage for a shot at a bronze medal.
2021 U17 World champion Katie Gomez collected a 10-0 tech fall over 2021 U20 World bronze medalist Ermine Cakmak of Turkey before losing to 2022 U20 Asian bronze medalist Altyn Shagayeva of Kazakhstan at 53 kg.
At 62 kg, international first-timer Adaugo Nwachukwu used her strength to get Iris Thiebaux of France to her back for a pin late in the first period. In the quarters, she faced India's Sonam, a two-time U17 World champion. It was an impressive battle of will that ultimately went to Sonam in a 5-5 criteria win.
Reese Larramendy, a 2019 U15 World silver medalist, cruised past U20 European bronze medalist Zofia Polowczyk of Poland, 12-2, before falling to Mahiro Yoshitake from Japan, 10-0.
If the athlete that beat the USA wrestler wins their semifinal, it will pull the American into tomorrow's respective repechage round.
Audrey Jimenez (50 kg) and Tristan Kelly (76 kg) will also compete tonight, wrestling for gold and bronze medals, respectively.
Semifinals begins at 4:45 p.m. local time (9:45 a.m. ET) followed by medal matches at 6 p.m. (11 a.m. ET) live on FloWrestling. Follow along for live updates on Twitter @USAWrestling.
For more information on the U20 World Championships, visit USA Wrestling's Special Section.
U20 WORLD CHAMPIONSHIPS

Aug. 15-21, 2022 | Sofia, Bulgaria
U.S. women's freestyle results
Thursday results
53 kg – Katie Gomez (Van Nuys, Calif./Sunkist Kids) – awaiting repechage

WIN Emine Cakmak (Turkey), 10-0

LOSS Altyn Shagayeva (Kazakhstan), fall 4:48
57 kg – Sofia Macaluso (Otisville, N.Y./Team New York) – SEMIFINALS

WIN Sito Sito (India), fall 5:53

WIN Aurora Russo (ITA), fall 2:11

vs. Melda Dernikci (Turkey)
62 kg – Adaugo Nwachukwu (San Jose, Calif./Swamp Monsters WC) – awaiting repechage

WIN Iris Thiebaux (France), fall 2:56

LOSS Sonam Sonam (India), 5-5
65 kg – Reese Larramendy (Reno, Nev./Nevada Elite Wrestling/Hawkeye WC) – awaiting repechage

WIN Zofia Polowczyk (Poland), 12-2

LOSS Mahiro Yoshitake (Japan), 10-0
72 kg – Amit Elor (Walnut Creek, Calif./NYC RTC/ Titan Mercury WC) – SEMIFINALS

WIN Zaineb Sghaier (Tunisia), fall 1:34

WIN Zsofia Virag (Hungary), 10-0

vs. Reetika (India)
Wednesday results
50 kg – Audrey Jimenez (Tucson, Ariz./Sunkist Kids) – GOLD MATCH

WIN Gultakin Shirinova (Azerbaijan), 13-2

WIN Gabija Dilyte (Lithuania), 11-0

WIN Natalia Walczak (Poland), fall 2:48

vs. Umi Ito (Japan)
55 kg – Adriana Dorado Marin (Denver, Colo./Army WCAP) – ELIMINATED

LOSS Roza Szenttamasi (Hungary), 12-2
59 kg – SaVannah Cosme (Denver, Colo./Sunkist Kids) – ELIMINATED

LOSS Ebru Dagbasi (Turkey), 1-1
68 kg – Destiny Rodriguez (West Linn, Ore./All-Phase WC) - ELIMINATED

LOSS Laura Godino (Italy), 12-1
76 kg – Tristan Kelly (Erie, Colo./Army WCAP) – BRONZE MATCH

WIN Ana Julia Dos Santos (Brazil), 9-0

LOSS Ayano Moro (Japan), fall 4:28

vs. Daniella Tkachuk (Poland)
Schedule (local time 7 hours ahead of U.S. ET)
Thursday, Aug. 18
11 a.m. – Qualification rounds (WFS 53, 57, 62, 65, 72 kg)

11 a.m. – Repechage (WFS 50, 55, 59, 68, 76 kg)

4:45 p.m. – Semifinals (WFS 53, 57, 62, 65, 72 kg)

6 p.m. – Medal matches (WFS 50, 55, 59, 68, 76 kg)
Friday, Aug. 19
11 a.m. – Qualification rounds (GR 55, 63, 77, 87, 130 kg)

11 a.m. – Repechage (WFS 53, 57, 62, 65, 72 kg)

4:45 p.m. – Semifinals (GR 55, 63, 77, 87, 130 kg)

6 p.m. – Medal matches (WFS 53, 57, 62, 65, 72 kg)
Saturday, Aug. 20
11 a.m. – Qualification rounds (GR 60, 67, 72, 82, 97 kg)

11 a.m. – Repechage (GR 55, 63, 77, 87, 130 kg)

4:45 p.m. – Semifinals (GR 60, 67, 72, 82, 97 kg)

6 p.m. – Medal matches (GR 55, 63, 77, 87, 130 kg)
Sunday, Aug. 21
4 p.m. – Repechage (GR 60, 67, 72, 82, 97 kg)

6 p.m. – Medal matches (GR 60, 67, 72, 82, 97 kg)