News
USA Wrestling
High School & Youth
International
USAW
Berge rallies from five-point deficit to earn spot in U20 World finals
by Taylor Gregorio, USA Wrestling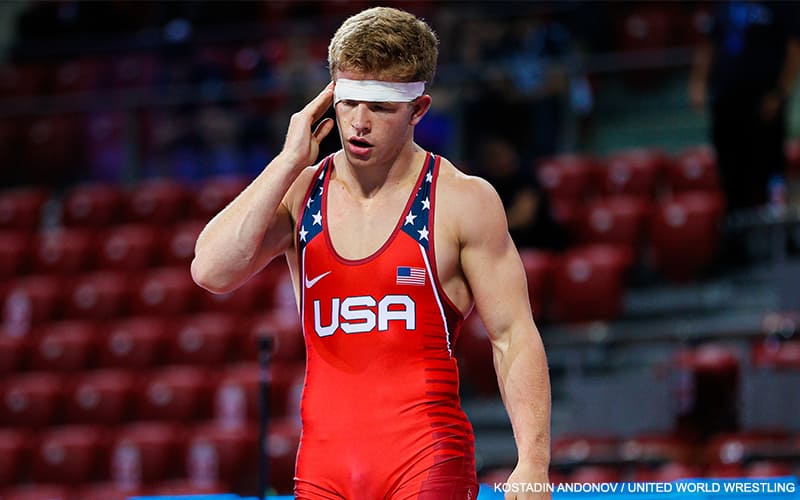 Photo of Bennett Berge by Kostadin Andonov/United World Wrestling.
SOFIA, Bulgaria – Bennett Berge put together a big comeback win in the semifinals of the 2022 U20 World Championships and will wrestle for gold on Wednesday in Sofia, Bulgaria.
Tomorrow's medal matches begin at 6 p.m. local time (11 a.m. U.S. ET) live on FloWrestling.
Competing at 86 kg, Berge took on Ismail Kucuksolak of Turkey, who is a 2021 U20 European bronze medalist. Kucuksolak scored a four-point takedown at the end of the first to propel him to a 5-0 lead at the break. In the second period, Berge kicked up the intensity, rattling off five-consecutive step outs before adding a pair of takedowns. Kucuksolak scored a takedown in the final seconds, but it was not enough as Berge walked away with a 9-7 victory.
For gold, Berge will face returning U20 World silver medalist Rakhim Magamadov of France.
In USA's other semifinal, Nick Feldman fell to 2021 U17 World champion Amirreza Masoumi Valadi of Iran, 11-1. Feldman will wrestle for a bronze medal at 125 kg on Wednesday. His opponent will be determined in repechage.
Two Americans stay alive with hopes of wrestling for a medal as they were pulled into repechage.
At 61 kg, Nic Bouzakis will face Ukraine's Mykyta Abramov in his first repechage match. Should he win, Bouzakis will battle U20 and U23 European silver medalist Khamzat Arsamerzouev from France.
Jaxon Smith, at 92 kg, is slated to face Kiril Kildau of Germany, who was fifth at the U20 European Championships. Waiting for him in the bronze match will be 2021 U17 European bronze medalist Sergey Sargsyan of Armenia.
The tournament continues Wednesday, with repechage at 11 a.m. local time (4 a.m. ET) and medal matches at 6 p.m. (11 a.m. ET). Fans can watch all the action live on FloWrestling and get live updates on Twitter @USAWrestling.
U20 WORLD CHAMPIONSHIPS

Aug. 15-21, 2022 | Sofia, Bulgaria
U.S. men's freestyle results
Tuesday results
61 kg – Nic Bouzakis (Shavertown, Pa./Ohio RTC) – REPECHAGE

WIN Arslan Rakhimov (Uzbekistan), fall 1:26

WIN Abdullah Toprak (Turkey), fall 1:59

LOSS Armin Habibzadehsaroukolaei (Iran), 13-11

vs. Mykyta Abramov (Ukraine)
74 kg – Alex Facundo (Essexville, Mich./Nittany Lion WC) – ELIMINATED

LOSS Efran Elahi (Iran), 5-4
86 kg – Bennett Berge (Mantorville, Minn./Pinnacle WC) – GOLD MATCH

WIN Gurgen Simonyan (Armenia), 10-0

WIN Nandor Hajduch (Hungary), 12-2

WIN Nazar Dod (Ukraine), 10-0

WIN Ismail Kucuksolak (Turkey), 9-7

vs. Rakhim Magamadov (France)
92 kg – Jaxon Smith (Acworth, Ga./DMV RTC) – REPECHAGE

WIN Ion Demian (Moldova), 8-1

LOSS Andro Margishvili (Georgia), 12-2
125 kg – Nicholas Feldman (Quarryville, Pa./Ohio RTC) – BRONZE MATCH

WIN Georgi Ivanov (Bulgaria), 5-1

LOSS Amirreza Masoumi Valadi (Iran), 11-1
Schedule (local time 7 hours ahead of U.S. ET)
Wednesday, Aug. 17
11 a.m. – Qualification rounds (WFS 50, 55, 59, 68, 76 kg)

11 a.m. – Repechage (MFS 61, 74, 86, 92, 125 kg)

4:45 p.m. – Semifinals (WFS 50, 55, 59, 68, 76 kg)

6 p.m. – Medal matches (MFS 61, 74, 86, 92, 125 kg)
Thursday, Aug. 18
11 a.m. – Qualification rounds (WFS 53, 57, 62, 65, 72 kg)

11 a.m. – Repechage (WFS 50, 55, 59, 68, 76 kg)

4:45 p.m. – Semifinals (WFS 53, 57, 62, 65, 72 kg)

6 p.m. – Medal matches (WFS 50, 55, 59, 68, 76 kg)
Friday, Aug. 19
11 a.m. – Qualification rounds (GR 55, 63, 77, 87, 130 kg)

11 a.m. – Repechage (WFS 53, 57, 62, 65, 72 kg)

4:45 p.m. – Semifinals (GR 55, 63, 77, 87, 130 kg)

6 p.m. – Medal matches (WFS 53, 57, 62, 65, 72 kg)
Saturday, Aug. 20
11 a.m. – Qualification rounds (GR 60, 67, 72, 82, 97 kg)

11 a.m. – Repechage (GR 55, 63, 77, 87, 130 kg)

4:45 p.m. – Semifinals (GR 60, 67, 72, 82, 97 kg)

6 p.m. – Medal matches (GR 55, 63, 77, 87, 130 kg)
Sunday, Aug. 21
4 p.m. – Repechage (GR 60, 67, 72, 82, 97 kg)

6 p.m. – Medal matches (GR 60, 67, 72, 82, 97 kg)