News
USA Wrestling
International
High School & Youth
USAW
Berge and Feldman cruise to U20 World semifinals in Bulgaria
by Taylor Gregorio, USA Wrestling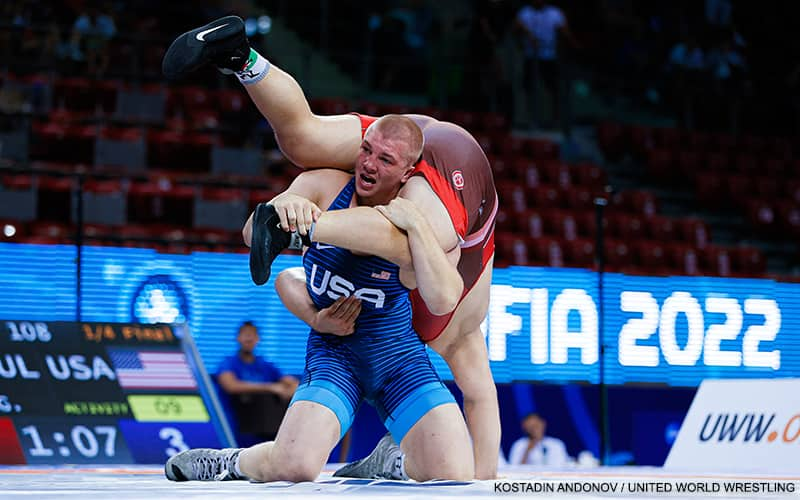 Photo of Nick Feldman by Kostadin Andonov/United World Wrestling.
SOFIA, Bulgaria – Bennett Berge and Nick Feldman advanced to the men's freestyle semifinals at 86 kg and 125 kg, respectively, at the U20 World Championships in Sofia, Bulgaria.
The semifinals will take place Tuesday at 4:45 p.m. local time (9:45 a.m. ET) live on FloWrestling.
Making his international debut, Bennett Berge dominated at 86 kg, winning all three of his matches by technical fall. He opened with a 10-0 win over Armenia's Gurgen Simonyan, followed by a 12-2 performance against Nandor Hajduch from Hungary. To secure his spot in the semifinals, Berge shutdown 2022 U20 European bronze medalist Nazar Dod, 10-0.
Tonight, Berge will face Ismail Kucuksolak of Turkey, who is a 2021 U20 European bronze medalist.
Wrestling at 125 kg, Pan American champion Nick Feldman had just one match on Tuesday morning, taking out host country's Georgi Ivanov, a 2022 U20 European silver medalist. In a match full of challenges from the Bulgarian corner, Feldman eventually earned a 5-1 victory, thanks to a takedown in each period.
In the semifinals, Feldman will face 2021 U17 World champion Amirreza Masoumi Valadi of Iran.
Two Americans hope to be pulled back into repechage after suffering quarterfinal losses Tuesday morning.
Nic Bouzakis, who was a U20 World Team member in Greco-Roman last year, got on a roll with back-to-back pins to open his tournament at 61 kg. In the quarterfinals, he dropped an exciting bout to U20 Asian champion Armin Habibzadehsaroukolaei of Iran, 13-11. Should Habibzadehsaroukolaei win his semifinal, it will pull Bouzakis into Wednesday's repechage competition.
Competing at 92 kg, U20 Pan Am champ Jaxon Smith went 1-1 in the first session, putting together a strong 8-1 victory over U20 European champion Ion Demian from Moldova before falling to U20 European bronze medalist Andro Margishvili from Georgia, 12-2. Should Margishvili win his semifinal, it will give Smith another shot at a medal.
Two-time U17 World bronze medalist Alex Facundo was eliminated at 74 kg. The Penn State wrestler lost his first bout to last year's U20 World champion at 70 kg, Erfan Elahi of Iran. Evenly matched in skillset, Elahi's first-period step out ultimately gave him a 5-4 advantage over the American. Later in the session, Elahi lost his quarterfinal, knocking Facundo out of the competition.
At 79 kg, Brayden Thompson lost in his repechage match, eliminating his from the competition. Thompson, who fell to finalist Sohban Yari from Iran, was pulled into repechage and faced Turkey's Bekir Ovec, who defeated the American 2-1 on Tuesday morning.
After the semis, four other Americans will compete for medals tonight with Jore Volk (57 kg), Mitchell Mesenbrink (70 kg) and Ben Kueter (97 kg) going for gold and Vince Cornella (65 kg) wrestling for bronze.
Semifinals begins at 4:45 p.m. local time (9:45 a.m. ET) followed by medal matches at 6 p.m. (11 a.m. ET) live on FloWrestling. Follow along for live updates on Twitter @USAWrestling.
For more information on the U20 World Championships, visit USA Wrestling's Special Section.
U20 WORLD CHAMPIONSHIPS

Aug. 15-21, 2022 | Sofia, Bulgaria
U.S. men's freestyle results
Tuesday results

61 kg – Nic Bouzakis (Shavertown, Pa./Ohio RTC) – awaiting repechage

WIN Arslan Rakhimov (Uzbekistan), fall 1:26

WIN Abdullah Toprak (Turkey), fall 1:59

LOSS Armin Habibzadehsaroukolaei (Iran), 13-11
74 kg – Alex Facundo (Essexville, Mich./Nittany Lion WC) – ELIMINATED

LOSS Efran Elahi (Iran), 5-4
79 kg – Brayden Thompson (Lockport, Ill./Izzy Style WC) – ELIMINATED

LOSS Sobhan Yari (Iran), 6-1

LOSS Bekir Ovec (Turkey), 2-1
86 kg – Bennett Berge (Mantorville, Minn./Pinnacle WC) – SEMIFINALS

WIN Gurgen Simonyan (Armenia), 10-0

WIN Nandor Hajduch (Hungary), 12-2

WIN Nazar Dod (Ukraine), 10-0

vs. Ismail Kucuksolak (Turkey)
92 kg – Jaxon Smith (Acworth, Ga./DMV RTC) – awaiting repechage

WIN Ion Demian (Moldova), 8-1

LOSS Andro Margishvili (Georgia), 12-2
125 kg – Nicholas Feldman (Quarryville, Pa./Ohio RTC) – SEMIFINALS

WIN Georgi Ivanov (Bulgaria), 5-1

vs. Amirreza Masoumi Valadi (Iran)
Monday results
57 kg – Jore Volk (Lakeville, Minn./Pinnacle WC.) – GOLD MATCH

WIN Ahmad Mohammadnezhadjavan (Iran), 7-5

WIN Azizbek Naimov (Uzbekistan), 7-2

WIN Luka Gvinjilia (Georgia), 13-6

vs. Merey Bazarbayev (Kazakhstan)
65 kg – Vince Cornella (Lafayette, Colo./Spartan Combat RTC) – BRONZE MATCH

WIN Olzhas Olzhakanov (Kazakhstan), 8-0

WIN Ismail Pomakov (Bulgaria), 10-0

WIN Mohammad Shakeri (Iran), 6-5

LOSS Umidjon Jalolov (Uzbekistan), 4-0

vs. Yoshinosuke Aoyagi (Japan)
70 kg – Mitchell Mesenbrink (Hartland, Wisc./Askren Wrestling Academy) – GOLD MATCH

WIN Muhammad Abdurachmanov (Belgium), 12-0

WIN Kanat Kerimbekov (Kyrgyzstan), 10-0

WIN Hossein Mohammad Aghaei (Iran), 9-7

WIN Hayk Papikyan (Armenia), 6-3

vs. Kanan Heybatov (Azerbaijan)
97 kg – Ben Kueter (Iowa City, Iowa/Sebolt Wrestling Academy) – GOLD MATCH

WIN Dmitri Duscov (Moldova), 10-0

WIN Niraj Niraj (India), 8-1

WIN Luka Khutchua (Georgia), 17-14

vs. Rifat Gidak (Turkey)
Schedule (local time 7 hours ahead of U.S. ET)
Tuesday, Aug. 16
11 a.m. – Qualification rounds (MFS 61, 74, 86, 92, 125 kg)

11 a.m. – Repechage (MFS 57, 65, 70, 79, 97 kg)

4 p.m. – Opening ceremony

4:45 p.m. – Semifinals (MFS 61, 74, 86, 92, 125 kg)

6 p.m. – Medal matches (MFS 57, 65, 70, 79, 97 kg)
Wednesday, Aug. 17
11 a.m. – Qualification rounds (WFS 50, 55, 59, 68, 76 kg)

11 a.m. – Repechage (MFS 61, 74, 86, 92, 125 kg)

4:45 p.m. – Semifinals (WFS 50, 55, 59, 68, 76 kg)

6 p.m. – Medal matches (MFS 61, 74, 86, 92, 125 kg)
Thursday, Aug. 18
11 a.m. – Qualification rounds (WFS 53, 57, 62, 65, 72 kg)

11 a.m. – Repechage (WFS 50, 55, 59, 68, 76 kg)

4:45 p.m. – Semifinals (WFS 53, 57, 62, 65, 72 kg)

6 p.m. – Medal matches (WFS 50, 55, 59, 68, 76 kg)
Friday, Aug. 19
11 a.m. – Qualification rounds (GR 55, 63, 77, 87, 130 kg)

11 a.m. – Repechage (WFS 53, 57, 62, 65, 72 kg)

4:45 p.m. – Semifinals (GR 55, 63, 77, 87, 130 kg)

6 p.m. – Medal matches (WFS 53, 57, 62, 65, 72 kg)
Saturday, Aug. 20
11 a.m. – Qualification rounds (GR 60, 67, 72, 82, 97 kg)

11 a.m. – Repechage (GR 55, 63, 77, 87, 130 kg)

4:45 p.m. – Semifinals (GR 60, 67, 72, 82, 97 kg)

6 p.m. – Medal matches (GR 55, 63, 77, 87, 130 kg)
Sunday, Aug. 21
4 p.m. – Repechage (GR 60, 67, 72, 82, 97 kg)

6 p.m. – Medal matches (GR 60, 67, 72, 82, 97 kg)