News
USA Wrestling
International
High School & Youth
USAW
Men's freestyle squad receives draws for U20 World Championships in Sofia
by Taylor Gregorio, USA Wrestling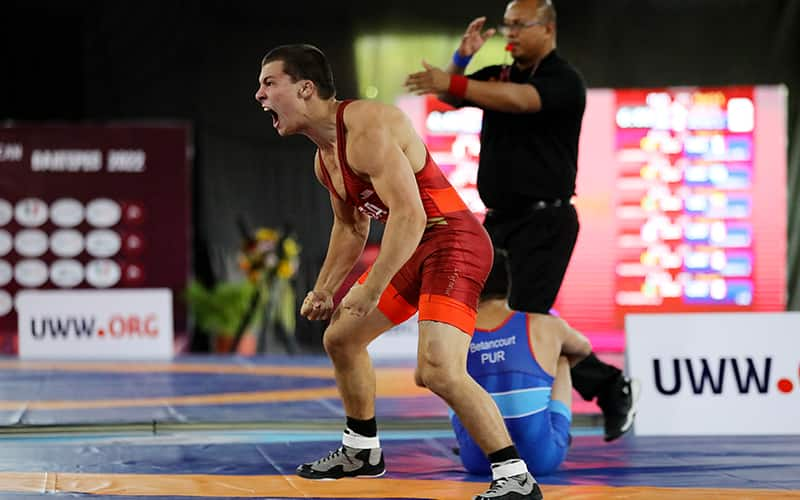 Photo of Nic Bouzakis by United World Wrestling.
SOFIA, Bulgaria – The U.S. men's freestyle team received its draws for the U20 World Championships in Sofia, Bulgaria.
The tournament kicks off with men's freestyle action, Aug. 15-17. Representing the Red, White and Blue on Monday is Jore Volk (57 kg), Vince Cornella (65 kg), Mitchell Mesenbrink (70 kg), Brayden Thompson (79 kg) and Ben Kueter (97 kg).
Beginning their tournaments on Tuesday are Nic Bouzakis (61 kg), Alex Facundo (74 kg), Bennett Berge (86 kg), Jaxon Smith (92 kg) and Nicholas Feldman (125 kg).
Wrestling begins at 11 a.m. local time (4 a.m. U.S. ET) each day with semifinals set for 6 p.m. (11 a.m. ET) on Monday and 6:45 p.m. (11:45 a.m. ET) the following days. Fans can watch all the action live on FloWrestling and follow along on Twitter @USAWrestling.
Below are the draws for each U.S. men's freestyle athlete. Complete brackets can be found on UWW's website.
U20 WORLD CHAMPIONSHIPS

Aug. 15-21, 2022 | Sofia, Bulgaria
U.S. men's freestyle draws
57 kg – Jore Volk (Lakeville, Minn./Pinnacle WC.)

vs. Ahmad Mohammadnezhadjavan (Iran), no international credentials

-OR- Simone Piroddu (Italy), gold at 2022 U20 European Championships, bronze at 2018 U17 World Championships
61 kg – Nic Bouzakis (Shavertown, Pa./Ohio RTC)

vs. Arslan Rakhimov (Uzbekistan), bronze at 2022 U20 Asian Championships, gold at 2018 U17 Asian Championships
65 kg – Vince Cornella (Lafayette, Colo./Spartan Combat RTC)

vs. Olzhas Olzhakanov (Kazakhstan), bronze at 2022 U20 Asian Championships, 7th at 2019 U17 World Championships
70 kg – Mitchell Mesenbrink (Hartland, Wisc./Askren Wrestling Academy)

vs. Muhammad Abdurachmanov (Belgium), silver at 2022 U20 European Championships
74 kg – Alex Facundo (Essexville, Mich./Nittany Lion WC)

vs. Efran Elahi (Iran), gold at 2021 U20 Worlds, silver at 2019 U17 Worlds, 8th at 2021 Senior Worlds
79 kg – Brayden Thompson (Lockport, Ill./Izzy Style WC)

vs. Sobhan Yari (Iran), gold at 2022 U20 Asian Championships
86 kg – Bennett Berge (Mantorville, Minn./Pinnacle WC)

vs. Gurgen Simonyan (Armenia), no international credentials
92 kg – Jaxon Smith (Acworth, Ga./DMV RTC)

vs. Ion Demian (Moldova), gold at 2022 U20 European Championships, 5th at 2019 U17 Worlds
97 kg – Ben Kueter (Iowa City, Iowa/Sebolt Wrestling Academy)

vs. Dmitri Duscov (Moldova), 14th at 2021 U20 World Championships
125 kg – Nicholas Feldman (Quarryville, Pa./Ohio RTC)

vs. Georgi Ivanov (Bulgaria), bronze at 2022 U20 European Championships

-OR- Ryusei Fujita (Japan), no international credentials
Schedule (local time 7 hours ahead of U.S. ET)
Monday, Aug. 15
11 a.m. – Qualification rounds (MFS 57, 65, 70, 79, 97 kg)

6 p.m. – Semifinals (MFS 57, 65, 70, 79, 97 kg)
Tuesday, Aug. 16
11 a.m. – Qualification rounds (MFS 61, 74, 86, 92, 125 kg)

11 a.m. – Repechage (MFS 57, 65, 70, 79, 97 kg)

4 p.m. – Opening ceremony

4:45 p.m. – Semifinals (MFS 61, 74, 86, 92, 125 kg)

6 p.m. – Medal matches (MFS 57, 65, 70, 79, 97 kg)
Wednesday, Aug. 17
11 a.m. – Qualification rounds (WFS 50, 55, 59, 68, 76 kg)

11 a.m. – Repechage (MFS 61, 74, 86, 92, 125 kg)

4:45 p.m. – Semifinals (WFS 50, 55, 59, 68, 76 kg)

6 p.m. – Medal matches (MFS 61, 74, 86, 92, 125 kg)
Thursday, Aug. 18
11 a.m. – Qualification rounds (WFS 53, 57, 62, 65, 72 kg)

11 a.m. – Repechage (WFS 50, 55, 59, 68, 76 kg)

4:45 p.m. – Semifinals (WFS 53, 57, 62, 65, 72 kg)

6 p.m. – Medal matches (WFS 50, 55, 59, 68, 76 kg)
Friday, Aug. 19
11 a.m. – Qualification rounds (GR 55, 63, 77, 87, 130 kg)

11 a.m. – Repechage (WFS 53, 57, 62, 65, 72 kg)

4:45 p.m. – Semifinals (GR 55, 63, 77, 87, 130 kg)

6 p.m. – Medal matches (WFS 53, 57, 62, 65, 72 kg)
Saturday, Aug. 20
11 a.m. – Qualification rounds (GR 60, 67, 72, 82, 97 kg)

11 a.m. – Repechage (GR 55, 63, 77, 87, 130 kg)

4:45 p.m. – Semifinals (GR 60, 67, 72, 82, 97 kg)

6 p.m. – Medal matches (GR 55, 63, 77, 87, 130 kg)
Sunday, Aug. 21
4 p.m. – Repechage (GR 60, 67, 72, 82, 97 kg)

6 p.m. – Medal matches (GR 60, 67, 72, 82, 97 kg)