News
USA Wrestling
International
High School & Youth
USAW
U.S. receives men's freestyle draws for the U17 World Championships in Istanbul, Turkey
by Gary Abbott, USA Wrestling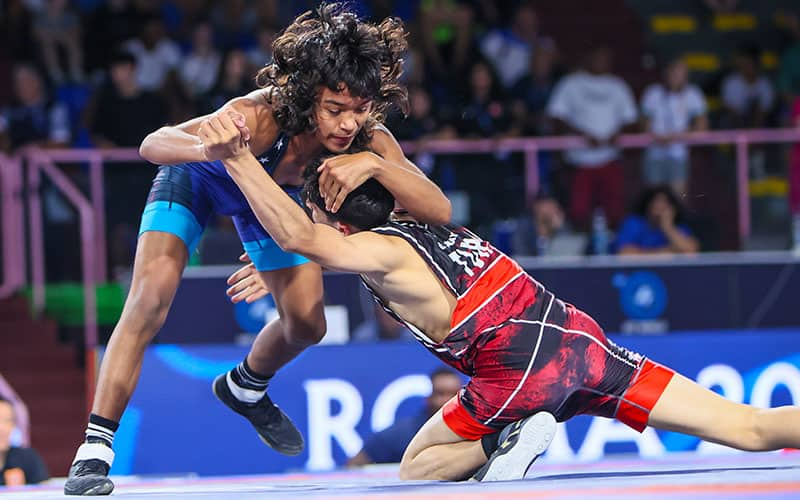 Christian Castillo (USA) competing at the 2022 U17 World Championships. Photo by Martin Gabor, United World Wrestling
.
ISTANBUL, Turkey - The 10 men's freestyle wrestlers representing the USA at the 2023
U17 World Championships
this weekend have received their draws.
The USA is the defending World champions in men's freestyle at the U17 World Championships, and two of its 2022 medalists are back, silver medalist
Christian Castillo
of Arizona (51 kg) and
Zack Ryder
of New York (80 kg).
Except for past Pan American U17 champion
Ignacio Villasenor
of Colorado (45 kg), the rest of this team is being tested at the international level for the first time. They all carry hefty domestic resumes of success
Group One, which begins on Friday, August 3, includes
Paul Kenny
of New Jersey (48 kg),
Marcus Blaze
of Ohio (55 kg),
Brock Mantanona
of California (65 kg), Zack Ryder of New York (80 kg) and
Sampson Stillwell
of Missouri (110 kg).
Ryder, who was a 2022 U17 World bronze medalist, opens up with Askhab Khajiyev of Kazakhstan, who was seventh in 2022 U17 World Championships. He would need two more wins to reach the finals once again, with possible opponents from host Turkey, Moldova, Armenia and Azerbaijan.
Kenny opens against Oliwier Orzechowski of Poland, who has no credentials. His next opponent would be Yeraly Zhetpissov of Kazakhstan. Nations in his half bracket include Iran, India, Uzbekistan and Azerbaijan.
Blaze has a tough opener against 2023 Asian U17 silver medalist Amirreza Ali Teymorizad of Iran. If Blaze wins, he has Ashygguliev of Turkmenistan next. The bottom part of his half-bracket have traditional powers Azerbaijan, Armenia and an Individual Neutral Athlete.
Mantanona opens with 2023 Asian U17 bronze medalist Almas Sabyr of Kazakhstan. His next opponent would be Ankh Altangrel of Mongolia. The top part of his half-bracket has opponents from Turkey, Japan, Bulgaria and an Individual Neutral Athlete.
Stillwell opens with Henrik Haykyan of Armenia, a 2023 European U17 runner-up. A win would have him face either Japan or Hungary. The other quarter bracket has four World powers battling each other, Azerbaijan, Uzbekistan, Turkey and Georgia.
Group Two, which begins on Saturday, August 4, features Ignacio Villasenor of Colorado (45 kg), Christian Castillo of Arizona (51 kg),
Ben Davino
of Illinois (60 kg),
Ladarion Lockett
of Oklahoma (71 kg) and
Aeoden Sinclair
of Wisconsin (92 kg).
Castillo, a finalist in 2022 at the U17 Worlds Championships, also competed in the U17 Worlds last year in Greco-Roman. He drew Rohit of India, a 2023 U17 Asian Championships silver medalist. His next athlete would be either from Turkey or Azerbaijan. Other nations in his half-bracket are Georgia, Moldova, Uzbekistan and an Individual Neutral Athlete.
Villasenor, a 2021 Pan American U17 champion in both freestyle and Greco-Roman, has Pan American rival Fredrick Bachmann, Jr. right off the back, a medalist in both styles at the 2023 U17 Pan American Championships. He would need to beat Dhanraj Shrike of India in the quarterfinals, then possibly an athlete from Iran or one of Individual Neutral Athletes to make the finals.
Davino has an opening bye, but his first opponent could be two-time European U17 champion Jamal Abbasov of Azerbaijan. His half-bracket features opponents from Georgia, Iran, Kyrgyzstan, Kazakshtan and host Turkey.
Lockett opens with Pan American opponent Victor Soto Rivera of Puerto Rico. A win draws him against Felix Schmitt of Germany. He would need two more wins after beating Schmitt to reach the finals.
Sinclair must open against Bence Veress of Hungary, who is not a continental medalist. His next opponent would be Toohid Noory of Iran. Next would be somebody from either Georgia or Uzbekistan, the one more win to reach the finals.
The U17 World Championships commence each day at 11 a.m. local time in Istanbul, Turkey, which is located seven hours ahead of U.S. Eastern Time. A complete men's freestyle event schedule is listed below.
A live stream of the event is available to the U.S. audience through FloWrestling.com. Brackets and real-time results are available through
UWW Arena
.
2023 U17 WORLD CHAMPIONSHIPS

At Istanbul, Turkey


U.S. Men's Freestyle first round pairings
45 kg: Ignacio Villasenor, Longmont, Colorado (Pomona Elite WC)
Vs. Fredrick Bachmann, Jr. (Puerto Rico), 2nd in 2023 U17 Pan Ams in Greco-Roman and 3rd in freestyle
48 kg: Paul Kenny, Bayville, New Jersey
Vs. Oliwier Orzechowski (Poland)
51 kg: Christian Castillo, Glendale, Arizona (Thorobred WC)
Vs. Rohit (India), 2nd in 2023 U17 Asian Championships,
55 kg: Marcus Blaze, Perrysburg, Ohio (Perrysburg WC)
Vs. Amirreza Ali Teymorizad (Iran), 2nd in 2023 Asian U17 Championships, 7th in 2022 Asian U20 Championships
60 kg: Ben Davino, South Elgin, Illinois (St. Charles WC)
Vs. winner of Jamal Abbasov (Azerbaijan) and Yeraly Zhenissov (Kazakhstan)
Abbasov – 2022 and 2023 European U17 champion
Zhenissov – no information
65 kg: Brock Mantanona, Bermuda Dunes, California (Coachella Valley WC)
Vs. Almas Sabyr (Kazakhstan), 3rd in 2023 Asian U17 Championships…
71 kg: Ladarion Lockett, Stillwater, Oklahoma (Cowboy WC)
Vs. Victor Soto Rivera (Puerto Rico), 3rd in 2023 Pan American U17 Championships in freestyle and Greco-Roman
80 kg: Zack Ryder, Westtown, New York (M2 Training Center)
Vs. Askhab Khajiyev (Kazakhstan), 7th in 2022 U17 World Championships
92 kg: Aeoden Sinclair, Edgerton, Wisconsin (Askren Wrestling Academy)
Vs. Bence Veress (Hungary), 7th in 2023 European U17 Championships, 7th in 2021 European U15 Championships
110 kg: Sampson Stillwell, Centerview, Missouri (Kobra Kai Training)
Vs. Henrik Haykyan (Armenia), 2nd in 2023 European U17 Championships…
U17 World Championships men's freestyle schedule
Friday, August 4
11:00 a.m. – Qualification Rounds (MFS 48-55-65-80-110 kg)
5:00 p.m. – Semifinals (MFS 48-55-65-80-110 kg)
Saturday, August 5
11:00 a.m. – Qualification Rounds (MFS 45-51-60-71-92 kg), Repechage (MFS 48-55-65-80-110 kg)
5:00 p.m. – Semifinals (MFS 45-51-60-71-92 kg)
6:00 p.m. – Championship Finals (MFS 48-55-65-80-110 kg)
Sunday, August 6
4:30 p.m. – Repechage (MFS 45-51-60-71-92 kg)
6:00 p.m. – Championship Finals (MFS 45-51-60-71-92 kg)