News
USA Wrestling
International
USAW
15 win double titles after claiming freestyle titles at USA Wrestling Masters Nationals on Saturday
by Gary Abbott, USA Wrestling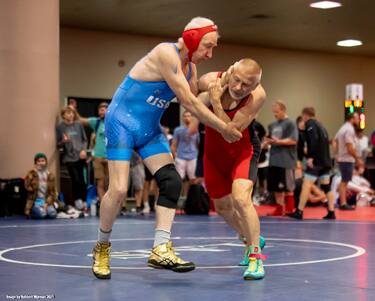 Donald Apodaca (left) battles Peter Haag in their best-of-three series at 88 kg in Div. F at the Masters Nationals. Photo by Robbert Wijtman, CSC Photography.
JACKSONVILLE, Fla. – It was men's freestyle day for the Masters Nationals championships, and 15 athletes were able to win double titles, with freestyle victories today after winning in Greco-Roman on Friday.
This year's Masters Nationals double champions included:
• Dimitri Willis of Chicago Wrestling Club (78 kg, Div. A)
• Khalil Abdushshakur of Morris Fitness (88 kg, Div. A)
• Nathaniel Augustson of 505 Wrestling Club (88 kg, Div. B)
• Carson Gainey of Ohio (58 kg, Div. C)
• David Yi (Mad Dawg Wrestling Club (62 kg, Div. C)
• Matthew Shirk of Pennsylvania (78 kg, Div. C)
• Rudy James of Gopher Wrestling Club – RTC (88 kg, Div. C)
• Steve Horton of NB Elite (70 kg, Div. D)
• Jon Banko (All-American Wrestling Club (78 kg, Div. D)
• Morgan Robertson of MWC Wrestling Academy (88 kg, Div. D)
• Jeffrey Mallett of Maryland (58 kg, Div. E)
• David Manville of Pennsylvania (70 kg, Div. E)
• Kevin Kares (Las Vegas Wrestling Club (88 kg, Div. E)
• Peter Haag (Chicago Wrestling Club (88 kg, Div. F)
• Dave Ullom of Iowa (130 kg, Div. F)
Of the double champions, a new star on the Masters scene was David Yi of the Mad Dawg WC, the champion in Div. C at 62 kg. Yi defeated multiple World medalist Jason Goldman of New York on the way to titles in both tournaments.
Another strong effort among the double champions came in Div. A at 88 kg, where Khalil Abdurshakur of Morris Fitness. In today's freestyle finals, he won a close 8-8 criteria decision over Jamal Morris of Cardinal Gibbons High School Wrestling. Morris, a former star at NC State, was a Senior Beach Nationals champion on Thursday.
Both Yi and Abdurshakur were actually Triple champions for the weekend, after also winning their bracket at the U.S. Beach Nationals in the Masters division on Thursday. Another Triple champion among the Masters was Steve Horton of NB Elite, who won the freestyle title at 70 kg in Div. D today.
The oldest competitors on Saturday were in Div. E at 88 kg, where 69-year-old Peter Haag of the Chicago WC defeated 74-year-old Donald Apodaca of Segerstrom High School Wrestling in two straight matches in their best of three-series.
Among the champions was past Veterans World champion Brad Swartz of Fitness Quest WC, who won his three-athlete round-robin at 78 kg in Div. E, with wins over tough competitors Jon Banko of All-American WC and Bruce Moe of Bison WC.
Longtime Masters wrestler Peter Wirs of the Pennsylvania Wrestling Club, Inc. left his shoes on the mat in retirement from competition to the applause of his peers on the Masters scene.
VETERANS NATIONALS
At Jacksonville, Fla., May 22, 2021

Freestyle results

Division A
58 kg
1st - Dalton Henderson (Virginia)
2nd - Thomas Orme (Maryland)
3rd - Jurane Culbreath (Chicago Wrestling)
70 kg
1st - Joe Morreale (Florida)
2nd - Dallas Evans (Florida)
3rd - Michael Otero (Florida)
4th - Rory Roderick (Florida)
5th - Rhett Reeves (Alabama)
6th - Matthew Floresca (Wrestling Rhinos)
78 kg
1st Dimitri Willis (Chicago Wrestling Club) pin Trace Thome FL (Florida), 4:11
3rd Rashaad Saunders (Brave Tough Wrestling Club) dec. Boone Casarez OR (Oregon), 8-4
88 kg
1st - Khalil Abdushshakur (Morris Fitness) dec. Jamal Morris (Cardinal Gibbons High School Wrestling), 8-8
3rd Ryan Whittle (Pennsylvania) tech. fall Nick Hooper (Florida), 14-2 1:41
5th Larry Lopez (Maryland) tech. fall Anthony Brown-Garcia (New Mexico), 12-2 5:39
100 kg
1st - Karl Oeser (505 Wrestling Club)
2nd - Chaz Lynch (Chatfield Wrestling Club)
130 kg
1st - Jayson Conger (All American Wrestling Club)
2nd - Ryan Bascue (Spartan Mat Club)
Division B
62 kg
1st - Nate Hansen (Iowa)
70 kg
1st - Leevy Mears (Iron Horse Wrestling Club)
2nd - Richard Bloom (Massachusetts)
78 kg
1st - Lex Case (Patriot Wrestling Club)
2nd - Nazariy Volyanskyy (Chicago Wrestling Club)
3rd - Timothy Ironman (Tennessee)
88 kg
1st - Nathaniel Augustson (505 Wrestling Club)
2nd - Russell Brunson (Idaho)
3rd - Ivan Kanzaki (California)
4th - Salvador Delarosa (Spartans Wrestl
100 kg
1st - James Medeiros (California)
2nd - Josh Montesinos (706 Wrestling)
3rd - James Verderico (Nevada)
130 kg
1st - Mac Slauson (Florida)
Division C
58 kg
1st - Carson Gainey (Ohio)
2nd - Roger Stewart-Frederick (New York Athletic Club)
62 kg
1st - David Yi (Mad Dawg Wrestling Club)
2nd - Jason Goldman (New York)
3rd - Blake Maffei (South Carolina)
4th - Leshaunne Lewis (Florida)
5th - Gary Cook (Cnypin2win)
70 kg
1st - Sontonio Marchette (Ohio)
2nd - Furkat Isaev (Florida)
3rd - Shawn Noppert (Nj Scorpions Wrestling School)
4th - Antonino Calandra (Florida)
78 kg
1st - Matthew Shirk (Pennsylvania)
2nd - Brett Rainey (Chatfield Wrestling Club)
3rd - Eric Goodman (Wisconsin)
88 kg
1st - Rudy James (Gopher Wrestling Club - RTC)
2nd - Russ Smithson (California Mat Masters)
3rd - Alvin Riggs (Lowell Wrestling)
4th - Dink Wilcox (North Carolina)
100 kg
1st - Octavius Bellamy (Chicago Wrestling Club)
2nd - Dave Hart (Colorado)
3rd - Royce Teague (Minnesota)
130 kg
1st Gabe Beauperthuy (Colorado) dec. Travis Wiuff (Minnesota), 2-1
3rd Brett Clark (Team Fluffy) tech. fall Joseph t Bellavia (Mira Mesa High School Wrestling), 12-0 2:21
Division D
62 kg
1st - Matthew Robertson (Washington)
2nd - Joe Raia (Chicago Wrestling Club)
3rd - Patsy Anthony (Pennsylvania)
70 kg
1st - Steve Horton (NB Elite)
2nd - Marc Cecconi (Glynn Coastal Rattler Wrestling Club)
3rd - Doug Baum (Chicago Wrestling Club)
78 kg
1st - Jon Banko (All-American Wrestling Club)
88 kg
1st - Morgan Robertson (MWC Wrestling Academy)
2nd - James Miller (Vici Wrestling Club)
3rd - Jeff Williams (Warrior Wrestling Club)
4th - Ronald Ayers (Arizona)
5th - Louis Orr (Warriors Warehouse - Winona Youth Wrestling)
100 kg
1st - Erik Hinckley (Kansas)
2nd - Christopher Skrzypek (Florida)
3rd - Gelu Bors (Nevada)
4th - Robert Mancha (Arizona)
130 kg
1st - Brian Jones (Santa Monica Bay Wrestling Club)
2nd - Petrica Constandache (Battle Born Wrestling Acade
Div. E
58 kg
1st - Jeffrey Mallett (Maryland)
62 kg
1st - Fred Mahnke (Ohio)
70 kg
1st - David Manville (Pennsylvania)
2nd - Peter Wirs (The Pennsylvania Wrestling Club, Inc.)
78 kg
1st - Brad Swartz (Fitness Quest Wrestling Club)
2nd - Jon Banko (All-American Wrestling Club)
3rd - Bruce Moe (Bison Wrestling Club)
88 kg
1st - Kevin Kares (Las Vegas Wrestling Club)
2nd - Steve Babyak (California)
100 kg
1st - Joseph Cattan (Derby City Legends, LLC)
2nd - Frank Galvan (Rochester Wrestling Club)
3rd - William Gunter (Nevada)
Division F
88 kg
1st - Peter Haag (Chicago Wrestling Club)
2nd - Donald Apodaca (Segerstrom High School Wrestling)
130 kg
1st - Dave Ullom (Iowa)