News
USA Wrestling
International
Women
College
USAW
U.S. Olympic Team Trials men's freestyle upperweight previews: 86 kg, 97 kg, 125 kg
by Taylor Miller, USA Wrestling and Joe Wedra, Tarheel RTC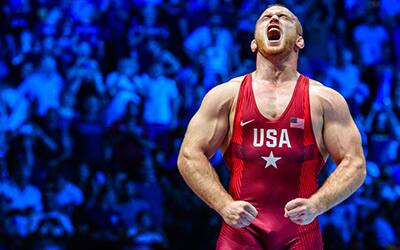 Kyle Snyder celebrates his 2017 World title. Photo by Tony Rotundo
.
The 2021 Olympic Team Trials are just around the corner, set for April 2-3 at Dickies Arena in Fort Worth, Texas.
Fans can watch all of this weekend's action live on
NBC and its platforms
.
Below is a short preview of each of the final three weight classes.
86 kg
The No. 1 seed at the weight is 2018 World champion David Taylor, who will compete in his first Trials event since 2018. Taylor took off the 2019 season due to injury and returned to the mat last March for the 2020 Pan American Olympic Qualifier, where he won gold to qualify the United States for the 86 kg weight class at the Tokyo Olympics.
While there is a returning World champ in the mix, the 86 kg weight class is deep! Rounding out the top-three seeds is National Team member and 2017 Junior World silver medalist Zahid Valencia at No. 2 and 2019 World Team member and 2013 Junior World silver medalist Pat Downey at No. 3. The talent goes even deeper with all 11 athletes bring impressive accolades to the tournament.
There are eight NCAA titles among the Nos. 4-11 seeds represented by 2016 NCAA champion Myles Martin (#4), two-time NCAA champion Gabe Dean (#5), three-time NCAA champion Bo Nickal (#6), 2021 NCAA champion at 184 pounds Aaron Brooks (#10) and 2021 NCAA champion at 174 pounds Carter Starocci (#11). Nickal won a University World title last year.
Others competing include No. 7 Nate Jackson, who dominated his way through the Last Chance Qualifier in March, as well as 2017 U23 World Team member Sam Brooks at No. 8 and 2019 Senior Nationals All-American Brett Pfarr at No. 9.
86 kg seeds
1. David Taylor (Nittany Lion WC/TMWC)
2. Zahid Valencia (Sunkist Kids)
3. Pat Downey (Unattached)
4. Myles Martin (Ohio RTC/TMWC)
5. Gabe Dean (Spartan Combat RTC/TMWC)
6. Bo Nickal (Nittany Lion WC/TMWC)
7. Nate Jackson (New Jersey RTC/NYAC)
8. Sam Brooks (Hawkeye WC/NYAC)
9. Brett Pfarr (Gopher WC RTC)
10. Aaron Brooks (Nittany Lion WC/TMWC)
11. Carter Starocci (Nittany Lion WC/TMWC)


97 kg
Similar to 74 kg, there are two sit-outs at the weight. Earning a bid to the best-of-three finals is Kyle Snyder, who won bronze at the 2019 World Championships at the Olympic weight. J'den Cox will sit until the semifinals with his medal-winning performance at the 2019 Worlds in a non-Olympic weight.
In 2016, Snyder became the youngest American to win an Olympic title in wrestling. Since then, he's won two World titles. Cox is a 2018 and 2019 World champion 92 kg. He also represented the USA at the 2016 Olympics, winning bronze at 86 kg.
Holding the No. 1 seed at the weight is 2018 U23 World silver medalist and 2019 Senior Nationals runner Kollin Moore. He's ahead of No. 2 Hayden Zillmer, the 2019 Senior Nationals champion, and No. 3 Mike Macchiavello, who earned silver at the 2019 Bill Farrell International.
Finishing out the top-5 seeds is two-time Final X runner-up Kyven Gadson at No. 4 and 2018 U23 World Team member Ty Walz at No. 5. Both athletes qualified through their top-eight finishes at Senior Nationals. Taking the No. 6 seed is 2021 NCAA champion for Oklahoma State AJ Ferrari, who also owns a Cadet World bronze medal.
Qualifying from the Last Chance Qualifier was champion Ben Honis and true-second placer Braxton Amos, who are seeded No. 7 and 8, respectively. Amos is also qualified for the Olympic Trials in Greco-Roman.
97 kg seeds
Kyle Snyder (Nittany Lion WC/TMWC) – sitting to best-of-three finals
J'den Cox (USOPTC/TMWC) – sitting to challenge tournament semifinals
1. Kollin Moore (Ohio RTC/TMWC)
2. Hayden Zillmer (Gopher WC RTC)
3. Mike Macchiavello (Wolfpack RTC/TMWC)
4. Kyven Gadson (Sunkist Kids)
5. Ty Walz (SERTC/TMWC)
6. AJ Ferrari (Cowboy RTC/TMWC)
7. Ben Honis (Pennsylvania RTC/TMWC)
8. Braxton Amos (Wisconsin RTC)
125 kg
There is plenty of intrigue at the top of 125 kg, with 2019 World Team member and two-time World medalist Nick Gwiazdowski earning the top seed right ahead of Gable Steveson, who is fresh off of his NCAA heavyweight title. Gwiazdowski holds a head-to-head advantage over Steveson since April 2019, but Steveson did post a 4-1 win when the two last met in the 2020 America's Cup back in December. Steveson has won a Junior World title and two Cadet World titles.
The weight is loaded with collegiate talent, with No. 3 Mason Parris and No. 6 Daniel Kerkvliet both earning All-American honors at the 2021 NCAA Division I Wrestling Championships earlier this month. Parris was a 2019 Junior World champion, while Kerkvliet was a Cadet World champion and two-time finalist. No. 9 Jordan Wood, another age-group World medalist, entered that tournament ranked eighth at the weight, losing to Kerkvliet in the second round. Parris, 2020 Senior Nationals winner, was the tournament's runner-up behind Steveson.
Dom Bradley, 2019 Senior Nationals champ, is ranked No. 4 at the weight. He is ranked just ahead of No. 5 Anthony Nelson, a two-time NCAA champion who took third at the 2021 Matteo Pellicone.
No. 7 Tanner Hall, who has a win over Bradley at the 2020 Senior Nationals, is seeded seventh, while Garrett Ryan is the eighth seed at the weight.


125 kg
1. Nick Gwiazdowski (Wolfpack RTC/TMWC)
2. Gable Steveson (Gopher WC RTC)
3. Mason Parris (Cliff Keen WC)
4. Dom Bradley (Tiger Style RTC/Sunkist Kids)
5. Anthony Nelson (Gopher WC RTC)
6. Daniel Kerkvliet (Nittany Lion WC/TMWC)
7. Tanner Hall (Sunkist Kids)
8. Garrett Ryan (Sunkist Kids)
9. Jordan Wood (Lehigh Valley RTC)