News
USA Wrestling
International
Women
College
USAW
Women's freestyle seeds set for Senior World Team Trials Challenge Tournament
by Gary Abbott, USA Wrestling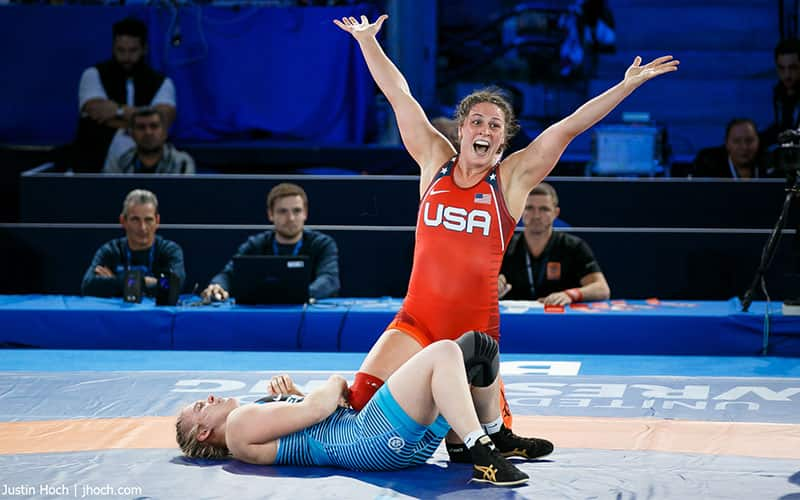 Adeline Gray celebrates her victory at the 2021 World Championships. Photo by Justin Hoch.
The women's freestyle seeds for the 2023
Senior World Team Trials Challenge Tournament
have been finalized ahead of this weekend's competition in Colorado Springs, Colo.
With six of the ten Final X women's freestyle pairings set, only four weight classes (55 kg, 59 kg, 68 kg, 76 kg) will be contested at this event to round out the remaining Final X participants.
A panel of coaches representing the athletes determined the final seeding based on an agreed upon set of seeding criteria that included head-to-head results, tournament placements, and common opponents.
The only adjustments that will be made to the seeds will be if a wrestler drops out of the field. In that case, the wrestler in question will be removed from the list and every wrestler underneath him will bump up to the next seed.
Among those receiving a No. 1 seed include six-time World champion and 2020 Olympic silver medalist
Adeline Gray
at 76 kg, 2019 World champion and Olympian
Jacarra Winchester
at 55 kg and 2021 World Team member and past U20 World champion
Maya Nelson
at 59 kg. The other No. 1 seed is 2018 U23 World bronze medalist
Alexandria Glaude
at 68 kg
The Senior women's freestyle tournament will take place
Sunday, May 21, at Discovery Canyon High School
. Action will begin at 10 a.m. (MT) with finals scheduled for 4:30 p.m. (MT).
Single day and all session ticket options are available to purchase online through
USA Wrestling
.
Those unable to attend the event can stream every match from Colorado Springs
live on FloWrestling
2023 Senior World Team Trials Challenge Tournament

At Discovery Canyon High School, Colorado Springs, Colo., May 20-21


Senior Women's Freestyle Tournament Seeding


55 kg
1. Jacarra Winchester, Titan Mercury WC/USOPTC
2. Lauren Mason, Brunson UVRTC
3. Areana Villaescusa, Army WCAP
4. Amanda Martinez, Cardinal WC
5. Jaslynn Gallegos, Cardinal WC
6. Gabrielle Skidmore, Minnesota Gold WC
7. Virginia Foard, Wyoming Seminary WC
59 kg
1. Maya Nelson, Sunkist Kids
2. Jennifer Page, Titan Mercury WC/Nittany Lion WC
3. Brenda Reyna, Army WCAP
4. Abigail Nette, Army WCAP
5. Bridgette Duty, Army WCAP
6. Alex Hedrick, Titan Mercury WC/USOPTC
7. Lexie Basham. Titan Mercury WC/Spartan Mat Club
8. SaVannah Cosme, Sunkist Kids
9. Lauren Louive, New York AC
68 kg
1. Alexandria Glaude, Titan Mercury WC/Beaver Dam RTC
2. Katerina Lange, Minnesota Storm
3. Emma Bruntil, Titan Mercury WC/USOPTC
4. Solin Piearcy, Menlo WC
5. Ana Luciano, Team Tornado WC
6. Chloe Ogden, Florida/Tarheel WC
7. Marilyn Garcia, California
8. Kaylynn Albrecht, Wildcat Elite
76 kg
1. Adeline Gray, New York AC
2. Yelena Makoyed, Titan Mercury WC/Cardinal WC
3. Dymond Guilford, Titan Mercury WC/USOPTC
4. Kylie Welker, Titan Mercury WC/Iowa Women's WC
5. Tristan Kelly, Army WCAP
6. Precious Bell, Titan Mercury WC
7. Ashley Lekas, Minnesota Gold WC
8. Skylar Grote, Titan Mercury WC/Beaver Dam RTC
9. Nahiela Magee, Army WCAP
10. Brooklyn Hays, Minnesota Gold WC