News
USA Wrestling
High School & Youth
Women
USAW
USA Wrestling releases boys and girls pre-seeds for High School National Recruiting Showcase
by Gary Abbott, USA Wrestling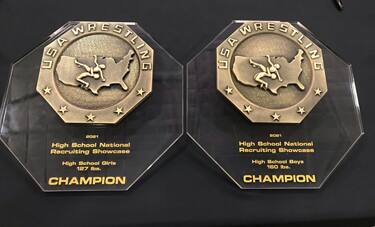 USA Wrestling has released the pre-seeds for the first annual High School National Recruiting Showcase, which begins on Friday in Coralville, Iowa.
The boys will wrestle Friday and Saturday in folkstyle, while the girls will wrestle Saturday in freestyle.
Final brackets, with any seed adjustments, will be published after weigh-in.
This tournament features over 220 individual state champions, plus athletes who qualified to compete through eight different qualifying events held across the nation earlier in March.
This event will be broadcast live by TrackWrestling.
Special thanks to MatScouts, TrackWrestling and the National Girls High School Rankings committee for input on the athletes considered for these pre-seeds.
Boys Preseeds (Folkstyle)
106
1. Aden Valencia Greco-Roman Development
2. Grigor Cholakyan St. John Bosco High School Wrestling
3. Brayden Linville Three Forks High School Wrestling
4. Keyan Hernandez Team Champs Wrestling Club
5. Nate Smith Southport Wrestling Club
6. Saoul Prado TEAM NEVADA
7. Jackson Heaston Indian Creek Wrestling Club
8. Ty Edwards Illinois
9. Jeremy Oani Righetti High School Wrestling
10. Anthony Ruzic Illinois
11. Colton Kobashi California
12. Connor Smith Pennsylvania
13. Isaac Hampton Newberg High School Wrestling
14. Victor Ramirez Jr. Central Catholic Wrestling Club
15. Ezekiel Witt Junction City High School Wrestling
16. Ethan Titus FishEye Wrestling
17. Marcus Williams Rio Rancho High School Wrestling
113
1. Yanni Vines Alabama
2. Dominic Mendez Righetti High School Wrestling
3. Ethan Perryman Temecula Valley High School Wrestling
4. Devin Duran Hurricane Wrestling Academy
5. Ethan Boudreaux Bayou Elite Wrestling Club
6. Dawson Johnson Crass Trained-The Weigh In Club
7. Luke Dux Crass Trained-The Weigh In Club
8. Logan Smith TWC/Arizona Wrestling Club
9. Ethan Ritchie Oregon
10. Marcello Milani Michigan
11. Caleb Scott Granite City Wrestling Association
12. Wayne Shepard Next Level Training Academy
13. Tyler Evans Wolves Wrestling Club
14. Jase Van Pelt Team Champs Wrestling Club

120
1. Nicholas Gonzalez Izzy Style Wrestling
2. Dj Gillett Mat Sense Wrestling
3. Mauro Michel Salem Elite Mat Club
4. Mick Chagnon Havre Wrestling Club
5. Isaiah Powe Alabama
6. Joseph Fernau Izzy Style Wrestling
7. Thorne Milligan TEAM NEVADA
8. Michael Pizzuto MD Maniacs Wrestling Club
9. Jonathan Tanguma Moses Lake Wrestling Club
10. Evan Frost Bayou Elite Wrestling Club
11. Owen Greslick Virginia
12. Brayden Sonnentag CrassTrained: Weigh In Club
13. Joey Showalter Ringers Wrestling Club
14. Brayden Boyd Salem Elite Mat Club
15. Dominic Ditomasso South Georgia Athletic Club
16. Markel Baker Alber Athletics Wrestling Club
17. Gavin Alexander Missouri
18. Devin Avedissian Team Temecula /Pin Club
19. Ryan Lobato California
20. Kade Davidheiser Team Renegade
21. Treyton Ackman CrassTrained: Weigh In Club
22. Joshua Neiwert Inland Northwest Wrestling Training Center
23. Ethan Qureshi Portola High School Wrestling
24. Luke Passarelli Westmoreland County Wrestling Club
25. Adrian Limon Northview High School Wrestling
26. Coby Haney Mattoon Youth Wrestling Club
27. Billy Meiszner Elite Athletic Club
28. Jonathan Hudson SWAT (Sheldon Wrestling Academy Training)
29. Archer Heelan Nebraska Golden Eagles Wrestling Club
30. Frio Vontress Dodge City Wrestling Academy
31. Kayden Blake Junction City High School Wrestling
126
1. Jacob Frost Bayou Elite Wrestling Club
2. Jacob Macatangay The Wrestling Academy
3. Carter Bailey Livermore Elite Wrestling Club
4. Phoenix Blakely Dakota Wrestling Club
5. William Baysingar Arlington Cardinals Wrestling Club
6. Gage Owen MD Maniacs Wrestling Club
7. Benjamin Miller TEAM NEVADA
8. Nash Singleton Roseburg High School Wrestling
9. Tristan Bremer Lewiston Wrestling Club
10. Chase Milligan TEAM NEVADA
11. Easton Hilton Victory Wrestling
12. Jewell Williams Team Barracuda WC
13. Otto Cate-Cribari TEAM NEVADA
14. Brock Smith Young Guns Wrestling Club
15. Dario Lemus California
16. Samuel Cartella Ohio
17. Nathan Perryman Temecula Valley High School Wrestling
18. Porter Craig Camas Wrestling Club
19. Kai Neumark The Wrestling Academy
20. Logan Normandin Plainville Wrestling Club
21. Casey Roberts Vacaville Wrestling Club
22. Cody Tavoso Izzy Style Wrestling
23. Kaleb Mannel Wisconsin
24. Derrek Alcantar Elite Force Wrestling Club
25. Sean Conway Izzy Style Wrestling
26. Ryan Luna Daniel Cormier/ AKA Wrestling Club
27. Hunter Bidelman Cougar Wrestling Club
28. Christopher Betancourt California
29. Ostin Blanchard Askren Wrestling Academy Lake Country
30. Ryan McCabe SWAT (Sheldon Wrestling Academy Training)
132
1. Dominic Hargrove Betterman Elite Wrestling
2. Damion Elliott California
3. Tanner Gerber CrassTrained: Weigh In Club
4. Anthony Aniciete TEAM NEVADA
5. Q`veli Quintanilla Inland Northwest Wrestling Training Center
6. Evan Potter Oregon
7. Luke Van Orden TEAM NEVADA
8. Devin Stone Warrior Wrestling Club
9. Easton Taylor Manhattan High School Wrestling
10. Weston Dalton Colorado
11. Maddux Blakely Alber Athletics Wrestling Club
12. Jude Camacho Texas
13. Perrin Clark Tennessee
14. Pierson Manville Pennsylvania
15. Michael Smith Askren Wrestling Academy Lake Country
16. Jacob Dease Warrior Wrestling Club
17. Hunter White Moses Lake Wrestling Club
18. Kole Brower Illinois
19. Austin Defoe Wisconsin
20. Aaron Ibarra Righetti High School Wrestling
21. Dayton Bell Next Level Training Academy
22. Vincent Cabral Colorado
23. Julian Perez Florida
24. Cannon Montoya TEAM NEVADA
25. Eric Almarinez Vacaville Wrestling Club
26. Luke Lewandowski Nicolet High School Wrestling
27. Owen Dunlap Redhawk Training Center
28. Patrick Foxworth Junction City High School Wrestling
29. Christopher Cayard Jr Oklahoma
30. Anthony Bernardo James Logan High School Wrestling
31. Brice Barton Tennessee
32. Severn Torres Oklahoma
138
1. James Latona Warrior Wrestling Club
2. Ethan Gray Tyrant Wrestling
3. Brayden Ivy Tennessee
4. Tyler Grady TEAM NEVADA
5. Jacob Thomas North Dakota
6. Wyatt McDermott Thermopolis Wrestling Club
7. Reese Osborne Sheridan Wrestling Club
8. Carson DesRosier Bruin Wrestling Club
9. Kaden Keiser South Dakota
10. Damian Mendez Dodge City High School Wrestling
11. Kyler Adams Alabama
12. Ethen Doty Illinois
145
1. Kyle Dutton Victory Wrestling
2. Tommy Curran Izzy Style Wrestling
3. Avery Allen Big Game Wrestling Club MT
4. Ayden Dolt Missouri
5. Seth Dawkins FordDynastyWrestlingClub
6. Wyatt Reisz The Best Wrestler
7. Daschle Lamer Mat Sense Wrestling
8. Derek Johnson Next Level Training Academy
9. Christopher Moore Illinois
10. Lorenzo Luis East Idaho Elite Wrestling Club
11. Clay Johnston Alabama
12. Tony Yuke Swamp Monsters
13. Julius Gerencser Daleville Broncos Wrestling Club
14. Irish Furthmyre Montana
15. Ethan Birch Vacaville Wrestling Club
16. Dillon Carlson Team Poeta
17. Anthony Flores Colorado
18. Mason Alessio Illinois
19. Jasper Centeno St. John Bosco High School Wrestling
20. Logan Rathjen Victory Wrestling
21. Elijah Lucio CrassTrained: Weigh In Club
22. Michael Schliem Wisconsin
23. Michael Shannon Florida
24. Nikolas Slatoff TEAM NEVADA
152
1. Manuel (m.j.) Gaitan Temecula Valley High School Wrestling
2. Mitchell Mesenbrink Askren Wrestling Academy Lake Country
3. Drake Rhodes Team Champs Wrestling Club
4. Jose Flores Threestyle Wrestling Of Oklahoma
5. Zach Valdez Montana
6. Roedy Farrell Thermopolis Wrestling Club
7. Austin Dalton Oregon
8. Richard Palomar Colorado
9. Evan Ivaldi California
10. Gabriel Pugh Marshfield Wrestling Club
11. Tehran Piza Florida
12. Calan Staub North Carolina
13. Benjamin Shvartsman Izzy Style Wrestling
14. Jayden Colon Izzy Style Wrestling
15. Mark Takara Temecula Valley High School Wrestling
16. Kylan Montgomery Team Mascoutah Wrestling Club
17. Logan Spell Tennessee
18. Walter Green Fitz Wrestling Academy
19. Timothy Cowan Livermore Elite Wrestling Club
20. Sergio Montoya Red Wave Wrestling
21. Kendrick Hodge Project Grapple
22. Garrett Willuweit Marshfield Wrestling Club
23. Will Miller Warrior Wrestling Club
24. Jaurice Seymour Florida
25. Joe Neal USAW MAINE SOUTH
26. Andres Carrillo Team Thunder Wrestling Club
160
1. Michael Caliendo Illinois
2. Alexander Holguin Grant County Grapplers
3. Chandler Amaker 843 Elite Wrestling Club
4. Hunter Meinzen Sudden Victory Wrestling Academy
5. Nicholas Hall Delaware
6. Aeoden Sinclair Askren Wrestling Academy Lake Country
7. Braeden Ott Askren Wrestling Academy Lake Country
8. Cole Hansen Askren Wrestling Academy North Shore
9. Shawn Miller Darkhorse Wrestling
10. Jack Bobeck Powerhouse Wrestling Academy
11. Maximus Zamora Moses Lake Wrestling Club
12. Ryan Fiorentino Darkhorse Wrestling
13. Adam Thebeau Greenfield Wrestling Academy
14. Bryce Dodge Florida
15. Mason Alley 505 Wrestling Club
16. Sam Beckett Team Renegade
17. Barker Luke Dodge City High School Wrestling
18. Allen Catour Young Guns Wrestling Club
19. Caden Young Aviators Wrestling
20. Gabriel Carrillo Team Thunder Wrestling Club
21. Hunter Moore TEAM NEVADA
22. Hayden Crow Sheridan Wrestling Club
23. Hunter Worthen Immortal Athletics WC
24. Dylan Forbus Franklin Wrestling Club
25. Joshua Gonzales Kansas
26. Gracen Hayes Lompoc High School Wrestling
170
1. Carson Manville Pennsylvania
2. Beau Chacon TEAM NEVADA
3. Lucas Daly Carbondale Wrestling Club
4. Jed Campos USA Gold
5. Caleb Roe Warrior Wrestling Club
6. Jackson Rosado Mat Sense Wrestling
7. Rylin Burns Montana
8. Justin Rademacher West Linn High School Wrestling
9. Nathan Fury South Central Punisher Wrestling
10. Caden Ernd Team Poeta
11. Omaury Alvarez Georgia
12. Reese Callahan Missouri
13. Graham Carson Ohio
14. Brayden Thompson Izzy Style Wrestling
15. Eli Cordy Standfast
16. Lowell Arnold Portage Youth Wrestling Club
17. Cody Kimball TEAM NEVADA
18. Benjamin Hansen Plainville Wrestling Club
19. Brendan Carroll Betterman Elite Wrestling
182
1. Jared Simma Kansas
2. Caleb Uhlenhopp TEAM NEVADA
3. Gunnar Garriques Illinois
4. Brook Byers Oregon
5. Christian Smoot Sanderson Wrestling Academy
6. Ian Smith CrassTrained: Weigh In Club
7. Hayes Dalton Utah
8. Dominick Leon California
9. Liam Volk-Klos Pennsylvania
10. Jerry McBee Owen County Cyclones
11. Mauro Pellot-Vazquez Virginia
12. Gervacio Gonzalez Christian Brothers High School Wrestling
13. Jayden Johnson TEAM NEVADA
14. Ben Strehlow Wisconsin
15. Kingsley Menifee Birds of Prey
16. Chase Baczek Team Poeta
17. Payton Thomas Lions Wrestling Academy
18. Caleb Hart West Albany High School Wrestling
19. Mark Ayala St. John Bosco High School Wrestling
20. Jacob Potts Silverback Wrestling Club
21. Alton Mullinax Columbia City Wrestling Club
22. Matthew Rodriguez Salina Wrestling Club
195
1. Jack Forbes Chatfield Wrestling Club
2. Joshua Negron Delaware
3. Ryan Cody The Masters Academy Wrestling
4. Evan Anderson Ohio
5. Andrew Wenzel Izzy Style Wrestling
6. Noah Wenzel Izzy Style Wrestling
7. Brayden Ruiz California
8. Garavous Kouekabakilaho California
9. Noah Rowlett Indiana
10. Nathan Wemstrom Izzy Style Wrestling
11. Caden Weber Crass Trained-The Weigh In Club
220
1. Dzhabrail Khurshidov Izzy Style Wrestling
2. Stone Combs Utah
3. Tyler Crossno Arkansas
4. Carter Grewe Wisconsin
5. Gentry Bowles Riverton Wolf Pack
6. Gunner Hoffmann CrassTrained: Weigh In Club
7. Jake Lester Izzy Style Wrestling
8. David Polaski Illinois
285
1. Apollo Gothard Izzy Style Wrestling
2. Aiden Butler 512 Outlaw Wrestling
3. Jake Andrews Elite Force Wrestling Club
4. Ryan Benca Texas
5. Javier Martinez Dinuba Wrestling Club
6. Gavin Daniels Lions Wrestling Academy
7. Jay Hanson Wisconsin
8. Emilio Franco California
Girls Preseeds (freestyle)



100
1. Alexandra Szkotnicki HeadHunters Wrestling Club
2. Brianna Gonzalez Arroyo High School Wrestling
3. Virginia Foard Virginia
4. Riley Banyas Ohio
5. Kayla McKinley-Johnson Washington
6. Aspen Blasko Minnesota Storm
7. Emma Baerthein All-Phase Wrestling Club
8. Kaylin Taylor North Montana Wrestling Club
106
1. Nyla Valencia Bulldog Wrestling Club
2. Sterling Dias TEAM NEVADA
3. Faith Cole Missouri
4. Chloe Dearwester Ohio
5. Rianne Murphy Wyoming Seminary
6. Janessa George Chatfield Wrestling Club
7. Bopasoreya Quintana Wisconsin
8. Julianne Moccia Mavericks Wrestling
112
1. Salyna Shotwell FordDynastyWrestlingClub
2. Ava Bayless Wyoming Seminary
3. Abbygale Duke Wyoming Seminary
4. Shea Reisel Somonauk Wrestlers Club
5. Cadence Diduch Alber Athletics Wrestling Club
6. Rose Ann Marshall Stoughton Viking Wrestling Club
7. Peyton Hand Oklahoma
8. Jenavi Alejandro TEAM NEVADA
9. Kendra Ryan United States Women`s Wrestling Travel Team
117
1. Katie Gomez Birmingham Community Charter High School Wrestling
2. Hannah Hall Palm Harbor University High School Wrestling
3. Lexy Beadles California
4. Leah Gaitan California
5. Carissa Qureshi California
6. Taylin Long Illinois
7. Chloe Herrick Kobra Kai Training
8. Alyssa Mahan Misfits Girls Wrestling
9. Israel Resendez Colorado
122
1. Shelby Moore Takedown Express Wrestling Club
2. Kailey Rees Freedom High School Wrestling
3. Jordyn Knecht Paola Wrestling Club
4. Cailin Campbell Indiana Girls Wrestling IGNITES
5. Anna Krejsa Indiana
6. Brooke Schuenemann Wisconsin
7. Gianna DiBenedetto Swamp Monsters
8. Sophia Redwine Newberg High School Wrestling
9. Katie Ward TEAM NEVADA
127
1. Janida Garcia Swamp Monsters
2. Claire DiCugno Takedown Express Wrestling Club
3. Catharine Campbell Indiana Girls Wrestling IGNITES
4. Lexi Janiak Plainville WC
5. Skylar Little Soldier Hastings Wrestling Club
6. Sarah Savidge Betterman Elite Wrestling
7. Madisyn Blackburn RPA Wrestling
8. Taydem Khamjoi Swamp Monsters
9. Mia Furman Suples Wrestling Club
10. Kylie Rule Combat W.C. School of Wrestling
132
1. London Houston Mat Demon Wrestling Club
2. SaVannah Cosme Colorado
3. Elleni Johnson Utah
4. Athena Willden Somar Wrestling Club
5. Sofia Brynman-Metcalf Askren Wrestling Academy Lake Country
6. Isabella Amaro All-Phase Wrestling Club
7. Hanna Errthum Combat W.C. School of Wrestling
8. Samantha Barragan Hemet High School Wrestling
9. Alina Antillon Black Fox Wrestling Academy
10. Madyson Gray Lawrence Elite Wrestling Club
11. Alicia Pieper Michigan Revolution
12. Cassia Zammit Ohio
138
1. Jada Llamido Florida Jets
2. Tyler Richardson The Factory Wrestling Club
3. Grace Stem Pennsylvania
4. Savannah Gomez California
5. Marisa Roth Wisconsin
6. Sara Schmoker Arizona Girls Wrestling
7. Sara Lake Piper Wrestling Club
8. Mariah Wahl Montana
9. Piper Staniford Wyoming Seminary
144
1. Reese Larramendy Wyoming Seminary
2. Maddie Kubicki Victory Wrestling
3. Madison Diaz Iowa
4. Kaylie Petersen Maurer Coughlin Wrestling Club
5. Cloe Charlesworth Wyoming Seminary
6. Kaiulani Garcia NorCal Queens Wrestling Club
7. Esther Han Missouri
8. Z. Asymina Zwart Ringers Wrestling Club
9. Madison Byroads Lady Outlaws
10. Aevri Ciha Cambridge Wrestling Club
152
1. Lillian Freitas Wyoming Seminary
2. Dakota-Marie Dinielli FishEye Wrestling
3. Haley Ward Jackson County Wrestling
4. Ella Nichols KT Kidz Wrestling Club
5. Faith Bartoszek Wyoming Seminary
6. Maggie Graham Bluff City Wrestling Club
7. Avery Beckman Vici Wrestling Club
8. Anna McDougal Oregon
9. Emma Thompson Bixby Freestyle/Greco
164
1. Rose Cassioppi Hononegah Wrestling Club
2. Kaitlyn Pegarella Team Pennsylvania
3. Shelby Zacharias Tennessee
4. Kyra Richards Columbia High School Wrestling
5. Katelyn Lewis Fox Valley Elite
6. Isabell Carrington Dayton Eagles Wrestling CLub
7. Shianne Whited Tigeress Wrestling Club
8. Leila Martin Morro Bay Wrestling
9. Anya Hatch Utah
180
1. Jaylen Hyman Champions that Wrestle
2. Alivia White Washington
3. Katja Osteen Royal High School Wrestling
4. Riley Dempewolf Indiana Girls Wrestling IGNITES
5. KiEisha Cathey Team Tulsa Wrestling Club
6. Fiona McConnell All-Phase Wrestling Club
7. Jaeleen Robledo Somar Wrestling Club
8. Kailyn Garrett Michigan Revolution
9. Lily El-Masri Wyoming Seminary
10. Sarah Huse Indiana
11. Sam Calkins Delta Wrestling Club
12. Kiara Ganey Illinois
200
1. Andrea Smith RPA Wrestling
225
1. Julia Richey Somar Wrestling Club
2. Eliana Bommarito Michigan
3. Annika Miles California
4. Tatianna Herrera NorCal Queens Wrestling Club
5. Valerie Smith Tennessee