News
USA Wrestling
High School & Youth
Women
USAW
Fargo Facts: Women's tournaments in Fargo create milestones, set records
by Jason Bryant, Special to TheMat.com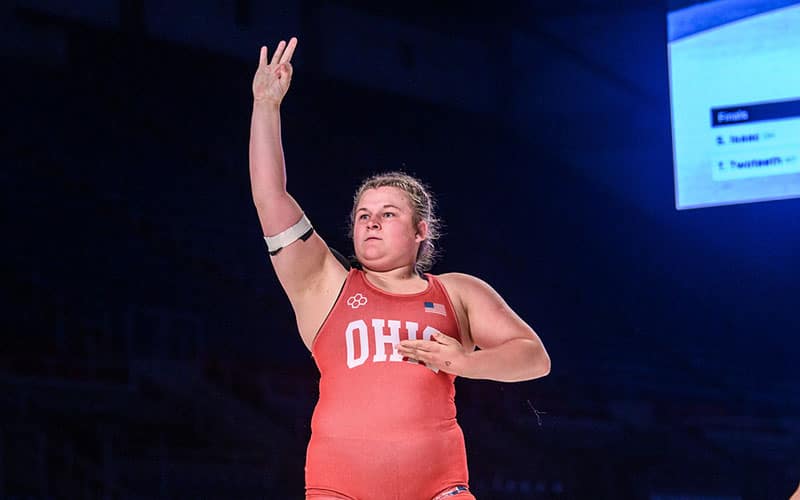 Savannah Isaac (OH) celebrates her third career Fargo title by raising three fingers. Photo by Tony Rotundo, Wrestlers Are Warriors
.
Fargo, North Dakota – One of the unique aspects of an event like the
USMC
Junior & 16U Nationals in Fargo
is the massive amount of state-related and athlete-related data that comes out as a result. Here are some of the news, nuggets and notables that occurred during the two women's tournaments that concluded on Sunday.
Famous Firsts

Traditional wrestling powers Illinois and Pennsylvania claimed their first championships in the women's divisions. Pennsylvania, which has long been dominant on the men's side fo the 16U age-group, won its first 16U women's team title, while Illinois won its first Junior championship. Pennsylvania becomes just the fourth different state to win a team title, joining California, Iowa and Hawaii. California has the most titles in the 16U women's tournament with nine.
In the previous 20 tournaments, only four states have won Junior women's titles and 16 of those 20 titles belonged to California. Illinois becomes the fifth overall state to win a title, joining Texas, which won two titles, and one-time team champions Washington and Michigan.
Medal Hauls
Ten wrestlers earned their third Junior women's freestyle medals after their final placement was established on Sunday. Those wrestlers were: Florida's Clare Booe, Maryland's Alexandra Szkotnicki and Nebi Tsarni, Massachusetts' Jaclyn Dehney, Michigan's Sabrina Nauss, Minnesota's Skylar Little Solider, Missouri's Mariyah Brumley, Texas' Sarah Conner, Virginia's Stella Steigler and Washington's Alivia White.
Running up the Stop Signs
Michigan's Sabrina Nauss won her second Junior women's freestyle title and fourth overall, while Ohio's Savannah Isaac also won her second Junior title to go with a 16U championship last year as well.
Judo chops
Judo doesn't actually have chops, much to the chagrin of one Austin Powers. Three wrestlers who have judo chops, at least in terms of credentials, did pretty well. Lynn Horn of Oklahoma won the 16U women's title at 127 pounds, while Illinois' Harlee Hiller was second at 106 pounds in the Junior division. Texan Jayda Fulp finished fourth in the 16U division at 138 pounds. Fulp and Hiller were both USA Judo Cadet World teamers, while Horn has been a notable name in judo on the age-group levels for years.
State Snapshots
Here's a look at some of the notable accomplishments from many of the state associations from the women's tournaments this year.
Alabama
: Evelyn Holmes-Smith finished fourth at 122 pounds in the 16U division. Holmes-Smith became the first two-time 16U All-American. She placed sixth in 2022 at 117 pounds.
Arizona:
Led by champions Isis France at 132 and Morgan Lucio at 144 pounds, Arizona finished fifth in the 16U women's freestyle championships, the highest in state history. France and Lucio's titles were also the first time Arizona's had two women's champions in a single year. The five All-Americans at 16U were also a state record, topping last year's four placers.
Arkansas
: Alena Williams finished seventh at 112 pounds in 16U. The medal was the state's sixth in 16U women's freestyle all-time, which is tops across all six divisions contested in Fargo.
California
: The Golden State's streak for 16U finalists ended at 11 as 2023 was the first time in the division's history there wasn't a Californian wrestling for gold. While there was team title for either age group this year, the state did have the most medalists in the Junior women's division overall, with 10, including two champions, which tied Maryland and Florida for the most in the Junior division.
Colorado
: Colorado's six medals ties the second-most ever won by the state in the Junior women's division. Colorado had six in 2022 and had a record seven medals in 2018.
Connecticut
: For just the second time in the state's history, Connecticut had two women's finalists in the same year. Kayla Batres was the runner-up in 16U at 106 pounds, while Calli Gilchrist was second at 117 pounds in the Junior division. The last Junior women's champion for Connecticut was actually Vermont native and former U.S. Senior women's world teamer Erin Clodgo in 2008.
Florida
: The Sunshine State set a new record for most women's champions in a year, claiming two titles in both the 16U and Junior age groups. The seventh-place finish at 16U was the best in state history and only the second time Florida has been inside the Top 10.
Illinois
: Set state record with 9 All-Americans in Junior Women. Set another state record with four finalists in Junior women. Won first team title in state history in Junior Women.
Harlee Hiller, a member of the Team USA Cadet World Judo Team, reached the finals after placing last year as a relatively inexperienced freestyler. Hiller's mom Kelly is regarded as one of the greatest American women's lacrosse players in history. She's the head coach at Northwestern, where the Wildcats recently won their 8th NCAA Division I women's lacrosse national championship.
Maryland
: We got two chickens tossed out on the mats at the Junior women's division for the first time since 2007. That year, future Junior world champion Nicole Woody won gold, as did future Olympic and World champion Helen Maroulis.
Massachusetts
: With her title at 127 pounds, Jaclyn Dehney became just the second three-time Junior women's freestyle All-American in state history, joining Jennah Brennan, who placed in Juniors from 2011-2013.
Michigan
: With six All-Americans, Michigan finished second in the 16U division, both of which are records. Michigan previously had five placers in the division on three separate occasions. The previous best team finish was third in 2012.
Montana
: Tizra Twoteeth's runner-up finish at 200 pounds was still good enough to be the first finals appearance in state history at the Junior women's division. The only other finalist in state history was Tilynne Vasquez, who finished second in 16U at 106 pounds in 2017.
Nebraska
: Kaylyn Harrill became the first women's finalist at the 16U division and just the second ever in either age group. The other finalist was current Southern Oregon head coach Gabriell Wehyrich, who was second in 2013 in the Junior women's division at 125 pounds. Harrill is just the state's fourth ever 16U women's placewinner.
New Jersey:
Kira Pipkins winner of the National Wrestling Hall of Fame's Tricia Saunders High School Excellence Award for 2023, finished sixth in the Junior division at 117 pounds. She was one of three placers from the Garden State in the Junior division.
New York
: With an eighth-place finish in the 16U division, the Empire State has finished in the Top 10 in 11 of the 12 years of the tournament.
North Dakota
: Only place in the women's divisions was 138-pounder Allyssa Johnson, who finished fifth in Juniors.
Ohio:
Savannah Isaac became Ohio's first two-time Junior women's champion with her title on Sunday night. Isaac joins Heather Martin (2002), Vanessa Oswalt (2005), and McKayla Campbell (2015) as the only other Junior women's champions from the Buckeye State.
Oklahoma:
It was a banner year for Oklahoma with the 16U division the state picked up five placers and closed with a third-place team finish. It's only the second time Oklahoma has finished in the Top 10, the other time was a ninth-place finish in 2012. Titles by Bella Williams at 122 and Lynn Horn at 127 gave Oklahoma two 16U women's champions in the same year for the first time.
Pennsylvania:
In addition to the state's first 16U women's team champions, Emma Bacon and Sierra Chiesa gave the Keystone State two champions in the same year for the first time in the division. It also doubled the total number of 16U titles won by the state as the pair joined previous champions Vayle-Rae Baker (2015) and Caitlyn Walker (2016). Julissa Ortiz finished fifth at 127 pounds after losing in the Round of 128. She then scored a technical fall and then seven straight falls before losing in the consolation semifinals. She then earned an eighth fall for fifth place. She, as expected, won the most falls award.
Puerto Rico:
Anieshka Santos Baez won the island's sixth all-time 16U women's medal with a sixth-place finish at 112 pounds. This year, Puerto Rico was identified in the draws under the title "US Territory."
South Carolina
: Zao Estrada finished second at 112 pounds, giving the state a finalist for the second straight year in Junior women. The Palmetto State is still looking for its first Junior women's champion since 2010 when current Central Methodist University women's coach Briena Delgado took home the gold at 132 pounds.
South Dakota
: Prior to 2023, South Dakota's 16U women's history consisted of one name – Ronna Heaton. She's now got company as the state placed three wrestlers in the division. Regina Stroeser finished third at 122 pounds, while Peyton Hellmann and Britney Rueb both placed at 127 pounds. Hellmann was fourth, while Rueb was sixth.
Tennessee
: Piper Fowler's championship in 16U at 164 pounds was the first national championship in Fargo for a Tennessee women's wrestler. Fowler becomes the state's first two-time 16U women's All-American. She finished second last year. Fellow medalist Irelynn Laurin gave Tennessee two medalists for just the second time in state history. The other occurrence came in 2021.
Texas
: With five medalists, Texas finished fifth in the Junior women's division. One of the early advocates and leaders in girls and women's wrestling at the state level, Texas has finished in the Top 10 on 19 occassions in the first 21 years of the tournament.
Utah
: Keilikki Nau Rarick became the state's second-ever 16U women's champion, joining two-time winner Sage Mortimer. Rarick was the state's only placer in the 16U division, while three Junior women placed for the third straight year.
Virginia
: Stella Steigler became the state's second two-time finalist after her runner-up finish at 152 pounds. Steigler joins Schuyler Brown, Rebecca Forsyth, and Jesse Kirby as wrestlers who placed at least three times in the Junior women's division. Brown and Kirby were four-time placers.
Washington
: Another consistent state on the women's side, Washington finished 10th in both age groups, giving the state a top-10 finish in 10 of the 11 16U championships all-time. The state has also finished in the Top 10 17 times in the Junior women's divison.
West Virginia
: Prior to this year, West Virginia had only placed one wrestler ever in the 16U women's division. That number increased by three as Justice Anthony (122), Violette Lasure (138) and Kaylie Hall (164) placed in the top eight. Lasure and Hall both finished third, which is now tied for the best finish in state history.
Wisconsin
: The state's women combined for three finalists on the women's side for the fifth time in state history. Wisconsin had three second-place finishes for the second time in state history.
Wyoming
: Maggie Smith finished seventh at 200 pounds, giving the state its first Junior women's placer since Jenna Emlinger finished sixth in 2015 at 130 pounds.