News
USA Wrestling
High School & Youth
Women
USAW
U.S. women's freestylers get draws for 2023 U17 World Championships in Istanbul, Turkey
by Gary Abbott, USA Wrestling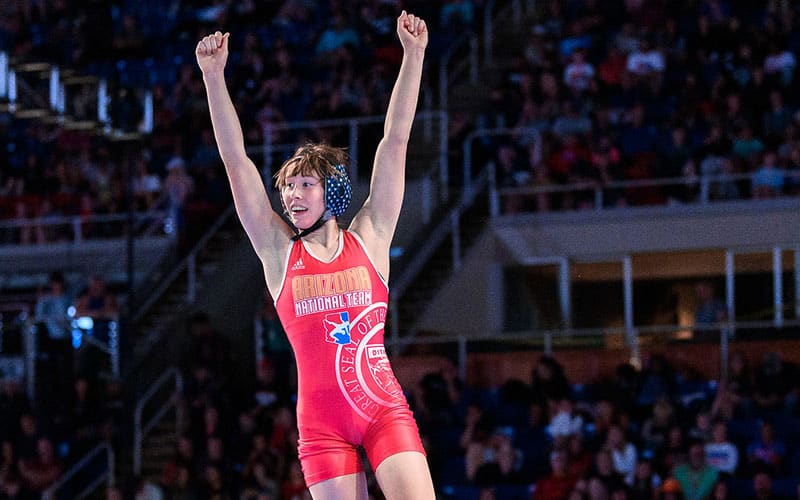 Everest Leydecker (AZ) celebrates her 2022 16U Nationals title. Photo by Tony Rotundo, Wrestlers Are Warriors
.
ISTANBUL, Turkey – The 10 women's freestyle wrestlers representing the USA at the
2023 U17 World Championships
this week have received their draws.
With just one previous U17 World Team member on the roster and five who have no previous international experience, this event will give many an opportunity to make their name on the international level.
Group One of the women's freestylers begin competition on Wednesday, August 2:
Morgan Turner
of Illinois (43 kg),
Heather Crull
of Indiana (49 kg),
Everest Leydecker
of Arizona (57 kg),
May Prado
of Georgia (65 kg) and
Piper Fowler
of Tennessee (73 kg).
Leydecker has the most accomplished opponent in the first round from this group, going against Asian U15 and U17 champion Neha of India. Leydecker is in the top half-bracket, which features Sowaka Uchida of Japan and Individual Neutral Athlete Mariia Beliasova.
Crull opens against a European U17 bronze medalist from the host nation, Nil Aktas, at 49 kg. There are only seven athletes in her half-bracket, including Individual Neutral Athlete Svitlana Katenka.
Turner, who has won two age-group Pan American medalist, opens with Saadat Guliyeva of Azerbaijan, then would face Alina Mazharouskaya, an Individual Neutral Athlete in the next round.
Fowler is the only USA athlete in Group One to draw a first-round match with a wrestler from World power Japan, Ako Uchiyama, who has no international achievements. Prado could face Japan's Chisato Yoshida in the second match if she opens with a win over Mukhayyo Rakhimjonova of Uzbekistan.
Group Two of the U.S. U17 women's freestyle team gets going on Thursday, August 3, with
Jaclyn Bouzakis
(40 kg),
Rianne Murphy
(46 kg),
Karlee Brooks
(53 kg),
Haylie Jaffe
(61 kg) and
Jasmine Robinson
(69 kg) taking to the mat.
Robinson is the only past U17 World Team member on the U.S. roster, and opens against Ai Sakai of Japan, who also has no international resume.
Three of the athletes in this group have won Pan American age-group titles, Bouzakis, Murphy and Jaffe.
Bouzakis opens in the quarterfinals, and also has an opponent from Turkey in her first match, European age-group medalist Fatma Yilmaz.
Jaffe starts with a bye, and faces the winner of Ainara Portilla Garcia of Spain and Emilia Swierczewska of Poland. If she wins, her next opponent could be Individual Neutral Athlete Ekatarina Radysheva.
Murphy, who has won Pan American titles at the U15 and U17 levels, has Individual Neutral Athlete Valeryia Tsitova in her opener. If she wins, she faces Daniella Hossein Beky of Norway in the quarterfinals.
Brooks opens with Elmira Saparvekova of Kazakhstan and could face Japan's Sakura Onishi in the quarterfinals.
The U17 World Championships commence each day at 11 a.m. local time in Istanbul, Turkey, which is located seven hours ahead of U.S. Eastern Time. A complete women's event schedule is listed below.
A live stream of the event is available to the U.S. audience through
FloWrestling.com
. Brackets and real-time results are available through
UWW Arena
.
U17 WORLD CHAMPIONSHIPS

At Istanbul, Turkey


U.S. Women's Freestyle first round draw
40 kg: Jaclyn Bouzakis, Shaverstown, Pennsylvania (Team Pennsylvania)
Vs Fatma Yilmaz (Turkey), 2nd in 2023 European U17 Championships, Second in 2021 European U15 Championships
43 kg: Morgan Turner, Lockport, Illinois (Sunkist Kids)
Vs. Saadat Guliyeva (Azerbaijan), 9th in 2023 European U17 Championships
46 kg: Rianne Murphy, Crown Point, Indiana (Region Wrestling Academy)
Vs Valeryia Tsitova (AIN), 7th in 2021 European U17 Championships for Belarus
49 kg: Heather Crull, Richmond, Indiana (Northeastern WC)
Vs. Nil Aktas (Turkey), 3rd in 2023 European U17 Championships, 3rd in 2022 European U15 Championships
53 kg: Karlee Brooks, Phoenix, Arizona (Arizona Girls Wrestling)
Vs. Elmira Saparvekova (Kazakhstan)
57 kg: Everest Leydecker, Phoenix, Arizona (Thorobred WC)
Vs Neha (India), 2023 Asian U17 champion, 2022 Asian U15 champion
61 kg: Haylie Jaffe, Avondale, Pennsylvania (Team Pennsylvania)
Vs. winner of Ainara Portilla Garcia (Spain) and Emilia Swierczewska (Poland)
Portillo – 3rd in 2022 European U15 Championships
Swierczewska – 8th in 2023 European U17 Championships
65 kg: May Prado , Marietta, Georgia (Level Up Wrestling Center)
Vs Mukhayyo Rakhimjonova (Uzbekistan), 5th in 2023 Asian U17 Championships
69 kg: Jasmine Robinson, Allen, Texas (Allen High School Wrestling)
Vs Ai Sakai (Japan)
73 kg: Piper Fowler, Cleveland, Tenn. (Higher Calling WC)
Vs. Ako Uchiyama (Japan)
U17 Worlds Women's Freestyle Schedule
Wednesday, August 2
11:00 a.m. – Qualification Rounds (WFS 43-49-57-65-73 kg)
5:00 p.m. – Semifinals (WFS 43-49-57-65-73 kg)
Thursday, August 3
11:00 a.m. – Qualification Rounds (WFS 40-46-53-61-69 kg), Repechage (WFS 43-49-57-65-73 kg)
5:00 p.m. – Semifinals (WFS 40-46-53-61-69 kg)
6:00 p.m. – Championship Finals (WFS 43-49-57-65-73 kg)
Friday, August 4
11:00 a.m. –Repechage (WFS 40-46-53-61-69 kg)
6:00 p.m. – Championship Finals (WFS 40-46-53-61-69 kg)