News
USA Wrestling
High School & Youth
USAW
Six win coveted Triple Crown with freestyle national titles at Kids Nationals on Saturday
by Gary Abbott, USA Wrestling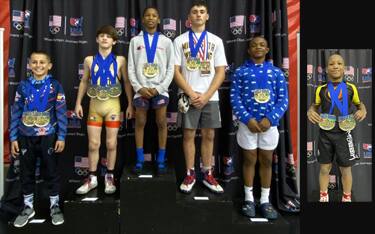 Five of the six Triple Crown winners pose together: (left to right). Casen Becker (CO), Domenic Munaretto (IL), Caleb Noble (WI), Bradley Rodriguez-Little (MN) and Aaron Stewart (IL). Also pictured to right is Jaden Washington (IL).
WISCONSIN DELLS, Wis. – When it was all over, there were six talented wrestlers who walked away with coveted USA Wrestling Triple Crowns, after winning the freestyle competition at the Kids Nationals on Saturday.
An athlete wins the Triple Crown if he claims USA Wrestling national titles in folkstyle, Greco-Roman and freestyle in the same year. The age divisions eligible for the Triple Crown this weekend were 10U, 12U and 14U.
This year's Triple Crown winners at the Kids level are:
Caleb Noble of Wisconsin (14U, 71)
Domenic Munaretto of Illinois (14U, 83)
Aaron Stewart of Illinois (14U, 114)
Bradley Rodriguez-Little of Minnesota (14U, 136)
Casen Becker of Colorado (10U, 67)
Jaden Washington of Illinois (10U, 71)
At 14U, Noble scored a 10-0 technical fall over Cruzer Dominguez of Nebraska in the finals. Munaretto secured a 5-2 win over Julian Rios of Massachusetts to secure his victory. Stewart closed out his Triple Crown with an 11-1 technical fall over Joshua Requena of California. Rodriguez-Little also ended it with a technical fall, stopping Keenan Sheridan of South Dakota, 10-0.
At 10U, Becker secured the Triple Crown with a pin in 1:41 of the 67-pound finals over Tucker McLennan of Minnesota. Washington also had a fall in his freestyle finals, stopping Brogan Sendele of Illinois in 43 seconds.
There were only four Kids Triple Crown winners in 2019, the last year that the event was held, since it was cancelled due to the pandemic in 2020. Noble becomes the only 2019 Triple Crown winner to repeat in 2021. He was a 2019 Triple Crown winner at 58 pounds in 12U.
Three of the Triple Crown contenders were defeated on Saturday, and finished with two national titles for the year. At 14U, Brody Sendele of Illinois finished fifth at 119, in a weight class that was claimed by Daniel Heiser of Wisconsin. At 12U, Calvin Rathjen finished third in freestyle at 82 pounds, a weight ultimately won by Arseni Kikiniou of New York. At 10U, Stetson Gabel finished second at 84, dropping a bout to freestyle champion Nathan Fenner of Pennsylvania.
In addition to the four Triple Crown winners at 14U, there were an additional six double champions at the age-level, winners of both the freestyle and Greco-Roman competitions at their weight: Hudson Loges of Nebraska (92), Nolan Fellers of Iowa (125), Kyler Knaack of Iowa (130), John Murphy of Minnesota (149), Dreshaun Ross of Iowa (165) and Kai Calcutt of Illinois (250).
Although there were no Triple Crown winners in 12U, there were five double champions, winner of freestyle and Greco-Roman titles this weekend at the age-level. They were Corey Brown of Maryland (67), Brock Humphrey of West Virginia (70), Keegan Bassett of Pennsylvania (86), Asher Bacon of Florida (98) and Salah Tsarni of Maryland (108).
At 10U, in addition to the two Triple Crown winners, there were four other double champions, claiming both freestyle and Greco-Roman national crowns: Jacob Graber of Minnesota (49), Samuel Moran of Washington (77), Whitley Wilscam of Kansas (93) and Hayden Mullins of Indiana (105).
All of the 8U freestyle champions had also won Greco-Roman titles on Friday to become double champions: Trey Bell of Tennessee (45), Zayne Wieneke of Kansas (49), Ian Weber of Wisconsin (53), Tanner McCray-Bey of Maryland (56), Jace Evers of Minnesota (62), Ben Howenstein of South Dakota (70) and David Harrell of Indiana (85). Of these double champions, Wieneke, Weber and Howenstein had also won folkstyle national titles in Iowa in April.)
Triple Crown winners at the 16U and Junior levels will be determined in Fargo, N.D. later in July.
KIDS NATIONAL CHAMPIONSHIPS
At Wisconsin Dells, Wis.

14U freestyle results
71
1st Place Match
Caleb Noble (WI) won by tech fall over Cruzer Dominguez (NE) (TF 10-0)
3rd Place Match
Liam Collins (MN) won by decision over Hudson Chittum (TN) (Dec 14-8)
5th Place Match
Loc Webber (OH) won by tech fall over Chase Franklin (SD) (TF 15-4)
7th Place Match
Zander Manz (IA) won by decision over Layne Martin (MI) (Dec 8-5)
77
1st Place Match
Turner Ross (MN) won by decision over Case Bell (IN) (Dec 4-0)
2nd Place Wrestleback
Case Bell (IN) won by decision over Hayden Schwab (IA) (Dec 5-3)
3rd Place Match
Hayden Schwab (IA) won by decision over Jose Cordero (TN) (Dec 10-7)
5th Place Match
Vincent DeMarco (IL) won by tech fall over Blake Hawkins (CO) (TF 10-0)
7th Place Match
Logan Johnson (MD) won by fall over Joelan Coyer (MI) (Fall 1:01)
83
1st Place Match
Domenic Munaretto (IL) won by decision over Julian Rios (MA) (Dec 5-2)
3rd Place Match
Grey Burnett (OH) won by decision over Nico DeSalvo (PA) (Dec 10-5)
5th Place Match
Mac Crosson (IA) won by tech fall over William Buckley (FL) (TF 14-3)
7th Place Match
Jensen Boyd (IN) won by decision over Caleb Schaefer (IN) (Dec 13-8)
87
1st Place Match
Lincoln Sledzianowski (FL) won by fall over Zaiyahn Ornelas (NE) (Fall 1:11)
2nd Place Match
Paul Kenny (NJ) won by decision over Zaiyahn Ornelas (NE) (Dec 6-5)
3rd Place Match
Paul Kenny (NJ) won by decision over Titan Friederichs (MN) (Dec 8-8)
5th Place Match
Joel Friederichs (MN) won by decision over Ayden Dodd (OH) (Dec 13-10)
7th Place Match
Emma Bacon (FL) won by injury default over Tas Storer (CA) (Inj. 0:00)
92
1st Place Match
Hudson Loges (NE) won by decision over Bruno Cassioppi (IL) (Dec 2-0)
2nd Place Match
Bruno Cassioppi (IL) won by no contest over Gus Cardinal (AZ) (NC)
3rd Place Match
Gus Cardinal (AZ) won by tech fall over Dominic Way (WV) (TF 18-7)
5th Place Match
Dawson Youngblut (IA) won by tech fall over Nicholas Sorrow (MI) (TF 11-0)
7th Place Match
Gavin Landers (IA) won by decision over Seach Hibler (NJ) (Dec 5-0)
97
1st Place Match
Jayden James (NJ) won by decision over Deven Casey (IL) (Dec 10-4)
2nd Place Match
Tyler Dekraker (VA) won by decision over Deven Casey (IL) (Dec 6-2)
3rd Place Match
Tyler Dekraker (VA) won by tech fall over Chris Lalonde (CO) (TF 10-0)
5th Place Match
Rocco Cassioppi (IL) won by tech fall over Kolten Mellon (OH) (TF 10-0)
7th Place Match
James Tildsley (MA) won by tech fall over Nathan Randle (IL) (TF 10-0)
102
1st Place Match
Lukas Littleton Mascaro (PA) won by decision over Jacob Herm (WI) (Dec 8-0)
2nd Place Wrestleback
Jacob Herm (WI) won by decision over Kellen Wolbert (WI) (Dec 10-7)
3rd Place Match
Kellen Wolbert (WI) won by decision over Ryan Meier (MA) (Dec 8-6)
5th Place Match
Wil Oberbroeckling (IA) won by tech fall over Chris Dennis (PA) (TF 10-0)
7th Place Match
Stone Phillips (AL) won by tech fall over Zacariah Reno (IN) (TF 10-0)
106
1st Place Match
Timothy Koester (IA) won by decision over Declan Koch (WI) (Dec 6-2)
2nd Place Wrestleback
Declan Koch (WI) won by tech fall over Jake Miller (OK) (TF 14-2)
3rd Place Match
Jake Miller (OK) won by fall over Gabriel Logan (NJ) (Fall 3:41)
5th Place Match
Blake Fox (IA) won by tech fall over Dj Wince (CO) (TF 10-0)
7th Place Match
Khimari Manns (OH) won by fall over William LaVallee (MA) (Fall 0:18)
110
1st Place Match
JayVeon Clinton (OH) won by decision over Thomas Verrette (PA) (Dec 6-3)
3rd Place Match
Zaidyn Quinonez (CO) won by tech fall over Jiovanni Chavez (AZ) (TF 10-0)
5th Place Match
Colton Weiler (WI) won by tech fall over Andres Digrigoli (FL) (TF 12-2)
7th Place Match
Xavier Chavez (AZ) won by fall over Griffin Van Tichelt (IN) (Fall 1:34)
114
1st Place Match
Aaron Stewart (IL) won by tech fall over Joshua Requena (CA) (TF 11-1)
2nd Place Wrestleback
Isaiah Jones (OK) won by fall over Joshua Requena (CA) (Fall 1:24)
3rd Place Match
Isaiah Jones (OK) won by tech fall over Hayden Andrus (PA) (TF 10-0)
5th Place Match
John Knight (WV) won by tech fall over Koray Kage Jones (NJ) (TF 10-0)
7th Place Match
Kalob Ybarra (CO) won by decision over Holden Hawkins (SD) (Dec 8-8)
119
1st Place Match
Daniel Heiser (WI) won by tech fall over Jimmy Mastny (IL) (TF 14-4)
2nd Place Wrestleback
Jimmy Mastny (IL) won by no contest over Trevor Jones (NJ) (NC)
3rd Place Match
Trevor Jones (NJ) won by decision over Grayson Woodcock (OH) (Dec 6-1)
5th Place Match
Brody Sendele (IL) won by tech fall over Sammy Spaulding (NJ) (TF 10-0)
7th Place Match
Peyton Oberg (WI) won by tech fall over Gino Schinina (NJ) (TF 11-1)
125
1st Place Match
Nolan Fellers (IA) won by decision over Carl J Betz III (NJ) (Dec 11-8)
2nd Place Wrestleback
Garrison Sartain (CA) won by tech fall over Carl J Betz III (NJ) (TF 12-2)
3rd Place Match
Garrison Sartain (CA) won by tech fall over Ian Hawkins (IL) (TF 19-9)
5th Place Match
Sullivan Ramos (WI) won by fall over Aiden Colbert (IL) (Fall 3:58)
7th Place Match
Drake Brasiel (OH) won by tech fall over Tyler Reinhardt (NM) (TF 10-0)
130
1st Place Match
Kyler Knaack (IA) won by tech fall over Jackson Tucker (MO) (TF 13-2)
3rd Place Match
Liam Fox (WY) won by decision over Blake Sloan (MI) (Dec 10-4)
5th Place Match
Cooper Driscoll (OH) won by tech fall over Braxton Walter (WI) (TF 20-10)
7th Place Match
Carter Brown (MO) won by tech fall over Conner Hoar (IN) (TF 15-5)
136
1st Place Match
Bradley Rodriguez-Little (MN) won by tech fall over Keenan Sheridan (SD) (TF 10-0)
3rd Place Match
Blue Stiffler (SC) won by tech fall over Moose Bringer (GA) (TF 12-2)
5th Place Match
Carlos Valdez (ID) won by decision over Gavin Isaacs (MN) (Dec 16-14)
7th Place Match
Gage Losiewicz (WI) won by tech fall over Xavier Smith (IN) (TF 10-0)
149
1st Place Match
John Murphy (MN) won by fall over Evan Perez (CO) (Fall 1:37)
2nd Place Wrestleback
Owen McMullen (PA) won by tech fall over Evan Perez (CO) (TF 17-6)
3rd Place Match
Owen McMullen (PA) won by fall over Mario Fornini (NJ) (Fall 1:10)
5th Place Match
Cael Mielnik (MD) won by injury default over Lucas Ricketts (KY) (Inj. 0:50)
7th Place Match
Haydn Hood (IN) won by tech fall over Tiani Lemieux (WI) (TF 10-0)
165
1st Place Match
Dreshaun Ross (IA) won by tech fall over Miguel Rojas (IN) (TF 10-0)
2nd Place Wrestleback
Terrell McFarland (PA) won by tech fall over Miguel Rojas (IN) (TF 10-0)
3rd Place Match
Terrell McFarland (PA) won by tech fall over Tyson Martin (WI) (TF 13-1)
5th Place Match
Colton Zipp (WI) won by tech fall over Michael Mocco (FL) (TF 19-9)
7th Place Match
D.j. Wilson (KY) received a bye () (Bye)
187
1st Place Match
Garett Kawczynski (WI) won by decision over Denarii Mickel (PA) (Dec 3-2)
3rd Place Match
Alex Taylor (OH) won by tech fall over James Bechter (OH) (TF 14-3)
5th Place Match
Adonis Bonar Ii (NE) won by tech fall over Henry Vander Heiden (WI) (TF 11-0)
7th Place Match
Brodie Purtle (MO) won by fall over Jack Steinmeyer (WI) (Fall 1:53)
250
1st Place Match
Kai Calcutt (IL) won by fall over Brayden Hill (KS) (Fall 1:26)
2nd Place Wrestleback
Milan Colvin (KS) won by decision Brayden Hill (KS) (Dec 4-3)
3rd Place Match
Milan Colvin (KS) won by tech fall over Brady Vaughan (MI) (TF 10-0)
5th Place Match
Landon Morris (MI) won by forfeit over Jaquan McMiller (MI) (FF)
7th Place Match
Maxwell Robinson (KS) won by fall over Enrique Morales (IL) (Fall 0:54)
12U freestyle results
58
1st Place - Knox Ayala of IA
2nd Place - Keian Linnell of UT
3rd Place - Xander Webber of OH
4th Place - Kamari Tate of IL
Keian Linnell (UT) won by fall over Kamari Tate (IL) (Fall 1:03)
Knox Ayala (IA) won by tech fall over Xander Webber (OH) (TF 13-2)
Keian Linnell (UT) won by tech fall over Xander Webber (OH) (TF 14-3)
Knox Ayala (IA) won by tech fall over Kamari Tate (IL) (TF 11-1)
Knox Ayala (IA) won by tech fall over Keian Linnell (UT) (TF 12-2)
Xander Webber (OH) won by tech fall over Kamari Tate (IL) (TF 14-3)
63
1st Place Match
Shiloh Joyce (NJ) won by decision over Rylen Wax (OH) (Dec 8-2)
3rd Place Match
Owen Parish (MN) won by decision over Thales Silva (CA) (Dec 11-9)
5th Place Match
Spencer McCammon (IN) won by tech fall over Jacob Naylor (MD) (TF 10-0)
7th Place Match
Johnathan Thompson (IA) won by tech fall over Camden Runnels (AR) (TF 17-3)
67
1st Place Match
Corey Brown (MD) won by decision over Max Dinges (PA) (Dec 6-0)
2nd Place Match
Max Dinges (PA) won by decision over Chad Artman (WV) (Dec 3-2)
3rd Place Match
Chad Artman (WV) won by decision over Jeremy Carver (IN) (Dec 6-4)
5th Place Match
Thiago Silva (CA) won by fall over Michael Rundell (IL) (Fall 1:31)
7th Place Match
Ty Martin (IA) won by decision over James Bilby (KS) (Dec 11-2)
70
1st Place Match
Brock Humphrey (WV) won by tech fall over Cohen Reer (OH) (TF 11-0)
3rd Place Match
Chase Karenbauer (PA) won by fall over Colton Wyller (IL) (Fall 1:06)
5th Place Match
Cruz Gannon (IA) won by tech fall over Hugo Hughes (IA) (TF 10-0)
7th Place Match
Dominic Cordero (TN) won by decision over Zack Dixon (CT) (Dec 10-4)
74
1st Place Match
Sean Kenny (NJ) won by tech fall over Reece Movahead (VA) (TF 11-0)
2nd Place Wrestleback
Blake Nevils (OK) won by tech fall over Reece Movahead (VA) (TF 16-6)
3rd Place Match
Blake Nevils (OK) won by tech fall over Traevon Ducking (IN) (TF 10-0)
5th Place Match
Tomas Campian (FL) won by fall over Jackson Marlett (IL) (Fall 1:42)
7th Place Match
Carver Hinz (IA) won by tech fall over Bryson Coyer (MI) (TF 17-7)
78
1st Place Match
Jojo Burke (NJ) won by fall over Urijah Lopez (OH) (Fall 2:45)
3rd Place Match
Colton Schultz (IL) won by fall over Cain Crosson (IA) (Fall 0:46)
5th Place Match
Coleton Klipa (PA) won by fall over Alden Walker (IN) (Fall 0:18)
7th Place Match
Dylan Williamson (IA) won by tech fall over Josiah Sims (OH) (TF 10-0)
82
1st Place Match
Arseni Kikiniou (NY) won by decision over Martez Sheard (WI) (Dec 6-5)
2nd Place Wrestleback
Martez Sheard (WI) won by fall over Calvin Rathjen (IA) (Fall 2:55)
3rd Place Match
Calvin Rathjen (IA) won by tech fall over Jon Gonzalez (IA) (TF 10-0)
5th Place Match
Donovan Quinn (MI) won by tech fall over Izaiah Brown (MD) (TF 10-0)
7th Place Match
Carson Blum (MI) won by decision over Grayson Baumann (IN) (Dec 7-2)
86
1st Place Match
Keegan Bassett (PA) won by tech fall over Dylan Villers (TN) (TF 16-3)
3rd Place Match
Alexander Penzkover (WI) won by tech fall over Nathan Matthis (MD) (TF 10-0)
5th Place Match
Rush Jennett (IA) won by tech fall over Braden Jones (NJ) (TF 12-1)
7th Place Match
Daniel Dennis (PA) won by tech fall over Tanner Williams (OH) (TF 10-0)
92
1st Place Match
Hendrix Schwab (IA) won by tech fall over Gavin Ryhal (PA) (TF 10-0)
2nd Place Wrestleback
Gary High (TN) won by fall over Gavin Ryhal (PA) (Fall 1:05)
3rd Place Match
Gary High (TN) won by tech fall over Isaac Foster (WI) (TF 10-0)
5th Place Match
William Moran (WA) won by tech fall over Mason Boulanger (WI) (TF 10-0)
7th Place Match
Evan Marvin (MN) won by tech fall over Matheo Cisneros (FL) (TF 10-0)
98
1st Place Match
Asher Bacon (FL) won by tech fall over James Whitbred (PA) (TF 10-0)
2nd Place Wrestleback
Carmine Cruz (AZ) won by decision over James Whitbred (PA) (Dec 7-3)
3rd Place Match
Carmine Cruz (AZ) won by tech fall over Thunder Page (KS) (TF 12-0)
5th Place Match
Kameron Green Jr. (NE) won by tech fall over Jax Shekleton (IA) (TF 10-0)
7th Place Match
Jacob Lootans Jr. (WI) won by tech fall over William Harding (ME) (TF 14-4)
108
1st Place Match
Salah Tsarni (MD) won by tech fall over Corbin Wooley (OK) (TF 12-2)
2nd Place Wrestleback
Ryder Schulte (AZ) won by tech fall over Corbin Wooley (OK) (TF 12-2)
3rd Place Match
Ryder Schulte (AZ) won by fall over Deacon Dressler (IN) (Fall 1:22)
5th Place Match
Ivan Ivanov (ID) won by tech fall over Bear Bringer (GA) (TF 10-0)
7th Place Match
Preston Burroughs (NJ) won by fall over Henrik Sperlazza (CA) (Fall 0:33)
117
1st Place Match
Eli Knight (WV) won by tech fall over Taina Fernandez (MD) (TF 13-2)
3rd Place Match
Mihai Necula (GA) won by tech fall over Tristen Rich (MD) (TF 10-0)
5th Place Match
Jakobi Hagar (ME) won by tech fall over Tracey Dennard (TN) (TF 11-0)
7th Place Match
Karrsen Bussan (WI) won by decision over Devin Johnson (WI) (Dec 8-3)
135
1st Place Match
Chase Hetrick (PA) won by decision over Max Firestine (PA) (Dec 2-2)
3rd Place Match
Isaac Barrientos (IL) won by decision over Michael Garcia (CO) (Dec 7-4)
5th Place Match
Isaac Westfall (MI) won by fall over James Hill (KS) (Fall 1:46)
7th Place Match
Elias Reed (WI) won by fall over Evan Smith (PA) (Fall 0:43)
160
1st Place - Ibrahim Zaky of VA
2nd Place - Peter Mocco of FL
3rd Place - Grady Isaacs of MN
4th Place - Ryder Balkema of MI
5th Place - Brendan David of WA
Grady Isaacs (MN) won by decision over Ryder Balkema (MI) (Dec 8-0)
Ibrahim Zaky (VA) won by fall over Brendan David (WA) (Fall 0:27)
Peter Mocco (FL) won by tech fall over Ibrahim Zaky (VA) (TF 10-0)
Grady Isaacs (MN) won by tech fall over Brendan David (WA) (TF 10-0)
Peter Mocco (FL) won by fall over Brendan David (WA) (Fall 0:19)
Ibrahim Zaky (VA) won by fall over Ryder Balkema (MI) (Fall 1:35)
Peter Mocco (FL) won by fall over Ryder Balkema (MI) (Fall 0:24)
Ibrahim Zaky (VA) won by fall over Grady Isaacs (MN) (Fall 3:30)
Grady Isaacs (MN) won by decision over Peter Mocco (FL) (Dec 7-1)
Ryder Balkema (MI) won by fall over Brendan David (WA) (Fall 1:27)
10U freestyle results
49
1st Place - Jacob Graber of MN
2nd Place - Jackson Allen of IL
3rd Place - Travis Barraclough of KS
4th Place - Tyson Linnell of UT
Jacob Graber (MN) won by tech fall over Jackson Allen (IL) (TF 14-4)
Travis Barraclough (KS) won by tech fall over Tyson Linnell (UT) (TF 15-4)
Jackson Allen (IL) won by fall over Travis Barraclough (KS) (Fall 0:49)
Jacob Graber (MN) won by tech fall over Tyson Linnell (UT) (TF 10-0)
Jackson Allen (IL) won by tech fall over Tyson Linnell (UT) (TF 10-0)
Jacob Graber (MN) won by tech fall over Travis Barraclough (KS) (TF 10-0)
53
1st Place Match
Korbin Kiessling (MD) won by fall over Braxton Sharples (OH) (Fall 3:31)
2nd Place Wrestleback
Braxton Sharples (OH) won by tech fall over Mac Heysinger (IA) (TF 10-0)
3rd Place Match
Mac Heysinger (IA) won by tech fall over Avery Anderson (CO) (TF 16-6)
5th Place Match
Mason Allen (IL) won by tech fall over Bishop Green (SC) (TF 10-0)
56
1st Place Match
Collin Artman (WV) won by tech fall over Teagan VanBebber (CA) (TF 10-0)
2nd Place Wrestleback
Giovonni Nix (IL) won by tech fall over Teagan VanBebber (CA) (TF 18-7)
3rd Place Match
Giovonni Nix (IL) won by tech fall over Chase Warm (MD) (TF 10-0)
5th Place Match
Hayes Daniel (AR) won by fall over Brodie Harmon (OK) (Fall 1:54)
7th Place Match
Logan Noonan (MD) received a bye () (Bye)
59
1st Place - Arto Khachatryan of CA
2nd Place - Jace Rooney of NY
3rd Place - Colton Hamill of WI
4th Place - Jaxon Flood of GA
5th Place - Knox Lopez of OK
Arto Khachatryan (CA) won by fall over Jaxon Flood (GA) (Fall 1:42)
Colton Hamill (WI) won by tech fall over Knox Lopez (OK) (TF 16-6)
Jace Rooney (NY) won by decision over Colton Hamill (WI) (Dec 6-2)
Jaxon Flood (GA) won by decision over Knox Lopez (OK) (Dec 10-3)
Jace Rooney (NY) won by fall over Knox Lopez (OK) (Fall 0:10)
Arto Khachatryan (CA) won by decision over Colton Hamill (WI) (Dec 10-2)
Arto Khachatryan (CA) won by fall over Jace Rooney (NY) (Fall 3:16)
Colton Hamill (WI) won by decision over Jaxon Flood (GA) (Dec 6-5)
Jace Rooney (NY) won by tech fall over Jaxon Flood (GA) (TF 12-2)
Arto Khachatryan (CA) won by tech fall over Knox Lopez (OK) (TF 12-1)
63
1st Place Match
Kai McDonald (IA) won by tech fall over Elias Faith (IN) (TF 12-2)
2nd Place Wrestleback
Julian Smith (NJ) won by disqualification over Elias Faith (IN) (DQ)
3rd Place Match
Julian Smith (NJ) won by tech fall over Christian West (KS) (TF 10-0)
5th Place Match
Dylan Verceles (MD) won by fall over Logan Goodreau (WI) (Fall 3:24)
7th Place Match
Gavin Brent (MI) won by fall over Tyler Johnson (KS) (Fall 1:22)
67
1st Place Match
Casen Becker (CO) won by fall over Tucker McLennan (MN) (Fall 1:41)
2nd Place Wrestleback
Case Freeman (IA) won by tech fall over Tucker McLennan (MN) (TF 16-5)
3rd Place Match
Case Freeman (IA) won by tech fall over Maddox Stultz (IN) (TF 10-0)
5th Place Match
Jarron Beltran Jr (AZ) won by tech fall over Mason Rivera (KS) (TF 12-0)
7th Place Match
Haedyn Cochran (IN) won by tech fall over Bella Manno (NJ) (TF 12-2)
71
1st Place Match
Jaden Washington (IL) won by fall over Brogan Sendele (IL) (Fall 0:43)
3rd Place Match
Amari Jenkins (PA) won by tech fall over Mason Aluia (MI) (TF 18-7)
5th Place Match
Bo Link (IA) won by fall over Gabriel Waite (MI) (Fall 1:53)
7th Place
Sawyer Newton (ME)
77
1st Place Match
Samuel Moran (WA) won by tech fall over Romen Cruz (AZ) (TF 17-6)
2nd Place Wrestleback
Liam Jennett (IA) won by tech fall over Romen Cruz (AZ) (TF 15-5)
3rd Place Match
Liam Jennett (IA) won by decision over Taber McBurney (KS) (Dec 10-8)
5th Place Match
Sam Dagel (SD) won by tech fall over Rocky Thompson (MO) (TF 12-2)
7th Place Match
Hunter Erdmann (WI) won by fall over Ilias Delarosa (GA) (Fall 3:21)
84
1st Place Match
Nathan Fenner (PA) won by tech fall over Terriq Mayrose (IA) (TF 10-0)
2nd Place Wrestleback
Stetson Gabel (CO) won by tech fall over Terriq Mayrose (IA) (TF 15-5)
3rd Place Match
Stetson Gabel (CO) won by tech fall over Jacob Penzkover (WI) (TF 10-0)
5th Place Match
Casen McAlister (KS) won by tech fall over Jacob Scott (IN) (TF 17-7)
7th Place Match
Kayden Murphy (TN) won by decision over Evan Owens (GA) (Dec 14-10)
93
1st Place - Whitley Wilscam of KS
2nd Place - Xander Fronhofer of CA
3rd Place - Henry Scott McDoniel of AR
4th Place - Brody Brewer of MI
5th Place - Peter Dranger of IN
Whitley Wilscam (KS) won by tech fall over Brody Brewer (MI) (TF 10-0)
Henry Scott McDoniel (AR) won by tech fall over Peter Dranger (IN) (TF 10-0)
Xander Fronhofer (CA) won by fall over Henry Scott McDoniel (AR) (Fall 3:01)
Whitley Wilscam (KS) won by fall over Peter Dranger (IN) (Fall 0:23)
Xander Fronhofer (CA) won by fall over Peter Dranger (IN) (Fall 0:38)
Henry Scott McDoniel (AR) won by fall over Brody Brewer (MI) (Fall 1:58)
Xander Fronhofer (CA) won by tech fall over Brody Brewer (MI) (TF 14-4)
Whitley Wilscam (KS) won by fall over Henry Scott McDoniel (AR) (Fall 0:26)
Whitley Wilscam (KS) won by fall over Xander Fronhofer (CA) (Fall 0:35)
Brody Brewer (MI) won by decision over Peter Dranger (IN) (Dec 12-8)
105
1st Place - Hayden Mullins of IN
2nd Place - Brogan Bingham of ID
3rd Place - Braylen Brown of MD
4th Place - Rayden Kramas of WI
5th Place - Noah Fitzgerald of IN
Hayden Mullins (IN) won by fall over Noah Fitzgerald (IN) (Fall 0:51)
Brogan Bingham (ID) won by fall over Rayden Kramas (WI) (Fall 1:31)
Brogan Bingham (ID) won by fall over Braylen Brown (MD) (Fall 0:44)
Hayden Mullins (IN) won by fall over Rayden Kramas (WI) (Fall 1:02)
Braylen Brown (MD) won by fall over Rayden Kramas (WI) (Fall 0:58)
Brogan Bingham (ID) won by decision over Noah Fitzgerald (IN) (Dec 18-16)
Noah Fitzgerald (IN) won by decision over Braylen Brown (MD) (Dec 11-8)
Hayden Mullins (IN) won by tech fall over Brogan Bingham (ID) (TF 15-4)
Hayden Mullins (IN) won by fall over Braylen Brown (MD) (Fall 1:18)
Rayden Kramas (WI) won by decision over Noah Fitzgerald (IN) (Dec 3-3)
120
1st Place - Gavin Brown of IN
2nd Place - Kody Doran of MO
3rd Place - Bryce Gushee of ME
4th Place - Amirr Wright of OH
5th Place - Grant Penney of OH
Gavin Brown (IN) won by fall over Bryce Gushee (ME) (Fall 2:33)
Amirr Wright (OH) won by fall over Grant Penney (OH) (Fall 2:26)
Kody Doran (MO) won by tech fall over Amirr Wright (OH) (TF 10-0)
Gavin Brown (IN) won by fall over Grant Penney (OH) (Fall 0:50)
Kody Doran (MO) won by fall over Grant Penney (OH) (Fall 0:52)
Bryce Gushee (ME) won by decision over Amirr Wright (OH) (Dec 10-10)
Kody Doran (MO) won by fall over Bryce Gushee (ME) (Fall 3:05)
Gavin Brown (IN) won by fall over Amirr Wright (OH) (Fall 0:43)
Gavin Brown (IN) won by fall over Kody Doran (MO) (Fall 2:43)
Bryce Gushee (ME) won by tech fall over Grant Penney (OH) (TF 14-4)
8U freestyle results
43-45
1st Place - Trey Bell of TN
2nd Place - Kona Hughes of IA
3rd Place - Daniel Khachatryan of CA
4th Place - Immanuel Morales of IL
Kona Hughes (IA) won by forfeit over Immanuel Morales (IL) (FF)
Trey Bell (TN) won by forfeit over Daniel Khachatryan (CA) (FF)
Trey Bell (TN) won by fall over Kona Hughes (IA) (Fall 2:00)
Daniel Khachatryan (CA) won by tech fall over Immanuel Morales (IL) (TF 10-0)
Kona Hughes (IA) won by fall over Daniel Khachatryan (CA) (Fall 2:00)
Trey Bell (TN) won by fall over Immanuel Morales (IL) (Fall 0:22)
49
1st Place Match
Zayne Wieneke (KS) won by tech fall over Ronin Webber (OH) (TF 10-0)
2nd Place Wrestleback
Jaxsen Brown (MD) won by tech fall over Ronin Webber (OH) (TF 12-0)
3rd Place Match
Jaxsen Brown (MD) won by tech fall over Landon Walker (GA) (TF 10-0)
5th Place Match
Markus Figueroa (FL) won by tech fall over Giovanni Rocco (IL) (TF 10-0)
53
1st Place Match
Ian Weber (WI) won by fall over Adam Husk Jr (WI) (Fall 1:39)
2nd Place Wrestleback
Adam Husk Jr (WI) won by no contest over Kason Wolfe (OK) (NC)
3rd Place Match
Kason Wolfe (OK) won by fall over Kinnick Smit (SD) (Fall 0:16)
5th Place Match
Scott Kilmer (IL) won by fall over Dixon Starr (WI) (Fall 1:43)
7th Place
Mateo Davila (FL)
56
1st Place Match
Tanner McCray-Bey (MD) won by tech fall over Jaxton Coyer (MI) (TF 12-0)
2nd Place Wrestleback
Logan Oakes (IA) won by tech fall over Jaxton Coyer (MI) (TF 10-0)
3rd Place Match
Logan Oakes (IA) won by tech fall over Sebastian Gonzales (MN) (TF 11-0)
5th Place Match
Jaxsyn Walk (IA) won by tech fall over Sonny Tildsley (MA) (TF 10-0)
7th Place Match
Leah Hatfield (IA) won by tech fall over Haley Guard (IN) (TF 12-1)
62
1st Place - Jace Evers of MN
2nd Place - Jayce Leclaire of WI
3rd Place - Brady Stewart of WI
Jace Evers (MN) won by tech fall over Brady Stewart (WI) (TF 10-0)
Jace Evers (MN) won by tech fall over Jayce Leclaire (WI) (TF 11-0)
Jayce Leclaire (WI) won by tech fall over Brady Stewart (WI) (TF 10-0)
70
1st Place Match
Ben Howenstein (SD) won by fall over Bryson Wilkinson (IL) (Fall 1:33)
2nd Place Wrestleback
Bryson Wilkinson (IL) won by tech fall over Paxton Turner (IN) (TF 15-5)
3rd Place Match
Paxton Turner (IN) won by tech fall over Azariah Bonar (NE) (TF 14-4)
5th Place Match
Jayvyn Allami (OK) won by tech fall over Deonna Smith (IN) (TF 12-2)
7th Place Match
Carter Votta (MD) won by fall over Adalynn Ramey (IN) (Fall 1:05)
85
1st Place - David Harrell of IN
2nd Place - Henry Begg of MI
3rd Place - Gavin Olenek of IL
David Harrell (IN) won by tech fall over Gavin Olenek (IL) (TF 10-0)
David Harrell (IN) won by tech fall over Henry Begg (MI) (TF 18-8)
Henry Begg (MI) won by tech fall over Gavin Olenek (IL) (TF 14-2)