News
USA Wrestling
High School & Youth
USAW
Iowa's Knaack, Ross win Triple Crowns; Kentucky's Raney doubles up again; Illinois wins team title in 16U Greco-Roman
by Jason Bryant, Special to TheMat.com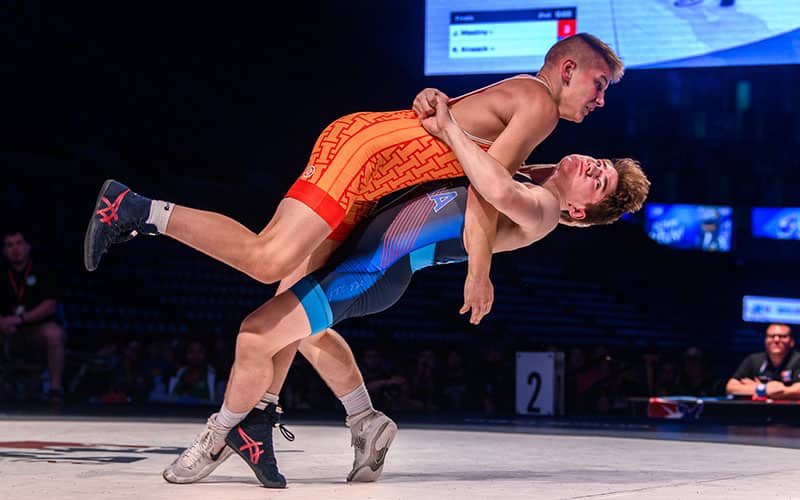 Kyler Knaack (IA) tosses Jimmy Mastny (IL) on way to 152-pound 16U Greco-Roman title and the Triple Crown. Photo by Tony Rotundo.
Fargo, North Dakota – A pair of Iowans completed their second trips of the week to the top of the podium on Saturday night at the Fargodome, while Illinois regained control of Greco-Roman at the 16U level as the 2023
USMC 16U Greco-Roman National Championships
came to a close in Fargo, North Dakota.
Individually, Iowa's
Kyler Knaack
and
Dreshaun Ross
were the stars of the week, each winning their second titles here and both adjoining them with folkstyle national titles won in April to earn them the prestigious USA Wrestling Triple Crown.
The team title was tight heading into the consolation finals and medal rounds, but Illinois' 4-2 record in placement matches combined with Iowa's 1-8 performance before the finals gave the champions a bit of breathing room heading into the last 17 bouts where both states combined for 13 of the 34 competitors.
When the final whistle blew, Illinois and Iowa each had three champions, but
Illinois
came away with its 10th 1U Greco-Roman team title with 213 points and 13 All-Americans. Iowa set a state record with 15 medalists in the style and finished second with 191 pounds.
Knaack delivered in his opportunity to win the Triple Crown, capturing a 16U Greco-Roman title after a gritty 4-3 win over Illinois' Jimmy Mastny. Knaack built a 4-1 lead before giving up two late and holding off a late takedown attempt. Knaack's Greco-Roman title completes the rare triple titles of men's freestyle, which he won earlier this week, and a folkstyle title, which he won following the high school season in April.
Ross wrestled as if his goal was to spend as little time as possible on the mat in the most possible championship bracket matches. Ross outscored his opponents 50-0 en route to a resounding championship at 195 pounds, giving Iowa a second Triple Crown and giving Ross his third 16U title overall to go with men's freestyle titles last year and earlier this week. Ross dispensed with California's David Calkins 9-0 in 37 seconds to join Iowa legend David Kjeldgaard as the only three-time 16U champion in state history across both freestyle and Greco-Roman.
Kentucky's
Jayden Raney
completed his 16U career with his second straight Greco-Roman title and his fourth title in the age group, becoming the 17th wrestler in history to double up in both 16U years. Raney teched Colorado's Austin Collins 10-2 to win the 120-pound championship. Raney is the first wrestler to complete feat since Carson Manville did it for Pennsylvania in 2018.
As far as the match goes, Raney fell behind Collins 2-0 on an early takedown, but scored a counter stepover for two points, nearly pinning Collins. Collins was hit for a two-point caution for fleeing the mat while on his back and was put back down in par terre. From the top position, Raney scored three straight guts to end the match with seven seconds remaining in the first period.
Illinois' first of three champions on the night came at 100 pounds where
Caleb Noble
finished his stellar week with a second championship and his second straight 16U Greco-Roman title. Noble defeated James Hemilla, also of Illinois, 11-0.
Noble, who won the Greco crown last year for Wisconsin, scored big points from straight lifts to close things out. After a passivity point gave Noble a 1-0 lead and the top position in par terre, Noble lifted and threw Hemilla for four points twice and added two penalty points on a Hemilla defensive leg foul. Noble finishes his run in the 16U age group with two runner-up finishes in freestyle and two Greco-Roman titles.
The next repeat champion came from Colorado at 138 pounds as
Thomas Verrette
edged Wisconsin's Colton Weiler 6-5. The medal was Verrette's fourth in the age group, as he finishes his 16U career with two Greco-Roman titles and two third-place finishes in men's freestyle.
Illinois' team title was clinched after victories by
Wyatt Medlin
at 132 pounds and
Aaron Stewart
at 160 pounds. Medlin improved on last year's eighth-place finish at 113 pounds by growing into a 132-pound titlist after an 8-4 win over Oklahoma's Jake Miller.
Late heroics were on display for Stewart's title at 160 pounds as he scored two points at the buzzer, but not in the traditional manner. Sherlock held a 3-3 lead on criteria and then scored what appeared to be a match-deciding stepout with under 30 seconds left, but Stewart had other ideas. Stewart was awarded a takedown as time expired but after a challenge, it was rule the takedown was after time expired, but Sherlock was penalized two points for a defensive singlet grab, so Stewart scored the match-winning two points in a different manner for Illinois' third and final title of the night.
Joining Noble, Raney, Knaack, Stewart and Ross as double champions this week was Florida's
Michael Mocco
, who claimed the 220-pound title with a 3-2 win over Illinois' Kai Calcutt.
Idaho, which won the Junior Greco-Roman title, wasn't left out of the celebration in the 16U side of things as
Saxton Scott
was impressive in his 106-pound championship run. Scott defeated Ohio's Konner Blaney 8-0. Scott was named the tournament's Outstanding Wrestler as he finished with seven technical falls and outscored his opponents 63-1.
Ohio's
Loc Webber
won the night's first title with an 8-0 win over Illinois Vincent DeMarco at 88 pounds. Webber jumped out to a 6-0 lead in the first period with a takedown and a pair of two-point gutwrenches. Webber finished off the match with a go-behind early in the second period for the title.
It looks like years of basement battles ended up paying off in Greco-Roman as Iowa's
Hayden Schwab
improved on his standing in freestyle by finishing atop the podium as Iowa's third champion of the night. Schwab won at 94 pounds with a 10-2 win over freestyle champion Jarrett Smith of Michigan.
A second-period passivity point and two-point exposure was enough for Pennsylvania's
Will Detar
to claim gold in a 3-3 criteria victory over Minnesota's Titan Friederichs at 113 pounds. It was the Keystone State's only champion.
In the first all-Oklahoma final in 16U Greco-Roman tournament history,
Devon Miller
used two turns from par terre to build a 5-1 lead and then held off Isaiah Jones 7-3 to take the crown at 126 pounds. It wasn't the Sooner State's only success, though, as 170-pounder
Shawn Rounsaville Jr.
teched Iowa's Broedy Collins Hendricks 12-4. Rounsaville fell behind 4-2 after Collins Hendricks countered a reverse lift attempt with his own four-point reverse lift, but that was the only blemish on Rounsaville's victory. He reeled off 10 straight points to close out the win and give Oklahoma multiple champions in 16U Greco-Roman for the fourth time in history and first time since 2017.
New Jersey's
Gabriel Logan
earned the Garden State's only title with an 8-0 technical fall over Iowa's Nolan Fellers. Logan went up 4-0 with a pair of front headlock rolls and then finished off the match with a four-point bodylock toss.
Nebraska's lone champion came at 182 pounds where
Adonis Bonar II
defeated Washington's Matt King 12-8. The title was the state's eighth all-time Greco-Roman gold in the age group. Indiana also got in on the fun as James Hartleroad won the state's first 16U Greco title since Eli Pokorney's 285-pound gold in 2017.
Oklahoma finished third with 131 pounds, while Pennsylvania and Ohio finished tied for fourth with 110 points.
PLACEMENT RESULTS
88 pounds
1st - Loc Webber (Ohio) tech. fall Vincent Demarco (Illinois), 8-0 2:15
3rd - Hudson Chittum (Tennessee) tech. fall Kaden Oldroyd (Utah), 8-0 0:32
5th - Eric Bice (Nevada) tech. fall Urijah Courter (Iowa), 9-0 2:33
7th - Landon Thoennes (Minnesota) dec. Charlie Boelman (Iowa), 3-0
94 pounds
1st - Hayden Schwab (Iowa) tech. fall Jarrett Smith (Michigan), 10-2 3:50
3rd - Cason Craft (Oklahoma) dec. Jose Cordero (Tennessee), 3-0
5th - Kellen Downing (Montana) inj. def. Chase Kastner (Connecticut)
7th - Eli Herring (Pennsylvania) pin Daniel Goodwin (Illinois), 1:06
100 pounds
1st - Caleb Noble (Illinois) tech. fall James Hemmila (Illinois), 11-0 1:25
3rd - Jensen Boyd (Indiana) dec. Gavin Landers (Iowa), 2-0
5th - Carter Shin (Virginia) dec. Dylan Ota (Texas), 2-1
7th - Shamus Regan (Tennessee) dec. Christopher Swann (Georgia), 8-5
106 pounds
1st - Saxton Scott (Idaho) tech. fall Konner Blaney (Ohio), 8-0 1:50
3rd - Rocco Cassioppi (Illinois) dec. Christopher Grossman (Montana), 5-4
5th - Caleb Jackson (Utah) dec. Alexander Pierce (Iowa), 5-5
7th - Eric Casula (Oklahoma) inj. def. Bruno Cassioppi (Illinois), 0-0 0:00
113 pounds
1st - Will Detar (Pennsylvania) dec. Titan Friederichs (Minnesota), 3-3
3rd - Roman Luttrell (New Mexico) tech. fall Johnny Leck (Kansas), 9-0 1:23
5th - Hunter Knox (Oklahoma) dec. Jack Baron (Pennsylvania), 10-7
7th - Khimari Manns (Ohio) dec. Chase Walker (Tennessee), 2-1
120 pounds
1st - Jayden Raney (Kentucky) tech. fall Austin Collins (Colorado), 10-2 1:53
3rd - Gus Cardinal (Arizona) dec. Evan Sanati (Virginia), 7-1
5th - Blaze Van gundy (Ohio) tech. fall Maximus Riggins (Iowa), 9-0 1:43
7th - Justyce Zuniga (Washington) inj. def. Dale Corbin (Wisconsin)
126 pounds
1st - Devon Miller (Oklahoma) dec. Isaiah Jones (Oklahoma), 7-3
3rd - Zayn Navarrete (Texas) pin Valentine Popadiuc (New Mexico), 6-1 1:26
5th - Ned Kauffman (Pennsylvania) tech. fall Austin Ellis (Utah), 8-0 0:39
7th - Timothy Koester (Iowa) tech. fall Zaydrein Hernandez (California), 11-2 2:37
132 pounds
1st - Wyatt Medlin (Illinois) dec. Jake Miller (Oklahoma), 8-4
3rd - Davis Parrow (Minnesota) dec. Declan Koch (Wisconsin), 11-5
5th - Manuel Saldate (Nevada) tech. fall Jacob Herm (Wisconsin), 10-1 3:07
7th - Austin Paris (Utah) pin Bryce Palmer (Texas), 0:30
138 pounds
1st - Thomas Verrette (Colorado) dec. Colton Weiler (Wisconsin), 6-5
3rd - David Gleason (Missouri) dec. Blue Stiffler (Georgia), 4-1
5th - Mason Petersen (Nebraska) tech. fall Derek Barrows (Colorado), 8-0 2:38
7th - Easton Dircks (Minnesota) dec. Dane Renick (Arkansas), 5-4
145 pounds
1st - Gabriel Logan (New Jersey) tech. fall Nolan Fellers (Iowa), 8-0 1:35
3rd - Melvin Miller (Pennsylvania) tech. fall Nathaniel Askew (Georgia), 10-0 2:15
5th - Carlos Valdez (Idaho) inj. def. Luis Alberto-desilva (Pennsylvania)
7th - Kawayran Vazquez (Florida) dec. Noah Howk-erwin (Iowa), 4-2
152 pounds
1st - Kyler Knaack (Iowa) dec. Jimmy Mastny (Illinois), 4-3
3rd - Jayden Williams (Michigan) pin Eli Esguerra (Ohio), 0:19
5th - Brandon Dean (New Jersey) pin Cooper Rowe (Minnesota), 3:58
7th - Joseph Jeter (Oklahoma) tech. fall Keaton Moeller (Iowa), 10-1 4:00
160 pounds
1st - Aaron Stewart (Illinois) dec. Emmitt Sherlock (Maryland), 5-4
3rd - Maximus6 Norman (Tennessee) dec. Lucas Ricketts (Kentucky), 4-3
5th - Ben Smith (Utah) dec. Bradley Rodriguez-little (Minnesota), 6-6
7th - Cash Bachicha (New Mexico) disq. Koray kage Jones (New Jersey)
170 pounds
1st - Shawn Rounsaville, jr (Oklahoma) tech. fall Broedy Collins hendricks (Iowa), 12-4 2:41
3rd - Anthony Kroninger (Ohio) tech. fall Gavin Craner (Michigan), 9-0 2:21
5th - Luke Hoag (Minnesota) tech. fall Junior Bumanglag (California), 8-0 0:32
7th - Bridger Foss (Oregon) pin Carter Brown (Missouri), 3:03
182 pounds
1st - Adonis Bonar ii (Nebraska) tech. fall Matt King (Washington), 16-8 3:24
3rd - Ryder Wilder (Georgia) dec. Jackson Rotterman (Missouri), 12-8
5th - Nicholas Ronchetti (Illinois) dec. Tavio Hoose (Pennsylvania), 5-4
7th - Carter Vannest (California) dec. Ty Carman (Utah), 6-4
195 pounds
1st - Dreshaun Ross (Iowa) tech. fall David Calkins (California), 9-0 0:36
3rd - Jaxon Penovich (Illinois) tech. fall Connor Smalley (Pennsylvania), 10-0 1:02
5th - Jake Conroy (Pennsylvania) tech. fall Wura Yinusa (Oklahoma), 10-0 0:37
7th - Jacob Duitsman (Minnesota) pin Standford Thompson (Tennessee), 3:19
220 pounds
1st - Michael Mocco (Florida) dec. Kai Calcutt (Illinois), 3-2
3rd - Alex Taylor (Ohio) tech. fall Mason Koehler (Iowa), 11-0 3:14
5th - Garett Kawczynski (Wisconsin) dec. James Bechter (Ohio), 2-0
7th - Dean Bechtold (Pennsylvania) tech. fall Jackson Phillips (Ohio), 8-0 1:16
285 pounds
1st - James Hartleroad (Indiana) tech. fall Cooper Martinson (Iowa), 8-0 1:32
3rd - Jonathan Rulo (Illinois) dec. Brayden Hill (Kansas), 9-6
5th - Mark Effendian (Pennsylvania) inj. def. Micah Hach (South Dakota)
7th - Trayvn Boger (Utah) pin Jonathan Romo (Kansas), 1:26
USMC 16U Greco-Roman Team scores
1 Illinois 213
2 Iowa 191
3 Oklahoma 131
4 (tie) Ohio, Pennsylvania 110
6 Minnesota 73
7 Colorado 52
8 Tennessee 51
9 Wisconsin 50
10 Utah 49
11 Michigan 47
12 Georgia 41
13 Indiana 40
14 Kentucky 37
15 New Jersey 36
16 (tie) California, Idaho, Nebraska 34
19 New Mexico 32
20 Florida 30
21 (tie) Missouri 29
22 Kansas 26
23 Washington 25
24 Texas 24
25 (tie) Montana, Virginia 21
27 Maryland 20
28 Nevada 18
29 Arizona 15
30 (tie) Connecticut 7, South Dakota 7
32 Oregon 5
33 Arkansas 2