News
USA Wrestling
High School & Youth
USAW
FUN FARGO FACTS: Milestones and notables from the 16U and Junior Men's Freestyle Tournaments
by Jason Bryant, Special to TheMat.com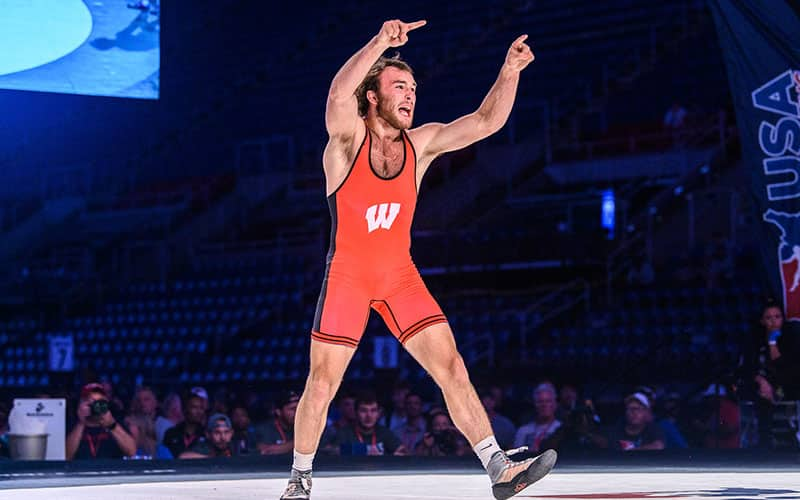 Noah Mulvaney (Wisconsin) celebrates his 170-pound Junior freestyle national title on Wednesday night. Photo by Tony Rotundo, Wrestlers Are Warriors
Fargo, North Dakota – Let's geek out over some more data, shall we? Here's a look at some of the notable nuggets, milestones and achievements from across the 30 mats at the record-setting
USMC Junior & 16U Nationals
in men's freestyle at the Fargodome on the campus of North Dakota State University in Fargo, North Dakota.
Alabama
: Kyan Simon was the fourth wrestler in state history to reach the Junior men's freestyle finals. The first was Henry Lavender in 1980 at heavyweight, while the state's only two champions came relatively recently. The first champ was current Virginia Tech All-American Sam Latona at 106 pounds in 2017 and the second was last year, when current Northern Iowa wrestler Cory Land won at 132 pounds. Simon has moved up to 106 pounds for Greco-Roman.
Arizona
: While the state just missed out on hitting the top 10 in the team standings in either age group, the state set a record for most total men's freestyle medals with 10. Arizona placed four wrestlers in 16U, while six hit the medal stand in Juniors, including champion Kyler Larkin, who won his second all-time title. Larkin's father Eric was an eight-time placewinner in both age groups from 1994-1998, including four titles – a 16U freestyle title, two Junior Greco-Roman titles and a Junior freestyle title.
California
: Cody Merrill joined an exclusive group of Californians with his second Junior men's freestyle title. Merrill, who won at 220 pounds after winning at 195 pounds in 2022, is only the third wrestler from the Golden State to win two Junior men's freestyle titles. Laurence Jackson was the first, winning in 1984 and 1985 and Morgan McIntosh won titles in 2010 and 2011.
Colorado
: With four All-Americans, Colorado's medal streak hit 19 tournaments in a row at 16U. It's also the 10th straight year the state has put multiple wrestlers on the podium. Isaiah Harrison was the runner-up at 113 pounds. He was the first finalist since Dominick Serrano won at 132 pounds in 2019.
Florida
: Michael Mocco's title at 220 pounds was Florida's first in 16U freestyle since Nic Bouzakis claimed gold at 126 pounds in 2019. Mocco's father Steve was a 2008 Olympian and a monster in his era in Fargo. Steve Mocco was a six-time men's freestyle placewinner for New Jersey and won four titles. He won a 16U title in 1997 before reeling off three straight Junior freestyle titles from 1999-2001. Michael does already have something dad doesn't – a Greco-Roman medal. Michael placed second in 2022. He's looking to double up with big stop signs this week.
Georgia
: The Peach State set a state record with three finalists and two champions in the 16U division. When gold medalists Blue Stiffler at 138 pounds and Jacob Levy at 285 pounds stood atop the podium, it was the first time Georgia had multiple 16U men's freestyle champions in the same year. Runner-up Ryder Wilder's performance at 182 pounds gave them a third athlete on the raised stage.
Idaho
: Aden Attao's second-place finish gave Idaho a men's freestyle finalist for the sixth straight year. Attao and Mack Mauger were Junior champs in 2022, and Mauger was a 16U champ in 2021. Prior to the 2020 cancelation due to the pandemic, Ridge Lovett was a Junior runner-up in 2019 and 2018.
Illinois
: One of the country's most prolific states in terms of titles and medal hauls annually, Illinois finished second for the sixth time in state history in 16U men's freestyle. Combined with the nine championships (official and unofficial), Illinois has finished first or second 16 times in the 38-year history of the 16U men's freestyle division. Illinois' 14 All-Americans is the most since the state put 17 wrestlers on the podium in 2017. The state record in 16U men's freestyle is 21 in 2013.
Indiana
: With a fifth-place finish at 16U men's freestyle, Indiana's De'alcapon Veazy earned his fifth all-time medal in Fargo. Veazy placed twice in each style as a 16U wrestler in 2021-2022. He's the 12th wrestler in state history with at least five medals in the 16U & Junior Nationals across both age groups and both styles.
Iowa
: With all the talent that's come through Iowa over the years, it seems hard to believe that Iowa had never had a two-time 16U men's freestyle champion. You can't say it anymore as Dreshaun Ross' title at 195 pounds was his second, cementing his place in Iowa's proud wrestling history. The third-place finish by the Iowa 16U team is pretty deceptive when you look at the numbers. With 13 All-Americans, the Iowa squad set a state record for medalists and finished four points behind second-place Illinois in the team standings. On the Junior side of things, Ryder Block became the state's 11th multi-time men's freestyle champion. He's one of 10 two-time champions. Mark Schwab was the state's only three-time Junior men's freestyle national champion.
Kentucky
: The state's only placewinner, Jayden Raney became the state's third-ever men's 16U men's freestyle champion and the state's first two-time champion in any style. Raney won the state's second-ever 16U title last year, putting him on a very short list with the state's first 16U champion, Zeke Escalera in 2017.
Massachusetts
: The state's only All-American was 132-pounder Matthew Botello in Junior men's freestyle.
Michigan
: Jarrett Smith won Michigan's first 16U men's freestyle championship since 2019 with his 3-0 win over Minnesota's Turner Ross at 94 pounds. Smith's title is the 14th champion in state history.
Minnesota
: With 13 combined All-Americans, Minnesota finished in the top 10 in both age groups. Zach Hanson's third-place finish at 152 pounds was his fifth all-time medal in Fargo.
Nebraska
: Despite finishing in 19th place in 16U men's freestyle, Nebraska tied a state record for All-Americans in a year with four. The state also had four All-Americans in 2017. All four placewinners – Zaiyahn Ornelas, Abdirahman Unle, Riley Johnson and Adonis Bonar II – are first-time medalists.
Nevada
: Manuel Saldate's runner-up finish in 16U men's freestyle was the third runner-up finish in state history. Saldate joins Ian Timmons in 2014 and Giullian Nakamatsu in 2015. The state's only 16U champion came in 2000, when Chad Espinoza won at 209 pounds.
New Jersey
: The Garden State put at least three wrestlers in the finals of the Junior men's freestyle championships for the first time since 2014, when they put five onto the raised platform. Leo DeLuca was the only Junior champion and was named the tournament's Outstanding Wrestler.
New York
: Elijah Diakomihalis became the third member of the Diakomihalis family to place in Fargo, but he's the first one to win a title. Greg Diakomhalis placed third in 16U men's freestyle in 2016, while 2022 world silver medalist and four-time NCAA Division I champion Yianni Diakomihalis finished second at 120 pounds in 2014 in 16U.
North Carolina
: With Savoy New's eighth-place finish at 182 pounds in Junior men's freestyle, North Carolina has placed a wrestler in the division for consecutive years for the first time since 2012-13. Last year, Jeremiah Prince place eighth at 152 pounds.
Ohio:
With two champs and 10 placewinners at 16U men's freestyle, Ohio finished fourth in the team standings, giving the Buckeye State an 11th straight top-five finish. It's also the sixth straight year Ohio's had at least 10 medalists in the division.
Oklahoma
: With 10 All-Americans, Oklahoma finished third in the Junior men's freestyle team standings, it's highest since winning the tournament in 2015. The four Junior finalists is the most since 2002.
Pennsylvania
: The Keystone State doubled up with championships in both age groups. At the 16U level, it's the 25th title all-time (unofficial and official) and fifth in a row. The Junior title is the state's ninth all-time and the 19 All-Americans is also a state record and the second-most all-time. Kole Davidheiser (100 pounds) and Pierson Manville (145) won their fifth medals all-time in Fargo. The four champions across both age groups is the most for Pennsylvania since 2009.
Rhode Island
: The smallest state in the union put a wrestler on the podium for the fourth straight year as Preston Marchesseault finished fifth at 182 pounds in 16U men's freestyle. The run started with Joziah Fry, who won the 2023 NCAA Division III championship for Johnson & Wales, then followed with back-to-back places by Gabriel Bouyssou.
South Carolina:
Jermaine "J.J." Peace hit the podium for South Carolina in Junior men's freestyle, becoming the state's first All-American since Davon Powell in 2015. Peace made a strong run in the quarters at 120 pounds before ultimately finishing eighth.
South Dakota
: Both of the state's All-Americans came at 285 pounds as 16U medalist Micah Hach finished fourth and Navarro Schunke finished third in Juniors. Hach also had the tournament's fastest fall (and fastest of the event so far) at six seconds. Hach was also the winner of the 16U award for most falls in the least time.
Tennessee
: The Volunteer State finished eighth in 16U, which put the state in the Top 10 for the first time in the division. Tennessee also set a record for most 16U men's freestyle All-Americans in a year with five. The state has 31 All-Americans all-time in the division, with 15 of them coming in the last four tournaments. It was also the first time the state had multiple finalists in the division.
Virginia:
Four of the five All-Americans who placed in the men's freestyle divisions for Virginia were repeat placewinners. Evan Sanati, Caden Smith, Cadell Lee and Kinsgley Menifee returned to the podium. Smith is now a three-time Fargo placewinner. Menifee has also signed to wrestle for Kenny Monday at the revived Morgan State University program.
Washington
: Thor Michaelson won his fourth medal all-time in Fargo with a fifth-place finish at 160 pounds in Junior men's freestyle. He was one of two placewinners this year, the other was 120-pound 16U placer Justyce Zuniga, who finished fourth.
Wisconsin
: While the team title eluded Wisconsin in Junior men's freestyle, the state tied a national record with five champions. Ohio had five champions on two previous occasions – 1991 and 2003. The second-place finish was also the state's best in Junior men's freestyle and the state's highest finish in a men's freestyle division. The six finalists was also a state record.
Wyoming
: The men's freestyle medal drought ended for Wyoming as Liam Fox finished sixth at 152 pounds in the 16U division. Fox is the first placewinner since Bryce Meredith finished third in 2013 at 126 pounds. Meredith was a three-time NCAA Division I All-American at the University of Wyoming.