News
USA Wrestling
High School & Youth
USAW
Coveted Triple Crowns up for grabs at USA Wrestling Kids Nationals in Wisconsin Dells, Wis., June 25-26
by Gary Abbott, USA Wrestling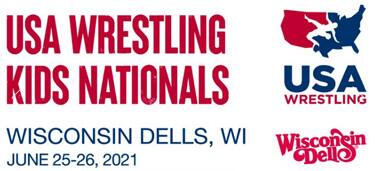 Coveted USA Wrestling Triple Crowns are up for grabs at the USA Wrestling Kids Nationals, set for Woodside Wisconsin Dells Center Dome in Wisconsin Dells, Wis., June 25-26.
A wrestler receives the Triple Crown if he wins USA Wrestling national titles in folkstyle, freestyle and Greco-Roman during the same year.
The Kids folkstyle champions were determined at the USA Wrestling Folkstyle Nationals in Cedar Falls, Iowa in April. The Kids Nationals serves as the second and third leg of the Triple Crown, with Greco-Roman competition on Friday and freestyle competition on Saturday in three Kids age-groups (10U, 12U, 14U). The Triple Crown is also awarded at the 16U and Junior level each year in Fargo, N.D.
No Triple Crowns were awarded in 2020, due to the event cancellations during the pandemic. The last year of this event, held in 2019, featured only four Kids Triple Crown winners. Only one of the four winners in 2019, Caleb Noble of Wisconsin, was a 2021 Folkstyle Nationals champion and is eligible for this year's Triple Crown. Noble was the 14U National folkstyle champion at 71 pounds this year.
Wrestlers must qualify to enter this event by competing in their designated regional or with approval from the wrestler's state chairperson!
Late Registration closes Wednesday, June 23 at 12:00 PM MT, with an entry fee of $65 per style. If you miss the late registration deadline, please sign up during weigh-ins.
REGISTER FOR KIDS NATIONALS
The USA Wrestling Kids Nationals will be broadcast live on TrackWrestling.
For more information, visit the Kids National website below
KIDS NATIONALS WEBSITE
Event Schedule
Friday June 25th
9:00 a.m. - Greco-Roman Session I (8U, 10U, 12U boys)
1:00 p.m. - Greco-Roman Session II (14U boys)
Saturday June 26th
9:00 a.m. - Freestyle Session I (8U, 10U & 12U boys)
1:00 p.m. - Freestyle Session II (14U boys)
1pm wrestling starts
2021 USA WRESTLING FOLKSTYLE NATIONALS CHAMPIONS
(Eligible for the 2021 Triple Crown)

14U champions
71 - Caleb Noble (WI/Toss Em Up Wrestling Academy)
77 - Case Bell (IN/Contenders Wrestling Academy)
83 - Domenic Munaretto (IL/Toss Em Up Wrestling Academy)
87 - Bruno Cassioppi (IL/Hononegah Wrestling Club)
92 - Rocco Cassioppi (IL/Hononegah Wrestling Club)
97 - Austin Paris (UT/Champions Wrestling Club)
102 - Kyler Walters (MN/Pinnacle Wrestling Club)
106 - Evan Stanley (IN/Region Wrestling Academy)
110 - Brody Sendele (IL/Hononegah Wrestling Club)
114 - Aaron Stewart (IL/Toss Em Up Wrestling Academy)
119 - Jimmy Mastny (IL/Alber Athletics Wrestling Club)
125 - Dean Anderson (AZ/East Valley Wrestling Club)
130 - Bradley Rodriguez-Little (MN/Summit Wrestling Academy)
136 - Gavin Isaacs (MN/Apple Valley Wrestling Club)
149 - Benjamin Vazquez (IL/Toss Em Up Wrestling Academy)
165 - William Ward (ND/Bison Wrestling Club)
187 - Garett Kawczynski (WI/Ringers Wrestling Club)
250 – Milan Colvin (Kansas)
12U champions
58 - Max Lindquist (MO/Jr. Wolves Wrestling)
63 - Shiloh Joyce (New Jersey)
67 - Carter Smith (Michigan)
70 - Cohen Reer (OH/Burnett Trained)
74 - Trevor Christenson (KS/Bobcat Wrestling Club)
78 - Jon Gonzalez (IA/Sebolt Wrestling Academy)
82 - Calvin Rathjen (IA/Sebolt Wrestling Academy)
86 - Riker Ohearon (UT/Champions Wrestling Club)
92 - Thunder Page (KS/South Central Punisher Wrestling)
98 - Colton Shaffer (Iowa)
108 - Easton Kammerud (WI/Sarbacker Wrestling Academy)
117 - Dayton Fitzgibbon (Washington)
135 - Isaac Barrientos (IL/Headlock Wrestling Academy)
160 - Grady Isaacs (MN/Apple Valley Wrestling Club)
10U champions
49 - Travis Barraclough (Kansas)
53 - Cameron Smith (Michigan)
56 - Lincoln Schulz (MN/Apple Valley Wrestling Club)
59 - Arto Khachatryan (CA/Dethrone Wrestling Club)
63 - Casen Becker (CO/Black Fox Wrestling Academy)
67 - Jaden Washington (IL/Harvey Twisters)
71 - Liam Jennett (IA/Sebolt Wrestling Academy)
77 - Roman Cruz (AZ/Cyclones Wrestling & Fitness)
84 - Stetson Gabel (CO/Bear Cave)
93 - Azarius Overstreet (IN/Peacock Wrestling Club LLC)
105 - Brogan Bingham (Team Idaho)
120 - Gavin Brown (IN/Indian Creek Wrestling Club)
8U champions
43 – Landyn Schadt (IA/Hard Drive Wrestling Club)
45 - Zayne Wieneke (KS/Lawrence Elite Wrestling Club)
49 - Ian Weber (WI/Ringers Wrestling Club)
53 - Easton Henderson (IA/Big Game Wrestling Club)
56 - Brooks Blevins (KS/Triumph Wrestling Club)
62 - Ben Howenstein (IA/Siouxland Wrestling Academy)
70 - Rocco Dominguez (California)
85 - Carter Evans (SC/Electric City Slammers Wrestling)
2019 Kids Triple Crown winners:
• Zach Hanson of Minnesota, 14U 110 pounds
• Koy Hopke of Wisconsin, 14U 187 pounds
• Caleb Noble of Wisconsin, 12U 58 pounds
• Lucus Judd of Connecticut, 10U 77 pounds