News
USA Wrestling
High School & Youth
USAW
Iowa and Illinois in tight team title chase at USMC 16U Greco-Roman Nationals; Iowa's Knaack, Ross one win away from Triple Crown
by Jason Bryant, Special to TheMat.com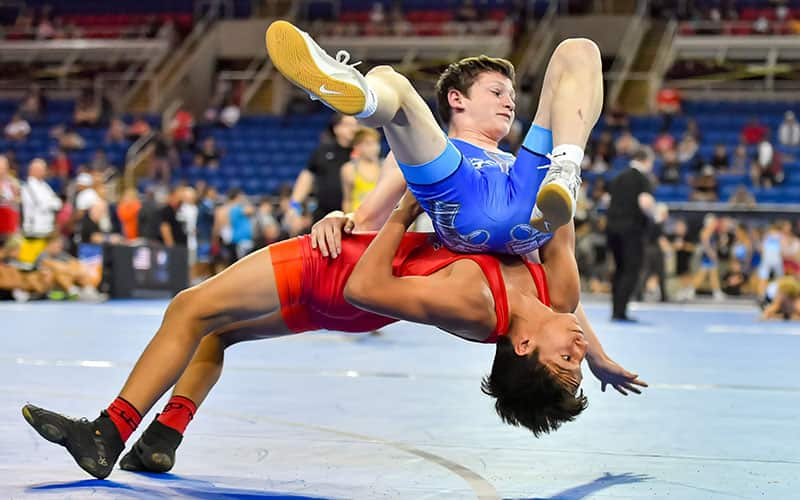 Jayden Raney (KY) hits a big throw at the 2023 16U Greco-Roman Nationals
.
Fargo, North Dakota – Coming into Saturday, 10 wrestlers who already owned Fargo titles came into the day with chances to add another giant octagonal trophy to their respective walls. When the semifinals of the 2023
USMC 16U Greco-Roman National Championships
finished up Saturday afternoon in the Fargodome in Fargo, North Dakota, eight were still in position to finish the job.
From a team perspective, Illinois and Iowa are settling in for what's going to be a wild race for the championship. Heading into the consolation semis and medal rounds,
Illinois
has 172 points, seven finalists and 13 total All-Americans.
Iowa
trails with 163 points, six finalists and 15 total All-Americans.
Oklahoma, which hasn't finished in the top five in 16U Greco-Roman in 22 years, sits in third with 105 points, four finalists and nine All-Americans.
Two Iowans are still eligible for the 16U Triple Crown as
Kyler Knaack
and
Dreshaun Ross
both advanced to the finals. Knaack will face Illinois
Jimmy Mastny
in the finals at 152 pounds. Knaack gave up his first points of the Greco-Roman tournament in a 6-4 semifinal win over Ohio's Eli Esguerra. Mastny has been diligent, going the distance in each of his last three wins to reached the raised platform.
Ross has drawn a crowd in each of his five technical fall victories, but that crowd needed not to blink, because Ross' longest bout was 75 seconds. He's outscored opponents 41-0 thus far. Ross will face California's
David Calkins
, a 14U champion last year, who is 5-0 with three falls and two techs. Calkins' longest bout was 91 seconds long.
Michigan's
Jarrett Smith
reached the finals at 94 pounds after 5-1 win over Montana's Kellen Downing. Smith will be looking to match his men's freestyle title later in the day. He'll face Iowa's
Hayden Schwab
, who received a forfeit against Connecticut's Chase Kastner in the semifinals. Kastner was injured late in his 8-7 quarterfinal win over Pennsylvania's Eli Herring.
It'll be an all-Illinois final at 100 pounds where returning champion
Caleb Noble
will face
James Hemmila
. Noble, a winner last year for Wisconsin, is looking to double up after his freestyle championship earlier in the week. Noble hasn't surrendered a single point en route to the finals, recording four technical falls and a win in the quarters by disqualification due to cautions. Hemmila has been pretty dominant as well, winning four of his five matches either 8-0 or 9-0.
Returning champion
Jayden Raney
of Kentucky was a point away from being sent to the consolations, falling behind 7-0 to Iowa's Maximus Riggins in his 120-pound semifinal bout, but scored 17 straight to reach his second final of the weekend.
Riggins scored first with a two-point throw on the edge, then quickly with a go-behind on the restart to go up 4-0 40 seconds into the bout. Another step-out point made it 5-0 before Riggins locked up another toss for two points to extend the lead to 7-0. Raney then popped out for a one-point reversal with 30 seconds left in the first period. Raney started to chip away, scoring a step-out point in the closing second of the period.
The second period was all Raney, as he scored two on a go-behind and then cut the lead to 7-6 after an exposure on a gutwrench. Riggins tried to get back to what was working for him in the first period, trying to hit an arm throw, but Raney stopped it for two points on the counter exposure and then locked up a trapped-arm gutwrench to turn Riggins four times to get the technical fall. The final point came on a lost Riggins challenge.
Raney will face Colorado's
Austin Collins
in the finals. Collins was a 14U national champion last year. He defeated Ohio's Blaze Van Gundy 9-0 in just under a minute in his bottom bracket semifinal.
Returning Greco champion
Thomas Verrette
of Colorado made quick work of freestyle champion Blue Stiffler of Georgia to reach the finals at 138 pounds. Stiffler defeated Verrette on criteria in freestyle en route to the title, but in Greco, Verrette's par terre work was on point. After getting ahead 2-0 by scoring a takedown on Stiffler's armspin attempt, Verrettee worked the a high gutwrench to hit three quick turns and end the match in just 64 seconds. Verrette will take on Wisconsin's
Colton Weiler,
who has been dominant on his side of the bracket. Weiler has four technical falls and a fall en route to the finals. He's outscored his opponents 46-0. Weiler beat Colorado's Derek Barrows 4-0 in the semifinals.
Illinois'
Aaron Stewart
cruised into the semifinals with four technical falls, but had to get past pesky Maximus Norman of Tennessee to reach the final. Stewart will face Maryland's
Emmitt Sherlock
, who has been buzzsaw on his side of the bracket. Sherlock went tech-tech-tech-fall-tech to reach the finals.
At 220 pounds,
Michael Mocco
of Florida returns to the finals. A runner-up in Greco-Roman last year and champion earlier this week in freestyle, Mocco trailed Ohio's Alex Taylor 4-1 heading into the second period before scoring seven points in the final 40 seconds to pull out an 8-4 victory in what was a rematch of the freestyle final. Mocco will face Illinois'
Kai Calcutt
in the final. Calcutt pinned his first four opponents and then teched Ohio's James Bechter in the semifinals.
In other weights, Ohio's
Loc Webber
will face Illinois'
Vincent DeMarco
in the 88-pound finale. Webber topped Tennessee's Hudson Chittum 7-3 while DeMarco teched Utah's Kaden Oldroyd 8-0.
Idaho's
Saxton Scott
will face Ohio's
Konner Blaney
in the finals at 106 pounds. Scott, third a year ago, teched Montana's Christopher Grossman 10-0 to advance while Blaney beat Iowa's Alexander Pierce 11-2.
Traditional Greco-Roman power Minnesota pushed 113-pounder
Titan Friederichs
into Saturday night's finals after his 8-0 semifinal win over Oklahoma's Hunter Knox. Friederichs was sixth in freestyle at 106 pounds and he'll face Pennsylvania's
Will Detar
, who finished fifth in freestyle at 113 pounds.
It'll be an all-Oklahoma final at 126 pounds as
Devon Miller
will face
Isaiah Jones
. Miller got past stingy Ned Kauffman of Pennsylvania 3-2 in the quarters before getting past New Mexico's Valentine Popadiuc 5-3. Jones rallied late to win a wild 17-15 match over Texas' Zayn Navarrete. Trailing 15-11, Jones was awarded four points when Navarrete got put to his back trying to hit a standing reverse lift. Jones added a two-point gutwrench immediately afterwards to end up pulling out the win.
The Miller-Jones match will be the first time in tournament history two Oklahoma wrestlers have faced off against one another in a 16U Greco-Roman final. Illinois' Wyatt Medlin will take on Oklahoma's Jake Miller at 132 pounds.
At 145 pounds, freestyle All-Americans
Gabriel Logan
of New Jersey and
Nolan Fellers
of Iowa will square off. The two met in the consolation semifinals of freestyle, with Logan winning a 10-9 battle. Logan reached the finals after beating Georgia's Nathaniel Askew 12-3. Fellers bounced freestyle champion Melvin Miller of Pennsylvania 10-3 in the semifinals.
Another Oklahoman will take the mat in the finals at 170 pounds as
Shawn Rounsaville
Jr. will face Iowa's
Broedy Collins Hendricks
for the title. Both wrestlers have pinned or teched all their opponents on the way to the finals.
Washington's
Matt King
, an appropriate name for someone wrestling in the finals, will face Nebraska's
Adonis Bonar II
for the title at 182 pounds. Like their colleagues at 170 pounds, both finalists here have been tech or pin on their way to the championship bout.
Indiana's lone finalist will be heavyweight
James Hartleroad.
He'll take on Iowa's
Cooper Martinson,
who is making his second finals appearance this week. Martinson was the freestyle runner-up.
The last sessions will feature the consolation semifinals and medal matches before the finals kick off at 6 p.m. on Saturday.
Current Team Scores
(Finalists noted)
1. Illinois 172 (7)
2. Iowa 163 (6)
3. Oklahoma 105 (4)
4. Pennsylvania 80 (1)
5. Ohio 79 (2)
6. Minnesota 54 (1)
7. Colorado 47 (2)
8. Wisconsin 43 (1)
9. Michigan 34 (1)
9. Utah 34 (0)
FINALS PAIRINGS
88: Vincent DeMarco (Illinois) vs. Loc Webber (Ohio)
94: Jarrett Smith (Michigan) vs. Hayden Schwab (Iowa)
100: Caleb Noble (Illinois) vs. James Hemilla (Illinois)
106: Saxton Scott (Idaho) vs. Konner Blaney (Ohio)
113: Titan Friederichs (Minnesota) vs. Will Detar (Pennsylvania)
120: Jayden Raney (Kentucky) vs. Austin Collins (Colorado)
126: Devon Miller (Oklahoma) vs. Isaiah Jones (Oklahoma)
132: Wyatt Medlin (Illinois) vs. Jake Miller (Oklahoma)
138: Thomas Verrette (Colorado) vs. Colton Weiler (Wisconsin)
145: Gabriel Logan (New Jersey) vs. Nolan Fellers (Iowa)
152: Jimmy Mastny (Illinois) vs. Kyler Knaack (Iowa)
160: Aaron Stewart (Illinois) vs. Emmitt Sherlock (Maryland)
170: Broedy Collins Hendricks (Iowa) vs. Shawn Rounsaville Jr. (Oklahoma)
182: Matt King (Washington) vs. Adonis Bonar II (Nebraska)
195: Dreshaun Ross (Iowa) vs. David Calkins (California)
220: Michael Mocco (Florida) vs. Kai Calcutt (Illinois)
285: James Hartleroad (Indiana) vs. Cooper Martinson (Iowa)
SEMIFINAL RESULTS
88 pounds
Loc Webber (Ohio) dec. Hudson Chittum (Tennessee), 7-3
Vincent Demarco (Illinois) tech fall Kaden Oldroyd (Utah), 8-0 1:00
94 pounds
Jarrett Smith (Michigan) dec. Kellen Downing (Montana), 5-1
Hayden Schwab (Iowa) inj. def.Chase Kastner (Connecticut)
100 pounds
Caleb Noble (Illinois) tech fall Dylan Ota (Texas), 8-0 1:25
James Hemmila (Illinois) tech fall Carter Shin (Virginia), 9-0 1:42
106 pounds
Saxton Scott (Idaho) tech fall Christopher Grossman (Montana), 10-0 1:25
Konner Blaney (Ohio) tech fall Alexander Pierce (Iowa), 11-2 1:24
113 pounds
Titan Friederichs (Minnesota) tech fall Hunter Knox (Oklahoma), 8-0 0:36
Will Detar (Pennsylvania) tech fall Jack Baron (Pennsylvania), 8-0 0:43
120 pounds
Jayden Raney (Kentucky) tech fall Maximus Riggins (Iowa), 17-7 3:14
Austin Collins (Colorado) tech fall Blaze Van gundy (Ohio), 9-0 0:51
126 pounds
Devon Miller (Oklahoma) dec. Valentine Popadiuc (New Mexico), 5-3
Isaiah Jones (Oklahoma) dec. Zayn Navarrete (Texas), 17-15
132 pounds
Jake Miller (Oklahoma) tech fall Manuel Saldate (Nevada), 11-2 2:00
Wyatt Medlin (Illinois) dec. Declan Koch (Wisconsin), 3-2
138 pounds
Thomas Verrette (Colorado) tech fall Blue Stiffler (Georgia), 8-0 1:04
Colton Weiler (Wisconsin) dec. Derek Barrows (Colorado), 6-0
145 pounds
Gabriel Logan (New Jersey) tech fall Nathaniel Askew (Georgia), 12-3 3:34
Nolan Fellers (Iowa) dec. Melvin Miller (Pennsylvania), 10-3
152 pounds
Jimmy Mastny (Illinois) dec. Brandon Dean (New Jersey), 4-2
Kyler Knaack (Iowa) dec. Eli Esguerra (Ohio), 6-4
160 pounds
Aaron Stewart (Illinois) dec. Maximus Norman (Tennessee), 4-3
Emmitt Sherlock (Maryland) tech fall Bradley Rodriguez-little (Minnesota), 9-0 0:54
170 pounds
Shawn Rounsaville, jr (Oklahoma) tech fall Junior Bumanglag (California), 8-0 1:26
Broedy Collins hendricks (Iowa) tech fall Anthony Kroninger (Ohio), 10-1 2:36
182 pounds
Matt King (Washington) tech fall Jackson Rotterman (Missouri), 9-1 1:34
Adonis Bonar II (Nebraska) tech fall Ryder Wilder (Georgia), 10-0 2:14
195 pounds
Dreshaun Ross (Iowa) tech fall Jaxon Penovich (Illinois), 8-0 1:09
David Calkins (California) pin Jake Conroy (Pennsylvania), 0:42
220 pounds
Kai Calcutt (Illinois) tech fall James Bechter (Ohio), 11-0 2:00
Michael Mocco (Florida) dec. Alex Taylor (Ohio), 8-4
285 pounds
Cooper Martinson (Iowa) dec. Jonathan Rulo (Illinois), 9-2
James Hartleroad (Indiana) dec. Micah Hach (South Dakota), 8-7
QUARTERFINAL RESULTS
88 pounds
Hudson Chittum (Tennessee) tech fall Urijah Courter (Iowa), 8-0 0:26
Loc Webber (Ohio) dec. Landon Thoennes (Minnesota), 9-7
Vincent Demarco (Illinois) tech fall Eric Bice (Nevada), 8-0 1:09
Kaden Oldroyd (Utah) tech fall Jameson Thomas (Alabama), 17-8 3:09
94 pounds
Kellen Downing (Montana) dec. Daniel Goodwin (Illinois), 11-6
Jarrett Smith (Michigan) dec. Jose Cordero (Tennessee), 3-1
Chase Kastner (Connecticut) dec. Eli Herring (Pennsylvania), 8-7
Hayden Schwab (Iowa) tech fall Cason Craft (Oklahoma), 9-1 2:59
100 pounds
Caleb Noble (Illinois) disq. Jensen Boyd (Indiana), cautions
Dylan Ota (Texas) tech fall Tanner Tran (Tennessee), 14-6 4:00
Carter Shin (Virginia) dec. Christopher Swann (Georgia), 2-1
James Hemmila (Illinois) dec. Drew Dawson (Oregon), 7-4
106 pounds
Saxton Scott (Idaho) tech fall Bruno Cassioppi (Illinois), 9-1 3:26
Christopher Grossman (Montana) dec. Carter Kendrick (South Dakota), 14-10
Konner Blaney (Ohio) tech fall Caleb Schaefer (Indiana), 8-0 2:43
Alexander Pierce (Iowa) dec. Eric Casula (Oklahoma), 5-1
113 pounds
Hunter Knox (Oklahoma) tech fall Dominic Way (West Virginia), 8-0 0:54
Titan Friederichs (Minnesota) dec. Dominic Thomas (Washington), 11-8
Will Detar (Pennsylvania) tech fall Czar Quintanilla (Washington), 9-0 2:23
Jack Baron (Pennsylvania) dec. Khimari Manns (Ohio), 4-4
120 pounds
Jayden Raney (Kentucky) pin Josiah Boyden (Georgia), 3:42
Maximus Riggins (Iowa) tech fall Gus Cardinal (Arizona), 11-2 1:53
Austin Collins (Colorado) dec. Evan Sanati (Virginia), 7-5
Blaze Van Gundy (Ohio) tech fall Jacob Morris (Alaska), 9-1 3:57
126 pounds
Valentine Popadiuc (New Mexico) tech fall Zaydrein Hernandez (California), 9-0 2:53
Devon Miller (Oklahoma) dec. Ned Kauffman (Pennsylvania), 3-2
Zayn Navarrete (Texas) pin Maksim Mukhamedaliyev (Illinois), 1:27
Isaiah Jones (Oklahoma) pin Timothy Koester (Iowa), 2-0 0:49
132 pounds
Manuel Saldate (Nevada) dec. Austin Paris (Utah), 13-11
Jake Miller (Oklahoma) pin Jacob Herm (Wisconsin), 1:48
Wyatt Medlin (Illinois) dec. Bryce Palmer (Texas), 7-0
Declan Koch (Wisconsin) dec. Connor Peterson (Minnesota), 7-6
138 pounds
Thomas Verrette (Colorado) tech fall Tyler Traves (Virginia), 8-0 2:00
Blue Stiffler (Georgia) dec. Tre Haines (Washington), 5-3
Derek Barrows (Colorado) dec. Noah Bull (Utah), 4-1
Colton Weiler (Wisconsin) pin Dane Renick (Arkansas), 0:25
145 pounds
Nathaniel Askew (Georgia) pin Luis Alberto-DeSilva (Pennsylvania), 3:05
Gabriel Logan (New Jersey) tech fall Londen Murphy (Ohio), 8-0 0:28
Melvin Miller (Pennsylvania) tech fall Kawayran Vazquez (Florida), 13-5 2:54
Nolan Fellers (Iowa) tech fall Daniel Gonzalez, jr. (Nebraska), 8-0 2:57
152 pounds
Jimmy Mastny (Illinois) dec. Joseph Jeter (Oklahoma), 5-4
Brandon Dean (New Jersey) dec. Cooper Rowe (Minnesota), 5-2
Eli Esguerra (Ohio) tech fall Gage Losiewicz (Wisconsin), 12-3 3:06
Kyler Knaack (Iowa) tech fall Keaton Moeller (Iowa), 9-0 1:07
160 pounds
Aaron Stewart (Illinois) tech fall Achilles Evans (Colorado), 8-0 0:36
Maximus6 Norman (Tennessee) pin Owen Woll (Pennsylvania), 1:18
Bradley Rodriguez-Little (Minnesota) tech fall Jake Rheaume (Georgia), 18-7 3:04
Emmitt Sherlock (Maryland) pin Kalob Ybarra (Colorado), 3:38
170 pounds
Anthony Kroninger (Ohio) tech fall Kyle Scott (Pennsylvania), 8-0 1:51
Broedy Collins hendricks (Iowa) tech fall Bridger Foss (Oregon), 18-9 4:00
Carter Brown (Missouri) pin Shawn Rounsaville, jr (Oklahoma), 2:38
Junior Bumanglag (California) dec. Terrell Mcfarland (Pennsylvania), 7-6
182 pounds
Matt King (Washington) tech fall Nicholas Ronchetti (Illinois), 8-0 0:58
Jackson Rotterman (Missouri) dec. Brayden Koester (Iowa), 9-7
Adonis Bonar ii (Nebraska) pin Evan Perez (Colorado), 0:31
Ryder Wilder (Georgia) pin Miguel Rojas (Indiana), 4-0 0:56
195 pounds
Dreshaun Ross (Iowa) tech fall Standford Thompson (Tennessee), 9-0 1:15
Jaxon Penovich (Illinois) tech fall Kaleb Jackson (New Jersey), 9-0 1:47
David Calkins (California) pin Danny Zmorowski (Ohio), 0:56
Jake Conroy (Pennsylvania) pin Wura Yinusa (Oklahoma), 2:43
220 pounds
Michael Mocco (Florida) pin Clayton Danielson (Minnesota), 0:48
Alex Taylor (Ohio) dec. Mason Koehler (Iowa), 5-4
James Bechter (Ohio) dec. Garett Kawczynski (Wisconsin), 5-1
Kai Calcutt (Illinois) pin Brycen Arthur (West Virginia), 1:38
285 pounds
James Hartleroad (Indiana) tech fall Trayvn Boger (Utah), 8-0 1:18
Micah Hach (South Dakota) pin Mark Effendian (Pennsylvania), 0:38
Cooper Martinson (Iowa) tech fall Jonathan Romo (Kansas), 8-0 0:50
Jonathan Rulo (Illinois) dec. Brayden Hill (Kansas), 9-7