News
USA Wrestling
International
Women
USAW
17 World Team Trials Challenge Tournament winners qualify for Final X
by Brandon Cain, Beat the Streets New York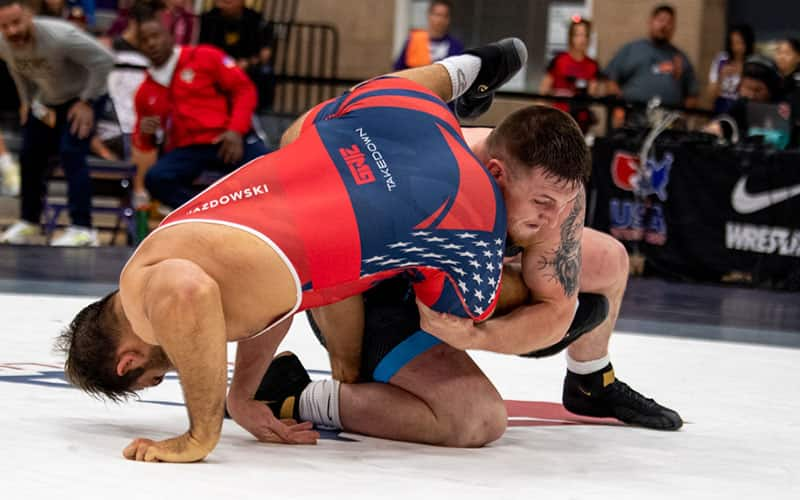 Mason Parris takes down Nick Gwiazdowski in the 125 kg men's freestyle finals at the World Team Trials Challenge Tournament. Photo by Robbert Wijtman.
The final 17 wrestlers to qualify for Final X, presented by Tezos, were determined during the Senior World Team Trials Challenge Tournament, hosted on Saturday and Sunday in Colorado Springs, Colorado.
The winners will compete in Final X against the 2023 U.S. Open champion on June 10 at Prudential Center in Newark, New Jersey.
Final X will determine the 2023 U.S. Senior World Team in all three Olympic disciplines: men's and women's freestyle and Greco-Roman. There will be 30 weight classes contested, 10 in each Olympic discipline. The top two U.S. athletes in each weight class will compete in a best-of-three series at Final X to determine who will wrestle at the 2023 Senior World Championships in Belgrade, Serbia.
Adam Coon (130 kg), a 2018 World silver medalist, and Aliaksandr Kikiniou (77 kg), a 2009 World bronze medalist for Belarus, were among 10 Greco-Roman wrestlers Saturday to punch their ticket to Final X. Kikinou was among three Olympians who advanced to Final X, joined by two-time Olympian Ildar Hafizov (60 kg) and 2020 Olympian Alejandro Sancho (67 kg). Dalton Duffield (55 kg), Xavier Johnson (63 kg), Patrick Smith (72 kg), Ryan Epps (82 kg), Zachary Braunagel (87 kg) and Christian DuLaney (97 kg) also qualified for Final X.
Sunday was the men's and women's freestyle competition. Advancing to Final X with victories in men's freestyle were Nahshon Garrett (61 kg), Zahid Valencia (92 kg) and Mason Parris (125 kg). In women's freestyle, 2019 World champion Jacarra Winchester (55 kg) and six-time World champion and 2020 Olympic silver medalist Adeline Gray (76 kg) qualified for Final X, along with Jennifer Page (59 kg) and Emma Bruntil (68 kg).
Of those who earned Final X berths in Colorado Springs, those who have competed in a previous Senior World Championships include Coon, Kikiniou, Hafizov, Sancho, Smaith, Winchester and Gray.
It is the second straight year Final X will serve as the Beat the Streets New York Annual Benefit. This year's event will be the 13th BTSNY Annual Benefit. These unique and electrifying annual events help BTSNY raise more than $1 million each year to support local youth wrestling programs which empower young people in New York City. The BTSNY Annual Benefit after-party will follow the conclusion of Final X.
Benefit tickets and sponsorship packages (Final X plus exclusive after-party celebration access), that also provide the best wrestling-event seats, are available at give.btsny.org/beatthestreetsbenefit2023. For more information on ticket packages, email Katrin Pokalyukhin at katrin@btsny.org.
Proceeds from Benefit tickets and sponsorship packages will directly help BTSNY, which provides a safe, positive atmosphere for student-athletes to learn the essential life lessons of discipline, perseverance, self-reliance, humility and a strong work ethic through wrestling.
Event-only tickets for Final X without access to the BTSNY after-party celebration are available on Ticketmaster.
FloWrestling will serve as the host broadcasting partner for Final X, presented by Tezos.
Final X, presented by Tezos
At Prudential Center, Newark, N.J., Saturday, June 10
Men's Freestyle Qualifiers to Date
57 kg - Thomas Gilman (State College, Pa./Nittany Lion WC/Titan Mercury WC) vs. Zane Richards (Champaign, Ill./Illinois RTC/Titan Mercury WC)
61 kg - Vitali Arujau (Ithaca, N.Y./Spartan Combat RTC/Titan Mercury WC) vs. Nahshon Garrett (Bethlehem, Pa./Titan Mercury WC/Lehigh Valley WC)
65 kg – Yianni Diakomihalis (Rochester, N.Y./Spartan Combat RTC/Titan Mercury WC) vs. Nick Lee (State College, Pa./Nittany Lion WC/Titan Mercury WC)
70 kg - Zain Retherford (State College, Pa./Nittany Lion WC/Titan Mercury WC) vs. Tyler Berger (Philadelphia, Pa./Pennsylvania RTC/Sunkist Kids WC)
74 kg – Kyle Dake (State College, Pa./Nittany Lion WC/Titan Mercury WC) vs. Jason Nolf (State College, Pa./Nittany Lion WC/Titan Mercury WC)
79 kg – Jordan Burroughs (Philadelphia, Pa./Pennsylvania RTC/Sunkist Kids WC) vs. Chance Marsteller (Hoboken, N.J./New York City RTC/Titan Mercury WC)
86 kg - David Taylor (State College, Pa./Nittany Lion WC/Titan Mercury WC) vs. Aaron Brooks (State College, Pa./Nittany Lion WC/Titan Mercury WC)
92 kg - Michael Macchiavello (Raleigh, N.C./Wolfpack WC/Titan Mercury WC) vs. Zahid Valencia (Tempe, Ariz./Sunkist Kids WC)
97 kg - Kyle Snyder (State College, Pa./Nittany Lion WC/Titan Mercury WC) vs. J'den Cox (Ann Arbor, Mich./Cliff Keen WC/Titan Mercury WC)
125 kg – Gable Steveson (Minneapolis, Minn./Gopher WC-RTC) vs. Mason Parris (Ann Arbor, Mich./Cliff Keen WC/Titan Mercury WC)
Women's Freestyle Qualifiers to Date
50 kg – Sarah Hildebrandt (Colorado Springs, Colo./USOPTC/New York AC) vs. Audrey Jimenez (Tucson, Ariz./Sunkist Kids WC)
53 kg – Dominique Parrish (Tempe, Ariz./Sunkist Kids WC) vs. Katie Gomez (Van Nuys, Calif./Sunkist Kids WC)
55 kg – Alisha Howk (River Falls, Wis./Sunkist Kids WC) vs. Jacarra Winchester (Colorado Springs, Colo./Titan Mercury WC/USOPTC)
57 kg – Helen Maroulis (Tempe, Ariz./Sunkist Kids WC) vs. Xochitl Mota-Pettis (Humble, Texas/Rise RTC)
59 kg – Michaela Beck (New York, N.Y./Sunkist Kids WC) vs. Jennifer Page (State College, Pa./Titan Mercury WC/Nittany Lion WC)
62 kg – Kayla Miracle (Tempe, Ariz./Sunkist Kids WC) vs. Adaugo Nwachukwu (San Jose, Calif./Titan Mercury WC)
65 kg – Mallory Velte (Corvallis, Ore./Beaver Dam RTC/Titan Mercury WC) vs. Macey Kilty (Colorado Springs, Colo./Sunkist Kids WC)
68 kg – Forrest Molinari (Mesa, Ariz./Sunkist Kids WC) vs. Emma Bruntil (Colorado Springs, Colo./Titan Mercury WC/USOPTC)
72 kg – Amit Elor (Walnut Creek, Calif./New York City RTC/Titan Mercury WC) vs. Joye Levendusky (Avon, N.Y./Southern Oregon RTC)
76 kg – Kennedy Blades (Chicago, Ill./Sunkist Kids WC) vs. Adeline Gray (Colorado Springs, Colo./New York AC)
Greco-Roman Qualifiers to Date
55 kg – Brady Koontz (Dubuque, Iowa/Titan Mercury WC/Dubuque RTC) vs. Dalton Duffield (Colorado Springs, Colo./Army WCAP)
60 kg – Dalton Roberts (Fountain, Colo./Army WCAP) vs. Ildar Hafizov (Colorado Springs, Colo./Army WCAP)
63 kg – Hayden Tuma (Nampa, Idaho/Suples WC) vs. Xavier Johnson (Colorado Springs, Colo./Army WCAP)
67 kg – Robert Perez III (Colorado Springs, Colo./Sunkist Kids WC) vs. Alejandro Sancho (Colorado Springs, Colo./Army WCAP)
72 kg – Justus Scott (Colorado Springs, Colo./Army WCAP) vs. Patrick Smith (Minneapolis, Minn./Minnesota Storm)
77 kg – Kamal Bey (Colorado Springs, Colo./Army WCAP) vs. Aliaksandr Kikiniou (Poway, Calif.)
82 kg – Spencer Woods (Colorado Springs, Colo./Army WCAP) vs. Ryan Epps (Cannon Falls, Minn., Army WCAP)
87 kg – Alan Vera (Jersey City, N.J./New York AC) vs. Zachary Braunagel (Belleville, Ill./Illinois RTC/Illini WC)
97 kg – Josef Rau (Chicago, Ill./Titan Mercury WC) vs. Christian DuLaney (Shakopee, Minn./Minnesota Storm)
130 kg – Cohlton Schultz (Parker, Colo./Sunkist Kids WC) vs. Adam Coon (Ann Arbor, Mich./Cliff Keen WC/New York AC)