News
USA Wrestling
International
Women
USAW
Winchester, Page, Bruntil, Gray advance to Final X with World Team Trials Challenge Tournament women's freestyle victories
by Gary Abbott, USA Wrestling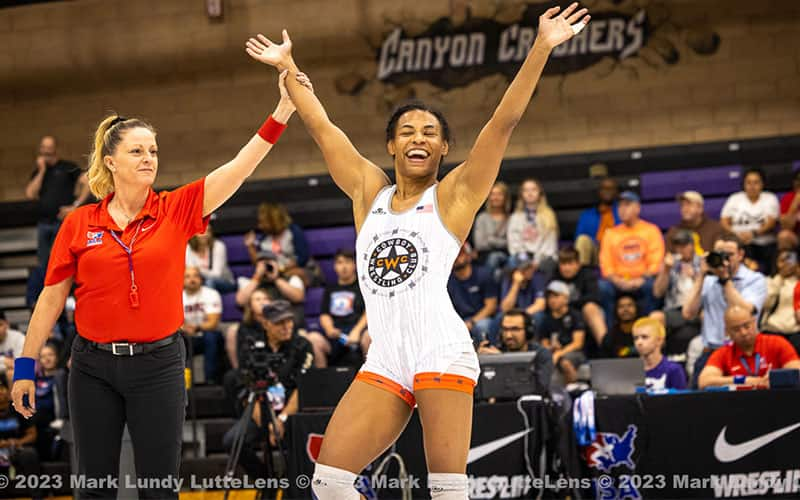 Jacarra Winchester celebrates her 55 kg victory at the World Team Trials Challenge Tournament. Photo by Mark Lundy, Lutte Lens
COLORADO SPRINGS, Colo. – The final four women's freestyle wrestlers to qualify for Final X were determined during the finals at the World Team Trials Challenge Tournament on Sunday afternoon
Today's winners will compete in Final X against the 2023 U.S. Open champion at Prudential Center in Newark, N.J., June 10.
Advancing to Final X with victories were
Jacarra Winchester
at 55 kg,
Jennifer Page
at 59 kg,
Emma Bruntil
at 68 kg and
Adeline Gray
at 76 kg.
Winchester scored a takedown to open the match, and when Villaescusa's corner challenge, it was denied, making it 3-0. A double leg takedown stretched it to 5-0 at the break. She added a slick trip for a takedown and added a turn to get it to 9-0. One final takedown iced an 11-0 win. Winchester now will battle U.S. Open champion and U23 World medalist Alisha Howk in Final X.
Page, who was a 2023 U.S. Open champion at 62 kg and decided to drop to 59 kg for another run at Final X, scored an impressive 11-4 victory over top seed and 2021 World Team member Maya Nelson. With the match close at 4-2 for Page, she was able to score a tilt on a Nelson shot then hit a gut wrench to lead 8-2. Page closed out the match with another tilt late in the bout. Page will battle 2023 U.S. Open champion Michaela Beck in Final X.
Bruntil, who moved up from 65 kg for this competition, put away top seed and U.S. Open runner-up Alexandria Glaude in the finals with a 10-0 technical fall. After scoring a takedown, Bruntil was able to turn Glaude four times to secure the victory.
Bruntil advances to Final X against 2023 U.S. Open champion and 2021 World bronze medalist Forrest Molinari in Final X. Bruntil and Molinari have wrestled in the past, with both having victories in the series.
Gray, a six-time World champion and 2020 Olympic silver medalist, also put away her finals opponent, securing a 12-1 technical fall over 2022 World Team member Dymond Guilford in the finals. Gray scored two takedowns then was able to turn Guilford multiple times when she was in par terre.
Gray earns a rematch with 2023 U.S. Open champion Kennedy Blades in Final X. Blades defeated Gray in the finals of the 2023 U.S. Open. Gray missed last season when she did not compete while having twins.
WORLD TEAM TRIALS CHALLENGE TOURNAMENT

At Colorado Springs, Colo., May 21
55 kg
1st - Jacarra Winchester, Titan Mercury WC/USOPTC tech fall Areana Villaescusa, Army WCAP, 11-0
Winchester advances to Final X against Alisha Howk (Sunkist Kids)
3rd - Amanda Martinez, Cardinal WC/TMWC dec. Lauren Mason, Brunson UVRTC, 10-4
59 kg
1st - Jennifer Page, Titan Mercury WC/Nittany Lion WC dec. Maya Nelson, Sunkist Kids, 11-4
Page advances to Final X against Michaela Beck (Sunkist Kids)
3rd - Brenda Reyna, Army WCAP dec. Bridgette Duty, Army WCAP, 9-7
68 kg
1st - Emma Bruntil, Titan Mercury WC/USOPTC tech fall Alexandria Glaude, Titan Mercury WC/Beaver Dam RTC, 10-0
Bruntil advances to Final X against Forrest Molinari (Sunkist Kids)
3rd - Solin Piearcy, Menlo WC tech fall Katerina Lange, Minnesota Gold WC, 10-0
76 kg
1st - Adeline Gray, New York AC tech fall Dymond Guilford, Titan Mercury WC/USOPTC, 12-1
Gray advances to Final X against Kennedy Blades (Sunkist Kids)
3rd - Kylie Welker, Titan Mercury WC/Iowa Women's WC tech fall Yelena Makoyed, Titan Mercury WC/Cardinal WC, 12-2