News
USA Wrestling
International
Women
USAW
Olympic medalists Snyder, Hildebrandt lead U.S. into Budapest Ranking Series event, July 13-16
by Richard Immel, USA Wrestling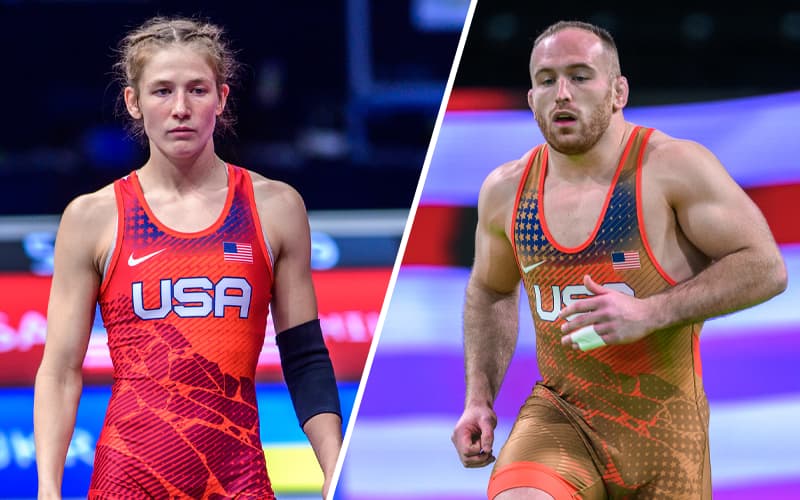 Photo: Olympic medalists Sarah Hildebrandt (left) and Kyle Snyder (right) are among the top U.S. stars competing in Budapest, Hungary, this week. (Photo: Tony Rotundo, wrestlersarewarriors.com)
Olympic champion Kyle Snyder and Olympic bronze medalist Sarah Hildebrandt spearhead a top-flight group of 42 American wrestlers headed to Budapest, Hungary, this week to participate in the UWW Senior Ranking Series: Polyák Imre & Varga János Memorial.
With 22 U.S. Senior World Team members competing, this tour will serve as a key international tune-up in advance of the World Championships in Belgrade, Serbia. Many international stars are expected to take the mats at BOK Sport Hall as coveted ranking points that determine final seeding for the Worlds are up for grabs.
The men's freestyle athletes are up first, with seven weights running on Thursday and three on Friday. In addition to Snyder, who is the U.S. World Team representative at 97 kg, five other U.S. World Team members are entered in the tournament: Zane Richards (57 kg), Vitali Arujau (61 kg), Nick Lee (65 kg), Chance Marsteller (79 kg) and Zahid Valencia (92 kg).
2019 U20 World champion Mason Parris (130 kg) and two-time age-group World medalist Joseph McKenna (65 kg), both of whom are current U.S. National Team members, are also registered on the men's freestyle front.
The women's freestyle tournament will be spread across Friday and Saturday, with five weight classes running each day. Like men's freestyle, there are six U.S. World Team members competing on the women's freestyle side: Hildebrandt (50 kg), Dominique Parris (53 kg), Jacarra Winchester (55 kg), Jennifer Page (59 kg), Kayla Miracle (62 kg) and Emma Bruntil (65 kg). Parrish and Winchester are past World champions and Miracle a two-time World finalist and 2020 Olympian.
World bronze medalist Forrest Molinari (68 kg) and Xochitl Mota-Pettis (57 kg), who is still in the running for a U.S. World Team spot pending the outcome of her Final X wrestle-off against Helen Maroulis, are in the mix as well. There are 18 total women competing in Budapest, the largest roster of any style for the Americans.
The Greco-Roman men will round out the week's festivities with three weight classes going on Saturday and seven on Sunday. All 10 U.S. World Team members in this style will give it a go in Budapest. Additionally, the 14-athlete U.S. Greco-Roman roster will feature four Final X runners-up, including World silver medalist Adam Coon (130 kg).
Tournament draws will be provided a day in advance of the start of each style. USA Wrestling will provide updates once draws become available.
The Polyák Imre & Varga János Memorial action will begin at 10:30 a.m. local time each day with medal matches set for 5 p.m. Budapest, Hungary, is located six hours ahead of U.S. Eastern Time.
A live stream of the event is available to the U.S. market on FloWrestling.com. Brackets and real-time results will be provided by United World Wrestling at UWW.org.
UWW Senior Ranking Series: Polyák Imre & Varga János Memorial
At Budapest, Hungary, July 13-16
Quick links
Live stream: FloWrestling.com
Brackets: UWW.org
Event schedule
Thursday, July 13
10:30 a.m. – Men's freestyle (57 kg, 65 kg, 74 kg, 86 kg, 92 kg, 97 kg, 125 kg) qualification rounds and repechage
5 p.m. – Men's freestyle (57 kg, 65 kg, 74 kg, 86 kg, 92 kg, 97 kg, 125 kg) finals and award ceremonies
Friday, July 14
10:30 a.m. – Men's freestyle (61 kg, 70 kg, 79 kg) and women's freestyle (50 kg, 53 kg, 57 kg, 62 kg, 68 kg) qualification rounds and repechage
5 p.m. – Men's freestyle (61 kg, 70 kg, 79 kg) and women's freestyle (50 kg, 53 kg, 57 kg, 62 kg, 68 kg) finals and award ceremonies
Saturday, July 15
10:30 a.m. – Women's freestyle (55 kg, 59 kg, 65 kg, 72 kg, 76 kg) and Greco-Roman (55 kg, 60 kg, 63 kg) qualification rounds and repechage
5 p.m. – Women's freestyle (55 kg, 59 kg, 65 kg, 72 kg, 76 kg) and Greco-Roman (55 kg, 60 kg, 63 kg) finals and award ceremonies
Sunday, July 16
10:30 a.m. –Greco-Roman (67 kg, 72 kg, 77 kg, 82 kg, 87 kg, 97 kg, 130 kg) qualification rounds and repechage
5 p.m. – Greco-Roman (67 kg, 72 kg, 77 kg, 82 kg, 87 kg, 97 kg, 130 kg finals and award ceremonies
*All times local for Budapest, Hungary (GMT +2), which is six hours ahead of U.S. Eastern Time
U.S. delegation
Men's freestyle roster
57 kg – Zane Richards (Champaign, Ill./Illinois RTC/Titan Mercury WC)
61 kg – Vitali Arujau (Ithaca, N.Y./Spartan Combat RTC/Titan Mercury WC)
65 kg – Nick Lee (State College, Pa./Nittany Lion WC/Titan Mercury WC)
70 kg – Joseph McKenna (Towaco, N.J./Pennsylvania RTC/Titan Mercury WC
74 kg – Julian Ramirez (Ithaca, N.Y./Spartan Combat RTC)
79 kg – Chance Marsteller (Hoboken, N.J./New York City RTC/Titan Mercury WC)
86 kg – Max Hale (West Chester, Pa./Pennsylvania RTC)
92 kg – Zahid Valencia (Tempe, Ariz./Sunkist Kids WC)
97 kg – Kyle Snyder (State College, Pa./Nittany Lion WC/Titan Mercury WC)
125 kg – Mason Parris (Ann Arbor, Mich./Cliff Keen WC/Titan Mercury WC)
Women's freestyle roster
50 kg – Sarah Hildebrandt (Colorado Springs, Colo./USOPTC/New York AC
50 kg – Erin Golston (Lake In The Hills, Ill./New York AC)
53 kg – Dominique Parrish (Tempe, Ariz./Sunkist Kids WC)
55 kg – Jacarra Winchester (Colorado Springs, Colo./USOPTC/Titan Mercury WC)
55 kg – Alisha Howk (River Falls, Wis./Sunkist Kids WC)
55 kg – Areana Villaescusa (Fountain, Colo./Army WCAP)
57 kg – Xochitl Mota-Pettis (Humble, Texas/Rise RTC)
57 kg – Alex Hedrick (Fair Oaks, Calif./USOPTC/Titan Mercury WC)
57 kg – Amanda Martinez (Riverside, Ill./Cardinal WC/Titan Mercury WC)
59 kg – Jennifer Page (State College, Pa./Titan Mercury WC/Nittany Lion WC)
59 kg – Brenda Reyna (Mount Vernon, Wash./Army WCAP)
62 kg – Kayla Miracle (Tempe, Ariz./Sunkist Kids WC)
62 kg – Bridgette Duty (Needville, Texas/Army WCAP)
65 kg – Emma Bruntil (Colorado Springs, Colo./USOPTC/Titan Mercury WC)
68 kg – Forrest Molinari (Mesa, Ariz./Sunkist Kids WC)
68 kg – Alexandria Glaude (Philomath/Ore./Beaver Dam RTC/Titan Mercury WC)
76 kg – Yelena Makoyed (Orangevale, Calif./Cardinal WC/Titan Mercury WC)
76 kg – Dymond Guilford (Lancaster, Calif./USOPTC/Titan Mercury WC)
Greco-Roman roster
55 kg – Brady Koontz (Dubuque, Iowa/Titan Mercury WC/Dubuque RTC)
60 kg – Ildar Hafizov (Colorado Springs, Colo./Army WCAP)
60 kg – Dalton Roberts (Fountain, Colo./Army WCAP)
63 kg – Xavier Johnson (Colorado Springs, Colo./Army WCAP)
67 kg – Alejandro Sancho (Colorado Springs, Colo./Army WCAP)
67 kg – Robert Perez III (Colorado Springs, Colo./Sunkist Kids WC)
72 kg – Patrick Smith (Minneapolis, Minn./Minnesota Storm)
77 kg – Kamal Bey (Colorado Springs, Colo./Army WCAP)
77 kg – RaVaughn Perkins (Colorado Springs, Colo./New York AC)
82 kg – Spencer Woods (Colorado Springs, Colo./Army WCAP)
87 kg – Zachary Braunagel (Belleville, Ill./Illinois RTC/Illini WC)
97 kg – Josef Rau (Chicago, Ill./Titan Mercury WC)
130 kg – Cohlton Schultz (Parker, Colo./Sunkist Kids WC)
130 kg – Adam Coon (Ann Arbor, Mich./Cliff Keen WC/New York AC)
NGB staff
National Men's Freestyle Head Coach – Bill Zadick (Colorado Springs, Colo.)
Manager of Men's Freestyle Programs – Joe Russell (Colorado Springs, Colo.)
National Women's Freestyle Head Coach – Terry Steiner (Colorado Springs, Colo.)
National Women's Freestyle Assistant Coach – Katie Kriebel (Colorado Springs, Colo.)
National Greco-Roman Program Director – Justin Ruiz (Colorado Springs, Colo.)
National Greco-Roman Assistant Coach – Herb House (Colorado Springs, Colo.)
Greco-Roman coach – Spenser Mango (Colorado Springs, Colo.)
Medical (ATC): Shelby Hoppis (Easton, Pa.)
Medical (ATC): Kyle Eckert (Fort Carson, Colo.)
Medical (DO): Brandon Mason (Stillwater, Okla.)
Medical (S&C): Mason Walters (Colorado Springs, Colo.)
Medical (Dietician): Nuwanee Kirihennedige (Colorado Springs, Colo.)
Official: Sam Julian (Schuylkill Haven, Pa.)