News
USA Wrestling
International
Women
USAW
Elor & Velte clinch Pan American golds, Bey, Woods, Mota-Pettis go for gold tonight, Vera & Howk up for a medal
by Gary Abbott, USA Wrestling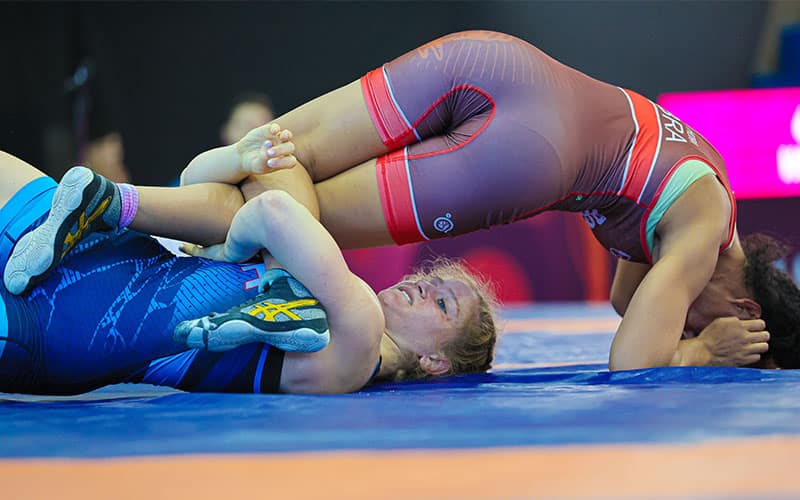 Amit Elor (USA) turns Meiriele Santos Hora (Brazil) at the 2023 Pan American Championships. Photo by Kadir Caliskan, United World Wrestling
BUENOS AIRES, Argentina – Two U.S. wrestlers clinched gold medals during the first session of the
Pan American Senior Championships
on Thursday morning. There are three Greco-Roman weight classes and four women's freestyle weight classes being contested today.
By winning all of their matches in a round robin format, gold medals have been clinched by women's freestyle stars
Amit Elor (
72 kg) and
Mallory Velte
(65 kg).
2022 World champion Amit Elor won four straight matches in her five-athlete round robin with dominance, scoring three technical falls and a pin along the way. The final match in her round robin will determine the other medalists.
Velte, a two-time World bronze medalist, won two matches in her three-athlete round robin to clinch the gold. She won her bout over 2022 Senior World Team member Aleah Nickel of Canada, by a 10-0 technical fall, then followed up with a 12-2 technical fall over Paula Montoya Garcia of Colombia. The remaining match in this weight class will determine who wins the silver and bronze medals.
Three athletes are one win away from claiming the gold medal, 2023 U.S. Open champion and past World Team member
Kamal Bey
(77 kg) and
Spencer Woods
(72 kg) in Greco-Roman and 2023 U.S. Open champion
Xochitl Mota-Pettis
(59 kg) in women's freestyle.
Bey won three matches in his bracket to qualify for the gold-medal finals where he will battle Yosvanys Pena Flores of Cuba. He opened with a 4-2 decision over Jair Cuero Munoz of Colombia, then scored a 12-3 technical fall over David Choc Huoc of Guatemala. Bey beat Benitez Castro of Mexico, 5-1in the semifinals.
Woods was dominant in his two victories in a four-athlete round robin. Woods hit a pair of five-point throws, with lifts from par terre, to close out his 11-0 technical fall over John Yeats of Canada. In his second bout, Woods had another five-point throw in an 8-0 technical fall over Jose Mosquera Murillo of Colombia. He will face Javier Gomez Silva of Mexico in his final round-robin bout.
Mota-Pettis opened her three-athlete round robin at 59 kg with a 10-0 technical fall over 2020 Pan American champion Alexandria Town of Canada. If she beats Jessica Derrell of Barbados in her final round robin bout in the second session, Mota-Pettis will get the gold medal.
Also up for a medal are 2023 U.S. Open champions
Alisha Howk
at 55 kg in women's freestyle and
Alan Vera
at 87 kg in Greco-Roman.
2023 U.S. Open champion Alisha Howk was defeated in her opening round robin match by 2018 World bronze medalist Diana Weicker of Canada, 5-0. In her second bout, Howk edged Adrianny Castillo of Argentina, 2-1. The result of the final round robin match between Weicker and Castillo will determine what medal that Howk wins. Potentially, she could still win a gold medal if Castillo beats Weicker.
Vera, who has been on two U.S. Senior World Teams, opened with a 5-1 win over Daniel Vicente Gomez of Mexico in the quarterfinals. He was defeated in the semifinals by 2019 World bronze medalist Daniel Gregorich Hechevarria of Cuba. He will face Ronisson Brandao Santiago of Brazil in the bronze-medal bout.
The USA had not yet qualified for the Pan American Games at 87 kg in Greco-Roman. Vera has clinched at least fifth place by reaching a bronze-medal match. With four Pan American Games berths available based upon the results in the Pan American Championships, and three of the five nations in the medal rounds in Buenos Aires already qualified, Vera has secured the USA a berth in the 2023 Pan American Games with his performance today.
The second session of the Pan American Championships today will be held at 6:00 p.m. local time. Buenos Aires is one hour ahead of U.S. Eastern time zone. The event is being broadcast live on FloWrestling
PAN AMERICAN SENIOR CHAMPIONSHIPS

At Buenos Aires, Argentina, May 4


U.S. Greco-Roman performances
77 kg - Kamal Bey (Army WCAP)
WIN Jair Cuero Munoz (Colombia), 4-2
WIN David Choc Huoc (Guatemala), 12-3
WIN Emmanuel Benitez Castro (Mexico), 5-1
Gold Medal Finals – Yosvanys Pena Flores (Cuba)
82 kg - Spencer Woods (Army WCAP), gold medal
WIN John Yeats (Canada), tech fall, 11-0
WIN Jose Mosquera Murillo (Colombia), tech fall 8-0
87 kg - Alan Vera (New York AC)
WIN Daniel Vicente Gomez (Mexico), 5-1
LOSS Daniel Gregorich Hechevarria (Cuba), tech fall 10-1
Bronze medal match – Ronisson Brandao Santiago (Brazil)
U.S. Women's freestyle performances
55 kg: Alisha Howk (Sunkist Kids)
LOSS Diana Weicker (Canada), 5-0
WIN Adrianny Castillo (Argentina), 2-1,
59 kg: Xochitl Mota-Pettis (Rise RTC)
WIN Alexandria Town (Canada), tech. fall, 10-0
Vs. Jessica Derrell (Barbados)
65 kg: Mallory Velte (Titan Mercury WC/Beaver Dam WC), gold medal
WIN Aleah Nickel (Canada), tech fall, 10-0
WIN Paula Montoya Garcia (Colombia), tech fall 12-2
72 kg: Amit Elor (Titan Mercury WC/NYC RTC), gold medal
WIN Katie Mulkay (Canada), pin 1:49
WIN Isidora Diaz Martinez (Chile), tech fall 10-0
WIN Luisa Mosquera Parra (Colombia), tech fall 10-0
WIN Meiriele Charamba Santos Hora (Brazil), tech fall, 10-0