News
USA Wrestling
International
Women
USAW
Mensah Stock and Elor win gold medals, Maroulis gets silver, and U.S. team is second at World Championships
by Gary Abbott, USA Wrestling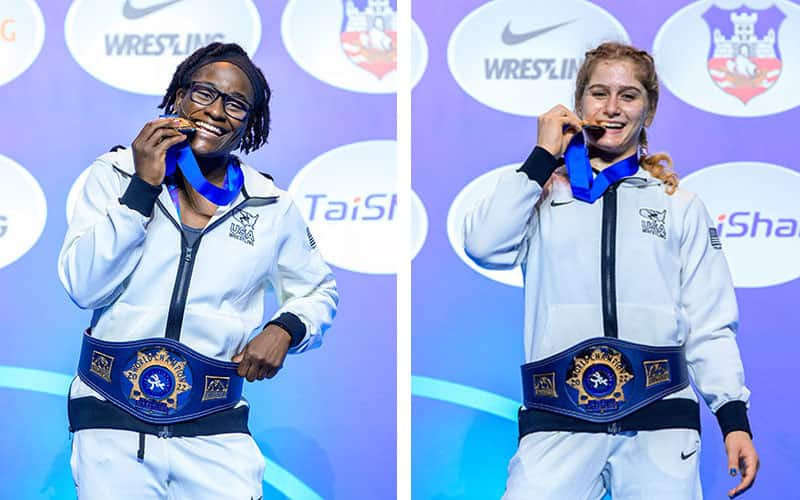 Tamyra Mensah Stock and Amit Elor with their World gold medals. Photos by Tony Rotundo, Wrestlers Are Warriors
BELGRADE, Serbia – The United States closed out the World Championships in women's freestyle with three more medals in Stark Arena on Thursday evening and placed second in the final team standings.
Claiming gold medals for the United States were 2020 Olympic champion
Tamyra Mensah Stock
(68 kg) and
Amit Elor
(72 kg).
Mensah Stock quickly took out 2022 U20 World champion Ami Ishii of Japan in the gold-medal match, securing the pin in 2:10. Mensah Stock hit a blast double leg takedown to lead 2-0. When she was working to get behind Ishii in the next exchange, Mensah Stock snapped her back to her back, and was able to secure the first-period fall.
In addition to her Olympic title, Mensah Stock is now a two-time World champion, with this year's title to go along with her 2019 World Championship. She was also a World bronze medalist in 2018. A native of Katy, Texas, Mensah Stock won two WCWA national titles for Wayland Baptist.
Elor quickly dispatched 2021 World silver medalist Zhamila Bakbergenova of Kazakhstan in the finals with a 10-0 technical fall. Elor scored a spin behind takedown, then locked up an ankle lace and hit four straight turns to finish the match.
At the age of 18, Elor becomes the youngest U.S. athlete to win a Senior World title. The previous youngest World champion was Kyle Snyder, who won a 2015 World title in men's freestyle at age 19.
Elor is competing in her first Senior World Championships. She boasts four age-group World titles, a 2019 U17 Beach title, 2021 World titles at the U17 and U20 levels, and a 2022 U20 World gold medal. Elor is from Concord, Calif.
The United States had three individual champions this year, with
Dom Parrish
also winning a gold at 53 kg on Wednesday night. That ties the record for the most by a U.S. women's team, with the 2019 World Team, which had Mensah Stock,
Adeline Gray
and
Jacarra Winchester
as individual champions.
Claiming a silver medal was 2016 Olympic champion
Helen Maroulis
, who lost 3-0 in the 57 kg finals to Tsugumi Sakurai of Japan, the 2021 World champion at 55 kg. Sakurai scored the only point in the first period when Maroulis was put on shot clock and could not score. In the second period, Sakurai scored the only takedown when she got behind Maroulis, then held off Maroulis the rest of the match.
Maroulis is now a six-time World medalist, to go along with her two Olympic medals (2016 gold, 2020 bronze). She won World titles in 2015, 2017 and 2021, World silver medals in 2012 and 2022, and a World bronze in 2014. A native of Rockville, Md., Maroulis won four WCWA national titles, three for Simon Fraser and one for Missouri Baptist.
The USA finished with seven medals, which matches the most won by a U.S. Senior World Team. The 2003 World Team, which competed in New York City, and the 2021 World Team, which wrestled in Oslo, Norway, also won seven medals.
Abigail Nette,
who was defeated in repechage on Thursday morning, placed 10th at 59 kg, which scored two team points for the USA. It was her first Senior World Championships.
The United States placed second in the team standings with 157 points, behind team champion Japan with 190 points. China placed third with 84 points.
The top five teams have qualified for the
2022 World Cup
, which will be held in Coralville, Iowa, USA, December 10-11. Joining Japan, the United States and China in the World Cup will be fourth-place Mongolia and fifth-place Ukraine.
The men's freestyle World Cup will also be held alongside the women.
Purchase World Cup tickets
The tournament continues on Friday, with Group 2 men's freestyle athletes competing in preliminaries and quarterfinals at 10:30 a.m., with semifinals at 4:45 p.m. The Group 1 men's freestyle finals are set for 6:00 p.m. local time. The USA has three men in the finals,
Zain Retherford
(70 kg),
Jordan Burroughs
(79 kg) and
David Taylor
. Belgrade is six hours ahead of U.S. Eastern time. All of the action is live on
FloWrestling
.
WORLD WRESTLING CHAMPIONSHIPS
At Belgrade, Serbia, September 14, 2022

Women's Freestyle Group 3 results
57 kg
Gold - Tsugumi Sakurai (Japan)
Silver - Helen Maroulis (USA)
Bronze - Alina Hrushyna Akobiia (Ukraine)
Bronze – Anhelina Lysak (Poland)
5th - Zhala Aliyeva (Azerbaijan)
5th - Davaachimeg Erkhembayar (Mongolia)
7th - Esther Omolayo Kolawole (Nigeria)
8th - Laylokhon Sobirova (Uzbekistan)
9th - Yongxin Feng (China)
10th - Sarita (India)
Gold - Sakurai dec. Maroulis, 3-0
Bronze - Hrushyna Akobiia tech. fall Aliyeva, 10-0
Bronze –Lysak dec. Erkhembayar, 10-6
59 kg
Gold - Anastasia Nichita (Moldova)
Silver - Grace Bullen (Norway)
Bronze - Sakura Motoki (Japan)
Bronze - Jowita Wrzesien (Poland)
5th - Qi Zhang (China)
5th - Erdenesuvd Bat Erdene (Mongolia)
7th – Mansi (India)
8th - Solomiia Vynnyk (Ukraine)
9th - Diana Kayumovs (Kazakhstan)
10th - Abigail Nette (USA)
Gold - Nichita dec. Bullen, 4-1
Bronze - Motoki pin Zhang, 3:49
Bronze - Wrzesien dec. Bat Erdene, 4-2
68 kg
Gold - Tamyra Mensah Stock (USA)
Silver - Ami Ishii (Japan)
Bronze - Irina Ringaci (Moldova)
Bronze - Linda Morais (Canada)
5th - Feng Zhou (China)
5th - Nisha (India)
7th - Sofiya Hristova Georgieva (Bulgaria)
8th - Delgermaa Enkhsaikhan (Mongolia)
9th - Ambar Garnica Flores (Mexico)
10th - Pauline Denise LeCarpenter (France)
Gold - Mensah Stock pin Ishii, 2:10
Bronze - Ringaci pin Feng, 1:00
Bronze - Morais pin Nisha, 2:45
72 kg
Gold - Amit Elor (USA)
Silver - Zhamila Bakbergenova (Kazakhstan)
Bronze - Alexandra Anghel (Romania)
Bronze - Masako Furuichi (Japan)
5th - Svetlana Oknazarova (Uzbekistan)
5th - Buse Cavusoglu Tosun (Turkey)
7th - Kendra Dacher (France)
8th - Shauna Kuebeck (Canada)
9th - Davaanasan Enkh Amar (Mongolia)
10th - Qiandegenchagan (China)
Gold - Elor tech fall Bakbergenova, 10-0
Bronze - Anghel tech. fall Oknazarova, 10-0
Bronze - Furuichi dec. Cavusoglu Tosun, 3-2
Women's freestyle results (group 3)
57 kg: Helen Maroulis (Tempe, Ariz./Sunkist Kids) – SILVER MEDAL
WIN Emma Tissina (Kazakhstan), fall 0:17
WIN Anhelina Lysak (Poland), 10-0
WIN Davaachimeg Erkhembayar (Mongolia), pin 5:20
LOSS Tsugumi Sakurai (Japan), 3-0
59 kg: Abigail Nette (Colorado Springs, Colo./Army WCAP) – 10th place
LOSS Grace Bullen (Norway), 14-4
LOSS Erdenesuvd Bat Erdene (Mongolia), 4-0
68 kg: Tamyra Mensah Stock (Colorado Springs, Colo./USOPTC/Titan Mercury WC) – GOLD MEDAL
WIN Alla Belinska (Ukraine), fall 3:41
WIN Feng Zhou (China), tech fall 10-0
WIN Irina Ringaci (Moldova), tech fall 10-0
WIN Ami Ishii (Japan), pin 2:10
72 kg: Amit Elor (New York, N.Y./NYC RTC/Titan Mercury WC) – GOLD MEDAL
WIN Anastasiya Alpeyeva (Ukraine), 10-0
WIN Buse Cavusoglu Tosun (Turkey), fall 0:40
WIN Masako Furuichi (Japan), 3-2
WIN Zhamila Bakbergenova (Kazakhstan), 10-0

Team Standings
1 Japan 190
2 United States 157
3 China, 84
4 Mongolia 72
5 Ukraine 68
6 Canada 58
7 Moldova 50
8 Poland 15
9 India 41
10 Turkey 39