News
USA Wrestling
High School & Youth
Women
USAW
Many stars were on display at the Northwest Junior/16U Regionals in Washington, kicking off the Regional season
by Gary Abbott, USA Wrestling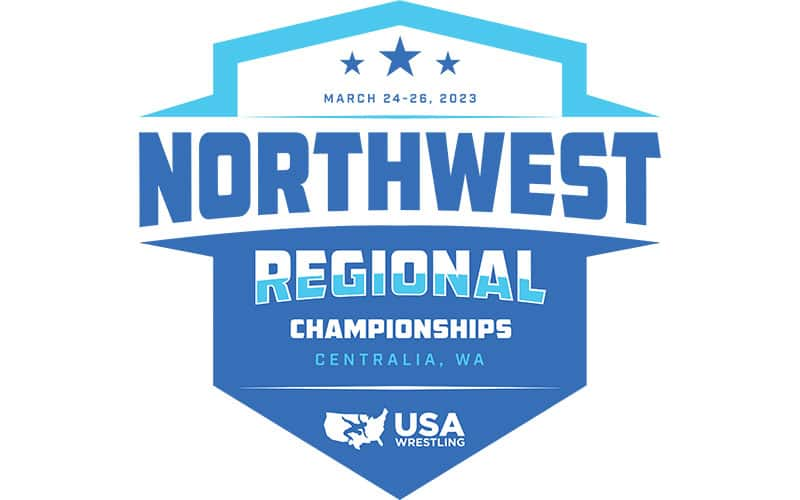 CENTRALIA, Wash. – The 2023 USA Wrestling Regional season kicked off last weekend with the Northwest Junior/16U Regionals in Centralia. It was the first of
seven USA Wrestling Regional Championships this year
.
There were seven Junior boys double champions, winners of both freestyle and Greco-Roman: William Jakeway of South Carolina (100), Isaac Hampton of Oregon (120), Rhett Peak of Oklahoma (132), Pierson Manville of Pennsylvania (145 FS/152 GR), Francisco Ayala of Washington (160), Hunter Sonnenberg of Washington (195) and Aden Attao of Idaho (285). Attao, who was a U20 Greco-Roman World bronze medalist last summer, is ranked No.1 by FloWrestling. Manville holds a No. 9 national ranking with FloWrestling.
At the 16U level, there were 10 double champions: Hunter Shirley of Washington (88), Hezekiah Worthington of Oregon (94), Drew Dawson of Oregon (100), Saxton Scott of Idaho (106), Gavin Rangel of Oregon (126), Noah Koyama of Washington (132), Jacob Gandy of Washington (160), Junior Bumanglag of California (182), Matt King of Washington (195) and Dominic Echeverria of Oregon (285).
The girls competition was quite competitive in both age divisions. In the Junior division, there were six nationally ranked champions: No. 27 Tristan Nitta of Hawaii (100), No. 11 Ashley Naranjo of Washington (117), No. 9 Anna DiCugno of Washington (127), No. 14 Kaidance Gerg of Idaho (138), No. 10 Alondra Morales of Washington (144) and No. 2 Alivia White of Washington (180). The 16U division had a nationally ranked champion, No. 25 Zorina Johnson of Oregon (127). One athlete won both the 16U and Junior girls divisions, Mia Cienega of Washington (200).
The top six boys and top six girls in each weight class in the Junior and 16U divisions have qualified for their state teams for the 2023 USMC Junior/16U Nationals in Fargo, N.D.
There was also a 14U Festival held alongside the Regionals, with competition in boys freestyle, girls freestyle and Greco-Roman. Results are below.
NORTHWEST JUNIOR/16U REGIONALS
At Centralia, Wash., March 24-26

16U Boys Freestyle
88
1st Place - Hunter Shirley of WA
2nd Place - Jack Mulvahill of OR
3rd Place - Hunter Hurl of UT
4th Place - Parker Bundy of WA
Hunter Hurl (UT) won by decision over Hunter Shirley (WA) (Dec 7-4)
Jack Mulvahill (OR) won by tech fall over Parker Bundy (WA) (TF 10-0)
Jack Mulvahill (OR) won by decision over Hunter Hurl (UT) (Dec 11-2)
Hunter Shirley (WA) won by tech fall over Parker Bundy (WA) (TF 10-0)
Hunter Hurl (UT) won by tech fall over Parker Bundy (WA) (TF 10-0)
Hunter Shirley (WA) won by tech fall over Jack Mulvahill (OR) (TF 16-5)
94
1st Place - Hezekiah Worthington of OR
100
1st Place Match - Drew Dawson (OR) won by decision over Ethan Busby (CA) (Dec 14-9)
3rd Place Match - Analu Woode (HI) won by tech fall over Dylan Frothinger (ID) (TF 14-3)
5th Place Match - Kacen Hamilton (WA) won by tech fall over Emilio Escobar (CA) (TF 13-3)
106
1st Place Match - Saxton Scott (ID) won by tech fall over Eric Casula (OK) (TF 13-1)
3rd Place Match - Carson Leonard (ID) won by decision over Jeremiah Waldschmidt (CO) (Dec 6-2)
5th Place Match - Alex Rodriguez (CO) won by decision over Carter Dawson (OR) (Dec 12-8)
113
1st Place Match - Eli Almarinez (CA) won by decision over Czar Quintanilla (WA) (Dec 9-3)
3rd Place Match - Owen Marshall (WA) won by tech fall over Jonas DesRochers (WA) (TF 10-0)
5th Place Match - Jorge De La Rosa (OR) won by decision over Alex Othon (WA) (Dec 7-1)
120
1st Place Match - Tas Storer (CA) won by fall over Andrew Gray (WA) (Fall 1:02)
3rd Place Match - Mason DesRochers (WA) won by tech fall over Dustin John Snider (CO) (TF 14-4)
5th Place Match - Colton Hankey (OR) won by decision over Sid Dillon (CO) (Dec 10-6)
126
1st Place Match - Gavin Rangel (OR) won by fall over Musa Jalloh (OH) (Fall 2:37)
3rd Place Match - Matthew Orbeta (CA) won by tech fall over Warren Cook (OR) (TF 12-2)
5th Place Match - Carlos Valdiviezo (CA) won by tech fall over Alexander Richardson (WA) (TF 10-0)
132
1st Place Match - Noah Koyama (WA) won by decision over Jalen Concepcion (CA) (Dec 3-1)
3rd Place Match - Thomas Belding (OR) won by fall over Nicholas Richardson (WA) (Fall 2:00)
5th Place Match - Jack Malinconico (CA) won by decision over Tavarre Lee (WA) (Dec 16-13)
138
1st Place Match - Darrell Nanpuya (WA) won by decision over Abraham Pomeroy (CO) (Dec 6-4)
3rd Place Match - Ames-Michael Hoevker (CA) won by tech fall over Brenden Holstad (WA) (TF 13-2)
5th Place Match - Adriano Perez (WA) won by tech fall over Graysen Serl (WA) (TF 10-0)
145
1st Place Match - Israel Acosta (WA) won by injury default over Tre Haines (WA) (Inj. 3:42)
3rd Place Match - Isaac Padilla (CA) won by fall over Isac Deonigi (WA) (Fall 1:08)
5th Place Match - Colby Ducatt (WA) won by forfeit over Jaxon Johnson (WA) (FF)
152
1st Place Match - Owen Hull (OR) won by decision over Kale Baumann (MT) (Dec 6-6)
3rd Place Match - Bailey Holman (CA) won by decision over Christopher Acuna (MT) (Dec 13-9)
5th Place Match - Gavin Pogue (OR) won by tech fall over Josue Reyes (WA) (TF 12-1)
160
1st Place Match - Jacob Gandy (WA) won by tech fall over Achilles Evans (CO) (TF 10-0)
3rd Place Match - Joseph Davis (WA) won by fall over Mitchell Johnson (OR) (Fall 1:00)
5th Place Match - Cohen Malasig (WA) won by tech fall over Colin Edmonds (WA) (TF 13-1)
170
1st Place Match - Bridger Foss (OR) won by forfeit over Sam Thomas (WA) (FF)
3rd Place Match - Dominic Dotson (CA) won by tech fall over Brady Wight (CA) (TF 12-2)
5th Place Match - Garrett Lees (WA) won by fall over Oliver Bryson (WA) (Fall 3:08)
182
1st Place Match - Junior Bumanglag (CA) won by decision over Isaac Reynoso (OR) (Dec 12-8)
3rd Place Match - Colton Schaad (CA) won by tech fall over Sawyer Muehlbauer (WA) (TF 12-0)
5th Place Match - Evan Henry (WA) won by forfeit over Brock Gustaveson (WA) (FF)
195
1st Place Match - Matt King (WA) won by tech fall over Camden Roofener (OR) (TF 10-0)
3rd Place Match - Adam Avila (CA) won by tech fall over Lusiano Lopez (OR) (TF 12-0)
5th Place Match - Josh Moreau (WA) won by decision over Isiah Conner (OR) (Dec 7-3)
220
1st Place Match - Riley Simmons (WA) won by tech fall over Jonah Martin (WA) (TF 10-0)
3rd Place Match - Isandre De La Torre (OR) won by tech fall over Logan Roberts (WA) (TF 13-2)
5th Place Match - Fabian Martinez (CA) won by tech fall over Taylor Dodd (ID) (TF 14-3)
285
1st Place Match - Dominic Echeverria (OR) won by tech fall over Kamden Boyer (WA) (TF 12-0)
3rd Place Match - Noah Miner (OR) won by fall over Daron Rainey (WA) (Fall 0:37)
5th Place Match - Shane-Alan Tino (WA) won by decision over Julian Montoya (WA) (Dec 9-3)
16U Greco-Roman
88
1st Place - Hunter Shirley of COBRA ALL-STARS / Cobra Wrestling Systems LLC
2nd Place - Hunter Hurl of Utah
3rd Place - Parker Bundy of Liberty Warriors Wrestling Academy
Hunter Hurl (Utah) won by tech fall over Parker Bundy (Liberty Warriors Wrestling Academy) (TF 10-0)
Hunter Shirley (COBRA ALL-STARS / Cobra Wrestling Systems LLC) won by tech fall over Hunter Hurl (Utah) (TF 8-0)
Hunter Shirley (COBRA ALL-STARS / Cobra Wrestling Systems LLC) won by tech fall over Parker Bundy (Liberty Warriors Wrestling Academy) (TF 8-0)
94
1st Place - Hezekiah Worthington of Newberg High School Wrestling
100
1st Place Match - Drew Dawson (Roseburg Mat Club /Umpqua Valley Wrestling Associaction) won by decision over Ethan Busby (Vacaville High School Wrestling) (Dec 9-2)
3rd Place Match - Dylan Frothinger (Eagle High School Wrestling) won by decision over Landon Salindong (California) (Dec 10-8)
5th Place Match - Kacen Hamilton (Thunder Mountain WC) won by fall over Emilio Escobar (Granite Wrestling Club) (Fall 1:51)
106
1st Place Match - Saxton Scott (Bonneville High School Wrestling) won by tech fall over Zackery Motzkus (South West Washington Wrestling Club) (TF 8-0)
3rd Place Match - Eric Casula (Prodigy Wrestling) won by tech fall over Carter Dawson (Roseburg Mat Club /Umpqua Valley Wrestling Associaction) (TF 8-0)
5th Place Match - Alex Rodriguez (Chatfield Wrestling Club) won by fall over Colin George (Chatfield Wrestling Club) (Fall 0:09)
113
1st Place Match - Czar Quintanilla (Inland Northwest Wrestling Training Center) won by tech fall over Eli Almarinez (Vacaville High School Wrestling) (TF 11-2)
3rd Place Match - Jonas DesRochers (COBRA ALL-STARS / Cobra Wrestling Systems LLC) won by tech fall over Ricardo Ortiz (Imperial Valley Panthers Wrestling) (TF 8-0)
5th Place Match - Jorge De La Rosa (Oregon) won by fall over Alex Othon (Mat Demon Wrestling Club) (Fall 3:17)
120
1st Place Match - Mason DesRochers (COBRA ALL-STARS / Cobra Wrestling Systems LLC) won by forfeit over Tas Storer (Poway Wrestling) (FF)
3rd Place Match - Dustin John Snider (Betterman Elite Wrestling) won by tech fall over Jackson Losee (FordDynastyWrestlingClub) (TF 8-0)
5th Place Match - Harrison Suzara (South West Washington Wrestling Club) won by tech fall over Lance Draper (South West Washington Wrestling Club) (TF 8-0)
126
1st Place Match - Gavin Rangel (Newberg High School Wrestling) won by fall over Matthew Orbeta (Poway Wrestling) (Fall 1:13)
3rd Place Match - Carlos Valdiviezo (Poway Wrestling) won by tech fall over Alexander Richardson (FordDynastyWrestlingClub) (TF 9-0)
5th Place Match - Aiden Chur (Granite Wrestling Club) won by tech fall over Musa Jalloh (Ohio) (TF 8-0)
132
1st Place Match - Noah Koyama (Askeo International Mat Club) won by tech fall over Jalen Concepcion (Poway High School Wrestling) (TF 9-0)
3rd Place Match - Tavarre Lee (FordDynastyWrestlingClub) won by tech fall over Nicholas Richardson (FordDynastyWrestlingClub) (TF 14-5)
5th Place Match - Ryder Sprague (West Linn High School Wrestling) won by forfeit over Mathias Hogue (Headwaters Wrestling Academy) (FF)
138
1st Place Match - Ames-Michael Hoevker (Granite Wrestling Club) won by decision over Adriano Perez (Takedown Express Wrestling Club) (Dec 9-6)
3rd Place Match - Brenden Holstad (Mat Demon Wrestling Club) won by fall over Richard Halvorson (Durham Wrestling Club) (Fall 2:27)
5th Place Match - Mason Elliott (Fitness Quest Wrestling Club) won by tech fall over Cohen Clark (Inland Northwest Wrestling Training Center) (TF 10-0)
145
1st Place Match - Colby Ducatt (Team Aggression Wrestling Club) won by decision over Tre Haines (Ascend Wrestling Academy) (Dec 3-1)
3rd Place Match - Israel Acosta (Inland Northwest Wrestling Training Center) won by decision over Isaac Padilla (Vacaville High School Wrestling) (Dec 14-9)
5th Place Match - Layronz Fraser (Granite Hills High School Wrestling) won by decision over Gunnar Neal (Poway High School Wrestling) (Dec 11-9)
152
1st Place Match - Kale Baumann (Montana) won by tech fall over Bailey Holman (Poway Wrestling) (TF 10-1)
3rd Place Match - Christopher Acuna (Three Forks High School Wrestling) won by tech fall over Chaz Ponton (Suples Wrestling Club) (TF 12-4)
5th Place Match - Gavin Carnahan (Deer Park Ironman Wrestling Club) won by fall over Michael Hatton (Olympiad RTC) (Fall 0:17)
160
1st Place Match - Jacob Gandy (Ferndale Force Wrestling Club) won by tech fall over Cohen Malasig (Askeo International Mat Club) (TF 10-0)
3rd Place Match - Joseph Davis (Marysville Wrestling Club) won by tech fall over Brody Buzzard (All-Phase Wrestling Club) (TF 8-0)
5th Place Match - Achilles Evans (Betterman Elite Wrestling) won by forfeit over Isaac Chromey (South West Washington Wrestling Club) (FF)
170
1st Place Match - Dominic Dotson (Poway High School Wrestling) won by tech fall over Sam Thomas (Prometheus Wrestling Club) (TF 8-0)
3rd Place Match - Bridger Foss (South Medford High School Wrestling) won by fall over James Keinonen (Oregon) (Fall 2:27)
5th Place Match - Brady Wight (Vacaville High School Wrestling) won by fall over Odin Schwabenbauer (Ascend Wrestling Academy) (Fall 0:12)
182
1st Place Match - Junior Bumanglag (Granite Hills High School Wrestling) won by tech fall over Evan Henry (Inland Northwest Wrestling Training Center) (TF 10-0)
3rd Place Match - Colton Schaad (Del Norte Wrestling Inc.) won by fall over Kaden Eldridge (Washington) (Fall 3:11)
5th Place Match - Isaac Reynoso (Tide Wrestling Club) won by tech fall over Sawyer Muehlbauer (Washington) (TF 15-6)
195
1st Place Match - Matt King (Team Aggression Wrestling Club) won by decision over Lusiano Lopez (Oregon) (Dec 8-7)
3rd Place Match - Camden Roofener (Glencoe High School Wrestling) won by fall over Isiah Conner (Mountainside Wrestling Club (Youth Wrestling)) (Fall 2:14)
5th Place Match - Adam Avila (Imperial Jr. Wrestling Club) won by fall over William Bomba (Team Idaho Wrestling Club) (Fall 1:54)
220
1st Place - Isandre De La Torre of South Medford High School Wrestling
285
1st Place - Dominic Echeverria of Hermiston High School Wrestling
2nd Place - Daron Rainey of Punisher Wrestling Company
3rd Place - Kamden Boyer of Tri Cities Wrestling Club
Dominic Echeverria (Hermiston High School Wrestling) won by fall over Daron Rainey (Punisher Wrestling Company) (Fall 0:20)
Dominic Echeverria (Hermiston High School Wrestling) won by forfeit over Kamden Boyer (Tri Cities Wrestling Club) (FF)
Daron Rainey (Punisher Wrestling Company) won by forfeit over Kamden Boyer (Tri Cities Wrestling Club) (FF)
16U Girls Freestyle
94
1st Place - Kayla Hassell of IL
100
1st Place - Kyler Menza of WA
2nd Place - Ava Fodera of CA
Kyler Menza (WA) won by fall over Ava Fodera (CA) (Fall 0:00)
Kyler Menza (WA) won by fall over Ava Fodera (CA) (Fall 0:40)
Round 3
106
1st Place - Sloane Kruger of WA
2nd Place - Ula Young of WA
3rd Place - Alexis Huff of WA
4th Place - Xoey Zollinger of ID
5th Place - Genevie Mondero of Oregon
Sloane Kruger (WA) won by tech fall over Genevie Mondero (Oregon) (TF 10-0)
Ula Young (WA) won by fall over Alexis Huff (WA) (Fall 1:38)
Alexis Huff (WA) won by tech fall over Xoey Zollinger (ID) (TF 11-1)
Sloane Kruger (WA) won by fall over Ula Young (WA) (Fall 0:41)
Ula Young (WA) won by fall over Xoey Zollinger (ID) (Fall 1:51)
Alexis Huff (WA) won by tech fall over Genevie Mondero (Oregon) (TF 11-0)
Xoey Zollinger (ID) won by fall over Genevie Mondero (Oregon) (Fall 1:41)
Sloane Kruger (WA) won by tech fall over Alexis Huff (WA) (TF 10-0)
Sloane Kruger (WA) won by fall over Xoey Zollinger (ID) (Fall 1:22)
Ula Young (WA) won by tech fall over Genevie Mondero (Oregon) (TF 12-2)
112
1st Place Match - Kaura Coles (MT) won by tech fall over Stevie Joyce Martin (CA) (TF 16-5)
3rd Place Match - Abbi Cooper (CA) won by tech fall over Maya Lindauer (WA) (TF 10-0)
5th Place Match - Finley Houck (WA) won by tech fall over Ellanor Nimrick (WA) (TF 10-0)
117
1st Place Match - Adalyne Montiel (WA) won by tech fall over Mia Pedersen (OR) (TF 10-0)
3rd Place Match - Isabel Garcia (CA) won by fall over Jaslynn Storm (WA) (Fall 1:17)
5th Place Match - Kadence Neumeyer (WA) won by decision over Braelyn Manke (WA) (Dec 6-5)
122
1st Place - Kamiah Gaerlan of WA
2nd Place - Micayla Yates of WA
3rd Place - Maile Nguyen of CA
4th Place - Abby Richard of OR
5th Place - Anna Guenther of WA
Maile Nguyen (CA) won by tech fall over Anna Guenther (WA) (TF 10-0)
Kamiah Gaerlan (WA) won by fall over Micayla Yates (WA) (Fall 0:31)
Micayla Yates (WA) won by fall over Abby Richard (OR) (Fall 0:27)
Maile Nguyen (CA) won by tech fall over Kamiah Gaerlan (WA) (TF 14-3)
Kamiah Gaerlan (WA) won by fall over Abby Richard (OR) (Fall 0:36)
Micayla Yates (WA) won by tech fall over Anna Guenther (WA) (TF 10-0)
Abby Richard (OR) won by tech fall over Anna Guenther (WA) (TF 10-0)
Micayla Yates (WA) won by fall over Maile Nguyen (CA) (Fall 0:52)
Maile Nguyen (CA) won by fall over Abby Richard (OR) (Fall 1:32)
Kamiah Gaerlan (WA) won by fall over Anna Guenther (WA) (Fall 1:33)
127
1st Place Match - Zorina Johnson (Oregon) won by fall over Ashlynn Kistenmacher (Washington) (Fall 0:49)
3rd Place Match - Renae Cook (OR) won by fall over Felicia Bell (WA) (Fall 1:39)
5th Place Match - Ava Ebrahimi (CA) won by tech fall over Kylie Whitaker (WA) (TF 10-0)
132
1st Place - Eloise Woolsey of HI
2nd Place - Bailey Chafin of OR
3rd Place - Paige McGee of WA
Eloise Woolsey (HI) won by tech fall over Bailey Chafin (OR) (TF 10-0)
Eloise Woolsey (HI) won by fall over Paige McGee (WA) (Fall 1:07)
Bailey Chafin (OR) won by tech fall over Paige McGee (WA) (TF 10-0)
138
1st Place Match - Taydem Bylin (WA) won by tech fall over Flor Parker-Borrero (WA) (TF 13-1)
3rd Place Match - Kennedy Blanton (OR) won by tech fall over Makyla Bolinger (WA) (TF 11-0)
5th Place Match - Lexie Newman (OR) won by fall over Shyla Weeks (WA) (Fall 0:30)
144
1st Place - Lucia Ledezma of CA
2nd Place - Adriana Hernandez of WA
3rd Place - Kinsey Christoph of WA
4th Place - Lily Andrew of WA
5th Place - Esmeralda Rodriguez of WA
Lucia Ledezma (CA) won by fall over Adriana Hernandez (WA) (Fall 1:22)
Kinsey Christoph (WA) won by decision over Esmeralda Rodriguez (WA) (Dec 10-4)
Kinsey Christoph (WA) won by decision over Lily Andrew (WA) (Dec 11-7)
Adriana Hernandez (WA) won by tech fall over Esmeralda Rodriguez (WA) (TF 11-0)
Lily Andrew (WA) won by decision over Esmeralda Rodriguez (WA) (Dec 8-6)
Lucia Ledezma (CA) won by tech fall over Kinsey Christoph (WA) (TF 10-0)
Lucia Ledezma (CA) won by fall over Lily Andrew (WA) (Fall 0:24)
Adriana Hernandez (WA) won by decision over Kinsey Christoph (WA) (Dec 9-6)
Adriana Hernandez (WA) won by fall over Lily Andrew (WA) (Fall 2:38)
Lucia Ledezma (CA) won by tech fall over Esmeralda Rodriguez (WA) (TF 10-0)
152
1st Place Match - Elizabeth Hodges (ID) won by tech fall over Emily Ortiz (WA) (TF 10-0)
3rd Place Match - Islah Alcala (WA) won by fall over Emma Wall (WA) (Fall 1:15)
5th Place Match - Olivia Howell (OR) won by forfeit over Izzy Steinebach (WA) (FF)
164
1st Place - Ryley Nager of WA
Round 1
180
1st Place - Eliana Guillory of WA
200
1st Place - Mia Cienega of WA
Junior boys freestyle
100
1st Place - William Jakeway of SC
2nd Place - Hunter Anderson of ID
3rd Place - Austin Duette-Hall of CO
Hunter Anderson (ID) won by tech fall over Austin Duette-Hall (CO) (TF 14-3)
William Jakeway (SC) won by tech fall over Austin Duette-Hall (CO) (TF 12-0)
William Jakeway (SC) won by fall over Hunter Anderson (ID) (Fall 2:01)
106
1st Place - Matthew Montes of WA
2nd Place - Colby Hill of WA
3rd Place - Kanoe K. Kelly of OR
4th Place - Dylan Roath of WA
Matthew Montes (WA) won by fall over Dylan Roath (WA) (Fall 0:36)
Colby Hill (WA) won by tech fall over Kanoe K. Kelly (OR) (TF 10-0)
Matthew Montes (WA) won by fall over Colby Hill (WA) (Fall 0:44)
Kanoe K. Kelly (OR) won by tech fall over Dylan Roath (WA) (TF 10-0)
Matthew Montes (WA) won by fall over Kanoe K. Kelly (OR) (Fall 5:12)
Colby Hill (WA) won by tech fall over Dylan Roath (WA) (TF 14-0)
113
1st Place Match - Cole Rogers (Montana) won by tech fall over Ryan Nuno (ID) (TF 20-9)
3rd Place Match - Zack Hoover (CA) won by fall over Isaac Stewart (Montana) (Fall 5:59)
5th Place Match - Corbin Long (MT) won by fall over Sulaiman Nasseri (WA) (Fall 1:26)
120
1st Place Match - Isaac Hampton (OR) won by tech fall over Carlo Arreola (CA) (TF 14-3)
3rd Place Match - Josue Garcia (CA) won by tech fall over Christopher Lopez (WA) (TF 17-6)
5th Place Match - Amadis Sang (WA) won by forfeit over Jason McDonald (CA) (FF)
126
1st Place Match - Manuel Martir (CA) won by fall over Kyle Sieminski (OR) (Fall 2:45)
3rd Place Match - Jesus Campos (WA) won by tech fall over Steven Kaszuba (IL) (TF 13-2)
5th Place Match - Colby Cook (OR) won by forfeit over Gordon Gibson (Washington) (FF)
132
1st Place Match - Rhett Peak (OK) won by decision over Nathan Curry (WA) (Dec 8-0)
3rd Place Match - Elijah Cater (WA) and Emanuel Cater (WA) (DFF)
5th Place Match - Eric Larwin (OR) won by tech fall over Clark Petersen (ID) (TF 12-1)
138
1st Place Match - Mitchell Neiner (WA) won by decision over Jacob Myers (CO) (Dec 12-7)
3rd Place Match - Tanner Frothinger (ID) won by tech fall over Zachary Keinonen (OR) (TF 14-4)
5th Place Match - Jayson Suetos (CA) won by tech fall over Mayhem Woolsey (HI) (TF 10-0)
145
1st Place Match - Pierson Manville (PA) won by tech fall over Landon Drury (CO) (TF 11-0)
3rd Place Match - Ivan Acosta (WA) won by tech fall over Qusai Ashraf Marini (CA) (TF 10-0)
5th Place Match - Gil Mossburg (WA) won by decision over Gabriel Brown (ID) (Dec 12-3)
152
1st Place Match - Aaron Concepcion (AK) won by fall over Charles Spinning (OR) (Fall 2:24)
3rd Place Match - Caleb Cady (WI) won by fall over Cyrus Comia (WA) (Fall 0:56)
5th Place Match - Tennyson Kurtz (WA) won by tech fall over Dustin Baxter (WA) (TF 17-5)
160
1st Place Match - Francisco Ayala (WA) won by decision over Drake Thompson (WA) (Dec 7-2)
3rd Place Match - Chase Dennis (OR) won by tech fall over Luke Augustus (OR) (TF 10-0)
5th Place Match - Skyler Salzman (OR) won by forfeit over Carson Howell (CA) (FF)
170
1st Place Match - Ezekiel McEwen (WA) won by tech fall over Arjun Nagra (CA) (TF 11-0)
3rd Place Match - Ryan Clink (CA) won by decision over Christopher Neal (WA) (Dec 9-7)
5th Place Match - Gunnar Thompson (MT) won by fall over Rylin Lang (WA) (Fall 2:11)
182
1st Place Match - Justin Rademacher (OR) won by tech fall over Ryder Dearborn (CA) (TF 10-0)
3rd Place Match - Thomas Sandoval (CA) won by decision over Lars Michaelson (WA) (Dec 1-1)
5th Place Match - Abe Dejesus (Oregon) won by tech fall over Ethan Frank (WA) (TF 12-1)
195
1st Place Match - Hunter Sonnenberg (WA) won by fall over Dayne Camacho (WA) (Fall 2:15)
3rd Place Match - Ronnell Parker-Borrero (WA) won by tech fall over Whyatt Phelan (WA) (TF 10-0)
5th Place Match - Mason Buss (OR) won by fall over Quinn Funk (CO) (Fall 2:00)
220
1st Place Match - Chase Baker (WA) won by tech fall over Jai Guerra (CA) (TF 11-0)
3rd Place Match - Jayden Tadeo-Gosal (CA) won by tech fall over Johnathan Gressett (WA) (TF 12-2)
5th Place Match - Quentin Artis (CA) won by fall over Eriberto Mojica (WA) (Fall 0:28)
285
1st Place Match - Aden Attao (ID) won by tech fall over Declan Follette (CA) (TF 13-2)
3rd Place Match - Jesse Mains (Washington) won by forfeit over Noah Bigboygribble (Washington) (FF)
5th Place Match - Quinnton Flores (WA) won by tech fall over Gabriel Tautua (WA) (TF 12-0)
Junior Greco-Roman
100
1st Place - William Jakeway of Sons Of Thunder Wrestling
2nd Place - Hunter Anderson of East Idaho Elite Wrestling Club
3rd Place - Austin Duette-Hall of Betterman Elite Wrestling
William Jakeway (Sons Of Thunder Wrestling) won by fall over Austin Duette-Hall (Betterman Elite Wrestling) (Fall 1:27)
Hunter Anderson (East Idaho Elite Wrestling Club) won by fall over Austin Duette-Hall (Betterman Elite Wrestling) (Fall 0:34)
William Jakeway (Sons Of Thunder Wrestling) won by tech fall over Hunter Anderson (East Idaho Elite Wrestling Club) (TF 8-0)
113
1st Place Match - Zack Hoover (FordDynastyWrestlingClub) won by fall over Sulaiman Nasseri (Washington) (Fall 3:15)
3rd Place Match - Cole Rogers (Montana) won by tech fall over Ryan Nuno (East Idaho Elite Wrestling Club) (TF 11-3)
5th Place Match - Carson Jackson (Thunder Mountain Wrestling Club) won by tech fall over Josh Hall (Mat Demon Wrestling Club) (TF 11-0)
120
1st Place Match - Isaac Hampton (Newberg High School Wrestling) won by tech fall over Jason McDonald (California) (TF 9-0)
3rd Place Match - Christopher Lopez (Washington) won by tech fall over Dustin Duette-Hall (Betterman Elite Wrestling) (TF 11-2)
5th Place Match - Yuki Uchishiba (HI) won by 3 caution rule over Benjamin Sommers (Washington) (3 Cau.)
126
1st Place Match - Scout Santos (Mountain View High School Wrestling) won by fall over Manuel Martir (Community Youth Center - Concord Campus Wrestling) (Fall 1:32)
3rd Place Match - Jesus Campos (Concede Nothing Wrestling Club) won by tech fall over Kyle Sieminski (Sweet Home High School Wrestling) (TF 8-0)
5th Place Match - Victor Larso (Betterman Elite Wrestling) won by tech fall over Jackson Stoops (Bear Claw Wrestling Club- Maple Valley Jr Wrestling) (TF 8-0)
132
1st Place Match - Rhett Peak (Cowboy Wrestling Club) won by tech fall over Dmytro Chubenko (Ohio) (TF 11-1)
3rd Place Match - Elijah Cater (Washington) won by forfeit over Emanuel Cater (Washington) (FF)
5th Place Match - Clark Petersen (Team Idaho Wrestling Club) won by 3 caution rule over Eric Larwin (Bend Senior High School Wrestling) (3 Cau.)
138
1st Place Match - Tanner Frothinger (Eagle High School Wrestling) won by fall over Mayhem Woolsey (Hawaii Wrestling Academy) (Fall 2:04)
3rd Place Match - Maksym Chubenko (Ohio) won by tech fall over Jayson Suetos (Granite Hills High School Wrestling) (TF 10-0)
5th Place Match - Zachary Keinonen (Newberg High School Wrestling) won by fall over Shane Sherrill (Team Idaho Wrestling Club) (Fall 2:13)
145
1st Place Match - Landon Drury (Betterman Elite Wrestling) won by tech fall over Stone Hartford (NWWC) (TF 10-0)
3rd Place Match - Gil Mossburg (Ascend Wrestling Academy) won by decision over Joseph Jones-Nesbitt (FordDynastyWrestlingClub) (Dec 5-2)
5th Place Match - Riis Hinrichs (Oregon) won by injury default over Sergio Porras (California) (Inj. 0:00)
152
1st Place Match - Pierson Manville (PA) won by tech fall over David Burchett (Betterman Elite Wrestling) (TF 8-0)
3rd Place Match - Charles Spinning (All-Phase Wrestling Club) won by tech fall over Dylan Kamps (Three Forks High School Wrestling) (TF 9-0)
5th Place Match - Dustin Baxter (Punisher Wrestling Company) won by tech fall over Keeven Gifford (Braves Wrestling Club) (TF 8-0)
160
1st Place Match - Francisco Ayala (Victory Wrestling-Central WA) won by fall over Chase Dennis (All-Phase Wrestling Club) (Fall 2:00)
3rd Place Match - Skyler Salzman (Hillsboro Mat Club) won by tech fall over Micah Policarpio (White Center Warriors Wrestling Club) (TF 10-0)
5th Place Match - Percie Hatfield (Punisher Wrestling Company) won by fall over Drew Deemer (Mat-Su Matmen) (Fall 1:46)
170
1st Place Match - Benjamin Rintoul (Scappoose High School Wrestling) won by decision over Ezekiel McEwen (Mat Demon Wrestling Club) (Dec 8-2)
3rd Place Match - Gunnar Thompson (Flathead High School Wrestling) won by decision over Arjun Nagra (Vacaville High School Wrestling) (Dec 3-0)
5th Place Match - Rylin Lang (Anacortes Hawkeyes Wrestling Club) won by tech fall over Jonah Orndorff (Inland Northwest Wrestling Training Center) (TF 8-0)
182
1st Place Match - Lars Michaelson (NWWC) won by tech fall over Ryder Dearborn (East County Wrestling Club) (TF 8-0)
3rd Place Match - Thomas Sandoval (Vacaville Wrestling Club) won by injury default over Anders Thompson (Flathead High School Wrestling) (Inj. 0:00)
5th Place Match - Demario Gonzales (OR) won by forfeit over Abe Dejesus (OR) (FF)
195
1st Place Match - Hunter Sonnenberg (FordDynastyWrestlingClub) won by fall over Dayne Camacho (White Center Warriors Wrestling Club) (Fall 0:22)
3rd Place Match - Whyatt Phelan (Team Aggression Wrestling Club) won by tech fall over Quinn Funk (Mile High Wrestling Club) (TF 10-1)
5th Place Match - Jaxson Gribskov (Hermiston High School Wrestling) won by tech fall over Armand Brinlee (Washington) (TF 9-0)
220
1st Place Match - Jayden Tadeo-Gosal (Community Youth Center - Concord Campus Wrestling) won by tech fall over Chase Baker (Takedown Express Wrestling Club) (TF 8-0)
3rd Place Match - Johnathan Gressett (UP Vikings Wrestling Club) won by fall over Jai Guerra (Vacaville Wrestling Club) (Fall 3:00)
5th Place Match - Quentin Artis (California) won by fall over Daniel Bennett (Thunder Mountain Wrestling Club) (Fall 4:06)
285
1st Place Match - Aden Attao (Suples Wrestling Club) won by tech fall over Burak Bowers (Washington) (TF 10-0)
3rd Place Match - Declan Follette (California) won by fall over Dylan Howell (Peninsula Wrestling Club) (Fall 0:33)
5th Place Match - Siu Sepeni (Hermiston High School Wrestling) won by forfeit over Noah Bigboygribble (Washington) (FF)
Junior Girls Freestyle
100
1st Place - Tristan Nitta of HI
2nd Place - Jhaile De Guzman of WA
3rd Place - Alycia Perez of IL
4th Place - Emma Norman of Washington
5th Place - Blair Peak of OK
Jhaile De Guzman (WA) won by decision over Alycia Perez (IL) (Dec 9-5)
Emma Norman (Washington) won by fall over Blair Peak (OK) (Fall 4:20)
Tristan Nitta (HI) won by tech fall over Emma Norman (Washington) (TF 10-0)
Jhaile De Guzman (WA) won by fall over Blair Peak (OK) (Fall 2:49)
Tristan Nitta (HI) won by fall over Blair Peak (OK) (Fall 0:30)
Alycia Perez (IL) won by injury default over Emma Norman (Washington) (Inj. 0:34)
Tristan Nitta (HI) won by tech fall over Alycia Perez (IL) (TF 10-0)
Jhaile De Guzman (WA) won by forfeit over Emma Norman (Washington) (FF)
Tristan Nitta (HI) won by tech fall over Jhaile De Guzman (WA) (TF 10-0)
Alycia Perez (IL) won by tech fall over Blair Peak (OK) (TF 12-2)
106
1st Place Match - Lauren Nguyen (CA) won by tech fall over Nina De Leon (OR) (TF 10-0)
3rd Place Match - Mia Zuniga (WA) won by tech fall over Luna Martinez (WA) (TF 10-0)
5th Place Match - Danica Torres (WA) won by fall over Veronica Cosio (IL) (Fall 4:18)
112
1st Place - Marjorie McDaniel of WA
2nd Place - Stevie Joyce Martin of CA
3rd Place - Jara Rodriguez of WA
4th Place - Lacatia Mason of OR
5th Place - Rebecca DiSilvestro of IL
Jara Rodriguez (WA) won by tech fall over Lacatia Mason (OR) (TF 20-10)
Stevie Joyce Martin (CA) won by tech fall over Rebecca DiSilvestro (IL) (TF 12-0)
Marjorie McDaniel (WA) won by tech fall over Rebecca DiSilvestro (IL) (TF 10-0)
Stevie Joyce Martin (CA) won by tech fall over Jara Rodriguez (WA) (TF 10-0)
Marjorie McDaniel (WA) won by fall over Stevie Joyce Martin (CA) (Fall 1:14)
Lacatia Mason (OR) won by tech fall over Rebecca DiSilvestro (IL) (TF 10-0)
Marjorie McDaniel (WA) won by fall over Lacatia Mason (OR) (Fall 0:33)
Jara Rodriguez (WA) won by tech fall over Rebecca DiSilvestro (IL) (TF 10-0)
Marjorie McDaniel (WA) won by tech fall over Jara Rodriguez (WA) (TF 13-0)
Stevie Joyce Martin (CA) won by fall over Lacatia Mason (OR) (Fall 0:36)
117
1st Place Match - Ashley Naranjo (WA) won by tech fall over Gracianna Strickland (OR) (TF 11-0)
3rd Place Match - Zeta Lee (WA) won by fall over Isabel Garcia (CA) (Fall 0:56)
5th Place Match - Victoria Macias (IL) won by forfeit over Zachara Montenegro (WA) (FF)
122
1st Place Match - Lilyana Lamothe (WA) won by fall over Malia Welch (WA) (Fall 4:20)
3rd Place Match - Myia Weiler (CA) won by tech fall over Maile Nguyen (CA) (TF 11-0)
5th Place Match - Gloria Diaz (WA) won by fall over Summer McKeen (OR) (Fall 0:32)
127
1st Place Match - Anna DiCugno (WA) won by decision over Karianne Baldwin (WA) (Dec 9-6)
3rd Place Match - Mikayla Marquez (CA) won by fall over Reagan Fallon-Small (WA) (Fall 4:17)
5th Place Match - Aliza Price (WA) won by injury default over Brooklyn Sheaffer (IL) (Inj. 0:00)
132
1st Place Match - Alyssa Reyes (WA) won by fall over Janessa O`Connell (WA) (Fall 2:15)
3rd Place Match - Alondra Juarez (CA) won by fall over Natalie De Leon (OR) (Fall 1:55)
5th Place Match - Zoe Ortiz (ID) won by fall over Lavender Bel (WA) (Fall 2:22)
138
1st Place Match - Kaidance Gerg (ID) won by tech fall over Annika Lee (WA) (TF 10-0)
3rd Place Match - Taydem Bylin (WA) won by decision over Raeanna Halvorson (CA) (Dec 7-0)
5th Place Match - Lia Hornby (WA) won by injury default over Delilah Chavez (WA) (Inj. 0:00)
144
1st Place Match - Alondra Morales (WA) won by fall over Lucia Ledezma (CA) (Fall 2:19)
3rd Place Match - Courtney Jones (WA) won by fall over EliBeth Cervantes (WA) (Fall 1:29)
5th Place Match - Joselin Hernandez (CA) won by decision over Jacqueline Benson (WA) (Dec 13-4)
152
1st Place Match - Sarrell Lee (WA) won by fall over Frances Porteous (WA) (Fall 2:43)
3rd Place Match - Elizabeth Kovacs (WA) won by fall over Annabelle Suto (WA) (Fall 2:36)
5th Place Match - Katherine Strickland (WA) won by fall over Za`Lane Hulitt (WA) (Fall 2:11)
164
1st Place - Emma Villa of WA
2nd Place - Brenda Zamorano of WA
3rd Place - Kya Roundtree of WA
4th Place - Kyra Richards of ID
5th Place - Faith Jensen of WA
Kya Roundtree (WA) won by tech fall over Faith Jensen (WA) (TF 10-0)
Brenda Zamorano (WA) won by fall over Kyra Richards (ID) (Fall 1:35)
Emma Villa (WA) won by fall over Kyra Richards (ID) (Fall 0:17)
Brenda Zamorano (WA) won by fall over Faith Jensen (WA) (Fall 1:04)
Emma Villa (WA) won by tech fall over Brenda Zamorano (WA) (TF 10-0)
Kya Roundtree (WA) won by fall over Kyra Richards (ID) (Fall 3:36)
Emma Villa (WA) won by fall over Kya Roundtree (WA) (Fall 2:15)
Kyra Richards (ID) won by fall over Faith Jensen (WA) (Fall 1:15)
Emma Villa (WA) won by tech fall over Faith Jensen (WA) (TF 10-0)
Brenda Zamorano (WA) won by fall over Kya Roundtree (WA) (Fall 4:37)
180
1st Place - Alivia White of WA
2nd Place - Isabella Phillips of WA
3rd Place - Elia Velazquez of WA
4th Place - Angela Anderson of WA
Alivia White (WA) won by fall over Isabella Phillips (WA) (Fall 1:26)
Elia Velazquez (WA) won by fall over Angela Anderson (WA) (Fall 3:31)
Isabella Phillips (WA) won by fall over Angela Anderson (WA) (Fall 3:45)
Alivia White (WA) won by tech fall over Elia Velazquez (WA) (TF 15-4)
Isabella Phillips (WA) won by tech fall over Elia Velazquez (WA) (TF 11-0)
Alivia White (WA) won by fall over Angela Anderson (WA) (Fall 0:36)
200
1st Place - Mia Cienega of WA
2nd Place - Kiona Michel of WA
3rd Place - Rebecca Grijalva of WA
4th Place - Ariana Cavero-Santiago of Washington
5th Place - Hannah Meeks of Washington
Rebecca Grijalva (WA) won by fall over Hannah Meeks (Washington) (Fall 2:28)
Mia Cienega (WA) won by fall over Ariana Cavero-Santiago (Washington) (Fall 0:52)
Kiona Michel (WA) won by fall over Ariana Cavero-Santiago (Washington) (Fall 1:07)
Mia Cienega (WA) won by tech fall over Hannah Meeks (Washington) (TF 12-0)
Mia Cienega (WA) won by tech fall over Kiona Michel (WA) (TF 12-2)
Rebecca Grijalva (WA) won by fall over Ariana Cavero-Santiago (Washington) (Fall 3:29)
Kiona Michel (WA) won by fall over Rebecca Grijalva (WA) (Fall 2:39)
Ariana Cavero-Santiago (Washington) won by fall over Hannah Meeks (Washington) (Fall 2:39)
Kiona Michel (WA) won by fall over Hannah Meeks (Washington) (Fall 0:55)
Mia Cienega (WA) won by fall over Rebecca Grijalva (WA) (Fall 0:16)
225
1st Place - Stephanie Romero of OR
2nd Place - Katie Petersen of WA
3rd Place - Carolynn Arthur of WA
Katie Petersen (WA) won by decision over Carolynn Arthur (WA) (Dec 11-4)
Stephanie Romero (OR) won by tech fall over Katie Petersen (WA) (TF 12-0)
Stephanie Romero (OR) won by fall over Carolynn Arthur (WA) (Fall 2:07)
14U Festival - Boys Freestyle
71-77
1st Place - Miro Parr-Coffin of Inland Northwest Wrestling Training Center
2nd Place - Elijah Governor of South West Washington Wrestling Club
3rd Place - Colton Roberts of Inland Northwest Wrestling Training Center
4th Place - Maisie Elliott of Mat Demon Wrestling Club
Elijah Governor (South West Washington Wrestling Club) won by decision over Maisie Elliott (Mat Demon Wrestling Club) (Dec 6-3)
Miro Parr-Coffin (Inland Northwest Wrestling Training Center) won by decision over Colton Roberts (Inland Northwest Wrestling Training Center) (Dec 6-4)
Miro Parr-Coffin (Inland Northwest Wrestling Training Center) won by tech fall over Elijah Governor (South West Washington Wrestling Club) (TF 10-0)
Colton Roberts (Inland Northwest Wrestling Training Center) won by tech fall over Maisie Elliott (Mat Demon Wrestling Club) (TF 11-0)
Elijah Governor (South West Washington Wrestling Club) won by decision over Colton Roberts (Inland Northwest Wrestling Training Center) (Dec 6-6)
Miro Parr-Coffin (Inland Northwest Wrestling Training Center) won by tech fall over Maisie Elliott (Mat Demon Wrestling Club) (TF 12-1)
83-87
1st Place Match - Lazarus McEwen (Mat Demon Wrestling Club) won by tech fall over Jj Jump (Newberg Mat Club) (TF 10-0)
3rd Place Match - Patrick Garcia (G-Style Wrestling Club) won by decision over Gage Austreng (Washington) (Dec 13-11)
5th Place Match - Layne Swift (Thunder Mountain Wrestling Club) won by tech fall over Jaden Nguyen (Mill Creek Wrestling Club) (TF 12-2)
92
1st Place Match - Easton Bylin (Mat Demon Wrestling Club) won by tech fall over Willis Tomeo (Inland Northwest Wrestling Training Center) (TF 10-0)
3rd Place Match - Ryder Owen (Inland Northwest Wrestling Training Center) won by tech fall over Tristan Pino (Betterman Elite Wrestling) (TF 14-4)
5th Place Match - Joshua Wilson (Mat Demon Wrestling Club) won by fall over Rorek Foss (Team Aggression Wrestling Club) (Fall 0:44)
97
1st Place Match - Darion Johnson (All-Phase Wrestling Club) won by tech fall over Trandyn Lundquist (Big Cat Wrestling Club) (TF 14-2)
3rd Place Match - Michael Baxter (Punisher Wrestling Company) won by decision over Kaden Harding (Team Aggression Wrestling Club) (Dec 10-7)
5th Place Match - Foster Martin (South West Washington Wrestling Club) won by decision over Domanic Jaworsky (Toro World Club) (Dec 4-4)
102
1st Place Match - Hoyt Harshman (Mat Demon Wrestling Club) won by decision over Rocky Little (Inland Northwest Wrestling Training Center) (Dec 8-6)
3rd Place Match - Rocco Gannon (Inland Northwest Wrestling Training Center) won by decision over Isaiah Jarrett (FordDynastyWrestlingClub) (Dec 3-2)
5th Place Match - Phoenix West (Washington) won by decision over Kayl Holcomb (Team Aggression Wrestling Club) (Dec 9-4)
106
1st Place - Connor Crum of South West Washington Wrestling Club
2nd Place - Olin Storlie of Barlow Mat Club (DBA Barlow Wrestling)
3rd Place - Masen Emry of Reality Sports Wrestling Club
4th Place - Robert Kelsey of Bonners Ferry Wrestling Club
Olin Storlie (Barlow Mat Club (DBA Barlow Wrestling)) won by fall over Robert Kelsey (Bonners Ferry Wrestling Club) (Fall 0:56)
Connor Crum (South West Washington Wrestling Club) won by tech fall over Masen Emry (Reality Sports Wrestling Club) (TF 10-0)
Masen Emry (Reality Sports Wrestling Club) won by decision over Robert Kelsey (Bonners Ferry Wrestling Club) (Dec 14-13)
Connor Crum (South West Washington Wrestling Club) won by decision over Olin Storlie (Barlow Mat Club (DBA Barlow Wrestling)) (Dec 2-0)
Connor Crum (South West Washington Wrestling Club) won by tech fall over Robert Kelsey (Bonners Ferry Wrestling Club) (TF 11-0)
Olin Storlie (Barlow Mat Club (DBA Barlow Wrestling)) won by fall over Masen Emry (Reality Sports Wrestling Club) (Fall 0:24)
110
1st Place Match - William Moran (NWWC) won by tech fall over Carter Tughan (Mat Demon Wrestling Club) (TF 11-0)
3rd Place Match - David Daniels (Granite Wrestling Club) won by tech fall over Jacob Chromey (South West Washington Wrestling Club) (TF 10-0)
5th Place Match - Xaeden Castillo (Ascend Wrestling Academy) won by tech fall over Tautai Tupua -Weggen (Washington) (TF 10-0)
114
1st Place - Dakota Anderson of Team Aggression Wrestling Club
2nd Place - Sawyer Keinonen of Newberg Mat Club
3rd Place - Mathis Johns of Washington
4th Place - Breyden Childress of Washington
Mathis Johns (Washington) won by decision over Breyden Childress (Washington) (Dec 7-2)
Dakota Anderson (Team Aggression Wrestling Club) won by tech fall over Mathis Johns (Washington) (TF 11-0)
Dakota Anderson (Team Aggression Wrestling Club) won by decision over Sawyer Keinonen (Newberg Mat Club) (Dec 7-3)
Sawyer Keinonen (Newberg Mat Club) won by fall over Breyden Childress (Washington) (Fall 0:55)
Sawyer Keinonen (Newberg Mat Club) won by tech fall over Mathis Johns (Washington) (TF 10-0)
Dakota Anderson (Team Aggression Wrestling Club) won by tech fall over Breyden Childress (Washington) (TF 10-0)
119
1st Place Match - Brian Naranjo (Ascend Wrestling Academy) won by decision over Rayce Schriever (Betterman Elite Wrestling) (Dec 4-2)
3rd Place Match - David A. Burchett (Betterman Elite Wrestling) won by decision over Cyrus Maya (NWWC) (Dec 7-7)
5th Place Match - Kaid Peterson (CNWC Concede Nothing Wrestling Club) won by injury default over Jackson Carroll (Washington) (Inj. 0:00)
125
1st Place Match -Tatum Todd (Headwaters Wrestling Academy) won by tech fall over Logan Rutzer (Washington) (TF 10-0)
3rd Place Match - Alejandro Concepcion (Thurston County Wrestling Club) won by tech fall over Xavier Blackmore (Washington) (TF 10-0)
5th Place Match - Austin Goodnight (Bonners Ferry Wrestling Club) won by decision over Carter Richter (Washington) (Dec 8-4)
130-136
1st Place Match - Laithan Lawson (Team Aggression Wrestling Club) won by fall over Magnus Michaelson (NWWC) (Fall 1:59)
3rd Place Match - Cash Hollett (Askeo International Mat Club) won by tech fall over Wyatt Weatherman (Cashmere Wrestling Club) (TF 10-0)
5th Place Match - Logan Bowles (Reality Sports Wrestling Club) received a bye () (Bye)
149
1st Place - Gavin Wells of Mat Demon Wrestling Club
2nd Place - Froylan Mendez of Hood River Youth Wrestling Club
3rd Place - Stryker Simmons of Reality Sports Wrestling Club
4th Place - Jordan Breeden of Prometheus Wrestling Club
Froylan Mendez (Hood River Youth Wrestling Club) won by fall over Stryker Simmons (Reality Sports Wrestling Club) (Fall 0:56)
Gavin Wells (Mat Demon Wrestling Club) won by fall over Jordan Breeden (Prometheus Wrestling Club) (Fall 0:34)
Gavin Wells (Mat Demon Wrestling Club) won by fall over Stryker Simmons (Reality Sports Wrestling Club) (Fall 3:30)
Froylan Mendez (Hood River Youth Wrestling Club) won by tech fall over Jordan Breeden (Prometheus Wrestling Club) (TF 11-0)
Stryker Simmons (Reality Sports Wrestling Club) won by tech fall over Jordan Breeden (Prometheus Wrestling Club) (TF 10-0)
Gavin Wells (Mat Demon Wrestling Club) won by tech fall over Froylan Mendez (Hood River Youth Wrestling Club) (TF 10-0)
165
1st Place - Eli Policarpio of White Center Warriors Wrestling Club
2nd Place - Caden Brooks of Big Cat Wrestling Club
3rd Place - Wyatt Rodarte of Washington
4th Place - Tautua Tupua-Weggen of Washington
5th Place - Ethan Smith of Twin City Wrestling Club
Caden Brooks (Big Cat Wrestling Club) won by tech fall over Tautua Tupua-Weggen (Washington) (TF 11-0)
Wyatt Rodarte (Washington) won by tech fall over Ethan Smith (Twin City Wrestling Club) (TF 10-0)
Eli Policarpio (White Center Warriors Wrestling Club) won by tech fall over Wyatt Rodarte (Washington) (TF 11-0)
Tautua Tupua-Weggen (Washington) won by tech fall over Ethan Smith (Twin City Wrestling Club) (TF 14-2)
Eli Policarpio (White Center Warriors Wrestling Club) won by tech fall over Ethan Smith (Twin City Wrestling Club) (TF 10-0)
Caden Brooks (Big Cat Wrestling Club) won by decision over Wyatt Rodarte (Washington) (Dec 9-4)
Eli Policarpio (White Center Warriors Wrestling Club) won by decision over Caden Brooks (Big Cat Wrestling Club) (Dec 7-5)
Wyatt Rodarte (Washington) won by tech fall over Tautua Tupua-Weggen (Washington) (TF 10-0)
Eli Policarpio (White Center Warriors Wrestling Club) won by fall over Tautua Tupua-Weggen (Washington) (Fall 0:48)
Caden Brooks (Big Cat Wrestling Club) won by tech fall over Ethan Smith (Twin City Wrestling Club) (TF 10-0)
187
1st Place - Gage Ponton of Idaho
2nd Place - Layth Qouchbane of Oregon
Gage Ponton (Idaho) won by fall over Layth Qouchbane (Oregon) (Fall 3:00)
250
1st Place - Corban Patchett of FordDynastyWrestlingClub
2nd Place - Angel Huizar of Victory Wrestling-Central WA
3rd Place - Landen Pillers of Team Newport Tornadoes Wrestling Club
Angel Huizar (Victory Wrestling-Central WA) won by tech fall over Landen Pillers (Team Newport Tornadoes Wrestling Club) (TF 10-0)
Corban Patchett (FordDynastyWrestlingClub) won by decision over Angel Huizar (Victory Wrestling-Central WA) (Dec 10-8)
Corban Patchett (FordDynastyWrestlingClub) won by fall over Landen Pillers (Team Newport Tornadoes Wrestling Club) (Fall 1:36)
14U Festival - Girls freestyle
92-97
1st Place Match - Bailee Wagner (Mat Demon Wrestling Club) won by fall over Winter West (Washington) (Fall 0:44)
3rd Place Match - Zoe Roddis (Cleveland Warrior Mat Club) won by decision over Najalia Baublits (Cruiser Wrestling Club) (Dec 2-1)
5th Place Match - Aleksia Ramirez (Reality Sports Wrestling Club) won by decision over Selina Zhan (Canada) (Dec 8-7)
101-105
1st Place - Khole Perez of Greg Gomez Trained Wrestling
2nd Place - Zoey Pulver of Washington
3rd Place - Xavery Zollinger of East Idaho Elite Wrestling Club
4th Place - Adell Anderson of Washington
Zoey Pulver (Washington) won by tech fall over Adell Anderson (Washington) (TF 10-0)
Khole Perez (Greg Gomez Trained Wrestling) won by tech fall over Xavery Zollinger (East Idaho Elite Wrestling Club) (TF 12-2)
Khole Perez (Greg Gomez Trained Wrestling) won by decision over Zoey Pulver (Washington) (Dec 11-10)
Xavery Zollinger (East Idaho Elite Wrestling Club) won by fall over Adell Anderson (Washington) (Fall 1:27)
Zoey Pulver (Washington) won by fall over Xavery Zollinger (East Idaho Elite Wrestling Club) (Fall 1:19)
Khole Perez (Greg Gomez Trained Wrestling) won by tech fall over Adell Anderson (Washington) (TF 10-0)
110
1st Place Match - Eva Reintz (CNWC Concede Nothing Wrestling Club) won by fall over Ramona Reinitz (CNWC Concede Nothing Wrestling Club) (Fall 3:55)
3rd Place Match - Emerson Woods (Mat Demon Wrestling Club) won by tech fall over Malia Riojas (Victory Wrestling-Central WA) (TF 11-0)
5th Place Match - Olivia Lopez (Steelclaw Wrestling Club) won by fall over Jennifer Fauci (Avenue Wrestling Club) (Fall 0:44)
119
1st Place Match - Malia Ottow (Ascend Wrestling Academy) won by tech fall over Taylor Ward (Barlow Mat Club (DBA Barlow Wrestling)) (TF 12-2)
3rd Place Match - Brynlee Sorensen (Poway Wrestling) won by fall over Amanda Lillie (Mat Demon Wrestling Club) (Fall 1:45)
5th Place Match - Lucy Hornby (Twin City Wrestling Club) won by tech fall over Lillian Hulegaard (Washington) (TF 14-4)
127
1st Place - Abigail Gamm of Ascend Wrestling Academy
2nd Place - Lily Feist of Bear Claw Wrestling Club
3rd Place - Arianna Perez of Victory Wrestling-Central WA
4th Place - June Webb of Washington
Lily Feist (Bear Claw Wrestling Club) won by fall over June Webb (Washington) (Fall 3:48)
Abigail Gamm (Ascend Wrestling Academy) won by tech fall over Arianna Perez (Victory Wrestling-Central WA) (TF 10-0)
Abigail Gamm (Ascend Wrestling Academy) won by fall over June Webb (Washington) (Fall 0:35)
Lily Feist (Bear Claw Wrestling Club) won by tech fall over Arianna Perez (Victory Wrestling-Central WA) (TF 12-2)
Arianna Perez (Victory Wrestling-Central WA) won by fall over June Webb (Washington) (Fall 0:20)
Abigail Gamm (Ascend Wrestling Academy) won by fall over Lily Feist (Bear Claw Wrestling Club) (Fall 1:49)
136-145
1st Place - Berkley McCullough of Tri Cities Wrestling Club
2nd Place - Kylee Wicklund of Ascend Wrestling Academy
3rd Place - Karlee Brummett of Mat Demon Wrestling Club
4th Place - Ashlei Borden of Washington
Kylee Wicklund (Ascend Wrestling Academy) won by tech fall over Karlee Brummett (Mat Demon Wrestling Club) (TF 14-2)
Berkley McCullough (Tri Cities Wrestling Club) won by injury default over Ashlei Borden (Washington) (Inj. 0:14)
Berkley McCullough (Tri Cities Wrestling Club) won by fall over Kylee Wicklund (Ascend Wrestling Academy) (Fall 1:46)
Karlee Brummett (Mat Demon Wrestling Club) won by forfeit over Ashlei Borden (Washington) (FF)
Kylee Wicklund (Ascend Wrestling Academy) won by forfeit over Ashlei Borden (Washington) (FF)
Karlee Brummett (Mat Demon Wrestling Club) won by tech fall over Berkley McCullough (Tri Cities Wrestling Club) (TF 14-3)
185
1st Place - Vida Cienega of Punisher Wrestling Company
2nd Place - Ynavi Rodriguez of CNWC Concede Nothing Wrestling Club
3rd Place - Felicia MacLean of Washington
Vida Cienega (Punisher Wrestling Company) won by decision over Ynavi Rodriguez (CNWC Concede Nothing Wrestling Club) (Dec 7-6)
Vida Cienega (Punisher Wrestling Company) won by fall over Felicia MacLean (Washington) (Fall 2:25)
Ynavi Rodriguez (CNWC Concede Nothing Wrestling Club) won by decision over Felicia MacLean (Washington) (Dec 8-0)
14U Festival - Greco-Roman
71-77
1st Place - Elijah Governor of South West Washington Wrestling Club
2nd Place - Miro Parr-Coffin of Inland Northwest Wrestling Training Center
Elijah Governor (South West Washington Wrestling Club) won by tech fall over Miro Parr-Coffin (Inland Northwest Wrestling Training Center) (TF 10-2)
Elijah Governor (South West Washington Wrestling Club) won by fall over Miro Parr-Coffin (Inland Northwest Wrestling Training Center) (Fall 1:10)
83-87
1st Place - Lazarus McEwen of Mat Demon Wrestling Club
2nd Place - Jj Jump of Newberg Mat Club
3rd Place - Raynor Jameson of Sons and Daughters Wrestling Club
4th Place - Layne Swift of Thunder Mountain Wrestling Club
5th Place - Gage Austreng of Washington
Jj Jump (Newberg Mat Club) won by fall over Raynor Jameson (Sons and Daughters Wrestling Club) (Fall 0:29)
Lazarus McEwen (Mat Demon Wrestling Club) won by tech fall over Layne Swift (Thunder Mountain Wrestling Club) (TF 8-0)
Layne Swift (Thunder Mountain Wrestling Club) won by forfeit over Gage Austreng (Washington) (FF)
Lazarus McEwen (Mat Demon Wrestling Club) won by fall over Raynor Jameson (Sons and Daughters Wrestling Club) (Fall 0:57)
Lazarus McEwen (Mat Demon Wrestling Club) won by forfeit over Gage Austreng (Washington) (FF)
Jj Jump (Newberg Mat Club) won by tech fall over Layne Swift (Thunder Mountain Wrestling Club) (TF 10-2)
Jj Jump (Newberg Mat Club) won by forfeit over Gage Austreng (Washington) (FF)
Raynor Jameson (Sons and Daughters Wrestling Club) won by injury default over Layne Swift (Thunder Mountain Wrestling Club) (Inj. 0:00)
Raynor Jameson (Sons and Daughters Wrestling Club) won by forfeit over Gage Austreng (Washington) (FF)
Lazarus McEwen (Mat Demon Wrestling Club) won by tech fall over Jj Jump (Newberg Mat Club) (TF 11-2)
92
1st Place Match - Tristan Pino (Betterman Elite Wrestling) won by tech fall over Ryder Owen (Inland Northwest Wrestling Training Center) (TF 8-0)
3rd Place Match - Willis Tomeo (Inland Northwest Wrestling Training Center) won by fall over Rorek Foss (Team Aggression Wrestling Club) (Fall 3:09)
5th Place Match - Max Bell (All-Phase Wrestling Club) won by fall over Kyson Peterson (CNWC Concede Nothing Wrestling Club) (Fall 2:41)
97
1st Place - Michael Baxter of Punisher Wrestling Company
2nd Place - Hoyt Harshman of Mat Demon Wrestling Club
3rd Place - Darion Johnson of All-Phase Wrestling Club
4th Place - Trandyn Lundquist of Big Cat Wrestling Club
Hoyt Harshman (Mat Demon Wrestling Club) won by fall over Darion Johnson (All-Phase Wrestling Club) (Fall 1:15)
Michael Baxter (Punisher Wrestling Company) won by decision over Trandyn Lundquist (Big Cat Wrestling Club) (Dec 7-4)
Darion Johnson (All-Phase Wrestling Club) won by fall over Trandyn Lundquist (Big Cat Wrestling Club) (Fall 2:47)
Michael Baxter (Punisher Wrestling Company) won by decision over Hoyt Harshman (Mat Demon Wrestling Club) (Dec 8-2)
Michael Baxter (Punisher Wrestling Company) won by fall over Darion Johnson (All-Phase Wrestling Club) (Fall 0:44)
Hoyt Harshman (Mat Demon Wrestling Club) won by tech fall over Trandyn Lundquist (Big Cat Wrestling Club) (TF 10-1)
102-106
1st Place - Connor Crum of South West Washington Wrestling Club
2nd Place - Rocky Little of Inland Northwest Wrestling Training Center
3rd Place - Rocco Gannon of Inland Northwest Wrestling Training Center
4th Place - Robert Kelsey of Bonners Ferry Wrestling Club
Rocky Little (Inland Northwest Wrestling Training Center) won by fall over Robert Kelsey (Bonners Ferry Wrestling Club) (Fall 1:16)
Connor Crum (South West Washington Wrestling Club) won by fall over Rocco Gannon (Inland Northwest Wrestling Training Center) (Fall 1:30)
Rocky Little (Inland Northwest Wrestling Training Center) won by tech fall over Rocco Gannon (Inland Northwest Wrestling Training Center) (TF 13-4)
Connor Crum (South West Washington Wrestling Club) won by tech fall over Robert Kelsey (Bonners Ferry Wrestling Club) (TF 8-0)
Connor Crum (South West Washington Wrestling Club) won by decision over Rocky Little (Inland Northwest Wrestling Training Center) (Dec 4-2)
Rocco Gannon (Inland Northwest Wrestling Training Center) won by tech fall over Robert Kelsey (Bonners Ferry Wrestling Club) (TF 15-6)
110
1st Place - William Moran of NWWC
2nd Place - David Daniels of Granite Wrestling Club
3rd Place - Jacob Chromey of South West Washington Wrestling Club
4th Place - Xaeden Castillo of Ascend Wrestling Academy
William Moran (NWWC) won by tech fall over Xaeden Castillo (Ascend Wrestling Academy) (TF 10-0)
David Daniels (Granite Wrestling Club) won by decision over Jacob Chromey (South West Washington Wrestling Club) (Dec 7-5)
William Moran (NWWC) won by tech fall over David Daniels (Granite Wrestling Club) (TF 9-1)
Jacob Chromey (South West Washington Wrestling Club) won by tech fall over Xaeden Castillo (Ascend Wrestling Academy) (TF 8-0)
William Moran (NWWC) won by tech fall over Jacob Chromey (South West Washington Wrestling Club) (TF 8-0)
David Daniels (Granite Wrestling Club) won by decision over Xaeden Castillo (Ascend Wrestling Academy) (Dec 10-6)
114
1st Place - Sawyer Keinonen of Newberg Mat Club
2nd Place - Dakota Anderson of Team Aggression Wrestling Club
3rd Place - Mathis Johns of Washington
Dakota Anderson (Team Aggression Wrestling Club) won by tech fall over Mathis Johns (Washington) (TF 8-0)
Sawyer Keinonen (Newberg Mat Club) won by tech fall over Mathis Johns (Washington) (TF 12-4)
Sawyer Keinonen (Newberg Mat Club) won by decision over Dakota Anderson (Team Aggression Wrestling Club) (Dec 10-4)
119
1st Place - Brian Naranjo of Ascend Wrestling Academy
2nd Place - Rayce Schriever of Betterman Elite Wrestling
3rd Place - Cyrus Maya of NWWC
4th Place - David A. Burchett of Betterman Elite Wrestling
5th Place - Kaid Peterson of CNWC Concede Nothing Wrestling Club
Rayce Schriever (Betterman Elite Wrestling) won by tech fall over Cyrus Maya (NWWC) (TF 11-2)
Brian Naranjo (Ascend Wrestling Academy) won by fall over David A. Burchett (Betterman Elite Wrestling) (Fall 3:38)
David A. Burchett (Betterman Elite Wrestling) won by tech fall over Kaid Peterson (CNWC Concede Nothing Wrestling Club) (TF 8-0)
Brian Naranjo (Ascend Wrestling Academy) won by tech fall over Cyrus Maya (NWWC) (TF 9-0)
Brian Naranjo (Ascend Wrestling Academy) won by tech fall over Kaid Peterson (CNWC Concede Nothing Wrestling Club) (TF 9-0)
Rayce Schriever (Betterman Elite Wrestling) won by tech fall over David A. Burchett (Betterman Elite Wrestling) (TF 8-0)
Rayce Schriever (Betterman Elite Wrestling) won by forfeit over Kaid Peterson (CNWC Concede Nothing Wrestling Club) (FF)
Cyrus Maya (NWWC) won by tech fall over David A. Burchett (Betterman Elite Wrestling) (TF 8-0)
Cyrus Maya (NWWC) won by tech fall over Kaid Peterson (CNWC Concede Nothing Wrestling Club) (TF 14-6)
Brian Naranjo (Ascend Wrestling Academy) won by decision over Rayce Schriever (Betterman Elite Wrestling) (Dec 11-4)
125
1st Place - Tatum Todd of Headwaters Wrestling Academy
2nd Place - Aj Bailey of Washington
3rd Place - Austin Goodnight of Bonners Ferry Wrestling Club
Tatum Todd (Headwaters Wrestling Academy) won by tech fall over Aj Bailey (Washington) (TF 9-0)
Tatum Todd (Headwaters Wrestling Academy) won by tech fall over Austin Goodnight (Bonners Ferry Wrestling Club) (TF 9-0)
Aj Bailey (Washington) won by tech fall over Austin Goodnight (Bonners Ferry Wrestling Club) (TF 10-0)
130-136
1st Place - Ivan Ivanov of Suples Wrestling Club
2nd Place - Laithan Lawson of Orting Jr. Cardinals Wrestling
3rd Place - Magnus Michaelson of NWWC
4th Place - Cash Hollett of Askeo International Mat Club
Ivan Ivanov (Suples Wrestling Club) won by tech fall over Magnus Michaelson (NWWC) (TF 11-0)
Laithan Lawson (Orting Jr. Cardinals Wrestling) won by forfeit over Cash Hollett (Askeo International Mat Club) (FF)
Ivan Ivanov (Suples Wrestling Club) won by tech fall over Laithan Lawson (Orting Jr. Cardinals Wrestling) (TF 10-0)
Magnus Michaelson (NWWC) won by injury default over Cash Hollett (Askeo International Mat Club) (Inj. 0:00)
Ivan Ivanov (Suples Wrestling Club) won by forfeit over Cash Hollett (Askeo International Mat Club) (FF)
Laithan Lawson (Orting Jr. Cardinals Wrestling) won by fall over Magnus Michaelson (NWWC) (Fall 1:01)
149
1st Place - Gavin Wells of Mat Demon Wrestling Club
2nd Place - Karlee Brummett of Mat Demon Wrestling Club
Gavin Wells (Mat Demon Wrestling Club) won by fall over Karlee Brummett (Mat Demon Wrestling Club) (Fall 0:25)
Gavin Wells (Mat Demon Wrestling Club) won by fall over Karlee Brummett (Mat Demon Wrestling Club) (Fall 0:16)
Round 3
165
1st Place - Kannon Freschette of Camas Wrestling Club
2nd Place - Caden Brooks of Big Cat Wrestling Club
Kannon Freschette (Camas Wrestling Club) won by fall over Caden Brooks (Big Cat Wrestling Club) (Fall 0:44)
Kannon Freschette (Camas Wrestling Club) won by tech fall over Caden Brooks (Big Cat Wrestling Club) (TF 8-0)
187
1st Place - Gage Ponton of Idaho
250
1st Place - Corban Patchett of FordDynastyWrestlingClub
2nd Place - Angel Huizar of Victory Wrestling-Central WA
3rd Place - Landen Pillers of Team Newport Tornadoes Wrestling Club
Corban Patchett (FordDynastyWrestlingClub) won by tech fall over Angel Huizar (Victory Wrestling-Central WA) (TF 10-2)
Corban Patchett (FordDynastyWrestlingClub) won by fall over Landen Pillers (Team Newport Tornadoes Wrestling Club) (Fall 2:47)
Angel Huizar (Victory Wrestling-Central WA) won by tech fall over Landen Pillers (Team Newport Tornadoes Wrestling Club) (TF 10-0)