News
USA Wrestling
High School & Youth
Women
USAW
USA Wrestling Regional Championships series kicks off this weekend, with seven Regionals set across the nation
by Gary Abbott, USA Wrestling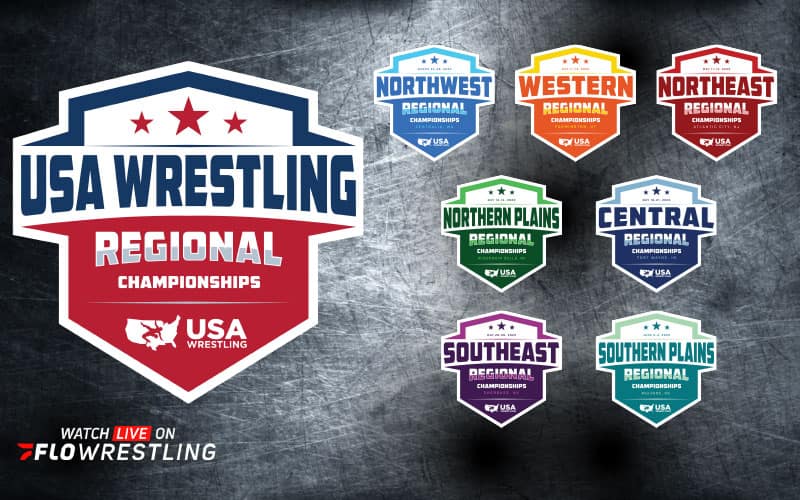 USA Wrestling kicks off its
2023 Regional Championships Series
this weekend, with the Northwest 16U/Junior Regionals in Centralia, Wash., March 24-26.
There will be seven USA Wrestling Regional Championships held around the nation this year, providing high-quality competition to athletes of many ages. The events are strategically placed around the nation, making them accessible to athletes in a location close to home.
USA Wrestling set a participation record in its Regional Series in 2022, and this year's Regionals are expected to grow in size and competitiveness.
Athlete can attend any or all of the Regional Championships, both in their region and outside of their region.
For those who wish to attend the USA Wrestling Kids Nationals (in freestyle and Greco-Roman), they must compete in their own regional event in order to attend the national tournament (or obtain a waiver to compete from his/her state chairperson).
All of the USA Wrestling Regionals are qualifying events for the Junior/16U National Championships in Fargo, N.D. The top six place winners in each weight class at the 16U and Junior levels at each Regional qualify for their state team for Fargo (in compliance with each state's rules regarding Fargo participation).
Important note for 16U and Junior girls
: For the first time, each state has a limit on the number of girls who can enter the Junior/16U Nationals, the same as for boys. There can only be four wrestlers per age per style per weight class on a state team. However, this will be the first year that the top six girls at the 16U and Junior Regional for girls qualify for their state team for Fargo (which is in addition to the four per weight rule). Girls who wish to compete in Fargo are highly encouraged to compete at Regionals, in order to make sure that they can compete at the Junior/16U Nationals.
Except for the Northwest Regionals this weekend, each of the Regional Championships will hold competitions for boys and girls at the following age levels: 8U, 10U, 12U, 14U, 16U & Juniors.
This weekend, the Northwest Regional will hold both 16U and Junior Regionals competition, as well as a 14U Festival (which is not a qualifying event).
Get some great competition, improve your freestyle and Greco-Roman skills, and qualify for national events by entering USA Wrestling Regional events.
2023 USA Wrestling Regional Series
March 24– 26 - Northwest 16U/Junior Regionals, Centralia, Wash
.
Website
Register
May 11-13 – Western Regionals, Farmington, Utah
Website
Register
May 11-14- Phil Portuese Northeast Regionals, Atlantic City, N.J.
Website
Register
May 12- 14 – Northern Plains Regionals, Wisconsin Dells, Wis.
Website
Register
May 19-21 – Central Regionals, Fort Wayne, Ind.
Website
Register
May 26-28 – Frank Rader Southeast Regionals, Cherokee, N.C.
Website
Register
June 3-4 – Southern Plains Regionals, Mulvane, Kansas
Website
:
Register
: