News
USA Wrestling
International
USAW
Jones places seventh, as six U.S. Greco-Roman athletes place in top 10 at Thor Masters in Denmark
by Gary Abbott, USA Wrestling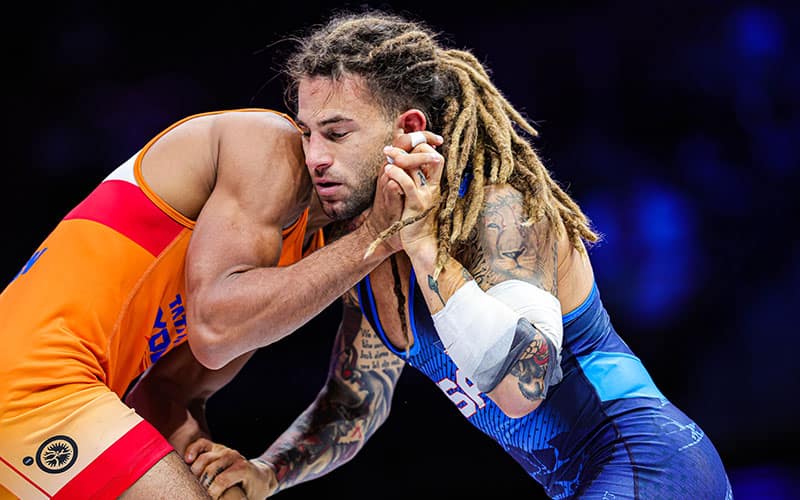 Sammy Jones (USA) competing at the Senior World Championships. Photo by Kadir Caliskan, United World Wrestling

NYKOBING FALSTER, Denmark – Two-time U.S. World Team member
Sammy Jone
s placed seventh at 63 kg, the top U.S. Greco-Roman performance at the respected Thor Masters on Saturday.
Jones finished with a 2-2 record in the tournament, with wins over 2018 Hungarian World Team member Jozsef Andrasi by pin and an 8-1 win over seven-time Croatian World Team member Ivan Lizatovic. His losses were to 2019 U17 World champion William Reenberg of Denmark and 2020 Olympian Aker Schmid of Austria. Jones was the only U.S. athlete to win twice during this year's Thor Masters.
Other U.S. athletes who placed in the top 10 were
Max Black
(8th at 60 kg),
Logan Savvy
(9th at 60 kg),
Lenny Merkin
(10th at 67 kg), World Team member
Jesse Porter
(10th at 77 kg) and
Fritz Schierl
(10th at 82 kg). Black, Savvvy, Merkin and Porter won one match and finished with 1-2 records.
Finishing out of the top 10, by placing 12th, but winning a match was Robert Perez III (67 kg).
THOR MASTERS

At Nykobing Falster, Denmark, March 24-25


U.S. Greco-Roman results on Saturday
60 kg - Max Black (NYAC/NMU NTS), 8th place
LOSS Georgi Tibilov (Serbia), tech fall 8-0
WIN Logan Savvy (USA), 9-3
LOSS Mateusz Szewczuk (Poland), 3-1
60 kg - Logan Savvy (NYAC), 9th place
WIN Mitch Brown (USA), 3-1
LOSS Max Black (USA), 9-3
LOSS Georgi Tibilov (Serbia), tech fall 8-0
63 kg - Sammy Jones (NYAC), 7th place
LOSS William Reenberg (Denmark), 4-3
WIN Jozsef Andrasi (Hungary), pin 5:10
WIN Ivan Lizatovic (Croatia), 8-1
LOSS Aker Schmid (Austria), tech fall 11-2
67 kg - Lenny Merkin (NYAC), 10th place
WIN Rasmus Ulriksen (Denmark), pin 5:57
LOSS Havard Jorgensen (Norway), tech fall 9-0
LOSS Sebastian Nad (Serbia), 6-1
67 kg - Dominic Damon (NMU NTS), dnp/13th
LOSS Zaur Kabaloev (Italy), tech. fall 8-0
LOSS Roman Pacurkowski (Poland), tech fall 8-0
67 kg - Robert Perez III (Sunkist Kids), dnp/12th
WIN Tim Bergfalk (Sweden), 4-1
LOSS Sebastian Nad (Serbia), 6-3
LOSS Mateusz Bernatek (Poland), 4-0
77 kg - Jesse Porter (NYAC), 10th place
WIN Paulus Galkinas (Lithuania), 4-1
LOSS Patryk Bednarz (Poland), 7-5
LOSS Aleksa Ilic (Serbia), 8-7
Other U.S. competitors
60 kg - Mitch Brown (Air Force RTC), dnp/13th
LOSS Logan Savvy (USA), 3-1
LOSS Georgi Tibilov (Serbia), tech fall 8-0
72 kg - Aaron Dobbs (NMU NTS), dnp/11th
LOSS Erik Persson (Sweden), tech fall 8-0
LOSS Gilani Dzortov (Norway), pin
82 kg - Fritz Schierl (Minn. Storm), 9th place
LOSS Filip Sacic (Croatia), 5-1
LOSS Zakarias Berg (Sweden), tech fall 8-0
87 kg - Richard Carlson (Minn. Storm), dnp/14th
LOSS Szymon Szymonowicz (Poland), 5-2
LOSS Damien Von Euw (Switzerland), disq. 2:37
87 kg - Lukas Poloncic (Minn. Storm), dnp/15th
LOSS Hannes Wagner (Germany), tech fall 9-0
LOSS Lukas Staudacher (Austria), tech. fall 8-0
97 kg - Christian DuLaney (Minn. Storm), dnp/12th
LOSS Arvi Savolainen (Finland), tech fall 9-0
LOSS Oskar Johansson (Sweden), tech fall 8-0
130 kg – Thomas Foote (NYAC), dnp/12th
LOSS Oskar Marvik (Norway), tech fall 8-0
LOSS Jello Kramer (Germany), pin 0:26