News
USA Wrestling
College
Women
USAW
Southern Oregon, with three champions, wins NAIA Women's Nationals, with Life taking second
by Gary Abbott, USA Wrestling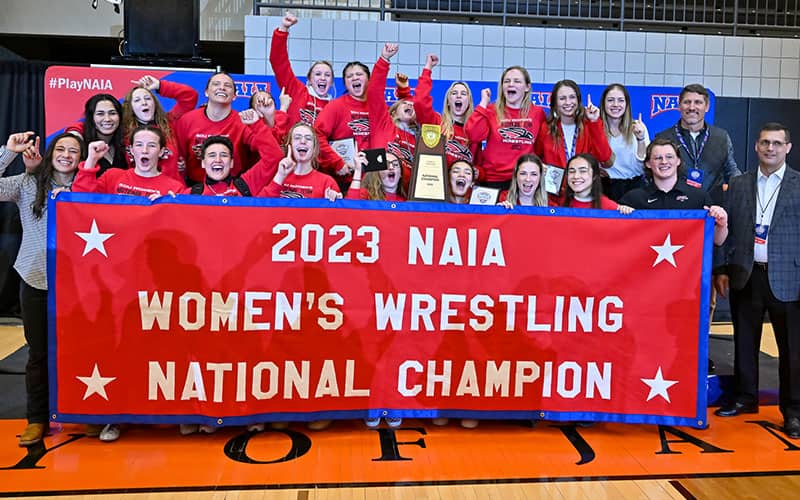 The 2023 NAIA women's freestyle wrestling champions, Southern Oregon University. Photo by Jim Thrall, Mat Focus.
JAMESTOWN, N.D. –
Southern Oregon
won its first NAIA women's freestyle wrestling national title, led by three individual champions, with a strong team effort, scoring 160 points .
Life,
which came into the event ranked No. 1, placed second with 139.5 points.
Southern Oregon head coach
Gabrielle Weyhrich
, in her first year with Southern Oregon, became the first woman to coach a women's wrestling team to a college national team title, going back to the first college national tournament back to 2004.
Champions for Southern Oregon were
Carolina Moreno
(123),
Emily Se
(143) and
Grace Kristoff
(191).
Moreno won her second straight NAIA nationals title, defeating Alana Vivas of Menlo College in the finals, 6-2.
Se also had a close finals, edging No. 1 seed dec. Alexis Gomez of Grand View, 3-2 in the finals.
Kristoff won a battle of transfers from NCAA McKendree, pinning her former teammate Jaycee Foeller of Central Methodist in the finals in 5:59. Kristoff, seeded 10th, beat the No. 7, No. 2, No. 3 and No. 5 seeds on the way to her first national title.
Life had one individual champion,
Peyton Prussin
(109), two runners-up and eight All-American.
Peyton Prussin became a three-time NAIA champion, pinning Mia Palumbo of Iowa Wesleyan in 1:51, finishing off a tremendous career.
Dymond Guilford
of the Cumberlands also became a three-time champion after winning the 170 pound title. Guilford went upper body and tossed Joye Levendusky of Southern Oregon for the fall at 3:59. At the time of the throw, the score was tied at 1-1 with Levendusky holding the criteria. Levendusky, a transfer from McKendree, was an NCWWC runner-up last year among NCAA colleges. Guilford won her first NAIA title for Missouri Baptist, and her last two for the Cumberlands.
Joining Moreno as two-time NAIA champions were Moreno, plus
Lexie Basham
of Texas Wesleyan (130) and
Aduago Nwachukwu
of Iowa Wesleyan (136).
Basham outlasted Sarah Savidge of Life, 6-3. Nwachukwu was dominant in a 15-2 technical fall over Mea Mohler of Texas Wesleyan.
Other individual champions were
Ira Navarro
of Providence (101),
Caitlyn Thorne
of Central Methodist (116) and
Kaylynn Albrecht
of Baker (155).
Navarro defeated her Providence teammate Erin Hikiji in the finals, 2-1. Thorne was dominant in a 10-0 technical fall over Camille Fournier of Texas Wesleyan. Albrecht hit a headlock right before the buzzer for a comeback 11-8 victory over Latifah McBryde of Life.
Rounding out the top five teams were third-place
Grand View
with 123.5 points, fourth-place
Menlo College
with 123 points and fifth-place
University of Providence
with 102 points.
NAIA WOMEN'S NATIONAL CHAMPIONSHIPS
At Jamestown, N.D., March 10-11, 2023
101
1st Ira Navarro (University of Providence) dec. Erin Hikiji (University of Providence), 2-1
3rd Esthela Trevino (Southern Oregon) dec. Elizabeth Dosado (Cumberlands), 9-4
5th Kayla Mckinley-johnson (Menlo College) tech fall Karina Vang (Doane), 10-0 2:26
7th Tianna Fernandez (Menlo College) pin Devyn Gomez (Life), 2:10
109
1st Peyton Prussin (Life) pin Mia Palumbo (Iowa Wesleyan), 1:51
3rd Jasmine Howard (Texas Wesleyan) tech fall Natalie Reyna-Rodriguez (Southern Oregon), 5:11
5th Tehani Soares (Indiana Tech) pin Faith Cole (Iowa Wesleyan), 5:34
7th Stefana Jelacic (Lourdes) dec. Kory Phillips (Life), 6-0
116
1st Caitlyn Thorne (Central Methodist) tech. fall Camille Fournier (Texas Wesleyan), 10-0, 3:40
3rd Ashley Gooman (University of Providence) tech fall Juliana Diaz (Missouri Baptist), 12-2 4:56
5th Avery Ashley (Oklahoma City) tech fall Josie Bartishofski (Jamestown), 11-1 5:46
7th Hannah Hall (Central Methodist) pin Jamesa Robinson (Brewton Parker), 1:54
123
1st Carolina Moreno (Southern Oregon) dec. Alana Vivas (Menlo College), 6-2
3rd Maya Davis (Grand View) dec. Haley Narahara (Menlo College), 14-13
5th Sophie Smith (Oklahoma City) dec. Catharine Campbell (Grand View), 3-1
7th Ashley Whetzal (Missouri Valley) forfeit Larissa Kaz (Hastings), 0-0
130
1st Lexie Basham (Texas Wesleyan) dec. Sarah Savidge (Life), 6-3
3rd Cristelle Rodriguez (Doane) dec. Waipuilani Estrella-beauchamp (University of Providence), 6-2
5th Skye Realin (Central Methodist) dec.Andrea Schlabach (Grand View), 7-3
7th Louisa Schwab (Menlo College) pin Kaylee Moore (Eastern Oregon University), 1:05
136
1st Adaugo Nwachukwu (Iowa Wesleyan) tech. fall Mea Mohler (Texas Wesleyan), 15-2, 4:46
3rd Leidaly Rivera (Brewton Parker) pin Bella Amaro (Southern Oregon), 4:04
5th Aliyah Yates (Cumberlands) dec. Erin Redford (Eastern Oregon University), 5-0
7th Paige Respicio (University of Providence) tech.fall Riley Dalrymple (Life), 3:34
143
1st. Emily Se (Southern Oregon) dec. Alexis Gomez (Grand View), 3-2
3rd Jamilah Mcbryde (Life) tech fall Emma Walker (Campbellsville), 11-1 2:19
5th Liv Wieber (Eastern Oregon University) pin Isabelle Hawley (Iowa Wesleyan), 2:41
7th Josette Partney (Missouri Baptist) tech fall Desiree Jones (Menlo College), 11-0 3:09
155
1st Kaylynn Albrecht (Baker) dec. Latifah McBryde (Life), 11-8
3rd India Page (Brewton Parker) tech fall Caitlyn Davis (Central Methodist), 10-0 5:40
5th Shannon Workinger (Menlo College) dec. Gabrielle Holloway (St Andrews), 11-2
7th Kendra Thompson (Campbellsville) tech fall Madison Diaz (Grand View), 11-0 5:34
170
1st Dymond Guilford (Cumberlands) pin Joye Levendusky (Southern Oregon), 3:59
3rd Abby Mcintyre (Grand View) pin Liliana Vergara (Campbellsville), 0:29
5th Shenita Lawson (Grand View) pin America Lopez (Iowa Wesleyan), 1:23
7th Jesaphine Lee (Life) pin Olivia Robinson (Eastern Oregon University), 2:24
191
1st Grace Kristoff (Southern Oregon) pin Jaycee Foeller (Central Methodist), 5:59
3rd Kelani Corbett (Missouri Valley) dec. Tavia Heidelberg-tillotson (Menlo College), 4-1
5th Olivia Brown (Grand View) dec. Jesse Kirby (Cumberlands), 2-2
7th Maquoia Bernabe (Cumberlands) pin Alexis Tupuola (University of Providence), 3:59
Team Standings
1 Southern Oregon 160
2 Life 139.5
3 Grand View 123.5
4 Menlo College 123
5 University of Providence 102
6 Cumberlands 98
7 Central Methodist 92.5
7 Iowa Wesleyan 92.5
9 Texas Wesleyan 78.5
10 Campbellsville 66
11 Brewton Parker 51.5
12 Eastern Oregon University 44
13 Missouri Baptist 42 -
14 Missouri Valley 38
15 Doane 33.5
16 Baker 33
17 Indiana Tech 32.5
18 Oklahoma City 30.5
19 Hastings 23
20 Jamestown 19
(of 35 teams)