News
USA Wrestling
International
Beach
Women
College
USAW
Macaluso, Cook, White, Shalack, Loethen in top eight rankings of 2023 World Beach Games after four of five qualifiers
by Gary Abbott, USA Wrestling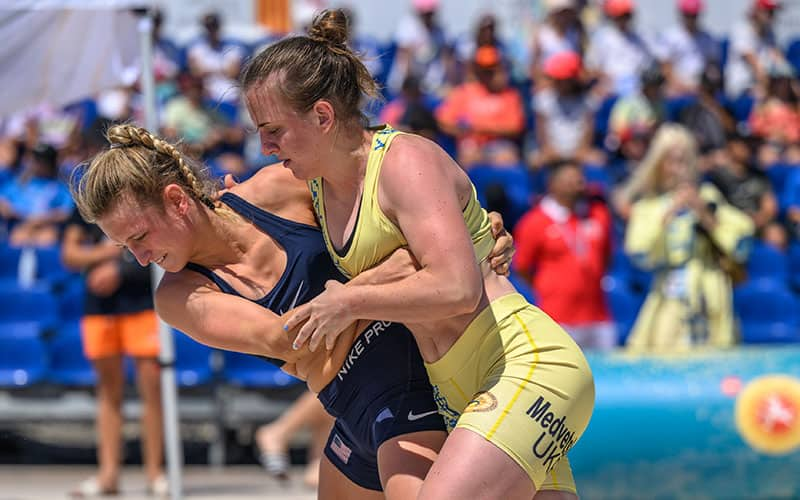 Daria Medvetska of Ukraine compete against Mia Macaluso of USA during the first day of the third stop of the UWW Beach Wrestling World Series at Saint Laurent du Var, France on July 01, 2022. Photo by Mihai Stetcu, United World Wrestling
With four of the five qualifying events completed, athletes from the United States are currently positioned high enough in the standings to potentially qualify at five weight classes for the
World Beach Games
in Bali, Indonesia, August 6-12, 2023.
The qualifying standings for the World Beach Games include the last three Beach World Series events of 2022 (held in France, Greece and Romania) and the first 2023 Beach World Series event in Buenos Aires, Argentina held last week.
The final qualifying event for Bali is the 2023 Beach World Series set for Singapore, June 10-11.
The USA is currently among the top eight nations at the following weight classes: Women 50 kg, Women 60 kg, Women Over 70 kg, Men 70 kg and Men 80 kg.
Individual athletes score qualifying points, and if they place among the top eight nations at the end of the qualifying process, they earn a quota spot for their nation for the World Beach Games. It is important to note that they do not qualify themselves for the World Beach Games, but they qualify their nation to compete at that weight class.
A nation may only earn one entry at each weight class for the World Beach Games.
The individual U.S. athletes who are ranked among the top eight nations include:
No. 5 at 60 kg women – Mia Macaluso, Otisville, N.Y.
No. 6 at 70 kg men – Mitchell Cook, Orland Park, Ill.
No. 6 at 50 kg women – Laura White, Duanesburg, N.Y.
No. 6 at Over 70 kg women – Isabeau Shalack, Oak Lawn, Ill.
No. 7 at 80 kg men – Ty Loethen, Columbia, Mo.
In order to qualify, these specific U.S. athletes (or another U.S. athlete) will need to hold their top eight position by nation after the event in Singapore.
Going into Singapore, the USA had four athletes in the top eight of a weight class. Based upon his performance in Buenos Aires, Loethen moved up into a qualifying position.
USA athletes have scored qualifying points in seven of the eight weight classes. In total, 16 U.S. athletes are in the standings after the first four of the five World Beach Games qualifying events.
The first World Beach Games was held in Qatar in 2019. The United States had five wrestlers compete in the event, led by bronze medalist Shauna Kemp at 60 kg in women's Beach Wrestling.
The qualifying process for the U.S. team for the World Beach Games has been approved and has begun. Details on these procedures are available on the USA Wrestling website under
Team Selection Criteria
2023 WORLD BEACH GAMES BALI QUALIFICATION STANDINGS
(after four of five qualifying events)
Note: Bold type identifies highest point scorer for each nation, showing the top eight nations in each weight.

50 kg women
1 ROU Stefania Claudia PRICEPUTU 52000
2 TUR Emine CATALOGLU 40700
3 IND Kumari HANNY 40000
4 FRA Justine Fanny VIGOUROUX 31400
5 HUN Bianka RECZI 28000
6 USA Laura Elizabeth WHITE 24600
7 ROU Alina Adriana CORBEANU 23200
8 BUL Miglena Georgieva SELISHKA 20000
9 ESP Cristina ANDUJAR OJEDA 18900
60 kg women
1 UKR Iryna CHYKHRADZE 58000
2 ROU Elena Simona IONESCU 52300

3 UKR Daria MEDVETSKA 40500
4 ESP Maria Victoria BAEZ DILONE 34400
5 USA Mia Kaur MACALUSO 28500
6 FRA Aurore CABANNE 28400
7 IND Kusum KUSUM 23200

8 FRA Lilou DUPINAY 20600
9 ROU Denisa Iuliana FODOR 18800
10 HUN Nikolett SZABO 14900
11 USA Josephine Sue WEARMOUTH 14000
12 USA Isabella Caroline HOFFMAN 10000
13 MEX Karla Abigail ACOSTA MARTINEZ 10000
70 kg women
1 FRA Manon KURY 44000
2 BUL Mimi Nikolova HRISTOVA 40000
3 ROU Adina Ionela IRIMIA 38800

4 BUL Sofiya Hristova GEORGIEVA 32000

5 HUN Viktoria FELHO 31800
6 UKR Yuliia KREMEZNA MALYK 29900

7 TUR Hatice Ece TEKIN 28800
8 GRE Agoro PAPAVASILEIOU 28700
9 SLO Sara TRBULIN 24200
Over 70 kg women
1 ROU Catalina AXENTE 65000
2 UKR Liudmyla PAVLOVETS TYCHYNA 48000
3 GRE Stefania ZACHEILA 41400
4 GRE Aikaterini Eirini PITSIAVA 31700
5 FRA Angelique Carole GONZALEZ 26900
6 USA Isabeau Marie SHALACK 22800
7 IND Reetika REETIKA 20000
8 ESP Noelia LALIN CANDA 19000
9 USA Maren Angelina ANDERSON 18400
10 NOR Cathrine FRILSETH 17600
70 kg men
1 GEO Levan KELEKHSASHVILI 68000
2 AZE Ramiz HASANOV 51500
3 TUR Yunus COSKUN 44000
4 ROU Stefan Ionut COMAN 42800
5 FRA Quentin Jean-René STICKER 26500
6 USA Mitchell Kenneth COOK 23400

7 ROU Gheorghe Constantin CONSTANTIN 20000
8 AZE Rubail IBRAHIMLI 18800
9 IND Rahul GULIA 17600
10 HUN Daniel ANTAL 14700
80 kg men
1 GEO Nika KENCHADZE 70000
2 ROU Maxim VASILIOGLO 42000
3 HUN Csaba VIDA 40000
4 AZE Omid Abdolali KAMALIAGHDAM 33000
5 IND Vijay VIJAY 26000
6 ESP Pablo GARCIA GARCIA 24100
7 USA Tyler Mackenzie LOETHEN 20400
8 AZE Farid YUSIFOV 18800
9 FRA Ewan Emile LEPRINCE 18100
90 kg men
1 AZE Ibrahim YUSUBOV 64500
2 GEO David KHUTSISHVILI 45700
3 GEO Dato PIRUZASHVILI 39900
4 TUR Mahmut Seyfi OZKAYA 39500
5 AZE Farid JABBAROV 32000
6 ROU Mihai Nicolae PALAGHIA 24400
7 FRA Mathis Damien Leon MAYRAND 22500
8 HUN Patrik PUESPOEKI 21800
9 GRE Christos SAMARTSIDIS 21200
10 BEL Jonas VAN CAENEGHEM 19400
Over 90 kg men
1 GEO Mamuka KORDZAIA 60000
2 TUR Fatih YASARLI 56500
3 ROU Vasile Vlad CARAS 37200
4 GRE Rafail GKIRNIS 26100
5 BUL Georgi Lyubomirov IVANOV 26000
6 FRA Luc Rene ZANETTON 23500
7 HUN Richard VEGH 23000
8 GRE Achilleas CHRYSIDIS 22500
9 AZE Oyan NAZARIANI 21600
Currently in top eight of weight class (top eight nations qualify for World Beach Games)
No. 5 at 60 kg women – Mia Macaluso, Otisville, N.Y. (38,500 pts.)
No. 6 at 70 kg men – Mitchell Cook, Orland Park, Ill. (23,400 pts.)
No. 6 at 50 kg women – Laura White, Duanesburg, N.Y.(24,600 pts.)
No. 6 at Over 70 kg women – Isabeau Shalack, Oak Lawn, Ill. (22,800 pts.)
No. 7 at 80 kg men – Ty Loethen, Columbia, Mo. (20,400 pts.)
Other U.S. athletes in rankings for World Beach Games
No. 9 at Over 70 kg women – Maren Anderson, Tinley Park, Ill. (18,400 pts.)
No. 11 at 60 kg women – Josephine Wearmouth, St. Charles, Iowa (14,000 pts.)
No. 12 at 60 kg women – Isabella Hoffman, Tega Cay, S.C. (10,000 pts.)
No. 12 at 80 kg men – Jamal Morris, Miami, Fla. (15,800 pts)
No. 14 at Over 70 kg women – Erin Kremer, Covington, Wash. (8,400 pts.)
No. 14 at Over 90 kg men – Mark Bonilla, Marietta, Ga. (8,400 pts.)
No. 15 at 90 kg men – Jabari Irons, Fort Meyers, Fla. (8,400 pts.)
No. 16 at 70 kg men – Michael Clark, Louisville, Ky. (7,200 pts)
No. 17 at Over 70 kg women – Eliana Bommarito, Brighton, Mich. (5,800 pts)
No. 20 at 50 kg women – Emma Lauter, Louisville, Ky. (2,800 pts)
No. 26 at 80 kg men – Latrell Davis, Middletown, Ohio (4,000 pts)