News
USA Wrestling
International
College
Women
USAW
True Third Place Matches determined No. 3 Athletes for 2023-24 Senior National Team
by Savannah Asmann, USA Wrestling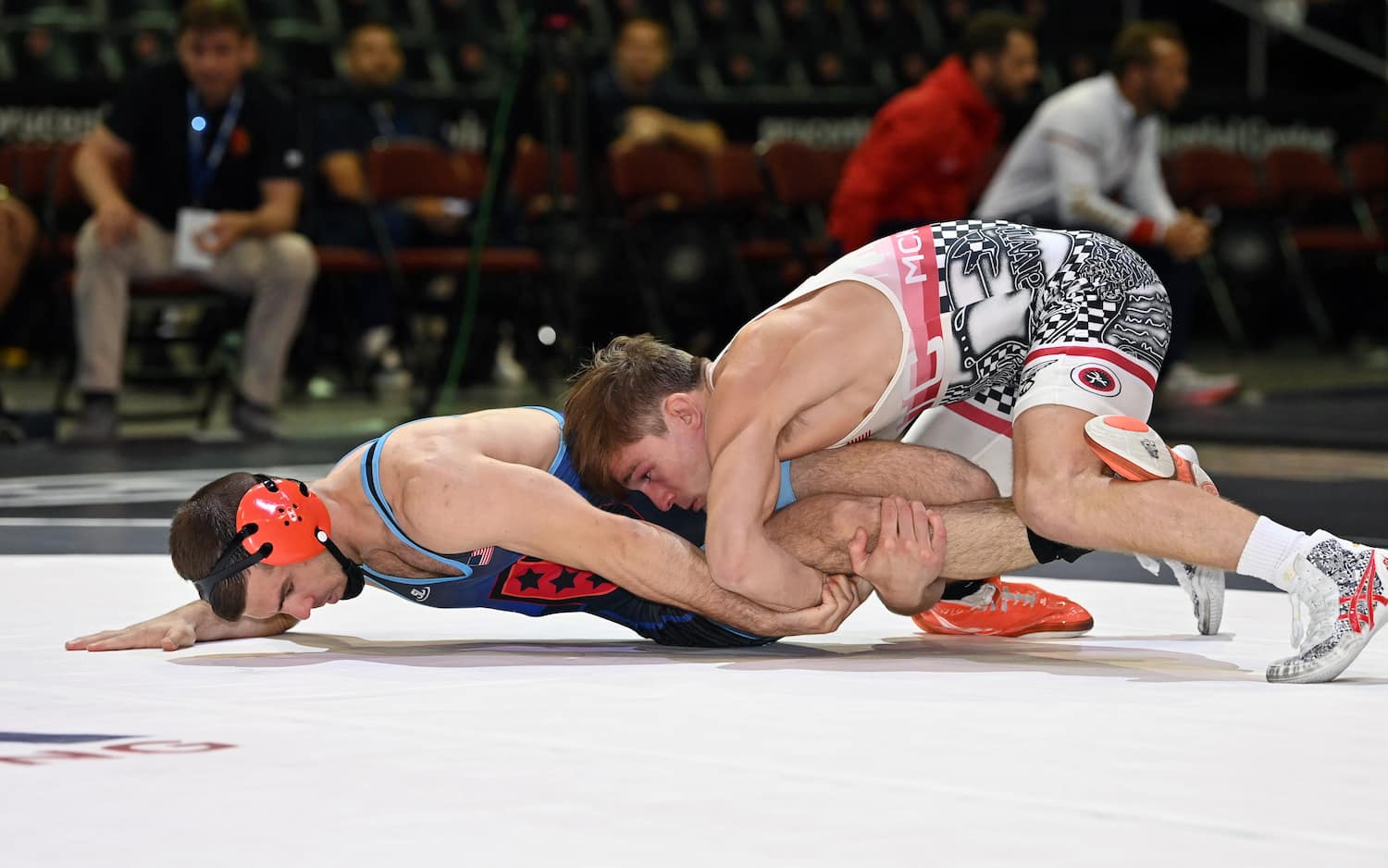 Photo: Joseph McKenna scores on Matthew Kolodzik in a men's freestyle true third place matchup at 65 kg. Photo by Sam Janicki.

NEWARK, N.J—The true third place matches that decided the No. 3 athlete on the 2023-24 Senior National Team at specific weight classes took place prior to Final X at the Prudential Center in Newark, New Jersey.

The top three in each weight class earn stipend support and a chance to win bonus funds, based upon performance, as well as receive access to international tours and National Team training camps.

The Greco-Roman action started with Randon Miranda of Rise RTC and Dylan Koontz of Dubuque RTC and Titan Mercury Wrestling Club at 60 kg. Miranda earned the victory by 7-0 decision, as all seven points were scored in the first period of action.

Sammy Jones, of Sunkist Kids Wrestling Club, won the true third place match at 63 kg over Dylan Gregerson of Brunson UVRTC. Jones, a senior world team member in 2022, defeated Gregerson by 12-2 technical fall.

At 72 kg, Noah Wachsmuth of New York Athletic Club was the true third place champion with his 16-8 technical fall win over Michael Hooker of Army WCAP. Wachsmuth picked up an 8-4 lead through the first period of action. In the second period, Hooker tied the match at eight points apiece, but Wachsmuth responded with eight points for the late technical fall.

The bout at 77 kg saw RaVaughn Perkins of New York Athletic Club defeat Payton Jacobson of Sunkist Kids Wrestling Club by 3-1 decision. Perkins was a past senior world team member and faced Jacobson, who earned a spot on the U23 Greco-Roman national team at U23 Nationals June 2.

At 82 kg, two-time Olympian Ben Provisor of New York Athletic Club bested Barrett Stanghill of Minnesota Storm by 3-1 decision. Provisor scored three late points for the win after trailing 1-0 throughout most of the match.

The final true third place Greco-Roman matchup at 130 kg featured Donny Longendyke of Minnesota Storm and Brandon Metz of North Dakota. Longendyke defeated Metz by 6-4 decision for the third spot on the Senior National Team.

Three U.S. National Team True Third Matches were not held. In women's freestyle at 50 kg, Erin Golston (New York Athletic Club) won by forfeit over Alyssa Lampe (Sunkist Kids). The 57 kg bout in men's freestyle was a no contest, as Nick Suriano (Sunkist Kids WC) and Jakob Camacho (Wolfpack WC/Titan Mercury WC) double forfeit. At 74 kg, Keegan O'Toole (Tiger Style WC) won by forfeit over Vincenzo Joseph (Sunkist Kids WC).

The true third place matches for women's freestyle began at 53 kg, where Samara Chavez captured the Senior National Team spot with a strong win over Felicity Taylor by fall at 4:09.

At 57 kg, Amanda Martinez of Cardinal Wrestling Club defeated Alexandra Hedrick of USOPTC by 5-3 decision. Martinez led 1-0 after the first period. In the second period, Hendrick tallied three points to take the lead. With just 32 seconds remaining in the match, Martinez nabbed the lead with a big four-point move and held of Hendrick to win.

Maya Nelson of Sunkist Kids Wrestling Club won the true third place match at 59 kg over Brenda Reyna of Army WCAP by 10-0 technical fall. Nelson, a past senior world team member, was able to control the scoring throughout the matchup for the win at 3:38.


In a back-and-forth match at 72 kg, it was Brooklyn Hays of Minnesota Gold Wrestling Club that defeated Rose Cassioppi of New York Athletic Club and USOPTC. Cassioppi was the first to score and led Hays 7-2 through one period of action. Hays fired back with seven points to take the lead, hanging on for the win.


In the final women's freestyle true third place match, it was a battle between two past senior world team members at 76 kg in Kylie Welker of Iowa Women's Wrestling Club and Titan Mercury Wrestling Club and Dymond Guilford of USOPTC and Titan Mercury Wrestling Club. Trailing 5-4 win the second period, Welker rallied for four points and the lead, earning the 8-5 decision over Guilford.


In men's freestyle, Daton Fix of Cowboy RTC and Titan Mercury Wrestling Club defeated Austin DeSanto of Hawkeye Wrestling Club and Titan Mercury Wrestling Club by 9-0 decision at 61 kg. Fix, a 2021 World silver medalist, led 3-0 through period one. In the second period, Fix controlled the offense and tallied six more points for the win.


At 65 kg, Pennsylvania Regional Training Center and Titan Mercury Wrestling Club's Joseph McKenna defeated Matthew Kolodzik of New York Athletic Club and NJRTC by 10-0 technical fall. McKenna started the bout strong, scoring a takedown and turned his opponent for the technical fall just 36 seconds into the match.

Sam Sasso of Ohio RTC and Titan Mercury Wrestling Club earned the victory at 70 kg over Alec Pantaleo of Cliff Keen Wrestling Club and Titan Mercury Wrestling Club. Sasso scored four points with a big move on Pantaleo, adding six points after for the 10-0 technical fall.


At 79 kg, Alex Dieringer of Cliff Keen Wrestling Club and Titan Mercury Wrestling Club defeated David McFadden of Pennsylvania RTC and Titan Mercury Wrestling Club by 2-2 criteria decision.


In a wild matchup at 92 kg, Kollin Moore of Ohio RTC and Titan Mercury Wrestling Club held on for the victory over Nathan Jackson of New York Athletic Club and NJRTC. Trailing 9-0, Jackson responded with eight points to keep the match close and hold off Moore's offense. Moore scored a takedown with seven seconds remaining to secure the win.

True Third Results

Greco-Roman

60 kg – Randon Miranda (Rise RTC) dec. Dylan Koontz (Dubuque RTC/Titan Mercury WC), 7-0

63 kg – Sammy Jones (Sunkist Kids WC) tech. fall Dylan Gregerson (Brunson UVRTC), 12-2

72 kg – Noah Wachsmuth (New York AC) tech fall Michael Hooker (Army WCAP), 16-8

77 kg –RaVaughn Perkins (New York AC) dec. Payton Jacobson (Sunkist Kids WC), 3-1

82 kg – Ben Provisor (New York AC) dec. Barrett Stanghill (Minnesota Storm), 3-1

130 kg – Donny Longendyke (Minnesota Storm) dec. Brandon Metz (North Dakota), 6-4

Women's freestyle

50 kg – Erin Golston (New York AC) forfeit Alyssa Lampe (Sunkist Kids)

53 kg – Samara Chavez (Team Tornado WC) fall Felicity Taylor (Iowa Women's WC/Titan Mercury WC), 4:09

57 kg – Amanda Martinez (Cardinal WC/Titan Mercury WC) dec. Alexandra Hedrick (USOPTC/Titan Mercury WC), 5-3

59 kg – Maya Nelson (Sunkist Kids) tech. fall Brenda Reyna (Army WCAP), 10-0

72 kg – Brooklyn Hays (Minnesota Gold WC) dec. Rose Cassioppi (New York AC/USOPTC), 9-8

76 kg –Kylie Welker (Iowa Women's WC/ Titan Mercury WC) dec. Dymond Guilford (USOPTC/Titan Mercury WC), 8-5

Men's freestyle

57 kg – Nick Suriano (Sunkist Kids WC) vs. Jakob Camacho (Wolfpack WC/Titan Mercury WC), no contest

61 kg – Daton Fix (Cowboy RTC/Titan Mercury WC) dec. Austin DeSanto (Hawkeye WC/Titan Mercury WC), 9-0

65 kg – Joseph McKenna (Pennsylvania RTC/Titan Mercury WC) tech. fall Matthew Kolodzik (New York AC/NJRTC), 10-0

70 kg – Sam Sasso (Ohio RTC/Titan Mercury WC) tech. fall Alec Pantaleo (Cliff Keen WC /Titan Mercury WC), 10-0

74 kg – Vincenzo Joseph (Sunkist Kids WC) vs. Keegan O'Toole (Tiger Style WC)

79 kg – Alex Dieringer (Cliff Keen WC/Titan Mercury WC) dec. David McFadden (Pennsylvania RTC/Titan Mercury WC), 2-2

92 kg – Kollin Moore (Ohio RTC/Titan Mercury WC) dec. Nathan Jackson (New York AC/NJRTC), 11-8