News
USA Wrestling
International
Women
USAW
Snyder wins gold, Walz and Jimenez get bronze on final day of Dan Kolov/Nikola Petrov in Bulgaria
by Gary Abbott, USA Wrestling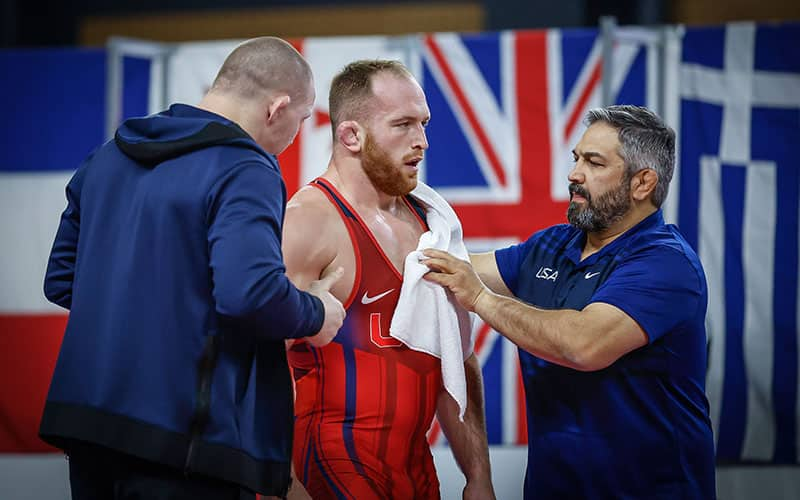 Coaches Jake Varner and Bill Zadick work with Kyle Snyder during the break of a match at the Dan Kolov/Nikola Petrov International. Photo courtesy of the Bulgarian Wrestling Federation.
SOFIA, Bulgaria – The United States closed out the final day of the
Dan Kolov/Nikola Petrov International
on Sunday with three medals, including its first gold medal of the weekend.
2016 Olympic champion and three-time World champion
Kyle Snyder
finished off a gold-medal performance with a 12-1 technical fall over Juhan Seo of Korea in the finals at 97 kg in men's freestyle. Snyder won all four of his bouts by technical fall, outscoring the opponents, 37-5. Snyder was named Outstanding Wrestler in the freestyle division.
Claiming a bronze medal in men's freestyle was
Ty Walz
, who stopped Rahid Hamidli of Azerbaijan, 3-1 in the bronze-medal bout.
Also claiming a bronze was women's freestyler
Audrey Jimenez
at 50 kg. She opened Sunday with a 10-0 technical fall over Emine Cataloglu of Turkey in repechage, then put away Svenja Jungo of Switzerland in a bronze medal bout with a 12-2 technical fall.
Placing fifth in Greco-Roman was Ryder Smith of NMU NTS, who lost his 60 kg bronze-medal bout 8-0 at 60 kg.\
In all, the United States won 11 medals in Sofia, six in women's freestyle and five in men's freestyle, with Snyder as the lone gold medalist.
DAN KOLOV/NIKOLA PETROV INTERNATIONAL

At Sofia, Bulgaria, March 5


Group Three U.S. performancesU.S. Men's Freestyle results
86kg: Andrew Morgan (NYRTC), eliminated
WIN Ivars Samsusonoks (Latvia), 10-4
LOSS Orkhan Abasov (Azerbaijan), tech. fall 13-1
86kg: Quentin Perez (CARTC), eliminated
LOSS Orkhan Abasov (Azerbaijan), 13-5
97kg: Kyle Snyder (TMWC/NLWC), GOLD MEDAL
WIN Daniil Pidlypenets (Ukraine), tech. fall 10-0
WIN Juha Rusila (Denmark), tech fall 10-0
WIN Danyal Sharatinia (Iran), tech. fall 14-4
WIN Juhwan Seo (Korea), tech. fall 12-1
97 kg: George Sikes, eliminated
LOSS Daniil Pidlypenets (Ukraine), eliminated
125kg: Ty Walz (TMWC/SERTC), BRONZE MEDAL
WIN Johannes Ludescher (Austria), 8-0
WIN Giga Shavadze (Georgia), 6-0
LOSS Giorgi Meshvildishvili (Georgia), tech fall 11-0
WIN Rahid Hamidli (Azerbaijan), 3-1
U.S. Women's Freestyle results
50kg: Audrey Jimenez (Sunkist), BRONZE MEDAL
LOSS Svetlana Ankicheva (Kazakhstan), 10-8
WIN Emine Cataloglu (Turkey), tech. fall 10-0
WIN Svenja Jungo (Switzerland), tech. fall 12-2
U.S. Greco-Roman results
60 kg: Gabe Townsell (NYAC/CARTC), eliminated
LOSS Zholaman Sharshenbekov (Kyrgyzstan), tech fall 9-0
LOSS Medyalko Petrov (Bulgaria), injury
60kg: Ryder Smith (NMU NTS), 5th place
LOSS Michel Tracz (Poland), tech fall 9-0
LOSS Koto Gomi (Japan), tech. fall 8-0
67kg: Charles Welcome (NMU NTS), eliminated
LOSS Slavik Galstyan (Armenia), tech fall 8-0
LOSS Artur Politaiev (Ukraine), tech fall 9-0
67kg: David Stepanian (NYAC/NMW NTS), eliminated
LOSS Morten Thoresen (Norway), 6-0
77kg: Riley Briggs (NMU NTS), eliminated
LOSS Zlatomir Emilov (Bulgaria), 4-4
77kg: Mike Higgins (NMU NTS), eliminated
WIN Akseli Yli Hannuksela (Finland), forfeit
LOSS Elma Nurliiev (Ukraine), tech. fall 9-0