News
USA Wrestling
College
Women
USAW
Quarterfinals set at NCWWC Nationals, with North Central, McKendree and King at top of team standings
by Gary Abbott, USA Wrestling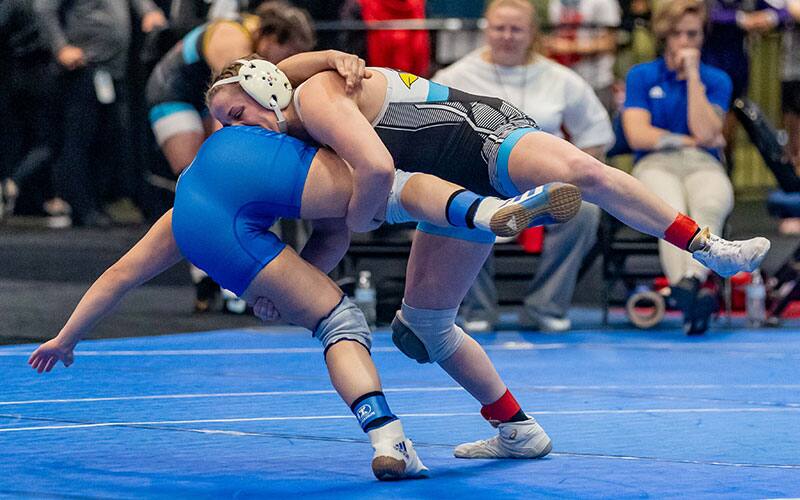 Kendall Bostelman (North Central) scores a takedown at the NCWWC Nationals. Photo by AJ Grieves, Mat Focus
The first session of the National Collegiate Women's Wrestling Championships included two rounds of action, setting the quarterfinal pairings for Friday night.
No. 1 King, No. 2 North Central and No. 3 McKendree are looking strong.
North Central
leads the team race with 35.5 points, ahead of
McKendree
with 30 points,
King
with 28.5 points and
Colorado Mesa
with 24 points.
Both three-time NCWWC champions,
Emily Shilson
(109) and
Sydnee Kimber
(191) of McKendree advanced easily.
Only five seeds were beaten on Friday morning:
191 - Sara Lake (Lindenwood University) pin No. 6 Nia Crosdale (King University) Fall 4:04
116 - Samantha Larsen (Gannon) dec. No. 7 Ivy Threatful (Simon Fraser University) Dec 13-10
136 - Abigail Varady (McKendree University) pin No. 7 Lana Perez (Gannon University) Fall 1:53
116 - Natalie Majer (Carthage College) inj. dft. over No. 8 Nohea Moniz (Sacred Heart), 0:00
143- Marisa Roth (Northern Michigan University) dec. No. 8 Kayley Garcia (Chadron) Dec 4-2
The second session, which includes the championship quarterfinals, begins at 4:00 p.m. CT, live on FloWrestling.
NATIONAL COLLEGIATE WOMEN'S WRESTLING CHAMPIONSHIPS
At Cedar Rapids, Iowa, March 3, 2023

Quarterfinals pairings
101
Jessica Corredor (King University) vs. Aaliyah Payne-Parris (Sacred Heart)
Samantha Miller (Presbyterian) vs. Madison Avila (North Central (IL)
Jennesis Martinez (Colorado Mesa University) vs. Jenavi Alejandro (Tiffin University)
Avery Kibelbek (King University) vs. Lizette Rodriguez (McKendree University)
109
Emily Shilson (McKendree University) vs. Cassy Lopez (Presbyterian)
Kaelani Shufeldt (Lock Haven University) vs. Dianna Holmes (King University)
Sydney Petzinger (North Central (IL) vs. Kendra Ryan (North Central (IL)
Maddie Mackenzie (Simon Fraser University) vs. Sage Mortimer (King University)
116
Victoria Seal (Simon Fraser University) vs. Natalie Majer (Carthage College)
Danielle Garcia (King University) vs. Samara Chavez (King University)
Jaslynn Gallegos (North Central (IL) vs. Emily Klein (East Stroudsburg University)
Samantha Larsen (Gannon University) vs. Payton Stroud (McKendree University)
123
Marissa Gallegos (Colorado Mesa University) vs. Jennifer Soto (McKendree University)
Naomi Henry (New Jersey City University) vs. Sofia Macaluso (East Stroudsburg University)
Vayle-Rae Baker (King University) vs. Mia Macaluso (East Stroudsburg University)
Melanie Mendoza (King University) vs. Amani Jones (North Central (IL)
130
Alexis Janiak (Aurora) vs. Alexandra Fitzgerald (Sacred Heart)
Hailey Chapman (Colorado Mesa University) vs. Sara Sterner (North Central (IL)
Montana Delawder (King University) vs. Lillian Sherer (Lock Haven University)
Marquesis Haintz (Simon Fraser University) vs. Cameron Guerin (McKendree University)
136
Ana Luciano (King University) vs. Diana Dzasezeva (Northern Michigan University)
Paige Wehrmeister (Presbyterian) vs. Viktorya Torres (King University)
Yele Aycock (North Central (IL) vs. Holly Beaudoin (Colorado Mesa University)
Abigail Varady (McKendree University) vs. Nina Makem (Augsburg University)
143
Ashlynn Ortega (King University) vs. Marisa Roth (Northern Michigan University)
Kendall Bostelman (North Central (IL) vs. London Houston (North Central (IL)
Katie Lange (Augsburg University) vs. Clarissa Agostini (Adrian College)
Lili Ujfalvi (Gannon University) vs. Grace Stem (Lock Haven University)
155
Marlynne Deede (Augsburg University) vs. Madison Sandquist (Sacred Heart)
Malea Palahniuk (North Central (IL) vs. Tiffani Baublitz (King University)
Dalia Garibay (Colorado Mesa University) vs. Lydia Krauss (Northern Michigan University)
Nyla Burgess (Adrian College) vs. Tiera Jimerson (North Central (IL)
170
Yelena Makoyed (North Central (IL) vs. Alexandra Castillo (McKendree University)
Brooklyn Hays (Augsburg University) vs. Annabelle Helm (Gannon University)
Emily Cue (Simon Fraser University) vs. Cara Broadus (Sacred Heart)
Jewel Gonzalez (Gannon University) vs. Cheyenne Bowman (King University)
191
Sydnee Kimber (McKendree University) vs. Jacklyn Smith (Sacred Heart)
Jayleen Sekona (Colorado Mesa University) vs. Katja Osteen (Simon Fraser University)
Brittyn Corbishley (North Central (IL) vs. Sara Lake (Lindenwood University)
Rewa Chababo (University of the Ozarks) vs. Traeh Haynes (North Central (IL)
170
Yelena Makoyed (North Central (IL) vs. Alexandra Castillo (McKendree University)
Brooklyn Hays (Augsburg University) vs. Annabelle Helm (Gannon University)
Emily Cue (Simon Fraser University) vs. Cara Broadus (Sacred Heart)
Jewel Gonzalez (Gannon University) vs. Cheyenne Bowman (King University)
191
Sydnee Kimber (McKendree University) vs. Jacklyn Smith (Sacred Heart)
Jayleen Sekona (Colorado Mesa University) vs. Katja Osteen (Simon Fraser University)
Brittyn Corbishley (North Central (IL) vs. Sara Lake (Lindenwood University)
Rewa Chababo (University of the Ozarks) vs. Traeh Haynes (North Central (IL)
Team Standings
1 North Central 35.5
2 McKendree University 30.0
3 King University 28.5
4 Colorado Mesa University 24.0
5 Simon Fraser University 22.0
6 Sacred Heart 19.0
7 Augsburg University 18.0
8 Elmira College 14.0
9 Adrian College 12.0
10 Lock Haven University 11.5