News
USA Wrestling
International
College
Women
USAW
Updated 2023 Senior World Team Trials Challenge Tournament qualifiers after U.S. Open (as of April 30)
by Gary Abbott, USA Wrestling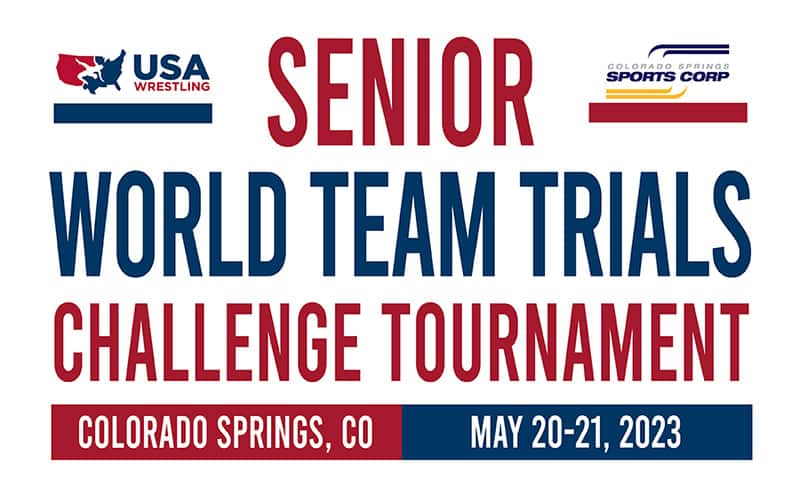 With the completion of the U.S. Senior Open in Las Vegas on April 29, we have updated the list of athletes who have qualified for the
2023 Senior World Team Trials Challenge Tournament
, which will be held at Discovery Canyon High School in Colorado Springs, Colo., May 20-21.
We list the qualifiers at the 17 weight classes for the World Team Trials Challenge Tournament. This includes 10 Greco-Roman weight classes, four women's freestyle weight classes and three men's freestyle weight classes. The winners of this tournament in each weight class qualify for Final X in Newark, N.J., June 10, where they face the 2023 U.S. Open champion in a best-of-three series to determine the Senior World Team member.
Currently, there are 145 athletes who have qualified to compete at the Senior World Team Trials Challenge Tournament at one of these 17 weight classes. This includes 83 in Greco-Roman, 38 in women's freestyle and 24 in men's freestyle.
However, athletes who have competed in other weight classes and still meet the criteria can register and compete in the World Team Trials Challenge Tournament. USA Wrestling will update this information after the qualified athletes from other weight classes register to compete.
IMPORTANT FOR ATHLETES/COACHES: All athletes are asked to register for the World Team Trials Challenge Tournament by Wednesday, May 3 at 11:00 p.m. MT. This is the end of early registration, which cost just $75, a $50 discount. Any one who registers after this day must pay the regular entry fee of $125. Another key date to remember is Sunday, May 14 at 11:00 p.m. MT, the deadline for registration in order to receive a seed
.
To review the Senior World Team Selection Process in each discipline, visit the Team Selection Criteria page.
https://www.teamusa.org/usa-wrestling/team-usa/team-selection-criteria
SENIOR WORLD TEAM TRIALS CHALLENGE TOURNAMENT QUALIFIERS
As of April 30, 2023
(Additional athletes who have qualified and are changing weight classes will be added when registered)

Men's freestyle

61 kg
Already Qualified for Final X: Vito Arujau (TMWC/Spartan Combat RTC)
World Team Trials Challenge Tournament Qualifiers
2021 Senior FS World Team member – Daton Fix (TMWC/Cowboy RTC)
2022 Senior FS World Team member – Seth Gross (Sunkist Kids)
2022 Bill Farrell International FS highest U.S. medalist – Nahshon Garrett (TMWC/LVWC)
2023 Senior Pan American Championships medalist -
2023 U.S. Open FS runner-up at 61 kg – Austin DeSanto (TMWC/HWC)
2023 U.S. Open FS fourth place at 61 kg – Nathan Tomasello (TMWC/CKWC)
2023 U.S. Open FS fifth place at 61 kg – Joe Colon (TMWC)
2023 U.S. Open FS seventh place at 61 kg – Aden Valencia (TMWC/CRTC)
Non-World Championship weights
2023 NCAA Div. I champion at 125 lbs. – Pat Glory (Princeton/NJRTC)
92 kg
Already Qualified for Final X: Michael Macchiavello (Titan Mercury WC/Wolfpack WC)
World Team Trials Challenge Tournament Qualifiers
2022 U23 World FS medalist – Jacob Cardenas (TMWC/Spartan Combat RTC)
2022 Bill Farrell International FS highest U.S. medalist – Eric Schultz (Nebraska WTC)
2023 Senior Pan American Championships medalist -
2023 U.S. Open FS runner-up at 92 kg – Kollin Moore (TMWC/ORTC)
2023 U.S. Open FS third place at 92 kg – Nathan Jackson (NYAC)
2023 U.S. Open FS fourth place at 92 kg – Eric Schultz (Sunkist Kids)
2023 U.S. Open FS fifth place at 92 kg – Jay Aiello (TMWC/CWC)
2023 U.S. Open FS sixth place at 92 kg – Morgan McIntosh (Nittany Lion WC)
Non-World Championship weights
2023 NCAA Div. I champion at 197 lbs. – Nino Bonaccorsi (Pittsburgh/Pittsburgh WC)
125 kg
Already Qualified for Final X: Gable Steveson (Gopher WC RTC)
World Team Trials Challenge Tournament Qualifiers
2021 Senior MFS World Team member – Nick Gwiazdowski (TMWC/Spartan Combat RTC)
2022 Senior MFS World Team member – Hayden Zillmer (Gopher WC RTC)
2022 U23 World MFS medalist – Tony Cassioppi (Hawkeye WC)
2022 Bill Farrell International FS highest U.S. medalist – Demetrius Thomas (NYAC/PWC)
2023 Senior Pan American Championships MFS medalist -
2023 U.S. Open MFS fourth place at 125 kg – Wyatt Hendrickson (Colorado)
2023 U.S. Open MFS fifth place at 125 kg – Dominique Bradley (Sunkist Kids)
2023 U.S. Open MFS seventh place at 125 kg – Ty Walz (Titan Mercury WC/Southeast RTC)
Non-World Championship weights
2023 NCAA Div. I champion at 285 lbs. – Mason Parris (Michigan/Cliff Keen WC)
Women's freestyle

55 kg
Already Qualified for Final X: Alisha Howk (Sunkist Kids)
World Team Trials Challenge Tournament Qualifiers
2021 Senior WFS World Team member – Jenna Burkert (US Army WCAP)
2022 Senior WFS National Team member No. 1 – Jacarra Winchester (TMWC)
2022 Senior WFS National Team member No. 3 – Lauren Mason (Brunson UVRTC)
2022 U20 World WFS medalist – Sophia Macaluso (NY/ESU)
2022 Bill Farrell International WFS highest U.S. medalist – Marissa Gallegos (Colorado Mesa)
2023 Senior Pan American Championships WFS medalist –
2023 U.S. Open WFS third place at 55 kg – Areana Villaescusa (Army WCAP)
2023 U.S. Open WFS fifth place at 55 kg – Amani Jones (Cardinal WC)
2023 U.S. Open WFS sixth place at 55 kg – Gabrielle Skidmore (Minnesota Gold/Storm)
2023 U.S. Open WFS seventh place at 55 kg – Virginia Foard (New York AC)
Non-World Championship weights
2023 NAIA champion at 123 lbs. – Carolina Moreno (Southern Oregon)
59 kg
Already Qualified for Final X: Michaela Beck (Sunkist Kids)
World Team Trials Challenge Tournament Qualifiers
2021 Senior WFS World Team member – Maya Nelson (Sunkist Kids)
2022 Senior WFS National Team member No. 1 – Abigail Nette (Army WCAP)
2022 Senior WFS National Team member No. 2 – Lexie Basham (Spartan Mat Club)
2022 Bill Farrell International WFS highest U.S. medalist – Amanda Martinez (Illinois)
2023 Senior Pan American Championships WFS medalist -
2023 U.S. Open WFS third place at 59 kg – Brenda Reyna (Army WCAP)
2023 U.S. Open WFS fifth place at 59 kg – Sarah Savidge (Army WCAP)
2023 U.S. Open WFS seventh place at 59 kg – Lauren Louive (New York AC)
Non-World Championship weights
2023 NCWWC champion at 130 lbs. – Cameron Guerin (McKendree/TMWC)
68 kg
Already Qualified for Final X: Forrest Molinari (Sunkist Kids)
World Team Trials Challenge Tournament Qualifiers
2021 Senior WFS World Team member – Tamyra Mensah Stock (TMWC)
2022 Senior WFS National Team member No. 2 – Sienna Ramirez (Southern Oregon RTC)
2022 Senior WFS National Team member No. 3 – Solin Piearcy (Menlo WC)
2022 Bill Farrell International WFS highest U.S. medalist – Chloe Ogden (Tar Heel WC)
2023 Senior Pan American Championships WFS medalist -
2023 U.S. Open WFS runner-up at 68 kg - Alexandria Glaude (Titan Mercury WC/Beaver Dam RTC)
2023 U.S. Open WFS sixth place at 68 kg – Isabella Mir (Iowa Women's WC)
2023 U.S. Open WFS seventh place at 68 kg – Nina Makem (Minnesota Gold/Storm)
Non-World Championship weights
2023 NCWWC champion at 143 lbs. – Katie Lange (Augsburg/Twin Cities RTC)
2023 NCWWC champion at 155 lbs. – Marlynne Deede (Augsburg/Twin Cities RTC)
2023 NAIA champion at 143 lbs. – Emily Se (Southern Oregon)
2023 NAIA champion ag 155 lbs. – Kaylynn Albrecht (Baker)
76 kg
Already Qualified for Final X: Kennedy Blades (Sunkist Kids)
World Team Trials Challenge Tournament Qualifiers
2021 Senior WFS World Team member – Adeline Gray (New York AC)
2022 Senior WFS National Team member No. 1 – Dymond Guilford (Titan Mercury WC)
2022 Senior WFS National Team member No. 2 – Yelena Makoyed (Titan Mercury WC/Cardinal WC)
2022 Senior WFS National Team member No. 3 – Precious Bell (Titan Mercury WC)
2022 U20 World WFS medalist – Tristan Kelly (Army WCAP)
2023 Senior Pan American Championships WFS medalist -
2023 U.S. Open WFS fifth place at 76 kg – Kylie Welker (Titan Mercury WC/Iowa's Women's WC)
2023 U.S. Open WFS seventh place at 76 kg – Ashley Lekas (Minnesota Gold/Storm)
Non-World Championship weights
2023 NCWWC champion at 191 lbs. – Sydnee Kimber (McKendree/Bearcat WC)
2023 NAIA champion at 191 lbs.- Grace Kristoff (Southern Oregon)
Greco-Roman

55 kg
Already Qualified for Final X: Brady Koontz (Titan Mercury WC/Dubuque RTC)
World Team Trials Challenge Tournament Qualifiers
2021 Senior GR World Team member - Max Nowry (Army WCAP)
2022 Senior GR National Team member No. 3 – Dalton Duffield (Army WCAP)
2022 U23 World GR Team member – Camden Russell (MWC Wrestling Academy)
2023 Senior Pan American Championships GR medalist -
2023 U.S. Open GR fourth place at 55 kg – Jacob Cochran (Army WCAP)
2023 U.S. Open GR fifth place at 55 kg – Drew West (Illinois)
2023 U.S. Open GR sixth place – Billy Sullivan at 55 kg (Army WCAP)
2023 U.S. Open GR seventh place – Tirso Lara at 55 kg (Top Gun WC)
2023 U.S. Open FS top 7 placewinner** -
Non-World Championship weights
2023 NCAA Div. I champion at 125 – Pat Glory (Princeton/NJRTC)
60 kg
Already Qualified for Final X: Dalton Roberts (Army WCAP)
World Team Trials Challenge Tournament Qualifiers
2022 Senior GR National Team member No. 1– Ildar Hafizov (Army WCAP)
2022 Senior GR National Team member No. 3 – Randon Miranda (Rise RTC)
2022 U23 World GR Team member - Phillip Moomey (TMWC/Spartan Combat RTC)
2023 Senior Pan American Championships GR medalist -
2023 U.S. Open GR third place at 60 kg – Max Black (NMU-NTS)
2023 U.S. Open GR fourth place at 60 kg – Dylan Koontz (Titan Mercury WC/Dubuque RTC)
2023 U.S. Open GR fifth place at 60 kg – Jonathan Gurule (NMU-NTS)
2023 U.S. Open FS top 7 placewinner** -
Non-World Championship weights
2023 NCAA Div. I champion at 133 lbs. – Vitaly Arujau (Cornell/TMWC/Spartan Combat RTC)
63 kg
Already Qualified for Final X: Hayden Tuma (Suples WC)
World Team Trials Challenge Tournament Qualifiers
2021 Senior GR World Team member - Sammy Jones (New York AC)
2022 Senior GR National Team member No. 1– Jesse Thielke (Army WCAP)
2022 Senior GR National Team member No. 3 – Mason Carzino-Hartshorn (West Coast GR RTC)
2022 Bill Farrell International GR highest U.S. medalist - Dylan Gregerson (Brunson UVRTC)
2023 Senior Pan American Championships GR medalist -
2023 U.S. Open GR fourth place at 63 kg – Leslie Fuenffinger (Army WCAP)
2023 U.S. Open GR fifth place at 63 kg – Savion Haywood (Iguana WC)
2023 U.S. Open GR sixth place at 63 kg – Xavier Johnson (Army WCAP)
2023 U.S. Open GR seventh place at 63 kg – Corbin Nirschl (New York AC)
2023 U.S. Open FS top 7 placewinner** -
Non-World Championship weights
2023 NCAA Div. I champion at 141 lbs. – Andrew Alirez (Northern Colorado/Northern Colorado RTC)
67 kg
Already Qualified for Final X: Robert Perez III (Sunkist Kids)
World Team Trials Challenge Tournament Qualifiers
2021 Senior GR World Team member - Peyton Omania (New York AC)
2022 Senior GR National Team member No. 1– Alejandro Sancho (Army WCAP)
2022 Senior GR National Team member No. 2 – Alston Nutter (Sunkist Kids)
2023 Senior Pan American Championships GR medalist -
2023 U.S. Open GR third place at 67 kg – Chayse La Joie (Michigan)
2023 U.S. Open GR fourth place at 67 kg – David Stepanian (New York AC)
2023 U.S. Open GR fifth place at 67 kg – Joel Adams (The Best Wrestler)
2023 U.S. Open GR seventh place at 67 kg – Nicholas Leionetti (Suples WC)
2023 U.S. Open FS top 7 placewinner** -
Non-World Championship weights
2023 NCAA Div. I champion at 149 lbs. – Yianni Diakomihalis (Cornell/TMWC/Spartan Combat WC)
72 kg
Already Qualified for Final X: Justus Scott (Army WCAP)
World Team Trials Challenge Tournament Qualifiers
2021 Senior GR World Team member - Patrick Smith (Minnesota Storm)
2022 Senior GR National Team member No. 1– Benji Peak (Sunkist Kids)
2022 Senior GR National Team member No. 3 – Noah Wachsmuth (Cobra All-Stars)
2022 Bill Farrell International GR highest U.S. medalist – Peter Ogansanya (West Point WC)
2023 Senior Pan American Championships GR medalist -
2023 U.S. Open GR fourth place at 72 kg – Michael Hooker (Army WCAP)
2023 U.S. Open GR fifth place at 72 kg – Jack Ervien, Jr. (Viking WC)
2023 U.S. Open GR seventh place at 72 kg - Richard Fedalen (New York City RTC)
2023 U.S. Open FS top 7 placewinner** -
Non-World Championship weights
2023 NCAA Div. I champion at 157 lbs. – Austin O'Connor (North Carolina/Tarheel RTC)
77 kg
Already Qualified for Final X: Kamal Bey (Army WCAP)
World Team Trials Challenge Tournament Qualifiers
2021 Senior GR World Team member - Jesse Porter (NYAC/NMU NTS)
2022 Senior GR National Team member No. 2 – Britton Holmes (US Army WCAP)
2022 Senior GR National Team member No. 3 – Payton Jacobson (Sunkist Kids)
2023 Senior Pan American Championships GR medalist -
2023 U.S. Open GR runner-up at 77 kg – Aliaksandr Kikiniou (Poway)
2023 U.S. Open GR fourth place at 77 kg – Burke Paddock (New York AC)
2023 U.S. Open GR sixth place at 77 kg – Ravaughn Perkins (New York AC)
2023 U.S. Open GR seventh place at 77 kg - Danny Braunagel (Illinois RTC/IWC)
2023 U.S. Open FS top 7 placewinner** -
Non-World Championship weights
2023 NCAA Div. I champion at 165 – Keegan O'Toole (Missouri/Tiger Style WC)
82 kg
Already Qualified for Final X: Spencer Woods (Army WCAP)
World Team Trials Challenge Tournament Qualifiers
2021 Senior GR World Team member – Ben Provisor (New York AC)
2022 Senior GR National Team member No. 3 – Tommy Brackett (Tennessee)
2022 U23 World GR Team member – Tyler Cunningham (MWC Wrestling Academy)
2022 Bill Farrell International GR highest U.S. medalist – Ryan Epps (Minnesota Storm)
2023 Senior Pan American Championships GR medalist -
2023 U.S. Open GR third place at 82 kg – Andrew Berreyesa (New York AC)
2023 U.S. Open GR fourth place at 82 kg – Johanner Correa (North Carolina)
2023 U.S. Open GR sixth place at 82 kg – Kendrick Saunders (New York AC)
2023 U.S. Open FS top 7 placewinner** -
Non-World Championship weights
2023 NCAA Div. I champion at 174 lbs. – Carter Starocci (Penn State/Nittany Lion WC)
87 kg
Already Qualified for Final X: Alan Vera (New York AC)
World Team Trials Challenge Tournament Qualifiers
2022 Senior GR National Team member No. 2 – Timothy Young (Illinois)
2022 Senior GR National Team member No. 3 – Christian DuLaney (Minnesota Storm)
2022 U23 World GR Team member – Michial Foy (Gopher WC RTC)
2022 Bill Farrell International GR highest U.S. medalist – Richard Carlson (Minnesota Storm)
2023 Senior Pan American Championships GR medalist -
2023 U.S. Open GR runner-up at 87 kg – John Stefanowicz (Navy WC)
2023 U.S. Open GR third place at 87 kg– Zachary Brunagel (Illinois RTC/IWC)
2023 U.S. Open GR fifth place at 87 kg – Macaron Kukowski (Minnesota Storm)
2023 U.S. Open GR sixth place at 87 kg – Barrett Stanghill (Minnesota Storm)
2023 U.S. Open GR seventh place at 87 kg– Jordan Lara (Texas RTC)
2023 U.S. Open FS top 7 placewinner** -
Non-World Championship weights
2023 NCAA Div. I champion at 184 lbs. – Aaron Brooks (Penn State/Nittany Lion WC)
97 kg
Already Qualified for Final X: Josef Rau (Titan Mercury WC)
World Team Trials Challenge Tournament Qualifiers
2021 Senior GR World Team member – G'Angelo Hancock (Sunkist Kids)
2022 Senior GR National Team member No. 2 – Braxton Amos (Wisconsin RTC)
2022 Senior GR National Team member No. 3 – Lucas Sheridan (US Army WCAP)
2022 U23 World GR Team member – Nicholas Boykin (Sunkist Kids/Ohio RTC)
2023 Senior Pan American Championships GR medalist -
2023 U.S. Open GR third place at 97 kg – Daniel Miller (Marines)
2023 U.S. Open GR fourth place at 97 kg -Brandon Marshall (Big Game WC)
2023 U.S. Open GR fifth place at 97 kg – George Sikes (New York AC)
2023 U.S. Open GR seventh place at 97 kg - Cade Lautt (Tarheel WC)
2023 U.S. Open FS top 7 placewinner** -
Non-World Championship weights
2023 NCAA Div. I champion at 197 lbs. – Nino Bonaccorsi (Pittsburgh/Pittsburgh WC)
130 kg
Already Qualified for Final X: Cohlton Schultz (Sunkist Kids)
World Team Trials Challenge Tournament Qualifiers
2022 Senior GR National Team member No. 2 – Tanner Farmer (New York AC)
2022 Senior GR National Team member No. 3 – David Tate Orndorff (Titan Mercury WC/Ohio RTC)
2022 U20 World GR medalist – Aden Attao (Suples WC)
2022 Bill Farrell International GR highest U.S. medalist – Donny Longendyke (Minnesota Storm)
2023 Senior Pan American Championships GR medalist -
2023 U.S. Open GR runner-up at 130 kg - Adam Coon (New York AC/Cliff Keen WC)
2023 U.S. Open GR fourth place at 130 kg – Luke Luffman (Illinois RTC/IWC)
2023 U.S. Open GR fifth place at 130 kg– Brandon Metz (North Dakota)
2023 U.S. Open GR seventh place at 130 kg – Darryl Aiello (CYC-Concord Campus)
2023 U.S. Open FS top 7 placewinner** -
Non-World Championship weights
2023 NCAA Div. I champion at 285 lbs. – Mason Parris (Michigan/Cliff Keen WC)
** 2023 U.S. Open FS top seven placewinners will be added when registered for Greco-Roman