News
USA Wrestling
Women
College
USAW
Senior women's freestyle seeds set for U.S. Open
by Gary Abbott, USA Wrestling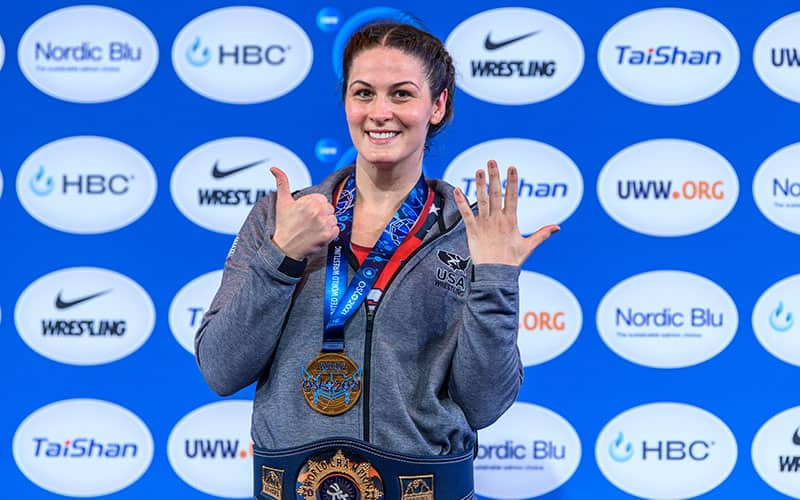 Six-time World champion Adeline Gray. Photo by Tony Rotundo, Wrestlers Are Warriors
The
Senior women's freestyle tournament seeds
for the
2023 Pritchard Companies U.S. Open Championships, presented by FloWrestling
, have been finalized ahead of this week's competition in Las Vegas, Nev.
A panel of coaches representing the athletes determined the final seeding based on an agreed upon set of seeding criteria that included head-to-head results, tournament placements, and common opponents.
The only adjustments that will be made to the seeds will be if a wrestler drops out of the field. In that case, the wrestler in question will be removed from the list and every wrestler underneath him will bump up to the next seed.
Among those receiving at No. 1 seed include six-time World champion and Olympic silver medalist
Adeline Gray
at 76 kg, 2019 World champion
Jacarra Winchester
at 55 kg, two-time World bronze medalist
Alyssa Lampe
at 50 kg and 2021 World bronze medalist
Forrest Molinari
at 68 kg.
The Senior women's freestyle tournament will take place April 28-29 at South Point Arena. Action will begin at 10 a.m. (PT) both days. Semifinals are scheduled for 4 p.m. (PT) on Friday, and finals are set for 6 p.m. on Saturday.
Single day and all session ticket options are available to purchase online through the
South Point Box Office
. Those unable to attend the event can stream every match from Las Vegas
live on FloWrestling
.
2023 Pritchard Companies U.S. Open Championships presented by FloWrestling
At South Point Arena, Las Vegas, Nev., April 26-30

Senior Women's Freestyle Tournament Seeding
50 kg
1. Alyssa Lampe (Sunkist Kids)
2. Erin Golston (New York AC)
3. Emily Shilson (Titan Mercury)
4. Audrey Jimenez (Sunkist Kids)
5. Sage Mortimer (Titan Mercury WC)
6. Nyla Valencia (Hawkeye Women's WC)
7. Aleeah Gould (Army WCAP)
8. Charlotte Fowler (Bowlermaker RTC)
9. Nina Pham (Army WCAP)
53 kg
1. Amy Fearnside (Titan Mercury WC)
2. Felicity Taylor (Hawkeye Women's WC)
3. Katie Gomez (Sunkist Kids)
4. Estrella Dorado Marin (Army WCAP)
5. Jaslynn Gallegos (Cardinal WC)
6. Samara Chavez (Team Tornado WC)
7. Vanessa Ramirez (Army WCAP)
8. Danielle Garcia (Team Tornado WC)
9. Kiely Tabaldo (Royalty WC)
55 kg
1. Jacarra Winchester (Titan Mercury WC)
2. Lauren Mason (California)
3. Marissa Gallegos (Colorado Mesa WC)
4. Alisha Howk (Sunkist Kids)
5. Areana Villaescusa (Army WCAP)
6. Amani Jones (Cardinal WC)
7. Peyton Stroud (Bearcat WC)
57 kg
1. Alex Hedrick (Titan Mercury WC)
2. Amanda Martinez (Titan Mercury WC)
3. Cameron Guerin (Titan Mercury WC)
4. Xochitl Mota-Pettis (Rise RTC)
5. Shelby Moore (White River Hornets WC)
6. Nicole Moore (Kansas USA Wrestling)
7. Montana Delawder (Team Tornado WC)
59 kg
1. Maya Nelson (Sunkist Kids)
2. Abigail Nette (Army WCAP)
3. Michaela Beck (Sunkist Kids)
4. Brenda Reyna (Army WCAP)
5. Lexie Basham (Spartan Mat Club)
6. Sarah Savidge (Army WCAP)
7. Gracie Figueroa (Titan Mercury WC)
8. Lauren Louive (New York AC)
62 kg
1. Jennifer Page (Titan Mercury WC)
2. Aduago Nwachukwu (California)
3. Amanda Hendey (Titan Mercury WC)
4. SaVannah Cosme (Sunkist Kids)
5. Claire DiCugno (White River Hornets WC)
6. Bridgette Duty (Army WCAP)
7. Ashlynn Ortega (New York AC)
65 kg
1. Macey Kilty (Sunkist Kids)
2. Emma Bruntil (Titan Mercury WC)
3. Ana Luciano (Team Tornado WC)
4. Skylar Hattendorf (New Hampshire)
5. Reese Laramendy (Hawkeye Women's WC)
6. Maya Letona (NYC RTC)
7. Emily Se (Southern Oregon RTC)
8. Ella Schmit (Hawkeye Women's WC)
9. Nina Makem (Minnesota Storm)
10. Viktorya Torres (Team Tornado WC)
68 kg
1. Forrest Molinari (Sunkist Kids)
2. Solin Piearcy (Menlo WC)
3. Alexandria Glaude (Titan Mercury WC)
4. Kaylynn Albrecht (Kansas)
5. Isabella Mir (Hawkeye Women's WC)
6. Katerina Lange (Minnesota Storm)
7. London Houston (Cardinal WC)
8. Chloe Ogden (North Carolina)
72 kg
1. Marilyn Garcia (Birmingham Community Charter HS)
2. Joye Levendusky (New York)
3. Marlynne Deede (Minnesota Storm)
4. Nahiela Magee (Army WCAP)
5. Cheyenne Bowman (Pounder WC)
6. Rose Cassioppi (Illinois)
7. Haley Ward (MO West Championship WC)
8. Brooklyn Hays (Minnesota Gold WC)
9. Noelle Gaffney (New Jersey)
76 kg
1. Adeline Gray (New York AC)
2. Kennedy Blades (Sunkist Kids)
3. Yelena Makoyed (California)
4. Dymond Guilford (Titan Mercury WC)
5. Kylie Welker (Hawkeye Women's WC)
6. Precious Bell (Titan Mercury WC)
7. Skylar Grote (New Jersey)
8. Tristan Kelly (Army WCAP)
9. Sydnee Kimber (Bearcat WC)
10. Ashley Lekas (Minnesota Gold WC)