News
USA Wrestling
International
College
Women
USAW
Fix, Gray star as finals set in women's and men's freestyle at World Team Trials Challenge Tournament
by Gary Abbott, USA Wrestling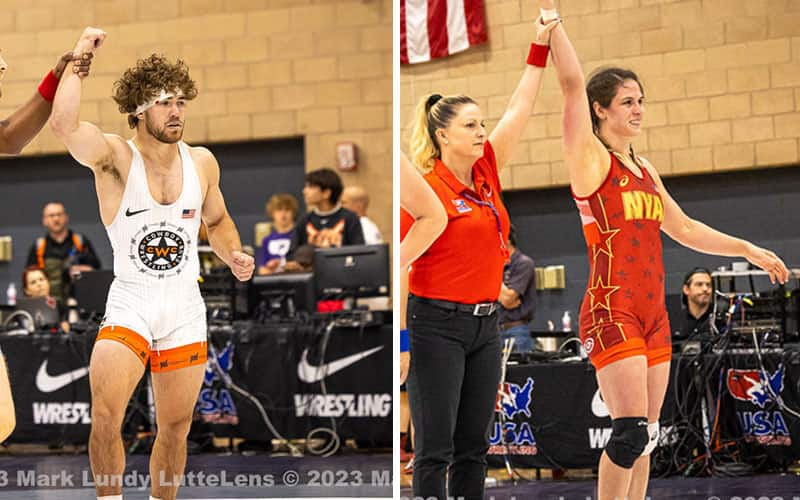 Daton Fix and Adeline Gray have their arms raised in victory at the World Team Trials Challenge Tournament. Photos by Mark Lundy, Lutte Lens

COLORADO SPRINGS, Colo. – The championship finals have been set after a wildly entertaining session at the World Team Trials Challenge Tournament at Discovery Canyon High School on Sunday morning.
There were four weight classes in women's freestyle today. Among those moving onto the finals are six-time World champion and 2020 Olympic silver medalist
Adeline Gray
at 76 kg and 2021 World champion
Jacarra Winchester
at 55 kg.
Gray defeated 2021 World Team member Kylie Welker in the semifinals, in a rematch of the 2000 U.S. Olympic Team Trials finals won by Gray. Welker led the match 3-0 in the first period after securing a takedown and step out. Gray closed it to 3-2 with a takedown, then locked up her World famous ankle lace and turned Welker five consecutive times for a 12-3 lead. A second period takedown by Gray closed out the technical fall at 14-3.
Gray will face 2022 World Team member and 2022 U23 World medalist Dymond Guilford in the finals. Guilford defeated Yelena Makoyed in the semifinals, 9-6, in a rematch of 2022 Final X, won by Guilford. Makoyed had beaten Guilford by a technical fall in a UWW Ranking event earlier this season. Guilford jumped to a strong 9-0 lead with a stepout, a four-point takedown and turns. Makoyed scored the next six points, including getting two cautions called against Guilford, but Guilford held position in the closing moments.
Gray defeated Guilford by disqualification in the U.S. Open semifinals, when Gulford, who was leading 8-0, and was hit three times with a step out and a caution and one-point penalty. A wrestler with three cautions gets disqualified.
Winchester fell behind early before pinning Amanda Martinez in 3:34. Her finals opponent will be past Senior National Team member Areana Villaescusa who beat Lauren Mason, 5-0 in the other semifinal.
The other women's freestyle finals pairings will include top seed and 2021 World Team member
Maya Nelson
against
Jennifer Page
at 59 kg, as well as top seed and U23 World medalist
Alexandria Glaude
against
Emma Bruntil
at 68 kg. Page dropped down from 62 kg, while Bruntil has moved up from 65 kg.
In the three weight classes in men's freestyle, among the finalists are 2021 World silver medalist
Daton Fix
at 61 kg amd two-time World bronze medalist
Nick Gwiazdowski
at 125 kg.
Fix kept up the pressure and maintained good position in an 8-2 win over 2022 World Team member Seth Gross. Fix was able to get to his attacks and defend any Gross scrambles, to scored the first eight points of the match.
Fix will face No. 4 seed
Nahshon Garrett,
who stopped No. 1 seed and 2023 U.S. Open runner-up Austin DeSanto with a dominant 10-0 technical fall in the semifinals.
Gwiazdowski took down past U.S. Open champion Dominique Bradley and turned him multiple times to secure an 8-0 lead. A stepout and a takedown closed out an 11-0 technical fall for Gwiazdowski.
His opponent in the finals is 2023 NCAA champion and past U20 World champion
Mason Parris
, who stopped local hero Wyatt Hendrickson in a wild 12-11 semifinals match. Parris competes for Michigan, while Hendrickson wrestles for the U.S. Force
Parris jumped to a 6-0 lead, when Hendrickson came back with a takedown and powered four gut wrench turn for a 10-6 lead with 1:01 left in the match. The last minute was wide open. Parris closed it to 10-9 with a step out and a takedown, then scored another takedown with 29 seconds to go to take an 11-10 lead. Hendrickson forced a step out with four seconds left to make it 11-11 with criteria to Parris. Hendrickson scored an apparent step out on the buzzer which was not scored. Hendrickson challenge was denied, making it 12-11.
The other men's freestyle finals pairing will be top-seed Kollin Moore against Zahid Valencia in the 92 kg finals. Valencia, who normally competes at 86 kg, ran through U23 World medalist Tanner Sloan in the semifinals with a 10-0 technical fall. Moore hopes returns to Final X, competing at 97 kg last year where he lost to Olympic champion Kyle Snyder.
SCHEDULE CHANGE
: The next session will include the Third Place Matches at 3:00 p.m. MT and the First Place Matches at 4:00 p.m. MT. Follow all of the action live on FloWrestling.
WORLD TEAM TRIALS CHALLENGE TOURNAMENT
At Colorado Springs, Colo., May 21

Women's Freestyle Finals pairings
55 kg - Jacarra Winchester, Titan Mercury WC/USOPTC vs. Areana Villaescusa, Army WCAP
59 kg - Maya Nelson, Sunkist Kids dec. Jennifer Page, Titan Mercury WC/Nittany Lion WC
68 kg - Alexandria Glaude, Titan Mercury WC/Beaver Dam RTC vs. Emma Bruntil, Titan Mercury WC/USOPTC
76 kg - Adeline Gray, New York AC vs. Dymond Guilford, Titan Mercury WC/USOPTC
Men's Freestyle Finals pairings
61 kg - Nahshon Garrett, Titan Mercury WC/ Lehigh Valley WC vs. Daton Fix, Titan Mercury WC/Cowboy RTC
92 kg - Kollin Moore, Ohio RTC/Titan Mercury WC vs. Zahid Valencia, Sunkist Kids WC
125 kg - Nick Gwiazdowski, Spartan Combat RTC/Titan Mercury WC vs. Mason Parris, Cliff Keen WC/Titan Mercury WC
Women's Freestyle results
55 kg
Semifinals
Jacarra Winchester, Titan Mercury WC/USOPTC pin Amanda Martinez, Cardinal WC, 3:34
Areana Villaescusa, Army WCAP dec. Lauren Mason, Brunson UVRTC, 5-0
Quarterfinals
Areana Villaescusa, Army WCAP dec. Gabrielle Skidmore, Minnesota Gold WC, 7-6
Amanda Martinez, Cardinal WC tech fall Jaslynn Gallegos, Cardinal WC, 12-2
59 kg
Semifinals
Maya Nelson, Sunkist Kids inj dft. Abigail Nette, Army WCAP, 0:00
Jennifer Page, Titan Mercury WC/Nittany Lion WC dec. Alex Hedrick, Titan Mercury WC/USOPTC, 7-0
Quarterfinals
Maya Nelson, Sunkist Kids tech fall SaVannah Cosme, Sunkist Kids, 10-0
Abigail Nette, Army WCAP tech. fall Bridgette Duty, Army WCAP, 17-6
Alex Hedrick, Titan Mercury WC/USOPTC tech fall Brenda Reyna, Army WCAP, 14-4
Jennifer Page, Titan Mercury WC/Nittany Lion WC tech fall Lexie Basham. Titan Mercury WC/Spartan Mat Club, 12-1
Preliminaries
SaVannah Cosme, Sunkist Kids dec. Lauren Louive, New York AC, 3-3
68 kg
Semifinals
Alexandria Glaude, Titan Mercury WC/Beaver Dam RTC dec. Solin Piearcy, Menlo WC, 6-2
Emma Bruntil, Titan Mercury WC/USOPTC tech fall Katerina Lange, Minnesota Storm, 12-2
Quarterfinals
Alexandria Glaude, Titan Mercury WC/Beaver Dam RTC dec. Kaylynn Albrecht, Wildcat Elite, 10-6
Solin Piearcy, Menlo WC dec. Ana Luciano, Team Tornado WC, 4-0
Emma Bruntil, Titan Mercury WC/USOPTC tech fall Chloe Ogden, Florida/Tarheel WC, 10-0
Katerina Lange, Minnesota Storm dec Marilyn Garcia, California, 7-2
76 kg
Semifinals
Adeline Gray, New York AC tech fall Kylie Welker, Titan Mercury WC/Iowa Women's WC, 14-3
Dymond Guilford, Titan Mercury WC/USOPTC dec. Yelena Makoyed, Titan Mercury WC/Cardinal WC , 9-6
Quarterfinals
Adeline Gray, New York AC pin Skylar Grote, Titan Mercury WC/Beaver Dam RTC, 4:43
Kylie Welker, Titan Mercury WC/Iowa Women's WC pin Tristan Kelly, Army WCAP, 0:53
Dymond Guilford, Titan Mercury WC/USOPTC dec. Precious Bell, Titan Mercury WC, 3-1
Yelena Makoyed, Titan Mercury WC/Cardinal WC pin Ashley Lekas, Minnesota Gold WC, 0:59
Preliminaries
Skylar Grote, Titan Mercury WC/Beaver Dam RTC tech fall Nahiela Magee, Army WCAP, 12-1
Ashley Lekas, Minnesota Gold WC tech fall Brooklyn Hays, Minnesota Gold WC, 14-4
Senior Men's Freestyle results
61 kg
Semifinals
Nahshon Garrett, Lehigh Valley WC/Titan Mercury WC tech fall Austin DeSanto, Hawkeye WC/Titan Mercury WC, 10-0
Daton Fix, Titan Mercury WC/Cowboy RTC dec. Seth Gross, Sunkist Kids WC, 8-2
Quarterfinals
Nahshon Garrett, Lehigh Valley WC/Titan Mercury WC tech fall Nathan Tomasello, Cliff Keen WC/Titan Mercury WC, 10-0, 8-2
Daton Fix, Titan Mercury WC dec. Joe Colon, Titan Mercury WC, 3-0
Seth Gross, Sunkist Kids WC tech fall Aden Valencia, California RTC/Titan Mercury WC, 11-0
92 kg
Semifinals
Kollin Moore, Ohio RTC/Titan Mercury WC dec. Jonathan Aiello, Cavalier WC/Titan Mercury WC, 6-2
Zahid Valencia, Sunkist Kids WC tech fall Tanner Sloan, Jackrabbit WC, 12-1
Quarterfinals
Kollin Moore, Ohio RTC/Titan Mercury WC tech fall Samuel Mitchell, Bulls WC, 10-0
Jonathan Aiello, Cavalier WC/Titan Mercury WC dec. Eric Schultz, Nebraska WTC, 6-4
Zahid Valencia, Sunkist Kids WC dec. Morgan McIntosh, Army WCAP/Nittany Lion WC, 6-2
Tanner Sloan, Jackrabbit WC, dec. Nathan Jackson, New York AC, 9-9
125 kg
Semifinals
Nick Gwiazdowski, Spartan Combat RTC/Titan Mercury WC tech fall Dominique Bradley, Sunkist Kids WC, 11-0
Mason Parris, Cliff Keen WC/Titan Mercury WC dec. Wyatt Hendrickson, Air Force RTC, 12-11
Quarterfinals
Dominique Bradley, Sunkist Kids WC dec. Ty Walz, Southeast RTC/Titan Mercury WC, 2-1
Wyatt Hendrickson, Air Force RTC tech fall Demertius Thomas, Pittsburgh WC/New York AC, 10-0
Mason Parris, Cliff Keen WC/Titan Mercury WC tech fall Anthony Cassioppi, Hawkeye WC, 10-0