News
USA Wrestling
International
College
High School & Youth
Women
USAW
USA Wrestling went over 200,000 members on January 18, reaching that milestone in the shortest time ever
by Gary Abbott, USA Wrestling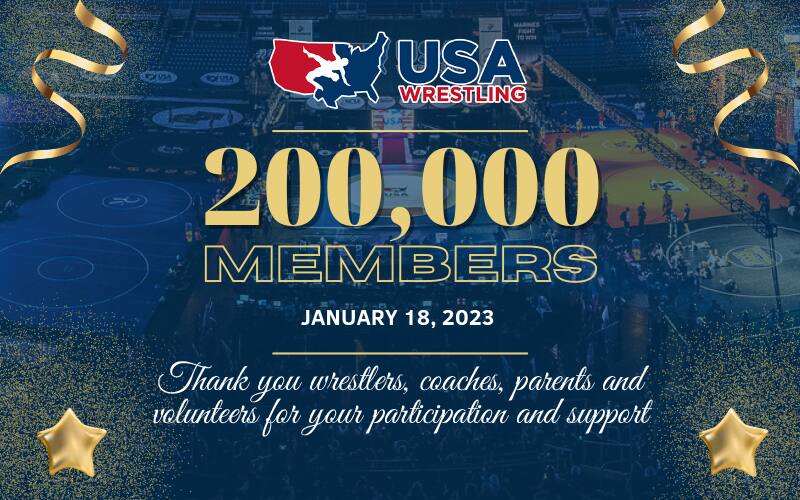 USA Wrestling is pleased to report that it went over 200,000 members for the 2022-23 membership season on Wednesday, January 18, 2023.
The USA Wrestling membership season runs from September 1 through August 31, which matches the organization's fiscal year.
January 18 is the earliest time in the history of USA Wrestling that the organization has reached the 200,000-member milestone. Previously, the earliest date USA Wrestling surpassed 200,000 members was February 5, 2020.
The membership number includes both athlete memberships and Wrestling Leader memberships with USA Wrestling.
"USA Wrestling membership is a direct result of our state associations and our leaders at the grassroots level. We strive to provide safety, security and opportunity for our members. Knowing we have reached our 200,000th member earlier than any year in USA Wrestling's history speaks to our state associations and clubs doing just that," said Tony Black, USA Wrestling's Director of State Services.
It has been a remarkable season for USA Wrestling in terms of membership.
• Through December 31, 2022, 47 USA Wrestling state associations have shown an increase in Year-to-Date membership in comparison to the prior season
• USA Wrestling has reached over 3,800 chartered clubs at this time, the most ever Year-To-Date
• At this time, the top five states in terms of membership Year-To-Date are 1) Illinois, 2) California, 3) Kansas, 4) Missouri, 5) Wisconsin.
USA Wrestling expects this trend to continue for the rest of the membership season, which will result in the organization besting its previous annual membership records from 2018-19, the last full season before the COVID-19 Pandemic.