News
USA Wrestling
High School & Youth
Women
USAW
Williams named Outstanding Wrestler, Pennsylvania wins title at USMC 16U Women's Nationals
by Gary Abbott, USA Wrestling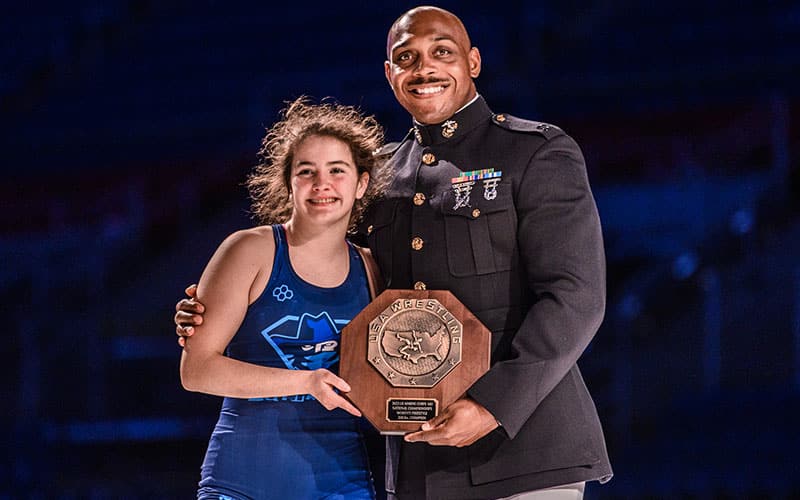 Bella Williams of Oklahoma poses with her 16U Nationals stop sign trophy. Williams was named Outstanding Wrestler. Photo by Tony Rotundo, Wrestlers Are Warriors
.
FARGO, N.D. – A slew of new talented athletes have burst onto the national scene with victories in the 2023
USMC 16U Women's Nationals
in the FargoDome on Sunday night.
There were no repeat 16U Women's champions this year. In fact, no previous champions qualified for the championship finals.
There were two 2022 16U National runners-up who were able to step up to the top of the podium with great finals performances,
Mary Manis
of Florida (106) and
Piper Fowler
of Tennessee (164).
Manis became a national champion with a 2-2 criteria decision over Kayla Batres of Connecticut. In the first period, Batres scored the first two points and Manis answered with two of her own to tie it at 2-2. There were no points scored in the final period, giving Manis the edge.
Fowler, who came into Fargo as a No. 1 ranked wrestler in her weight nationally, opened her match with a big four-point throw, and went on to defeat Alexandria Alli of Ohio, 8-4. Fowler was also a U17 Nationals champion earlier this year. Fowler became Tennessee's first USA Wrestling women's champion in either the 16U or Junior levels with her historic win.
Oklahoma's
Bella Williams
was named Outstanding Wrestler after winning the 122-pound title with a 9-3 victory over Kaylyn Harrill of Nebraska. Williams built a 5-1 lead in the second period, the blasted open his lead with a four-point throw.
Led by individual champions
Emma Bacon
(112) and
Sierra Chiesa
(117) and a total of nine All-Americans,
Pennsylvania
won its first 16U Women's team title with 129 points, with Michigan in second with 95 points and Missouri and Oklahoma tied in third place with 78 points.
Bacon dominated Libby Roberts of Washington in the finals, leading 9-0, but a late Roberts rally did not gain traction, with Bacon finishing off an 11-4 victory. Bacon has been a U15 Nationals champion for the last two years.
Chiesa scored three first-period takedowns and kept the edge late for a 6-2 victory over Alexis Lazar of Michigan in the finals.
In a battle of 2023 U17 World Team members,
Morgan Turner
of Illinois secured a 2-2 criteria decision over Jaclyn Bouzakis of Pennsylvania at 94 pounds. Bouzakis scored the first two points in the first period and Turner answered with two of her own to tie it at 2-2 at the break. There was no scoring in the second period.
Scoring a step out point with just about 20 seconds left in the match,
Madison Nieuwenhuis
of Michigan edged Caley Graber of Minnesota, 2-1 at 100 pounds.
Trailing 3-0 late in the third period,
Lynn Horn
of Oklahoma scored a clutch takedown while Carley Ceshker was on the shot clock, getting three points in short order to secure a 3-3 criteria decision over 2022 16U Nationals runner-up Carley Ceshker of Wisconsin at 127 pounds.
Arizona's
Isis France
took an early lead and kept up the pressure before pinning 2022 Junior Nationals runner-up Jordyn Fouse of Pennsylvania in 3:10 at 132 pounds. France was a 2023 National High School Recruiting Showcase champion.
Zoe Griffith
displayed an impressive offense in her 11-0 technical fall over Aleksandra Bastaic of Indiana in the 138-pound finals. Griffith, who was fourth at the 2022 Junior Nationals, won her first USA Wrestling national title with the win.
After falling behind 3-0 to Jayci Shelton of Missouri at 144 pounds,
Morgan Lucio
of Arizona scored six unanswered points for a 6-3 victory.
Mya Bethel
, a two-time Florida state champion, made her USA Wrestling national debut in extraordinary fashion, scoring an 11-0 technical fall over Maddie Hayden of Michigan in the 144-pound finals.
Iowa secured a champion at 180 pounds, when
Brooklyn Graham
defeated Wisconsin's Brooke Huffman, 10-4. Graham had a two point lead in the second period, then scored two final takedowns to secure the victory.
Scoring two points with just four seconds left in the bout,
Kelikki Nau Rarick
of Utah claimed the final victory of the finals with a 5-4 decision over Mia Cienega of Washington at 200 pounds.
16U Women's Nationals
At Fargo, N.D
.
94 pounds
1st - Morgan Turner (Illinois) dec. Jaclyn Bouzakis (Pennsylvania), 2-2
3rd - Kendall Moe (Indiana) pin Samantha Bertini (Massachusetts), 3:20
5th - Lilly Breeden (Missouri) dec. Khyla Lipumano (Arizona), 6-4
7th - Libertie Nigh (Ohio) dec. Lily Enos (Illinois), 8-0
100 pounds
1st - Madison Nieuwenhuis (Michigan) dec. Caley Graber (Minnesota), 2-1
3rd - Bianca Eide (Minnesota) dec. Addie Morse (Oklahoma), 6-0
5th - Elizabeth Valenzuela Smith (Arizona) tech. fall Sandy Breeden (Missouri), 18-8 3:20
7th - Mia Galindo (Virginia) tech. fall Ava Peters (Wisconsin), 10-0 0:51
106 pounds
1st - Mary Manis (Florida) dec. Kayla Batres (Connecticut), 2-2
3rd - Charlie Wylie (New Jersey) dec. Reanah Utterback (Iowa), 6-3
5th - Nakayla Dawson (Michigan) dec. Taylor Whiting (Wisconsin), 7-2
7th - Daylee Watson (Pennsylvania) tech. fall Teegan Sibble (New York), 14-1 1:19
112 pounds
1st - Emma Bacon (Pennsylvania) dec. Libby Roberts (Washington), 11-4
3rd - Kaura Coles (Montana) pin Jayden Keller (Missouri), 3:07
5th - Raenah Smith (Washington) pin Aneishka n. Santos Baez (US Territory), 1:03
7th - Angela Bianchi (Wisconsin) tech. fall Stevie Joyce Martin (California), 12-2 1:56
117 pounds
1st - Sierra Chiesa (Pennsylvania) dec. Alexis Lazar (Michigan), 6-2
3rd - Isabella Marie Gonzales (California) pin Kailey Benson (Missouri), 1:49
5th - Noelani Lutz (Nevada) pin Raeann Craft (New York), 3:33
7th - Alena Williams (Arkansas) dec. Rianna Bernal (California), 7-4
122 pounds
1st - Bella Williams (Oklahoma) dec. Kaylyn Harrill (Nebraska), 9-3
3rd - Regina Stoeser (South Dakota) dec. Evelyn Holmes-smith (Alabama), 7-2
5th - Isabella Cepak (Michigan) pin Reese Prescott (Washington), 0:21
7th - Danica Torres (Arizona) tech. fall Justice Anthony (West Virginia), 10-0 1:23
127 pounds
1st - Lynn Horn (Oklahoma) dec. Carley Ceshker (Wisconsin), 3-3
3rd - Samantha Sachs (California) dec. Peyton Hellmann (South Dakota), 8-7
5th - Julissa Ortiz (Pennsylvania) pin Britney Rueb (South Dakota), 2:34
7th - Kailani Barrientos (Florida) dec. Ava Milliner (Texas), 8-0
132 pounds
1st - Isis France (Arizona) pin Jordyn Fouse (Pennsylvania), 3:10
3rd - Mia Collins (New York) dec. Cassandra Gonzales (Minnesota), 3-1
5th - Madeline Haynes (Missouri) tech. fall Timberly Martinez (Colorado), 12-2 3:28
7th - Audrey Rogotzke (Minnesota) tech. fall Lilliana Banks (Wisconsin), 10-0 0:41
138 pounds
1st - Zoe Griffith (New York) tech fall Aleksandra Bastaic (Indiana), 11-0 1:15
3rd - Violette Lasure (West Virginia) pin Jayda Fulp (Texas), 2:32
5th - Taylin Silco (Texas) dec. Olivia Davis (California), 5-0
7th - Delarie Juarez (California) tech. fall Rebecca Brennan (New York), 15-4 2:58
144 pounds
1st - Morgan Lucio (Arizona) dec. Jayci Shelton (Missouri), 6-3
3rd - Skylar Slade (Iowa) pin Rihanna Venegas (Michigan), 5-2 1:49
5th - Zoey Haines (Pennsylvania) tech. fall Lucia Ledezma (California), 14-3 2:50
7th - Sandilynn Tuinei (Nevada) dec. Madison Westerberg (New York), 12-3
152 pounds
1st - Mya Bethel (Florida) tech. fall Maddie Hayden (Michigan), 10-0 3:53
3rd - Sarah Henckel (Connecticut) dec. Brynn Shepardson (New York), 10-1
5th - Cali Dupree (Missouri) tech. fall Elly Janovsky (Indiana), 10-0 3:39
7th - Shylee Tuzon (Colorado) tech. fall Audrey Segura (California), 10-0 4:00
164 pounds
1st - Piper Fowler (Tennessee) dec. Alexandria Alli (Ohio), 8-4
3rd - Kaylie Hall (West Virginia) dec. Grace Leota (Florida), 4-0
5th - Alexandria Ray (Oklahoma) forfiet Millie Azlin (Oklahoma)
7th - Elizabeth Madison (Ohio) pin Kate Simmons (Ohio), 1:07
180 pounds
1st - Brooklyn Graham (Iowa) dec. Brooke Huffman (Wisconsin), 10-4
3rd - Alexandria Perez (California) pin Autumn Elsbury (Iowa), 1:48
5th - August Rottmann (Illinois) tech. fall Ylyana Sandoval (Oregon), 11-0 4:00
7th - Juliana Lefort (Texas) pin Laney Oliver (Ohio), 1:11
200 pounds
1st - Keilikki Nau Rarick (Utah) dec. Mia Cienega (Washington), 5-4
3rd - Amie Hartman (Idaho) dec. Irelynn Laurin (Tennessee), 5-2
5th - Mackenna Atkinson (Pennsylvania) dec. Caroline Hattala (Pennsylvania), 8-4
7th - Jasmine Rene (Illinois) dec. Josephine Larson (Illinois), 2-1
Team Standings
1 Pennsylvania 129
2 Michigan 95
3 Missouri 78
3 Oklahoma 78
5 Arizona 71
6 California 70
7 Florida 67
8 New York 65
9 Iowa 64
10 Washington 56
10 Wisconsin 56
12 Minnesota 52
13 Illinois 43
14 Indiana 42
15 Tennessee 37
16 Connecticut 35
17 Ohio 34
17 South Dakota 34
19 West Virginia 32
20 Texas 28
21 Utah 25
22 Nebraska 20
23 Idaho 15
23 Montana 15
23 New Jersey 15
26 Nevada 14
27 Alabama 12
27 Colorado 12
27 Massachusetts 12
30 Oregon 7
30 US Territory 7
32 Arkansas 5
32 Virginia 5