News
USA Wrestling
Women
High School & Youth
USAW
Pennsylvania takes Greco-Roman title, doubles up at 14U Girl's National Duals
by Richard Immel, USA Wrestling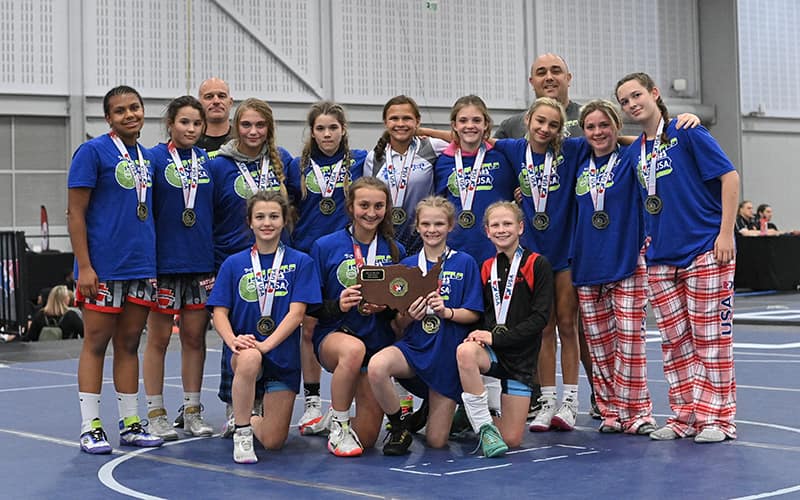 Photo: Team Pennsylvania after winning the 14U Girl's Greco-Roman National Duals title. (Austin Bernard, PhotographSports.com)
TULSA, Okla. – The Pennsylvania girls pulled off the 14U National Duals double dip after it breezed through the field on Friday at Cox Convention Center. Pennsylvania Red went 8-0 to capture the Greco-Roman championship one day after earning top prize in the freestyle tournament.
Nine teams entered the Greco-Roman portion of this event, down from the 20 that competed in freestyle. As such, the nine squads competed in a full round robin bracket where every team faced off against one another over the course of nine rounds.
Coming in second place was Minnesota, who turned things around drastically in the Greco-Roman tournament after failing to qualify for the Gold/Silver Pool in freestyle. The matchup between Pennsylvania and Minnesota, the top two squads at the end of the day, occurred during round three of the round robin bracket.
A single match went the distance in the first-place dual, and it was the final match at that. Alexis Lauta punctuated the Pennsylvania Red victory with a 6-2 decision over Olivia Browen of Minnesota at 105 pounds. Five members of the Pennsylvania Red squad earned victories by pin during the dual: Emma Grimes (85), Morgan Hyland (92), Kennedy Unrue (110), Cordy Zalota (119) and Riley Jackson (127). Similarly, Minnesota picked a pin in each of its three wins of the meet courtesy of Ella Henning (101), Aliah Fischer (136) and Sarah Pulk (185).
Red River rivals Oklahoma Blue and Texas Blue wound up in the third and fourth place slots. Oklahoma Blue finished the tournament with a 6-2 record, including a 28-25 win over its Lone Star State adversary in round eight. Kyah Leyba (105), Clover Williams (127) and Tiffany Breshears (136) each picked up sub-one-minute pins to help push Oklahoma blue over the top in the third-place dual.
Rounding out placements five through nine in order are Ohio Red, Kansas, Indiana, South Carolina and North Carolina, all of which showed promise and excitement throughout the competition.
The 14U Girl's National Duals was originally scheduled to conclude on Saturday morning at Cox Convention Center. However, the tournament was run through to completion on Friday to accommodate the much larger brackets in the Junior Men's Freestyle and Junior Women's Greco-Roman divisions.
Complete brackets and match-by-match results for the 14U Girl's National Duals are available on Trackwrestling.com. Every match is available to watch on-demand at FloWrestling.com.
The All-Tournament Team for the 14U Girl's Greco-Roman Nationals Duals will be announced tomorrow.
14U Girl's Greco-Roman National Duals
At Tulsa, Okla., June 16
Final Results
Team Standings
1st Place – Pennsylvania Red (8-0)
2nd Place – Minnesota (7-1)
3rd Place – Oklahoma Blue (6-2)
4th Place – Texas Blue (5-3)
5th Place – Ohio Red (4-4)
6th Place – Kansas (3-5)
7th Place – Indiana (2-6)
8th Place – South Carolina (1-7)
9th Place – North Carolina (0-8)
First Place Match (Round Robin Round 3)
Pennsylvania Red defeats Minnesota, 47-16
110 lbs. – Kennedy Unrue (Pennsylvania Red) fall Trinity Yates (Minnesota), 0:40
119 lbs. – Cordy Zalota (Pennsylvania Red) fall Xitllali Brito (Minnesota), 0:17
127 lbs. – Riley Jackson (Pennsylvania Red) fall Andrea Quinones (Minnesota), 2:00
136 lbs. – Aliah Fischer (Minnesota) fall Charlotte Hunt (Pennsylvania Red), 0:51
145 lbs. – Jameson Strickland (Pennsylvania Red) winner by forfeit
185 lbs. – Sarah Pulk (Minnesota) fall Fallon Jackson (Pennsylvania Red), 0:53
72 lbs. – Cidney Schaffer (Pennsylvania Red) winner by forfeit
79 lbs. – Brooklyn Henry (Pennsylvania Red) tech. fall Azalea Kallal (Minnesota), 8-0
85 lbs. – Emma Grimes (Pennsylvania Red) fall Ariana Mead (Minnesota), 0:41
92 lbs. – Morgan Hyland (Pennsylvania Red) fall Ava Schultz (Minnesota), 0:34
97 lbs. – Shannon Logue (Pennsylvania Red) winner by forfeit
101 lbs. – Ella Henning (Minnesota) fall Mimi Skowronski (Pennsylvania Red), 0:43
105 lbs. – Alexis Lauta (Pennsylvania Red) dec. Olivia Browen (Minnesota), 6-2
Round 1
Pennsylvania Red defeats South Carolina, 58-4
Texas Blue defeats Kansas, 39-11
Oklahoma Blue defeats North Carolina, 54-0
Minnesota defeats Indiana, 41-13
Round 2

Ohio Red defeats North Carolina, 40-10
Minnesota defeats South Carolina, 44-10
Texas Blue defeats Indiana, 35-19
Pennsylvania Red defeats Oklahoma Blue, 43-15
Round 3
Oklahoma Blue defeats Ohio Red, 44-16
Texas Blue defeats South Carolina, 43-10
Kansas defeats North Carolina, 35-15
Pennsylvania Red defeats Minnesota, 47-16
Round 4
Pennsylvania Red defeats Ohio Red, 49-14
Oklahoma Blue defeats Kansas, 44-15
Indiana defeats North Carolina, 30-20
Minnesota defeats Texas Blue, 30-28
Round 5
Ohio Red defeats Kansas, 26-25
South Carolina defeats North Carolina, 38-10
Oklahoma Blue defeats Indiana, 39-20
Pennsylvania Red defeats Texas Blue, 41-24
Round 6
Ohio Red defeats Indiana, 30-25
Oklahoma Blue defeats South Carolina, 34-22
Pennsylvania Red defeats Kansas, 52-9
Minnesota defeats North Carolina, 40-15
Round 7
Ohio Red defeats South Carolina, 29-25
Kansas defeats Indiana, 35-15
Texas Blue defeats North Carolina, 32-16
Minnesota defeats Oklahoma Blue, 30-29
Round 8
Minnesota defeats Ohio Red, 39-20
Kansas defeats South Carolina, 24-23
Pennsylvania Red defeats Indiana, 55-10
Oklahoma Blue defeats Texas Blue, 28-25
Round 9
Texas Blue defeats Ohio Red, 25-19
Indiana defeats South Carolina, 26-23
Minnesota defeats Kansas, 45-13
Pennsylvania Red defeats North Carolina, 62-1