News
USA Wrestling
High School & Youth
Women
USAW
Returning champion Henckel & four returning runners-up unbeaten as USMC 16U Women's Nationals begin
by Gary Abbott, USA Wrestling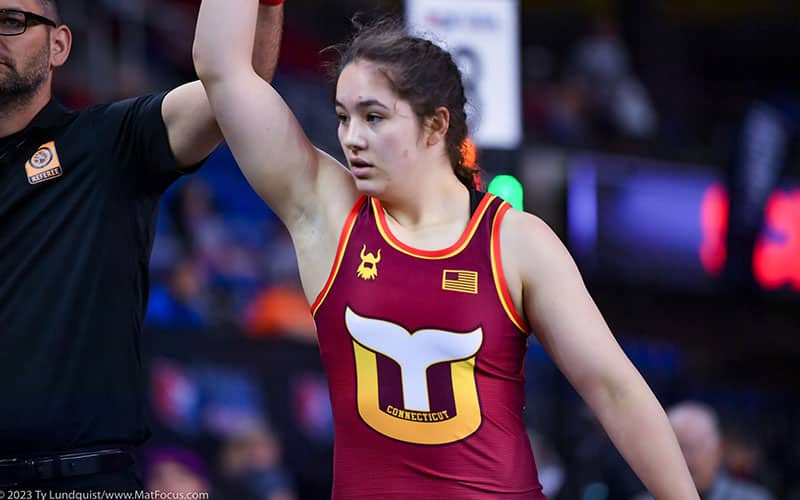 Returning champion Sarah Henckel of Connecticut, after an early victory at the 2023 USMC 16U Women's Nationals. Photo by Ty Lundquist, Mat Focus
Traditionally, the
USMC 16U Women's Nationals
is an opportunity for many young women to make a name for themselves on the national scene in freestyle wrestling.
However, the already-established stars at the 16U level had a strong start during the first session of the 16U division on Friday morning.
Sarah Henckel
of Connecticut, the only returning 2022 16U Nationals champion, opened her tournament at 152 pounds with a 10-0 technical fall over Kassandra Barber of Oregon and an 11-0 technical fall over Audrey Segura of California. She will face Kate Simmons of Ohio in the next round this afternoon.
In addition, the four returning 16U Nationals runners-up also powered through the first session unscathed:
Mary Manis
of Florida (106),
Isabella Marie Gonzales
of California (117),
Carley Ceshker
of Wisconsin (127),
Skylar Slade
of Iowa (144) and
Piper Fowler
of Tennessee (164).These four athletes were a combined 8-0 for the session, with six technical falls and two pins.
Jordyn Fouse
of Pennsylvania, a Junior Nationals runner-up and 16U All-American last year, opened up with a technical fall and a pin at 132 pounds.
The 16U Women's Freestyle Nationals featured 740 entries, and when combined with the Junior Women's Nationals, consisted of 48 states and one U.S. territory. Combined, 1,593 women were in competition on the 30 mats in the FargoDome today. There will be 3,130 matches over the two days in the women's divisions.
There were some early matches which nationally ranked athlete was defeated, or a pair of ranked wrestlers battled. A few included:
• #13 Regina Stoeser (SD) dec. #18 Claudia Heeney (IL), 9-4 at 122 pounds
• Unranked Rianna Bernal (CA) dec. No. 21 Alena Williams (AR), 10-8 at 117 pounds
• #27 Journie Rodriguez (PA) dec. #18 Angela Bianchi (WI), 5-5 at 112 pounds
• Unranked Madeline Haynes (MO) dec. #18 Cassandra Gonzales (MN), 5-2 at 132 pounds
• #25 Teegan Sibble (NY) dec. #14 Taylor Whiting (WI), 7-5 at 106 pounds
• Unranked Lucia Ledesma (CA) dec. #29 Jahlia Miguel (HI), 8-0 at 144 pounds
There are four National Girls High School Pound-For-Pound ranked wrestlers in the 16U draw, and they all have advanced without a loss: No. 11
Morgan Turner
of Illinois, No. 13 Fowler, No. 22 Gonzales and No. 25 Carley Ceshker of Wisconsin.
There are no 16U athletes entered who are eligible for a 16U Triple Crown this year.
Although no teams have scored any points yet, a number have pushed a large group of wrestlers into the championship round of 16. This includes Missouri with 18, California with 16, Pennsylvania with 13, Illinois with 12 and Michigan with 12.
The second session, which will include quarterfinal action, will begin at 4:00 p.m. Central Time.
Enjoy #Fargo202 all week long
live on FloWrestling