News
USA Wrestling
High School & Youth
USAW
Nosler, Carder among double champions at USA Wrestling Southern Plains Regional
by Savannah Asmann, USA Wrestling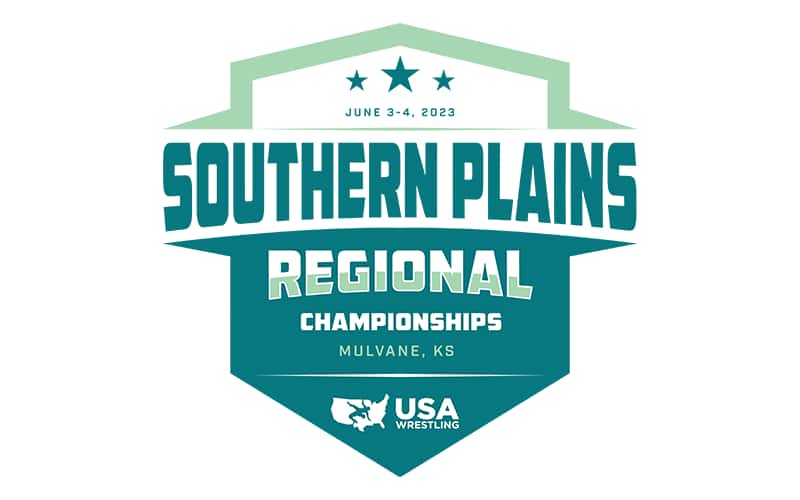 MULVANE, Kan. – The USA Wrestling Regionals series continued with the Southern Plains Regional Championships being held at Kansas Star Event Center in Mulvane, Kansas.

There were four double champions in the Junior boys division, athletes who won both the freestyle and Greco-Roman styles: Jace Hedeman of Iowa, Derek Johnson of Kansas, Payton Thomas of Oklahoma and Nick Nosler of Illinois.

Seven competitors in the 16U boys division doubled up on gold medals: Gavin Landers of Iowa, Zaiyahn Ornelas of Nebraska, Thomas Verrette of Colorado, Trae Rios of Oklahoma, Jackson Rotterman of Missouri, Devin Lacroix of Oklahoma and Brayden Hill of Kansas.

The Junior girls had seven athletes win first place in both freestyle and Greco-Roman tournaments: Zoey Haney of Missouri, Destiny Jones of Oklahoma, Mackenzie Carder of Ohio, Janessa George of Colorado, Bella Williams of Oklahoma, Naomi Simon of Iowa and Alexis Stinson of Missouri.

Six competitors brought home double titles in the 16U girls division: Mackenzie Carder of Ohio, Kaylyn Harrill of Nebraska, Kaylan Hitchcock of Kansas, Lynn Horn of Oklahoma, Savanna Franklin of Missouri and Ryleigh Lefkowitz of Oklahoma.

The top six boys and top six girls in each weight class in the Junior and 16U divisions have qualified for their state teams for the 2023 USMC Junior and 16U Nationals in Fargo, N.D.

There were also tournaments held in both freestyle and Greco-Roman at the 14U, 12U, 10U and 8U divisions for both boys and girls. Results for each weight class can be found below, with complete brackets available at Trackwrestling.com.

2023 USA Wrestling Southern Plains Regional Championships
At Kansas Star Event Center, Mulvane, Kan., June 3-4

Junior Boys Freestyle Results
106 pounds
1st Place - Gavin Miller of OK
2nd Place - Damian Trujillo of NM

Round 1
Gavin Miller (OK) won by tech fall over Damian Trujillo (NM) (TF 21-10)
Round 2
Damian Trujillo (NM) won by tech fall over Gavin Miller (OK) (TF 15-4)
Round 3
Gavin Miller (OK) won by tech fall over Damian Trujillo (NM) (TF 10-0)

113 pounds
1st Place - Jace Hedeman of IA
2nd Place - Jason Goodin of OK
3rd Place - Ezekiel Witt of KS
4th Place - Cadyn Coyle of NE
6th Place - Jaiden Rutledge of OK
6th Place - Isaiah Flores of NM

1st Place Match
Jace Hedeman (IA) won by tech fall over Jason Goodin (OK) (TF 12-2)
3rd Place Match
Ezekiel Witt (KS) won by tech fall over Cadyn Coyle (NE) (TF 10-0)

120 pounds
1st Place - Christopher Kiser of OK
2nd Place - Isaac Gibbs of TX
3rd Place - Stockton Allen of OK
4th Place - Devon Harrison of MO
6th Place - Lucas Kaufman of KS
6th Place - Vinny Mayberry of IA

1st Place Match
Christopher Kiser (OK) won by tech fall over Isaac Gibbs (TX) (TF 10-0)
3rd Place Match
Stockton Allen (OK) won by fall over Devon Harrison (MO) (Fall 0:22)
5th Place Match

126 pounds
1st Place - Jj McComas-Rogers of OK
2nd Place - Theodore Flores of IL
3rd Place - Sardorbek Usmonov of CA
4th Place - Cash Donnell of OK
6th Place - Eli Kirk of OK
6th Place - Javin Douglas of OK

1st Place Match
Jj McComas-Rogers (OK) won by tech fall over Theodore Flores (IL) (TF 10-0)
3rd Place Match
Sardorbek Usmonov (CA) won by injury default over Cash Donnell (OK) (Inj. 0:00)
5th Place Match

132 pounds
1st Place - Gage Walker of OK
2nd Place - Matthew Beem of IA
3rd Place - Lincoln Gregersen of CO
4th Place - Miles Velasquez of OK
6th Place - Dillon Cooper of KS
6th Place - Davis Joiner of MO

1st Place Match
Gage Walker (OK) won by decision over Matthew Beem (IA) (Dec 2-1)
3rd Place Match
Lincoln Gregersen (CO) won by decision over Miles Velasquez (OK) (Dec 7-5)
5th Place Match

138 pounds
1st Place - Hunter Hollingsworth of OK
2nd Place - Cal Price of NE
3rd Place - Nikaylen Shabazz of KS
4th Place - Tyson Brown of NE
6th Place - Daniel Armstrong of AR
6th Place - Hudson Hackbarth of OK

1st Place Match
Hunter Hollingsworth (OK) won by tech fall over Cal Price (NE) (TF 12-0)
3rd Place Match
Nikaylen Shabazz (KS) won by tech fall over Tyson Brown (NE) (TF 10-0)
5th Place Match

145 pounds
1st Place - Bas Diaz of IA
2nd Place - Dorian Olivarez of TX
3rd Place - Trey Dillow of KS
4th Place - Blake Boyer of PA
6th Place - Marco Dalakishvili of MO
6th Place - Blaine Ortiz of MO

1st Place Match
Bas Diaz (IA) won by decision over Dorian Olivarez (TX) (Dec 5-4)
3rd Place Match
Trey Dillow (KS) won by tech fall over Blake Boyer (PA) (TF 14-4)
5th Place Match

152 pounds
1st Place - Kody Routledge of OK
2nd Place - Lane Snyder of MO
3rd Place - Kael Voinovich of OK
4th Place - Cole Mayfield of OK
6th Place - Finn Shepard of TX
6th Place - Jd Sigman of OK

1st Place Match
Kody Routledge (OK) won by tech fall over Lane Snyder (MO) (TF 18-8)
3rd Place Match
Kael Voinovich (OK) won by fall over Cole Mayfield (OK) (Fall 4:42)
5th Place Match

160 pounds
1st Place - Michael Myers of NE
2nd Place - Merrik Murray of MO
3rd Place - Braxton Strick of MO
4th Place - Kaiden Antonacci of TX
6th Place - Colin McAlister of KS
6th Place - Joseph Kennedy of MN

1st Place Match
Michael Myers (NE) won by tech fall over Merrik Murray (MO) (TF 11-1)
3rd Place Match
Braxton Strick (MO) won by tech fall over Kaiden Antonacci (TX) (TF 10-0)
5th Place Match

170 pounds
1st Place - Derek Johnson of KS
2nd Place - Samuel Schmidt of OK
3rd Place - Khale McDonnell of CA
4th Place - Parker Guge of KS
6th Place - Talon McCollom of OK
6th Place - Jacob Luce of IL

1st Place Match
Derek Johnson (KS) won by tech fall over Samuel Schmidt (OK) (TF 12-0)
3rd Place Match
Khale McDonnell (CA) won by tech fall over Parker Guge (KS) (TF 10-0)
5th Place Match

182 pounds
1st Place - Peyton Westpfahl of MO
2nd Place - Holden Martin of OK
3rd Place - Connor Padgett of KS
4th Place - Danny Diaz of IA
6th Place - Ryan Rainey of TX
6th Place - Bryor Newbold of IL

1st Place Match
Peyton Westpfahl (MO) won by decision over Holden Martin (OK) (Dec 3-1)
3rd Place Match
Connor Padgett (KS) won by decision over Danny Diaz (IA) (Dec 8-2)
5th Place Match

195 pounds
1st Place - Payton Thomas of OK
2nd Place - Ryland Whitworth of CA
3rd Place - Isaac Villalobos of OK
4th Place - Carlos Alvarado of OK
6th Place - Isaiah Francis of TX
6th Place - Liam Daniels of OK

1st Place Match
Payton Thomas (OK) won by tech fall over Ryland Whitworth (CA) (TF 14-3)
3rd Place Match
Isaac Villalobos (OK) won by fall over Carlos Alvarado (OK) (Fall 0:57)
5th Place Match

220 pounds
1st Place - Nick Nosler of IL
2nd Place - Torin Forsyth of KS
3rd Place - Jake Fernandez of MO
4th Place - Cooper Johnson of TX
6th Place - Pierce Cunningham of KS
6th Place - Blaize Baxter of OK

1st Place Match
Nick Nosler (IL) won by decision over Torin Forsyth (KS) (Dec 6-0)
3rd Place Match
Jake Fernandez (MO) won by tech fall over Cooper Johnson (TX) (TF 17-7)
5th Place Match

285 pounds
1st Place - Jackson Barnhart of IL
2nd Place - Jayce Hitt of MO
3rd Place - Rodney Trotter Jr. of TX
4th Place - Callen Smithpeter of MO
6th Place - Clayton Frehn of KS
6th Place - Noah Gomez of IL

1st Place Match
Jackson Barnhart (IL) won by tech fall over Jayce Hitt (MO) (TF 13-0)
3rd Place Match
Rodney Trotter Jr. (TX) won by decision over Callen Smithpeter (MO) (Dec 14-10)

Junior Boys Greco-Roman Results
106 pounds
1st Place - Damian Trujillo of NM
2nd Place - Gavin Miller of OK

Round 1
Damian Trujillo (NM) won by fall over Gavin Miller (OK) (Fall 1:42)
Round 2
Damian Trujillo (NM) won by fall over Gavin Miller (OK) (Fall 2:59)

113 pounds
1st Place - Jace Hedeman of IA
2nd Place - Ezekiel Witt of KS
3rd Place - Jason Goodin of OK
4th Place - Cadyn Coyle of NE
6th Place - Jaiden Rutledge of OK
6th Place - Isaiah Flores of NM

1st Place Match
Jace Hedeman (IA) won by decision over Ezekiel Witt (KS) (Dec 5-3)
3rd Place Match
Jason Goodin (OK) won by fall over Cadyn Coyle (NE) (Fall 5:30)

120 pounds
1st Place - Isaac Gibbs of TX
2nd Place - Kaiden Powell of KS
3rd Place - Vinny Mayberry of IA
4th Place - Logan Edwards of NE
6th Place - Hudson Beckley of OK
6th Place - Evan Harrington of TX

1st Place Match
Isaac Gibbs (TX) won by tech fall over Kaiden Powell (KS) (TF 10-0)
3rd Place Match
Vinny Mayberry (IA) won by tech fall over Logan Edwards (NE) (TF 12-4)

126 pounds
1st Place - Cash Donnell of OK
2nd Place - Eli Kirk of OK
3rd Place - Theodore Flores of IL
4th Place - Henri McGivern of KS
6th Place - Javin Douglas of OK
6th Place - Nino Vidic of OK

1st Place Match
Cash Donnell (OK) won by tech fall over Eli Kirk (OK) (TF 12-1)
3rd Place Match
Theodore Flores (IL) won by tech fall over Henri McGivern (KS) (TF 9-0)

132 pounds
1st Place - Matthew Beem of IA
2nd Place - Davis Joiner of MO
3rd Place - Dillon Cooper of KS
4th Place - Colby Crouch of IL
6th Place - Holden Brazelton of IL
6th Place - Carson Ochs of KS

1st Place Match
Matthew Beem (IA) won by tech fall over Davis Joiner (MO) (TF 9-1)
3rd Place Match
Dillon Cooper (KS) won by tech fall over Colby Crouch (IL) (TF 8-0)

138 pounds
1st Place - Cal Price of NE
2nd Place - Jesse Loges of NE
3rd Place - Nikaylen Shabazz of KS
4th Place - Nathanial Higgins of AZ
6th Place - Tyson Brown of NE
6th Place - Christopher Garrett Jr of OK

1st Place Match
Cal Price (NE) won by tech fall over Jesse Loges (NE) (TF 8-0)
3rd Place Match
Nikaylen Shabazz (KS) won by tech fall over Nathanial Higgins (AZ) (TF 8-0)

145 pounds
1st Place - Chase Short of MO
2nd Place - Trey Dillow of KS
3rd Place - Dylan Milster of TX
4th Place - Ethan Sylvester of MN
6th Place - Marco Dalakishvili of MO
6th Place - Cash Sessions of OK

1st Place Match
Chase Short (MO) won by fall over Trey Dillow (KS) (Fall 2:31)
3rd Place Match
Dylan Milster (TX) won by decision over Ethan Sylvester (MN) (Dec 7-2)

152 pounds
1st Place - Lane Snyder of MO
2nd Place - Royce Uhrig of CO
3rd Place - David Burchett of CO
4th Place - Benjamin Smith of AR
6th Place - Jake Moon of TX
6th Place - Jd Sigman of OK

1st Place Match
Lane Snyder (MO) won by tech fall over Royce Uhrig (CO) (TF 8-0)
3rd Place Match
David Burchett (CO) won by decision over Benjamin Smith (AR) (Dec 11-10)

160 pounds
1st Place - Jude Randall of OK
2nd Place - Braxton Strick of MO
3rd Place - Michael Myers of NE
4th Place - Merrik Murray of MO
6th Place - Creyo Koop of KS
6th Place - Skyler Geer of KS

1st Place Match
Jude Randall (OK) won by tech fall over Braxton Strick (MO) (TF 11-2)
3rd Place Match
Michael Myers (NE) won by tech fall over Merrik Murray (MO) (TF 11-0)

170 pounds
1st Place - Derek Johnson of KS
2nd Place - Luke Hancock of KS
3rd Place - Dante Hutchings of CO
4th Place - Parker Guge of KS
6th Place - Ian Mitchell of OK
6th Place - Jackson Jones of MO

1st Place Match
Derek Johnson (KS) won by fall over Luke Hancock (KS) (Fall 1:22)
3rd Place Match
Dante Hutchings (CO) won by decision over Parker Guge (KS) (Dec 5-3)

182 pounds
1st Place - Holden Martin of OK
2nd Place - Deontre Buttram of OK
3rd Place - Connor Padgett of KS
4th Place - Bryor Newbold of IL
6th Place - Augustus Johns of KS
6th Place - Samuel Watkins of KS

1st Place Match
Holden Martin (OK) won by tech fall over Deontre Buttram (OK) (TF 10-1)
3rd Place Match
Connor Padgett (KS) won by tech fall over Bryor Newbold (IL) (TF 8-0)

195 pounds
1st Place - Payton Thomas of OK
2nd Place - Micah Martinez of NM
3rd Place - Ryland Whitworth of CA
4th Place - Nathan Fury of KS
6th Place - Isaiah Francis of TX
6th Place - Carlos Alvarado of OK

1st Place Match
Payton Thomas (OK) won by fall over Micah Martinez (NM) (Fall 1:27)
3rd Place Match
Ryland Whitworth (CA) won by tech fall over Nathan Fury (KS) (TF 9-0)

220 pounds
1st Place - Nick Nosler of IL
2nd Place - Torin Forsyth of KS
3rd Place - Draven Pipkin of KS
4th Place - Hank Natali of MO
6th Place - Elijah Mathis of KS
6th Place - Pierce Cunningham of KS

1st Place Match
Nick Nosler (IL) won by decision over Torin Forsyth (KS) (Dec 6-0)
3rd Place Match
Draven Pipkin (KS) won by tech fall over Hank Natali (MO) (TF 13-3)

285 pounds
1st Place - Richard Thomas of OK
2nd Place - Jackson Barnhart of IL
3rd Place - Jayce Hitt of MO
4th Place - Clayton Frehn of KS
6th Place - Nathan Willoughby of ID
6th Place - Rodney Trotter Jr. of TX

1st Place Match
Richard Thomas (OK) won by decision over Jackson Barnhart (IL) (Dec 6-3)
3rd Place Match
Jayce Hitt (MO) won by tech fall over Clayton Frehn (KS) (TF 8-0)

Junior Girls Freestyle Results
100 pounds
1st Place - Zoey Haney of MO
2nd Place - Jaidyn Alvarado of KS
3rd Place - Mya Hairston of MO
4th Place - Amelia Hermanson of MN
5th Place - Phoenix West of KS

Round 1
Zoey Haney (MO) won by tech fall over Mya Hairston (MO) (TF 10-0)
Jaidyn Alvarado (KS) won by fall over Phoenix West (KS) (Fall 1:03)
Round 2
Amelia Hermanson (MN) won by fall over Phoenix West (KS) (Fall 0:29)
Zoey Haney (MO) won by tech fall over Jaidyn Alvarado (KS) (TF 13-2)
Round 3
Jaidyn Alvarado (KS) won by tech fall over Amelia Hermanson (MN) (TF 10-0)
Mya Hairston (MO) won by tech fall over Phoenix West (KS) (TF 10-0)
Round 4
Mya Hairston (MO) won by tech fall over Amelia Hermanson (MN) (TF 10-0)
Zoey Haney (MO) won by fall over Phoenix West (KS) (Fall 0:52)
Round 5
Zoey Haney (MO) won by tech fall over Amelia Hermanson (MN) (TF 10-0)
Jaidyn Alvarado (KS) won by tech fall over Mya Hairston (MO) (TF 14-4)

106 pounds
1st Place - Destiny Jones of OK
2nd Place - Molly Spader of KS
3rd Place - Blayklee Vasquez of OK
4th Place - Ryleigh Page of KS
6th Place - Payton Burton of KS
6th Place - Madison Haney of MO

1st Place Match
Destiny Jones (OK) won by tech fall over Molly Spader (KS) (TF 12-2)
3rd Place Match
Blayklee Vasquez (OK) won by fall over Ryleigh Page (KS) (Fall 0:23)

112 pounds
1st Place - Mackenzie Carder of OH
2nd Place - Sarah Zimmerman of KS
3rd Place - Holly Thacher of KS
4th Place - Josiah Ortiz of KS
6th Place - Aroma Marrufo of MO
6th Place - Jaden Breeden of MO

1st Place Match
Mackenzie Carder (OH) won by fall over Sarah Zimmerman (KS) (Fall 4:16)
3rd Place Match
Holly Thacher (KS) won by decision over Josiah Ortiz (KS) (Dec 10-6)

117 pounds
1st Place - Cassidy Benwell of MO
2nd Place - Mia Hargrove of CO
3rd Place - Hannah Rocklin of CO
4th Place - Madison Roe of OK
6th Place - Hanah Schuster of MN
6th Place - Abigail Butts of OK

1st Place Match
Cassidy Benwell (MO) won by decision over Mia Hargrove (CO) (Dec 6-0)
3rd Place Match
Hannah Rocklin (CO) won by tech fall over Madison Roe (OK) (TF 12-2)

122 pounds
1st Place - Janessa George of CO
2nd Place - Leiannah Landreth of KS
3rd Place - Kelsey Watts of MO
4th Place - Trinity Rakestraw of OK
6th Place - Laila Mirza of OK
6th Place - Jaida McGeisey of OK

1st Place Match
Janessa George (CO) won by fall over Leiannah Landreth (KS) (Fall 2:26)
3rd Place Match
Kelsey Watts (MO) won by decision over Trinity Rakestraw (OK) (Dec 15-14)

127 pounds
1st Place - Bella Williams of OK
2nd Place - Madison Canales of TX
3rd Place - Nella Dolan of NE
4th Place - Hanna Bailey of KS
6th Place - Ava Griffey of MO
6th Place - EmmaLyn Burnett of MO

1st Place Match
Bella Williams (OK) won by decision over Madison Canales (TX) (Dec 8-4)
3rd Place Match
Nella Dolan (NE) won by fall over Hanna Bailey (KS) (Fall 1:14)

132 pounds
1st Place - Aubrianna Smith of OK
2nd Place - Taylor Miess of CO
3rd Place - Faith James of MO
4th Place - Teani Medeiros-Maielua of HI
6th Place - Amanda Jaeger of KS
6th Place - Isabella Keesee of KS

1st Place Match
Aubrianna Smith (OK) won by fall over Taylor Miess (CO) (Fall 2:03)
3rd Place Match
Faith James (MO) won by fall over Teani Medeiros-Maielua (HI) (Fall 0:30)

138 pounds
1st Place - Sevreign Aumua of MO
2nd Place - Annelise Obermark of MO
3rd Place - Shelby Kemp of OK
4th Place - Ashlan Thompson of MO
6th Place - Jacinda Espinosa of MO
6th Place - Madeline Barton of MO

1st Place Match
Sevreign Aumua (MO) won by fall over Annelise Obermark (MO) (Fall 0:44)
3rd Place Match
Shelby Kemp (OK) won by injury default over Ashlan Thompson (MO) (Inj. 1:05)

144 pounds
1st Place - Brenya Crahan of MO
2nd Place - Presley Givens of AR
3rd Place - Louise Juitt of MO
4th Place - Emma Stice of NE
6th Place - Zayla Vann of MO
6th Place - Corin Lowe of OK

1st Place Match
Brenya Crahan (MO) won by tech fall over Presley Givens (AR) (TF 10-0)
3rd Place Match
Louise Juitt (MO) won by fall over Emma Stice (NE) (Fall 4:01)

152 pounds
1st Place - Kaylee Davis of OK
2nd Place - Kammie Schanz of KS
3rd Place - Avari Johnson of KS
4th Place - Brynn Elkins of MO
6th Place - Katelyn Schmidt of KS
6th Place - Justice Thomas of KS

1st Place Match
Kaylee Davis (OK) won by fall over Kammie Schanz (KS) (Fall 1:37)
3rd Place Match
Avari Johnson (KS) won by fall over Brynn Elkins (MO) (Fall 0:23)

164 pounds
1st Place - Naomi Simon of IA
2nd Place - Alana Thelin of MO
3rd Place - Chloe Harris of KS
4th Place - Alissa Castro of AR
6th Place - Chelsea Rivera of NM
6th Place - Taryn Meek of KS

1st Place Match
Naomi Simon (IA) won by fall over Alana Thelin (MO) (Fall 2:10)
3rd Place Match
Chloe Harris (KS) won by tech fall over Alissa Castro (AR) (TF 13-0)

180 pounds
1st Place - Kali Hayden of OK
2nd Place - Siara Arrington of OK
3rd Place - Symphony Veloz of OK
4th Place - Hailey Romero of MO
6th Place - Juliana LeFort of TX
6th Place - Archer Jones of AR

1st Place Match
Kali Hayden (OK) won by fall over Siara Arrington (OK) (Fall 3:28)
3rd Place Match
Symphony Veloz (OK) won by fall over Hailey Romero (MO) (Fall 2:33)

200 pounds
1st Place - Druzzla Johnson of KS
2nd Place - Martha Hinneh of NE
3rd Place - Audree Willess of TX
4th Place - Stacey Nash of OK
6th Place - Aubrey Hunt of KS
6th Place - Morgan Miller of KS

1st Place Match
Druzzla Johnson (KS) won by fall over Martha Hinneh (NE) (Fall 0:15)
3rd Place Match
Audree Willess (TX) won by fall over Stacey Nash (OK) (Fall 4:12)

225 pounds
1st Place - Alexis Stinson of MO
2nd Place - Savannah Sistad of IA
3rd Place - Kinslee Collier of OK
4th Place - Heidi Benefield of AR

Round 1
Savannah Sistad (IA) won by fall over Heidi Benefield (AR) (Fall 1:55)
Alexis Stinson (MO) won by fall over Kinslee Collier (OK) (Fall 2:01)
Round 2
Savannah Sistad (IA) won by fall over Kinslee Collier (OK) (Fall 4:20)
Alexis Stinson (MO) won by fall over Heidi Benefield (AR) (Fall 2:58)
Round 3
Alexis Stinson (MO) won by fall over Savannah Sistad (IA) (Fall 4:20)
Kinslee Collier (OK) won by fall over Heidi Benefield (AR) (Fall 2:36)

Junior Girls Greco-Roman Results
100 pounds
1st Place - Zoey Haney of MO
2nd Place - Mckenzy Mason of MO

Round 1
Zoey Haney (MO) won by fall over Mckenzy Mason (MO) (Fall 0:57)
Round 2
Zoey Haney (MO) won by fall over Mckenzy Mason (MO) (Fall 1:43)

106 pounds
1st Place - Destiny Jones of OK
2nd Place - Molly Spader of KS
3rd Place - Madison Haney of MO

Round 1
Molly Spader (KS) won by fall over Madison Haney (MO) (Fall 0:45)
Round 2
Destiny Jones (OK) won by tech fall over Molly Spader (KS) (TF 10-2)
Round 3
Destiny Jones (OK) won by fall over Madison Haney (MO) (Fall 0:41)

112 pounds
1st Place - Mackenzie Carder of OH
2nd Place - Sarah Zimmerman of KS
3rd Place - Holly Thacher of KS
4th Place - Rosalia Rubio of NM
6th Place - Mariah Robbins of OK
6th Place - Kiana Suro of CO

1st Place Match
Mackenzie Carder (OH) won by fall over Sarah Zimmerman (KS) (Fall 0:47)
3rd Place Match
Holly Thacher (KS) won by decision over Rosalia Rubio (NM) (Dec 10-4)

117-122 pounds
1st Place - Janessa George of CO
2nd Place - Leiannah Landreth of KS
3rd Place - Cassidy Benwell of MO
4th Place - Trinity Rakestraw of OK
5th Place - Jaida McGeisey of OK

Round 1
Leiannah Landreth (KS) won by tech fall over Trinity Rakestraw (OK) (TF 12-2)
Janessa George (CO) won by fall over Jaida McGeisey (OK) (Fall 0:50)
Round 2
Cassidy Benwell (MO) won by fall over Jaida McGeisey (OK) (Fall 0:52)
Janessa George (CO) won by decision over Leiannah Landreth (KS) (Dec 10-9)
Round 3
Janessa George (CO) won by tech fall over Cassidy Benwell (MO) (TF 14-4)
Trinity Rakestraw (OK) won by fall over Jaida McGeisey (OK) (Fall 0:39)
Round 4
Cassidy Benwell (MO) won by decision over Trinity Rakestraw (OK) (Dec 12-11)
Jaida McGeisey (OK) won by fall over Leiannah Landreth (KS) (Fall 1:44)
Round 5
Leiannah Landreth (KS) won by fall over Cassidy Benwell (MO) (Fall 0:41)
Janessa George (CO) won by fall over Trinity Rakestraw (OK) (Fall 1:31)

127-132 pounds
1st Place - Bella Williams of OK
2nd Place - Aubrianna Smith of OK
3rd Place - Faith James of MO
4th Place - Teani Medeiros-Maielua of Hawaii
6th Place - Tyelor Rozell of KS
6th Place - Amanda Jaeger of KS

1st Place Match
Bella Williams (OK) won by decision over Aubrianna Smith (OK) (Dec 6-2)
3rd Place Match
Faith James (MO) won by fall over Teani Medeiros-Maielua (Hawaii) (Fall 1:24)

138 pounds
1st Place - Shelby Kemp of OK
2nd Place - Ashlan Thompson of MO
3rd Place - Lexi Burton of KS
4th Place - Hannah Lupton of OK
5th Place - Trysten Rittberger of OK

Round 1
Ashlan Thompson (MO) won by fall over Lexi Burton (KS) (Fall 4:26)
Shelby Kemp (OK) won by tech fall over Trysten Rittberger (OK) (TF 10-2)
Round 2
Hannah Lupton (OK) won by 3 caution rule over Trysten Rittberger (OK) (3 Cau.)
Shelby Kemp (OK) won by fall over Lexi Burton (KS) (Fall 0:39)
Round 3
Shelby Kemp (OK) won by tech fall over Hannah Lupton (OK) (TF 8-0)
Ashlan Thompson (MO) won by fall over Trysten Rittberger (OK) (Fall 2:50)
Round 4
Ashlan Thompson (MO) won by fall over Hannah Lupton (OK) (Fall 5:23)
Lexi Burton (KS) won by injury default over Trysten Rittberger (OK) (Inj. 0:00)
Round 5
Lexi Burton (KS) won by fall over Hannah Lupton (OK) (Fall 2:05)
Shelby Kemp (OK) won by fall over Ashlan Thompson (MO) (Fall 0:43)

144-152 pounds
1st Place - Louise Juitt of MO
2nd Place - Kaylee Davis of OK
3rd Place - Kammie Schanz of KS
4th Place - Brynn Elkins of MO
6th Place - Justice Thomas of KS
6th Place - Emery Anderson of AR

1st Place Match
Louise Juitt (MO) won by fall over Kaylee Davis (OK) (Fall 2:15)
3rd Place Match
Kammie Schanz (KS) won by tech fall over Brynn Elkins (MO) (TF 8-0)

164 pounds
1st Place - Naomi Simon of IA
2nd Place - Chloe Harris of KS
3rd Place - Chelsea Rivera of NM
4th Place - Alissa Castro of AR
5th Place - Taryn Meek of KS

Round 1
Naomi Simon (IA) won by tech fall over Chloe Harris (KS) (TF 12-3)
Alissa Castro (AR) won by fall over Taryn Meek (KS) (Fall 0:44)
Round 2
Chelsea Rivera (NM) won by tech fall over Taryn Meek (KS) (TF 13-4)
Chloe Harris (KS) won by tech fall over Alissa Castro (AR) (TF 12-3)
Round 3
Chelsea Rivera (NM) won by decision over Alissa Castro (AR) (Dec 10-6)
Naomi Simon (IA) won by tech fall over Taryn Meek (KS) (TF 8-0)
Round 4
Naomi Simon (IA) won by fall over Chelsea Rivera (NM) (Fall 0:50)
Chloe Harris (KS) won by fall over Taryn Meek (KS) (Fall 1:04)
Round 5
Chloe Harris (KS) won by fall over Chelsea Rivera (NM) (Fall 1:33)
Naomi Simon (IA) won by fall over Alissa Castro (AR) (Fall 2:01)

180 pounds
1st Place - Archer Jones of AR
2nd Place - Hailey Romero of MO

Round 1
Archer Jones (AR) won by fall over Hailey Romero (MO) (Fall 1:26)
Round 2
Hailey Romero (MO) won by fall over Archer Jones (AR) (Fall 2:04)
Round 3
Archer Jones (AR) won by tech fall over Hailey Romero (MO) (TF 14-5)

200 pounds
1st Place - Audree Willess of TX
2nd Place - Martha Hinneh of NE
3rd Place - Druzzla Johnson of KS
4th Place - Gabriella Nava of OK
6th Place - Aubrey Hunt of KS
6th Place - Rosa Zapata of OK

1st Place Match
Audree Willess (TX) won by fall over Martha Hinneh (NE) (Fall 1:55)
3rd Place Match
Druzzla Johnson (KS) won by fall over Gabriella Nava (OK) (Fall 0:29)

225 pounds
1st Place - Alexis Stinson of MO
2nd Place - Kinslee Collier of OK

Round 1
Alexis Stinson (MO) won by fall over Kinslee Collier (OK) (Fall 2:54)
Round 2
Kinslee Collier (OK) won by fall over Alexis Stinson (MO) (Fall 2:07)
Round 3
Alexis Stinson (MO) won by fall over Kinslee Collier (OK) (Fall 1:03)

16U Boys Freestyle Results
100 pounds
1st Place - Gavin Landers of IA
2nd Place - Cameron Jackson of CA
3rd Place - Oscar Gauna of KS
4th Place - Kristian DeClercq of IL
6th Place - Xzephren Donner of KS
6th Place - Jacob Kinzer of OK

1st Place Match
Gavin Landers (IA) won by tech fall over Cameron Jackson (CA) (TF 10-0)
3rd Place Match
Oscar Gauna (KS) won by decision over Kristian DeClercq (IL) (Dec 12-4)

106 pounds
1st Place - Zaiyahn Ornelas of NE
2nd Place - Cade Dunn of MO
3rd Place - Jordan Bell of MO
4th Place - Eli Sperry of MO
6th Place - Evan Litzsinger of MO
6th Place - Caleb Jones of OK

1st Place Match
Zaiyahn Ornelas (NE) won by tech fall over Cade Dunn (MO) (TF 11-0)
3rd Place Match
Jordan Bell (MO) won by fall over Eli Sperry (MO) (Fall 3:06)

113 pounds
1st Place - Mikey Ruiz of TX
2nd Place - Cale Vandermark of IA
3rd Place - Roman Luttrell of NM
4th Place - Matthew Tran of IA
6th Place - Garrett Beane of MO
6th Place - Jacob Alvarez of IL

1st Place Match
Mikey Ruiz (TX) won by decision over Cale Vandermark (IA) (Dec 6-2)
3rd Place Match
Roman Luttrell (NM) won by tech fall over Matthew Tran (IA) (TF 10-0)

120 pounds
1st Place - Tas Storer of CA
2nd Place - Brock Johnson of KS
3rd Place - Gus Cardinal of AZ
4th Place - Carter Wallis of MO
6th Place - Jet Brown of MO
6th Place - Cooper Stivers of KS

1st Place Match
Tas Storer (CA) won by tech fall over Brock Johnson (KS) (TF 10-0)
3rd Place Match
Gus Cardinal (AZ) won by forfeit over Carter Wallis (MO) (FF)
5th Place Match

126 pounds
1st Place - Valentine Popadiuc of NM
2nd Place - Devon Miller of OK
3rd Place - Michael Lopez of CO
4th Place - Jaylen Burge of CO
6th Place - Jake Kos of MN
6th Place - Jackson Yeatman of OK

1st Place Match
Valentine Popadiuc (NM) won by decision over Devon Miller (OK) (Dec 2-1)
3rd Place Match
Michael Lopez (CO) won by decision over Jaylen Burge (CO) (Dec 6-2)

132 pounds
1st Place - Luke Burgar of TX
2nd Place - Spencer Mosier of KS
3rd Place - Kamden Hooper of MO
4th Place - Cash Hatfield of IA
6th Place - Peyton Park of OK
6th Place - Kade Aguirre of NM

1st Place Match
Luke Burgar (TX) won by fall over Spencer Mosier (KS) (Fall 0:25)
3rd Place Match
Kamden Hooper (MO) won by tech fall over Cash Hatfield (IA) (TF 14-4)

138 pounds
1st Place - Thomas Verrette of CO
2nd Place - Mason Petersen of NE
3rd Place - Dj Wince of CO
4th Place - Taryn Nichols of MO
6th Place - Landen Kocher-Munoz of KS
6th Place - Daniel Gonzalez Jr. of NE

1st Place Match
Thomas Verrette (CO) won by tech fall over Mason Petersen (NE) (TF 10-0)
3rd Place Match
Dj Wince (CO) won by decision over Taryn Nichols (MO) (Dec 10-8)

145 pounds
1st Place - David Gleason of MO
2nd Place - Tyler Harrill of NE
3rd Place - Boden White of IA
4th Place - Gable Gross of MO
6th Place - Abram Owings of KS
6th Place - Riley James of MO

1st Place Match
David Gleason (MO) won by tech fall over Tyler Harrill (NE) (TF 11-0)
3rd Place Match
Boden White (IA) won by tech fall over Gable Gross (MO) (TF 11-0)

152 pounds
1st Place - Trae Rios of OK
2nd Place - Joseph Jeter of OK
3rd Place - Noah Rogers of MO
4th Place - Cole Aguirre of MO
6th Place - Augustus Smith of AR
6th Place - Noah Gonzalez of MO

1st Place Match
Trae Rios (OK) won by decision over Joseph Jeter (OK) (Dec 10-9)
3rd Place Match
Noah Rogers (MO) won by decision over Cole Aguirre (MO) (Dec 10-4)

160 pounds
1st Place - Riley Johnson of NE
2nd Place - Everett Joyce of KS
3rd Place - Kalob Ybarra of CO
4th Place - Darrell Smith of MO
6th Place - James Wojcikiewicz of IL
6th Place - Jack Sherrell of NE

1st Place Match
Riley Johnson (NE) won by tech fall over Everett Joyce (KS) (TF 11-0)
3rd Place Match
Kalob Ybarra (CO) won by fall over Darrell Smith (MO) (Fall 0:20)

170 pounds
1st Place - Eli Homan of MO
2nd Place - Tad Forsyth of KS
3rd Place - Jared Remington of TX
4th Place - Charlie Herting of CO
6th Place - Ryder Zdanczewicz of WI
6th Place - Kade Smith of KS

1st Place Match
Eli Homan (MO) won by decision over Tad Forsyth (KS) (Dec 7-0)
3rd Place Match
Jared Remington (TX) won by decision over Charlie Herting (CO) (Dec 11-8)

182 pounds
1st Place - Jackson Rotterman of MO
2nd Place - Cole Johnson of MO
3rd Place - Brice Henry of MO
4th Place - Amiri Mumba of NM
6th Place - Nicolas Kuykendall of TX
6th Place - Kyler Sallis of IA

1st Place Match
Jackson Rotterman (MO) won by tech fall over Cole Johnson (MO) (TF 17-7)
3rd Place Match
Brice Henry (MO) won by fall over Amiri Mumba (NM) (Fall 3:46)

195 pounds
1st Place - Caysen Curran of IA
2nd Place - Tommy Sexton of IA
3rd Place - Donovan Hodges of MO
4th Place - Aidan Copestick of AR
6th Place - Jesse Romero of MO
6th Place - Israel Zimmerman of KS

1st Place Match
Caysen Curran (IA) won by fall over Tommy Sexton (IA) (Fall 1:43)
3rd Place Match
Donovan Hodges (MO) won by tech fall over Aidan Copestick (AR) (TF 12-1)

220 pounds
1st Place - Devin Lacroix of OK
2nd Place - Alexander Copestick of AR
3rd Place - Michael Brown of OK
4th Place - Joseph Monge of IA
6th Place - Chason Daly of IL
6th Place - Pressley Jones of OK

1st Place Match
Devin Lacroix (OK) won by tech fall over Alexander Copestick (AR) (TF 11-0)
3rd Place Match
Michael Brown (OK) won by forfeit over Joseph Monge (IA) (FF)

285 pounds
1st Place - Brayden Hill of KS
2nd Place - Alejandro Gallegos of OK
3rd Place - Gavin Gagnon of OK
4th Place - Kyler Kuhn of MO
6th Place - Jt Kelso of IA
6th Place - Jonathan Romo of KS

1st Place Match
Brayden Hill (KS) won by tech fall over Alejandro Gallegos (OK) (TF 13-2)
3rd Place Match
Gavin Gagnon (OK) won by fall over Kyler Kuhn (MO) (Fall 3:10)

16U Boys Greco-Roman Results
100 pounds
1st Place - Gavin Landers of IA
2nd Place - Kristian DeClercq of IL
3rd Place - Oscar Gauna of KS
4th Place - Cameron Jackson of CA
6th Place - Xzephren Donner of KS
6th Place - Huston Robinson of OK

1st Place Match
Gavin Landers (IA) won by tech fall over Kristian DeClercq (IL) (TF 8-0)
3rd Place Match
Oscar Gauna (KS) won by tech fall over Cameron Jackson (CA) (TF 9-0)

106 pounds
1st Place - Zaiyahn Ornelas of NE
2nd Place - Evan Litzsinger of MO
3rd Place - Caleb Jones of OK
4th Place - Jordan Bell of MO
6th Place - Trey Tatham of CO
6th Place - Jeremy Welch of KS

1st Place Match
Zaiyahn Ornelas (NE) won by fall over Evan Litzsinger (MO) (Fall 0:25)
3rd Place Match
Caleb Jones (OK) won by decision over Jordan Bell (MO) (Dec 6-5)

113 pounds
1st Place - Roman Luttrell of NM
2nd Place - Mikey Ruiz of TX
3rd Place - Matthew Tran of IA
4th Place - Storm Rieck of KS
6th Place - Caeleb Hutchinson of KS
6th Place - Brody Heusel of OK

1st Place Match
Roman Luttrell (NM) won by tech fall over Mikey Ruiz (TX) (TF 8-0)
3rd Place Match
Matthew Tran (IA) won by tech fall over Storm Rieck (KS) (TF 11-1)

120 pounds
1st Place - Tas Storer of PVAA
2nd Place - Carter Wallis of MO
3rd Place - Jet Brown of MO
4th Place - Kyler Lester of OK
6th Place - Kaleb Mead of MN
6th Place - Hayden Wright of OK

1st Place Match
Tas Storer (PVAA) won by tech fall over Carter Wallis (MO) (TF 9-0)
3rd Place Match
Jet Brown (MO) won by tech fall over Kyler Lester (OK) (TF 9-0)

126 pounds
1st Place - Devon Miller of OK
2nd Place - Henry White of KS
3rd Place - Valentine Popadiuc of NM
4th Place - Jake Kos of MN
6th Place - Tyler Misenheimer of OK
6th Place - Orlando Mcclain of OK

1st Place Match
Devon Miller (OK) won by tech fall over Henry White (KS) (TF 9-0)
3rd Place Match
Valentine Popadiuc (NM) won by decision over Jake Kos (MN) (Dec 2-2)

132 pounds
1st Place - Christian St. Clair of OH
2nd Place - Cash Hatfield of IA
3rd Place - Luke Burgar of TX
4th Place - Kamden Hooper of MO
6th Place - Hunter Shike of IL
6th Place - Spencer Mosier of KS

1st Place Match
Christian St. Clair (OH) won by decision over Cash Hatfield (IA) (Dec 5-1)
3rd Place Match
Luke Burgar (TX) won by tech fall over Kamden Hooper (MO) (TF 8-0)

138 pounds
1st Place - Thomas Verrette of CO
2nd Place - Mason Petersen of NE
3rd Place - Daniel Gonzalez Jr. of NE
4th Place - Noah Johnson of MO
6th Place - Riley Clark of MN
6th Place - Julian Glover of KS

1st Place Match
Thomas Verrette (CO) won by tech fall over Mason Petersen (NE) (TF 8-0)
3rd Place Match
Daniel Gonzalez Jr. (NE) won by tech fall over Noah Johnson (MO) (TF 10-2)

145 pounds
1st Place - Thomas Toteh of OK
2nd Place - David Gleason of MO
3rd Place - Tyler Harrill of NE
4th Place - Boden White of IA
6th Place - Colton Kelley of NE
6th Place - Grayson Hagen of KS

1st Place Match
Thomas Toteh (OK) won by tech fall over David Gleason (MO) (TF 9-0)
3rd Place Match
Tyler Harrill (NE) won by tech fall over Boden White (IA) (TF 10-0)

152 pounds
1st Place - Trae Rios of OK
2nd Place - Noah Rogers of MO
3rd Place - Noah Gonzalez of MO
4th Place - Robert Nelson of NE
6th Place - Elijah Avery of MO
6th Place - Evan Bartholomaus of MN

1st Place Match
Trae Rios (OK) won by tech fall over Noah Rogers (MO) (TF 8-0)
3rd Place Match
Noah Gonzalez (MO) won by decision over Robert Nelson (NE) (Dec 4-2)

160 pounds
1st Place - Kalob Ybarra of CO
2nd Place - Everett Joyce of KS
3rd Place - Riley Johnson of NE
4th Place - Brady Martin of KS
6th Place - Abram Davidson of IL
6th Place - Jack Sherrell of NE

1st Place Match
Kalob Ybarra (CO) won by tech fall over Everett Joyce (KS) (TF 8-0)
3rd Place Match
Riley Johnson (NE) won by decision over Brady Martin (KS) (Dec 11-6)

170 pounds
1st Place - Jared Remington of TX
2nd Place - Tad Forsyth of KS
3rd Place - Camden Crew of OK
4th Place - Terrin Lawrenson of IA
6th Place - Chase Kivett of MO
6th Place - Uriah Delonia of OK

1st Place Match
Jared Remington (TX) won by tech fall over Tad Forsyth (KS) (TF 9-0)
3rd Place Match
Camden Crew (OK) won by fall over Terrin Lawrenson (IA) (Fall 1:48)

182 pounds
1st Place - Jackson Rotterman of MO
2nd Place - Kyler Sallis of IA
3rd Place - Amiri Mumba of NM
4th Place - Ange Badji of KS
6th Place - Nicolas Kuykendall of TX
6th Place - Case Warburton of AR

1st Place Match
Jackson Rotterman (MO) won by fall over Kyler Sallis (IA) (Fall 1:06)
3rd Place Match
Amiri Mumba (NM) won by tech fall over Ange Badji (KS) (TF 10-0)

195 pounds
1st Place - Wura Yinusa of OK
2nd Place - Tommy Sexton of IA
3rd Place - Caysen Curran of IA
4th Place - Jesse Romero of MO
6th Place - Israel Zimmerman of KS
6th Place - Aidan Copestick of AR

1st Place Match
Wura Yinusa (OK) won by fall over Tommy Sexton (IA) (Fall 0:30)
3rd Place Match
Caysen Curran (IA) won by fall over Jesse Romero (MO) (Fall 1:22)

220 pounds
1st Place - Devin Lacroix of OK
2nd Place - Joseph Monge of IA
3rd Place - Edwin Gomez of OK
4th Place - Chason Daly of IL
6th Place - Pressley Jones of OK
6th Place - Oscar Guerrero of OK

1st Place Match
Devin Lacroix (OK) won by decision over Joseph Monge (IA) (Dec 8-5)
3rd Place Match
Edwin Gomez (OK) won by fall over Chason Daly (IL) (Fall 0:25)

285 pounds
1st Place - Brayden Hill of KS
2nd Place - Jonathan Romo of KS
3rd Place - Kyler Kuhn of MO
4th Place - Gavin Gagnon of OK
6th Place - Alejandro Gallegos of OK
6th Place - Camden Laslo of NM

1st Place Match
Brayden Hill (KS) won by tech fall over Jonathan Romo (KS) (TF 8-0)
3rd Place Match
Kyler Kuhn (MO) won by decision over Gavin Gagnon (OK) (Dec 9-8)

16U Girls Freestyle Results
94 pounds
1st Place - Lilly Breeden of MO
2nd Place - Mckenzy Mason of MO
3rd Place - Averi Dawn of MO
4th Place - Carolina Northup of KS

Round 1
Lilly Breeden (MO) won by tech fall over Averi Dawn (MO) (TF 12-1)
Mckenzy Mason (MO) won by fall over Carolina Northup (KS) (Fall 2:33)
Round 2
Lilly Breeden (MO) won by tech fall over Mckenzy Mason (MO) (TF 10-0)
Averi Dawn (MO) won by fall over Carolina Northup (KS) (Fall 3:27)
Round 3
Lilly Breeden (MO) won by fall over Carolina Northup (KS) (Fall 1:03)
Mckenzy Mason (MO) won by tech fall over Averi Dawn (MO) (TF 10-0)

100 pounds
1st Place - Sandy Breeden of MO
2nd Place - Mallory Hernandez of OK

Round 1
Sandy Breeden (MO) won by tech fall over Mallory Hernandez (OK) (TF 10-0)
Round 2
Sandy Breeden (MO) won by tech fall over Mallory Hernandez (OK) (TF 10-0)
Round 3

106 pounds
1st Place - Addie Morse of OK
2nd Place - Kyrian Perez of OK
3rd Place - Dalani Hornbuckle of AR
4th Place - Killian Evans of MO
6th Place - Lillian Resendiz of OK
6th Place - Milla Andrews of AR

1st Place Match
Addie Morse (OK) won by tech fall over Kyrian Perez (OK) (TF 10-0)
3rd Place Match
Dalani Hornbuckle (AR) won by fall over Killian Evans (MO) (Fall 1:57)

112 pounds
1st Place - Mackenzie Carder of OH
2nd Place - Coty Sessions of OK
3rd Place - Jade Brundige of MO
4th Place - Kyana Huseynov of MO
6th Place - Suzannah Gray of OK
6th Place - Kyrstan Perez of OK

1st Place Match
Mackenzie Carder (OH) won by decision over Coty Sessions (OK) (Dec 8-6)
3rd Place Match
Jade Brundige (MO) won by fall over Kyana Huseynov (MO) (Fall 2:39)

117 pounds
1st Place - Kaylyn Harrill of NE
2nd Place - Aiyana Perkins of OK
3rd Place - Stella Segura of KS
4th Place - Sydney Stifter of MO
6th Place - Cashlie Bowman of OK
6th Place - Jessica Farmer of CO

1st Place Match
Kaylyn Harrill (NE) won by fall over Aiyana Perkins (OK) (Fall 3:02)
3rd Place Match
Stella Segura (KS) won by tech fall over Sydney Stifter (MO) (TF 10-0)

122 pounds
1st Place - Kaylan Hitchcock of KS
2nd Place - Macey Greene of MO
3rd Place - Launa Troutt of OK
4th Place - Riley Walker of MO
6th Place - Abbigail O`Kelly of OK
6th Place - Angelina Bezner of OK

1st Place Match
Kaylan Hitchcock (KS) won by tech fall over Macey Greene (MO) (TF 12-1)
3rd Place Match
Launa Troutt (OK) won by decision over Riley Walker (MO) (Dec 9-6)

127 pounds
1st Place - Lynn Horn of OK
2nd Place - Ashley Smith of NM
3rd Place - Kalynn Lyons of NE
4th Place - Molly Castille of NM
6th Place - Brooklyn Burenheide of KS
6th Place - Madison Hobbs of MO

1st Place Match
Lynn Horn (OK) won by fall over Ashley Smith (NM) (Fall 0:31)
3rd Place Match
Kalynn Lyons (NE) won by tech fall over Molly Castille (NM) (TF 10-0)

132 pounds
1st Place - Savanna Franklin of MO
2nd Place - Addison Harkins of MO
3rd Place - Rylin Beatty of MO
4th Place - Koti Best of KS
6th Place - Karoline Kendall of KS
6th Place - Kamora Merchant of MO

1st Place Match
Savanna Franklin (MO) won by fall over Addison Harkins (MO) (Fall 1:14)
3rd Place Match
Rylin Beatty (MO) won by fall over Koti Best (KS) (Fall 0:49)

138 pounds
1st Place - Millie Bradley of OK
2nd Place - Makaylee Cannon of OK
3rd Place - Alexis Means of KS
4th Place - Macy Gorczynski of OK
6th Place - Aubrey Brown of OK
6th Place - Jorgie Johnston of MO

1st Place Match
Millie Bradley (OK) won by decision over Makaylee Cannon (OK) (Dec 7-1)
3rd Place Match
Alexis Means (KS) won by fall over Macy Gorczynski (OK) (Fall 2:29)
5th Place Match

144 pounds
1st Place - Ryleigh Lefkowitz of OK
2nd Place - Jade Blackhart of NM
3rd Place - Addeline Graser of NE
4th Place - Me`ya Flowers of AR
6th Place - Camary Schmalzbach of MO
6th Place - Gabrielle Roth of KS

1st Place Match
Ryleigh Lefkowitz (OK) won by tech fall over Jade Blackhart (NM) (TF 11-0)
3rd Place Match
Addeline Graser (NE) won by fall over Me`ya Flowers (AR) (Fall 0:37)

152 pounds
1st Place - Makenna Howell of OK
2nd Place - Kaylen McAtee of KS
3rd Place - Carli Antonelli of OK
4th Place - Stefania Aranguiz of KS
6th Place - Sydney Taylor of KS
6th Place - Sophia Hoeme of KS

1st Place Match
Makenna Howell (OK) won by fall over Kaylen McAtee (KS) (Fall 0:45)
3rd Place Match
Carli Antonelli (OK) won by decision over Stefania Aranguiz (KS) (Dec 11-2)

164 pounds
1st Place - Alexandria Ray of OK
2nd Place - Chloe Harris of KS
3rd Place - Autumn Calvert of MO
4th Place - Kiley Dillow of KS
6th Place - Piper Zatechka of NE
6th Place - Adalia Del Real of MO

1st Place Match
Alexandria Ray (OK) won by decision over Chloe Harris (KS) (Dec 14-7)
3rd Place Match
Autumn Calvert (MO) won by decision over Kiley Dillow (KS) (Dec 10-6)

180 pounds
1st Place - Juliana LeFort of TX
2nd Place - Harmony Moore of MO
3rd Place - Kyra Cole of KS
4th Place - Alivia Juarez of MO
6th Place - Sienna Martinez of KS
6th Place - Nicole Fernandez of MO

1st Place Match
Juliana LeFort (TX) won by fall over Harmony Moore (MO) (Fall 0:12)
3rd Place Match
Kyra Cole (KS) won by tech fall over Alivia Juarez (MO) (TF 10-0)

16U Girls Greco-Roman Results
106 pounds
1st Place - Kyrian Perez of OK
2nd Place - Lillian Resendiz of OK

Round 1
Kyrian Perez (OK) won by tech fall over Lillian Resendiz (OK) (TF 8-0)
Round 2
Kyrian Perez (OK) won by fall over Lillian Resendiz (OK) (Fall 0:52)

112 pounds
1st Place - Mackenzie Carder of OH
2nd Place - Coty Sessions of OK
3rd Place - Suzannah Gray of OK
4th Place - Kyrstan Perez of OK
5th Place - Ariana Martinez of NM

Round 1
Coty Sessions (OK) won by decision over Suzannah Gray (OK) (Dec 6-1)
Kyrstan Perez (OK) won by fall over Ariana Martinez (NM) (Fall 0:43)
Round 2
Mackenzie Carder (OH) won by fall over Kyrstan Perez (OK) (Fall 1:14)
Coty Sessions (OK) won by fall over Ariana Martinez (NM) (Fall 1:57)
Round 3
Mackenzie Carder (OH) won by fall over Ariana Martinez (NM) (Fall 0:28)
Suzannah Gray (OK) won by decision over Kyrstan Perez (OK) (Dec 10-10)
Round 4
Mackenzie Carder (OH) won by fall over Suzannah Gray (OK) (Fall 0:45)
Coty Sessions (OK) won by fall over Kyrstan Perez (OK) (Fall 2:55)
Round 5
Mackenzie Carder (OH) won by decision over Coty Sessions (OK) (Dec 8-1)
Suzannah Gray (OK) won by tech fall over Ariana Martinez (NM) (TF 8-0)

117 pounds
1st Place - Kaylyn Harrill of NE
2nd Place - Hailey Kennedy of TX
3rd Place - Sydney Stifter of MO
4th Place - Addison Eddleman of MO
6th Place - Connie Burns of KS
6th Place - Cashlie Bowman of OK

1st Place Match
Kaylyn Harrill (NE) won by tech fall over Hailey Kennedy (TX) (TF 8-0)
3rd Place Match
Sydney Stifter (MO) won by fall over Addison Eddleman (MO) (Fall 0:32)

122 pounds
1st Place - Kaylan Hitchcock of KS
2nd Place - Angelina Bezner of OK
3rd Place - Abbigail O`Kelly of OK

Round 1
Kaylan Hitchcock (KS) won by tech fall over Abbigail O`Kelly (OK) (TF 10-0)
Round 2
Angelina Bezner (OK) won by tech fall over Abbigail O`Kelly (OK) (TF 8-0)
Round 3
Kaylan Hitchcock (KS) won by fall over Angelina Bezner (OK) (Fall 1:16)

127 pounds
1st Place - Lynn Horn of OK
2nd Place - Ashley Smith of NM
3rd Place - Brooklyn Burenheide of KS
4th Place - Molly Castille of NM
5th Place - Macie Blossom of OK

Round 1
Lynn Horn (OK) won by fall over Ashley Smith (NM) (Fall 0:29)
Brooklyn Burenheide (KS) won by fall over Molly Castille (NM) (Fall 0:26)
Round 2
Brooklyn Burenheide (KS) won by fall over Macie Blossom (OK) (Fall 0:23)
Ashley Smith (NM) won by fall over Molly Castille (NM) (Fall 0:34)
Round 3
Molly Castille (NM) won by fall over Macie Blossom (OK) (Fall 0:53)
Lynn Horn (OK) won by tech fall over Brooklyn Burenheide (KS) (TF 8-0)
Round 4
Lynn Horn (OK) won by tech fall over Macie Blossom (OK) (TF 8-0)
Ashley Smith (NM) won by fall over Brooklyn Burenheide (KS) (Fall 3:07)
Round 5
Ashley Smith (NM) won by tech fall over Macie Blossom (OK) (TF 8-0)
Lynn Horn (OK) won by fall over Molly Castille (NM) (Fall 0:26)

132 pounds
1st Place - Savanna Franklin of MO
2nd Place - Addison Harkins of MO
3rd Place - Ashlyn Hahn of KS
4th Place - Brylee James of MO

Round 1
Addison Harkins (MO) won by tech fall over Brylee James (MO) (TF 8-0)
Savanna Franklin (MO) won by fall over Ashlyn Hahn (KS) (Fall 0:30)
Round 2
Savanna Franklin (MO) won by fall over Addison Harkins (MO) (Fall 1:18)
Ashlyn Hahn (KS) won by fall over Brylee James (MO) (Fall 1:53)
Round 3
Addison Harkins (MO) won by tech fall over Ashlyn Hahn (KS) (TF 10-2)
Savanna Franklin (MO) won by tech fall over Brylee James (MO) (TF 10-0)

138 pounds
1st Place - Makaylee Cannon of OK
2nd Place - Alexis Means of KS
3rd Place - Millie Bradley of OK

Round 1
Makaylee Cannon (OK) won by decision over Alexis Means (KS) (Dec 11-10)
Round 2
Alexis Means (KS) won by fall over Millie Bradley (OK) (Fall 3:51)
Round 3
Makaylee Cannon (OK) won by fall over Millie Bradley (OK) (Fall 3:57)

144 pounds
1st Place - Ryleigh Lefkowitz of OK
2nd Place - Gabrielle Roth of KS
3rd Place - Jade Blackhart of NM
4th Place - Meghan Breger of OK

Round 1
Ryleigh Lefkowitz (OK) won by tech fall over Meghan Breger (OK) (TF 8-0)
Gabrielle Roth (KS) won by fall over Jade Blackhart (NM) (Fall 0:50)
Round 2
Ryleigh Lefkowitz (OK) won by fall over Gabrielle Roth (KS) (Fall 0:36)
Jade Blackhart (NM) won by tech fall over Meghan Breger (OK) (TF 9-1)
Round 3
Ryleigh Lefkowitz (OK) won by tech fall over Jade Blackhart (NM) (TF 10-0)
Gabrielle Roth (KS) won by tech fall over Meghan Breger (OK) (TF 8-0)

152 pounds
1st Place - Carli Antonelli of OK
2nd Place - Makenna Howell of OK
3rd Place - Sophia Hoeme of KS

Round 1
Makenna Howell (OK) won by fall over Sophia Hoeme (KS) (Fall 0:41)
Round 2
Carli Antonelli (OK) won by tech fall over Sophia Hoeme (KS) (TF 10-0)
Round 3
Carli Antonelli (OK) won by fall over Makenna Howell (OK) (Fall 2:20)

164-180 pounds
1st Place - Chloe Harris of KS
2nd Place - Alexandria Ray of OK
3rd Place - Autumn Calvert of MO
4th Place - Kiley Dillow of KS
5th Place - Sienna Martinez of KS

Round 1
Chloe Harris (KS) won by fall over Kiley Dillow (KS) (Fall 1:16)
Alexandria Ray (OK) won by fall over Sienna Martinez (KS) (Fall 1:38)
Round 2
Autumn Calvert (MO) won by tech fall over Sienna Martinez (KS) (TF 9-0)
Alexandria Ray (OK) won by decision over Kiley Dillow (KS) (Dec 6-2)
Round 3
Autumn Calvert (MO) won by decision over Alexandria Ray (OK) (Dec 5-1)
Chloe Harris (KS) won by fall over Sienna Martinez (KS) (Fall 1:15)
Round 4
Chloe Harris (KS) won by tech fall over Autumn Calvert (MO) (TF 10-2)
Kiley Dillow (KS) won by fall over Sienna Martinez (KS) (Fall 1:46)
Round 5
Autumn Calvert (MO) won by decision over Kiley Dillow (KS) (Dec 7-6)
Alexandria Ray (OK) won by tech fall over Chloe Harris (KS) (TF 16-8)

14U Boys Freestyle Results
71 pounds
1st Place - Rylan Sandoval of OK
2nd Place - Maddox Baker of AR
3rd Place - Wyler Allen of OK
4th Place - William ``Conner`` Craig of OK
6th Place - Chase Burrows of OK
6th Place - Abel Mixon of KS
1st Place Match
Rylan Sandoval (OK) won by tech fall over Maddox Baker (AR) (TF 12-0)
3rd Place Match
Wyler Allen (OK) won by decision over William ``Conner`` Craig (OK) (Dec 12-7)

77 pounds
1st Place - Alexander Hall of MO
2nd Place - John Cox of MO
3rd Place - Bo Courtney of OK
4th Place - Braxton Plunk of OK
6th Place - Keyen Koochel of KS
6th Place - Jayden Reyes of KS

1st Place Match
Alexander Hall (MO) won by decision over John Cox (MO) (Dec 8-2)
3rd Place Match
Bo Courtney (OK) won by decision over Braxton Plunk (OK) (Dec 10-6)

83 pounds
1st Place - Jackson Smith of OK
2nd Place - Ace Schweitzer of NE
3rd Place - Westin Pollock of OK
4th Place - Jericho Burkart of OK
6th Place - Mason Bruber of NE
6th Place - Xzander Donner of KS

1st Place Match
Jackson Smith (OK) won by fall over Ace Schweitzer (NE) (Fall 0:47)
3rd Place Match
Westin Pollock (OK) won by decision over Jericho Burkart (OK) (Dec 8-7)

87 pounds
1st Place - Zachary Donalson of AR
2nd Place - Caleb Barlow of OK
3rd Place - Carter Booze of NE
4th Place - Jai Robins of OK
6th Place - Alejandro Dieguez of KS
6th Place - Kabin Carder Ii of OH

1st Place Match
Zachary Donalson (AR) won by fall over Caleb Barlow (OK) (Fall 2:15)
3rd Place Match
Carter Booze (NE) won by decision over Jai Robins (OK) (Dec 4-1)

92 pounds
1st Place - Cooper Smith of KS
2nd Place - Drake Arnold of NE
3rd Place - Giovanni Ramos of OK
4th Place - Philip Streff of NE
6th Place - Benjamin Higgins of AZ
6th Place - Easton Reyes of OK

1st Place Match
Cooper Smith (KS) won by decision over Drake Arnold (NE) (Dec 6-4)
3rd Place Match
Giovanni Ramos (OK) won by tech fall over Philip Streff (NE) (TF 11-1)

97 pounds
1st Place - Cruz Enderle of MO
2nd Place - Matthew Valdez of NM
3rd Place - Revin Fipps of OK
4th Place - Calan Manley of MO
6th Place - Walker Kohlmeyer of MN
6th Place - Isaiah Tuttle of NE

1st Place Match
Cruz Enderle (MO) won by tech fall over Matthew Valdez (NM) (TF 10-0)
3rd Place Match
Revin Fipps (OK) won by tech fall over Calan Manley (MO) (TF 10-0)

102 pounds
1st Place - Blake Nevils of AR
2nd Place - Gabe Wassom of KS
3rd Place - Maddox Fields of OK
4th Place - Conner Chancellor of OK
6th Place - Carlos Sparks of OK
6th Place - Brody Black of IA

1st Place Match
Blake Nevils (AR) won by tech fall over Gabe Wassom (KS) (TF 10-0)
3rd Place Match
Maddox Fields (OK) won by tech fall over Conner Chancellor (OK) (TF 10-0)

106 pounds
1st Place - Aiden Jalajel of OK
2nd Place - Israel Guevara of NM
3rd Place - Gavin Shelton of MO
4th Place - Antonio Guebara of KS
6th Place - Miles Blanton of NM
6th Place - Zackry Mosier of KS

1st Place Match
Aiden Jalajel (OK) won by decision over Israel Guevara (NM) (Dec 9-2)
3rd Place Match
Gavin Shelton (MO) won by decision over Antonio Guebara (KS) (Dec 6-4)

110 pounds
1st Place - Luke Cline of MO
2nd Place - Trusten Lee Douglas of OK
3rd Place - Champ Thompson of OK
4th Place - Jasper Johns of KS
6th Place - Exavier Torres of KS
6th Place - Brody Schmitt of NE

1st Place Match
Luke Cline (MO) won by tech fall over Trusten Lee Douglas (OK) (TF 14-4)
3rd Place Match
Champ Thompson (OK) won by decision over Jasper Johns (KS) (Dec 11-6)

114 pounds
1st Place - Izayiah Chavez of TX
2nd Place - Brooks McCollom of OK
3rd Place - Landon Bedolla of KS
4th Place - Owen Burns of OK

Round 1
Izayiah Chavez (TX) won by decision over Brooks McCollom (OK) (Dec 7-1)
Landon Bedolla (KS) won by fall over Owen Burns (OK) (Fall 2:41)
Round 2
Brooks McCollom (OK) won by tech fall over Landon Bedolla (KS) (TF 11-0)
Izayiah Chavez (TX) won by fall over Owen Burns (OK) (Fall 1:12)
Round 3
Brooks McCollom (OK) won by tech fall over Owen Burns (OK) (TF 10-0)
Izayiah Chavez (TX) won by tech fall over Landon Bedolla (KS) (TF 10-0)

119 pounds
1st Place - Thunder Page of KS
2nd Place - Diesel Pedersen of OK
3rd Place - Bryson Burton of OK
4th Place - Cooper Miller of OK

Round 1
Thunder Page (KS) won by fall over Bryson Burton (OK) (Fall 3:34)
Diesel Pedersen (OK) won by tech fall over Cooper Miller (OK) (TF 10-0)
Round 2
Thunder Page (KS) won by tech fall over Diesel Pedersen (OK) (TF 11-0)
Bryson Burton (OK) won by tech fall over Cooper Miller (OK) (TF 10-0)
Round 3
Thunder Page (KS) won by fall over Cooper Miller (OK) (Fall 1:08)
Diesel Pedersen (OK) won by fall over Bryson Burton (OK) (Fall 1:55)

125 pounds
1st Place - Justus Heeg of OK
2nd Place - Kylan Ooton of OK
3rd Place - Baron Rosas of KS
4th Place - Jackson Paulsen of MO
6th Place - Kameron Green Jr. of NE
6th Place - Cooper Harris of KS

1st Place Match
Justus Heeg (OK) won by tech fall over Kylan Ooton (OK) (TF 12-2)
3rd Place Match
Baron Rosas (KS) won by decision over Jackson Paulsen (MO) (Dec 12-5)

130 pounds
1st Place - Levi Dicksion of OK
2nd Place - Dominic Stinson of MO
3rd Place - Michael Garman of NE
4th Place - Tayven Walker of MO
5th Place - Gabriel Recio of CO

Round 1
Michael Garman (NE) won by tech fall over Tayven Walker (MO) (TF 10-0)
Levi Dicksion (OK) won by tech fall over Gabriel Recio (CO) (TF 10-0)
Round 2
Dominic Stinson (MO) won by tech fall over Gabriel Recio (CO) (TF 10-0)
Levi Dicksion (OK) won by tech fall over Michael Garman (NE) (TF 11-0)
Round 3
Levi Dicksion (OK) won by decision over Dominic Stinson (MO) (Dec 10-5)
Tayven Walker (MO) won by tech fall over Gabriel Recio (CO) (TF 10-0)
Round 4
Dominic Stinson (MO) won by tech fall over Tayven Walker (MO) (TF 10-0)
Michael Garman (NE) won by tech fall over Gabriel Recio (CO) (TF 12-0)
Round 5
Dominic Stinson (MO) won by decision over Michael Garman (NE) (Dec 4-0)
Levi Dicksion (OK) won by fall over Tayven Walker (MO) (Fall 0:44)

136 pounds
1st Place - Lake Waters of MO
2nd Place - Corbin Wooley of OK
3rd Place - Devin Johnson of WI
4th Place - Max Harris of KS
6th Place - William Fullhart of IA
6th Place - Hunter Fields of OK

1st Place Match
Lake Waters (MO) won by tech fall over Corbin Wooley (OK) (TF 12-1)
3rd Place Match
Devin Johnson (WI) won by tech fall over Max Harris (KS) (TF 12-2)

149 pounds
1st Place - Mack Powell of OK
2nd Place - Jacob Hadden of OK
3rd Place - Austin Freisberg of KS
4th Place - Dresden Beard of KS
6th Place - Keith Remington of TX
6th Place - Dayven Cuba of KS

1st Place Match
Mack Powell (OK) won by tech fall over Jacob Hadden (OK) (TF 13-2)
3rd Place Match
Austin Freisberg (KS) won by fall over Dresden Beard (KS) (Fall 0:23)

165 pounds
1st Place - Tyrus Alley of MO
2nd Place - Rhodes Molenda of OK
3rd Place - Daniel Jackson of IL
4th Place - Rendor Hada of KS
6th Place - Ryland Basinger of CO
6th Place - Quinton Silvy of OK

1st Place Match
Tyrus Alley (MO) won by tech fall over Rhodes Molenda (OK) (TF 10-0)
3rd Place Match
Daniel Jackson (IL) won by tech fall over Rendor Hada (KS) (TF 12-2)

187 pounds
1st Place - Aiden Bruce of OK
2nd Place - Tucker Miller of MO

Round 1
Aiden Bruce (OK) won by tech fall over Tucker Miller (MO) (TF 10-0)
Round 2
Aiden Bruce (OK) won by tech fall over Tucker Miller (MO) (TF 10-0)

250 pounds
1st Place - Kendrick Vande Velde of KS
2nd Place - Paden Pearson of OK
3rd Place - William Bishop of KS

Round 1
Kendrick Vande Velde (KS) won by fall over William Bishop (KS) (Fall 3:45)
Round 2
Kendrick Vande Velde (KS) won by decision over Paden Pearson (OK) (Dec 8-4)
Round 3
Paden Pearson (OK) won by tech fall over William Bishop (KS) (TF 11-0)

14U Boys Greco-Roman Results
71 pounds
1st Place - Rylan Sandoval of OK
2nd Place - Maddox Baker of AR
3rd Place - Wyler Allen of OK
4th Place - Abel Mixon of KS
6th Place - Chase Burrows of OK
6th Place - William ``Conner`` Craig of OK

1st Place Match
Rylan Sandoval (OK) won by tech fall over Maddox Baker (AR) (TF 8-0)
3rd Place Match
Wyler Allen (OK) won by tech fall over Abel Mixon (KS) (TF 8-0)

77 pounds
1st Place - Alexander Hall of MO
2nd Place - Bo Courtney of OK
3rd Place - Braxton Plunk of OK
4th Place - Keyen Koochel of KS
5th Place - Jayden Reyes of KS

Round 1
Braxton Plunk (OK) won by decision over Keyen Koochel (KS) (Dec 6-1)
Bo Courtney (OK) won by fall over Jayden Reyes (KS) (Fall 1:53)
Round 2
Alexander Hall (MO) won by tech fall over Jayden Reyes (KS) (TF 8-0)
Keyen Koochel (KS) won by decision over Bo Courtney (OK) (Dec 6-5)
Round 3
Alexander Hall (MO) won by decision over Bo Courtney (OK) (Dec 6-0)
Braxton Plunk (OK) won by tech fall over Jayden Reyes (KS) (TF 8-0)
Round 4
Alexander Hall (MO) won by decision over Braxton Plunk (OK) (Dec 6-2)
Keyen Koochel (KS) won by tech fall over Jayden Reyes (KS) (TF 9-0)
Round 5
Alexander Hall (MO) won by tech fall over Keyen Koochel (KS) (TF 8-0)
Bo Courtney (OK) won by decision over Braxton Plunk (OK) (Dec 9-5)

83 pounds
1st Place - Ace Schweitzer of NE
2nd Place - Jackson Smith of OK
3rd Place - Jericho Burkart of OK
4th Place - Mason Bruber of NE
6th Place - Michael Robertson of AR
6th Place - Xzander Donner of KS

1st Place Match
Ace Schweitzer (NE) won by tech fall over Jackson Smith (OK) (TF 10-2)
3rd Place Match
Jericho Burkart (OK) won by tech fall over Mason Bruber (NE) (TF 9-0)

87 pounds
1st Place - Lewis Davis of AR
2nd Place - Zachary Donalson of AR
3rd Place - Carter Booze of NE
4th Place - Jai Robins of OK
6th Place - Kabin Carder Ii of OH
6th Place - Preston Ingram of MO

1st Place Match
Lewis Davis (AR) won by tech fall over Zachary Donalson (AR) (TF 8-0)
3rd Place Match
Carter Booze (NE) won by decision over Jai Robins (OK) (Dec 9-3)

92 pounds
1st Place - Drake Arnold of NE
2nd Place - Cooper Smith of KS
3rd Place - Benjamin Higgins of AZ
4th Place - Philip Streff of NE
5th Place - Easton Reyes of OK

Round 1
Cooper Smith (KS) won by decision over Philip Streff (NE) (Dec 10-3)
Easton Reyes (OK) won by tech fall over Benjamin Higgins (AZ) (TF 10-2)
Round 2
Drake Arnold (NE) won by tech fall over Benjamin Higgins (AZ) (TF 9-0)
Philip Streff (NE) won by tech fall over Easton Reyes (OK) (TF 15-6)
Round 3
Drake Arnold (NE) won by tech fall over Easton Reyes (OK) (TF 8-0)
Cooper Smith (KS) won by decision over Benjamin Higgins (AZ) (Dec 8-6)
Round 4
Drake Arnold (NE) won by decision over Cooper Smith (KS) (Dec 12-5)
Benjamin Higgins (AZ) won by tech fall over Philip Streff (NE) (TF 8-0)
Round 5
Drake Arnold (NE) won by tech fall over Philip Streff (NE) (TF 10-0)
Cooper Smith (KS) won by tech fall over Easton Reyes (OK) (TF 8-0)

97 pounds
1st Place - Calan Manley of MO
2nd Place - Matthew Valdez of NM
3rd Place - Benjamin Lawson of NE
4th Place - Walker Kohlmeyer of MN
6th Place - Isaiah Tuttle of NE
6th Place - Revin Fipps of OK

1st Place Match
Calan Manley (MO) won by decision over Matthew Valdez (NM) (Dec 7-6)
3rd Place Match
Benjamin Lawson (NE) won by decision over Walker Kohlmeyer (MN) (Dec 12-6)

102 pounds
1st Place - Blake Nevils of AR
2nd Place - Gabe Wassom of KS
3rd Place - Braden Heath of OK
4th Place - Perry Morgan of MO
6th Place - Colborn Trout of KS
6th Place - Conner Chancellor of OK

1st Place Match
Blake Nevils (AR) won by tech fall over Gabe Wassom (KS) (TF 14-6)
3rd Place Match
Braden Heath (OK) won by tech fall over Perry Morgan (MO) (TF 10-2)

106 pounds
1st Place - Aiden Jalajel of OK
2nd Place - Israel Guevara of NM
3rd Place - Antonio Guebara of KS
4th Place - Zackry Mosier of KS
6th Place - Miles Blanton of NM
6th Place - Colton Wilson of MO

1st Place Match
Aiden Jalajel (OK) won by tech fall over Israel Guevara (NM) (TF 8-0)
3rd Place Match
Antonio Guebara (KS) won by tech fall over Zackry Mosier (KS) (TF 9-1)

110 pounds
1st Place - Trusten Lee Douglas of OK
2nd Place - Luke Cline of MO
3rd Place - Brody Schmitt of NE
4th Place - Exavier Torres of KS
6th Place - Jasper Johns of KS
6th Place - Cole Genail of KS

1st Place Match
Trusten Lee Douglas (OK) won by decision over Luke Cline (MO) (Dec 12-6)
3rd Place Match
Brody Schmitt (NE) won by tech fall over Exavier Torres (KS) (TF 8-0)

114 pounds
1st Place - Brooks McCollom of OK
2nd Place - Landon Bedolla of KS

Round 1
Brooks McCollom (OK) won by tech fall over Landon Bedolla (KS) (TF 8-0)
Round 2
Brooks McCollom (OK) won by tech fall over Landon Bedolla (KS) (TF 8-0)

119 pounds
1st Place - Bryson Burton of OK
2nd Place - Thunder Page of KS
3rd Place - Diesel Pedersen of OK
4th Place - Cooper Miller of OK

Round 1
Thunder Page (KS) won by tech fall over Diesel Pedersen (OK) (TF 10-0)
Bryson Burton (OK) won by tech fall over Cooper Miller (OK) (TF 8-0)
Round 2
Bryson Burton (OK) won by tech fall over Thunder Page (KS) (TF 12-4)
Diesel Pedersen (OK) won by fall over Cooper Miller (OK) (Fall 2:00)
Round 3
Thunder Page (KS) won by tech fall over Cooper Miller (OK) (TF 12-2)
Bryson Burton (OK) won by tech fall over Diesel Pedersen (OK) (TF 10-2)

125 pounds
1st Place - Baron Rosas of KS
2nd Place - Blake McVey of AR
3rd Place - Kylan Ooton of OK
4th Place - Kameron Green Jr. of NE
6th Place - Reid Joyce of KS
6th Place - Jackson Paulsen of MO

1st Place Match
Baron Rosas (KS) won by decision over Blake McVey (AR) (Dec 8-7)
3rd Place Match
Kylan Ooton (OK) won by decision over Kameron Green Jr. (NE) (Dec 10-5)

130 pounds
1st Place - Levi Dicksion of OK
2nd Place - Dominic Stinson of MO
3rd Place - Michael Garman of NE
4th Place - Gabriel Recio of CO

Round 1
Levi Dicksion (OK) won by tech fall over Michael Garman (NE) (TF 12-4)
Dominic Stinson (MO) won by tech fall over Gabriel Recio (CO) (TF 8-0)
Round 2
Levi Dicksion (OK) won by fall over Dominic Stinson (MO) (Fall 0:22)
Michael Garman (NE) won by tech fall over Gabriel Recio (CO) (TF 8-0)
Round 3
Levi Dicksion (OK) won by tech fall over Gabriel Recio (CO) (TF 8-0)
Dominic Stinson (MO) won by tech fall over Michael Garman (NE) (TF 8-0)

136 pounds
1st Place - Max Harris of KS
2nd Place - Lake Waters of MO
3rd Place - Corbin Wooley of OK
4th Place - Devin Johnson of WI
6th Place - Nathaniel Roybal of NM
6th Place - Aiden Gorrell of KS

1st Place Match
Max Harris (KS) won by decision over Lake Waters (MO) (Dec 14-9)
3rd Place Match
Corbin Wooley (OK) won by tech fall over Devin Johnson (WI) (TF 11-3)

149 pounds
1st Place - Mack Powell of OK
2nd Place - Jacob Hadden of OK
3rd Place - Dresden Beard of KS
4th Place - Austin Freisberg of KS
6th Place - Keith Remington of TX
6th Place - Cory Langenberg of NE

1st Place Match
Mack Powell (OK) won by tech fall over Jacob Hadden (OK) (TF 12-4)
3rd Place Match
Dresden Beard (KS) won by fall over Austin Freisberg (KS) (Fall 1:47)

165 pounds
1st Place - Tyrus Alley of MO
2nd Place - Daniel Jackson of IL
3rd Place - Rhodes Molenda of OK
4th Place - Ryland Basinger of CO
6th Place - Rendor Hada of KS
6th Place - Quinton Silvy of OK

1st Place Match
Tyrus Alley (MO) won by fall over Daniel Jackson (IL) (Fall 1:41)
3rd Place Match
Rhodes Molenda (OK) won by fall over Ryland Basinger (CO) (Fall 2:18)

187 pounds
1st Place - Aiden Bruce of OK
2nd Place - Tucker Miller of MO

Round 1
Aiden Bruce (OK) won by tech fall over Tucker Miller (MO) (TF 10-0)
Round 2
Aiden Bruce (OK) won by fall over Tucker Miller (MO) (Fall 0:12)

250 pounds
1st Place - Kendrick Vande Velde of KS
2nd Place - William Bishop of KS
3rd Place - Paden Pearson of OK

Round 1
Paden Pearson (OK) won by decision over Kendrick Vande Velde (KS) (Dec 9-7)
Round 2
William Bishop (KS) won by tech fall over Paden Pearson (OK) (TF 11-2)
Round 3
Kendrick Vande Velde (KS) won by fall over William Bishop (KS) (Fall 3:14)

14U Girls Freestyle Results
79 pounds
1st Place - Kylee Tran of OK

92 pounds
1st Place - Krislynn Martinez (Ratliff) of KS

97 pounds
1st Place - Kaison Miller of KS
2nd Place - Lilly Robbins of OK

1st Place Match
Kaison Miller (KS) won by tech fall over Lilly Robbins (OK) (TF 10-0)

Exhibition 90-95 pounds
1st Place - Kaison Miller of KS
2nd Place - Krislynn Martinez (Ratliff) of KS
3rd Place - Lilly Robbins of OK

Round 1
Kaison Miller (KS) won by tech fall over Lilly Robbins (OK) (TF 10-0)
Round 2
Krislynn Martinez (Ratliff) (KS) won by fall over Lilly Robbins (OK) (Fall 1:38)
Round 3
Kaison Miller (KS) won by decision over Krislynn Martinez (Ratliff) (KS) (Dec 13-6)

101 pounds
1st Place - Reana Spangler of KS

105 pounds
1st Place - Dakota Harris of OK
2nd Place - Kyamila Huseynov of MO

1st Place Match
Dakota Harris (OK) won by tech fall over Kyamila Huseynov (MO) (TF 10-0)

Exhibition 100-105 pounds
1st Place - Dakota Harris of OK
2nd Place - Reana Spangler of KS
3rd Place - Kyamila Huseynov of MO

Round 1
Dakota Harris (OK) won by fall over Reana Spangler (KS) (Fall 1:54)
Round 2
Reana Spangler (KS) won by tech fall over Kyamila Huseynov (MO) (TF 12-2)
Round 3
Dakota Harris (OK) won by tech fall over Kyamila Huseynov (MO) (TF 10-0)

110 pounds
1st Place - Vivienne Popadiuc of NM
2nd Place - Nyzia Burney of KS
3rd Place - Marli Arbona of OK
4th Place - Bristol Norris of OK

Round 1
Nyzia Burney (KS) won by fall over Bristol Norris (OK) (Fall 0:20)
Vivienne Popadiuc (NM) won by fall over Marli Arbona (OK) (Fall 0:57)
Round 2
Nyzia Burney (KS) won by decision over Marli Arbona (OK) (Dec 11-8)
Vivienne Popadiuc (NM) won by fall over Bristol Norris (OK) (Fall 1:31)
Round 3
Vivienne Popadiuc (NM) won by fall over Nyzia Burney (KS) (Fall 1:23)
Marli Arbona (OK) won by fall over Bristol Norris (OK) (Fall 1:00)

119 pounds
1st Place - Gray Joyce of KS
2nd Place - Emily Beckley of OK
3rd Place - Alexis Dubowsky of AR
4th Place - Isabella Rose of OK

Round 1
Gray Joyce (KS) won by decision over Emily Beckley (OK) (Dec 4-3)
Alexis Dubowsky (AR) won by fall over Isabella Rose (OK) (Fall 0:54)
Round 2
Gray Joyce (KS) won by tech fall over Isabella Rose (OK) (TF 10-0)
Emily Beckley (OK) won by fall over Alexis Dubowsky (AR) (Fall 0:39)
Round 3
Gray Joyce (KS) won by tech fall over Alexis Dubowsky (AR) (TF 10-0)
Emily Beckley (OK) won by fall over Isabella Rose (OK) (Fall 0:33)

127 pounds
1st Place - Callyn Divine of KS
2nd Place - Tiffany Breshears of OK
3rd Place - Zoe Chamberlin of CO
4th Place - Abigail Counts of MO

Round 1
Zoe Chamberlin (CO) won by injury default over Abigail Counts (MO) (Inj. 0:00)
Callyn Divine (KS) won by tech fall over Tiffany Breshears (OK) (TF 10-0)
Round 2
Callyn Divine (KS) won by injury default over Abigail Counts (MO) (Inj. 0:00)
Tiffany Breshears (OK) won by fall over Zoe Chamberlin (CO) (Fall 2:50)
Round 3
Tiffany Breshears (OK) won by forfeit over Abigail Counts (MO) (FF)
Callyn Divine (KS) won by tech fall over Zoe Chamberlin (CO) (TF 14-2)

136 pounds
1st Place - Clover Williams of OK
2nd Place - Carly McAtee of KS
3rd Place - Corey Harris of OK
4th Place - Joey Tabor of OK

Round 1
Carly McAtee (KS) won by decision over Corey Harris (OK) (Dec 6-4)
Clover Williams (OK) won by fall over Joey Tabor (OK) (Fall 1:15)
Round 2
Clover Williams (OK) won by decision over Corey Harris (OK) (Dec 5-1)
Carly McAtee (KS) won by fall over Joey Tabor (OK) (Fall 0:53)
Round 3
Corey Harris (OK) won by injury default over Joey Tabor (OK) (Inj. 0:00)
Clover Williams (OK) won by fall over Carly McAtee (KS) (Fall 2:18)

145 pounds
1st Place - Aspen Atkinson of OK

Exhibition 136-145 pounds
1st Place - Clover Williams of OK
2nd Place - Carly McAtee of KS
3rd Place - Aspen Atkinson of OK
4th Place - Corey Harris of OK
5th Place - Joey Tabor of OK

Round 1
Carly McAtee (KS) won by fall over Joey Tabor (OK) (Fall 0:53)
Clover Williams (OK) won by fall over Aspen Atkinson (OK) (Fall 0:39)
Round 2
Clover Williams (OK) won by decision over Corey Harris (OK) (Dec 5-1)
Carly McAtee (KS) won by fall over Aspen Atkinson (OK) (Fall 2:39)
Round 3
Aspen Atkinson (OK) won by decision over Corey Harris (OK) (Dec 7-7)
Clover Williams (OK) won by fall over Joey Tabor (OK) (Fall 1:15)
Round 4
Corey Harris (OK) won by injury default over Joey Tabor (OK) (Inj. 0:00)
Clover Williams (OK) won by fall over Carly McAtee (KS) (Fall 2:18)
Round 5
Carly McAtee (KS) won by decision over Corey Harris (OK) (Dec 6-4)
Aspen Atkinson (OK) won by injury default over Joey Tabor (OK) (Inj. 0:00)

185 pounds
1st Place - Veronica Madrid of KS
2nd Place - Blake Baker of TX
3rd Place - Olyvia Besco of KS
4th Place - Maebree Collier of OK
6th Place - Leola Eslinger of KS
6th Place - Ireland Trevino of MO

1st Place Match
Veronica Madrid (KS) won by decision over Blake Baker (TX) (Dec 12-3)
3rd Place Match
Olyvia Besco (KS) won by fall over Maebree Collier (OK) (Fall 2:00)

14U Girls Greco-Roman Results
92-101 pounds
1st Place - Reana Spangler of KS
2nd Place - Kaison Miller of KS
3rd Place - Krislynn Martinez (Ratliff) of KS
4th Place - Lilly Robbins of OK

Round 1
Reana Spangler (KS) won by tech fall over Kaison Miller (KS) (TF 12-4)
Krislynn Martinez (Ratliff) (KS) won by tech fall over Lilly Robbins (OK) (TF 8-0)
Round 2
Kaison Miller (KS) won by fall over Krislynn Martinez (Ratliff) (KS) (Fall 2:51)
Reana Spangler (KS) won by fall over Lilly Robbins (OK) (Fall 1:23)
Round 3
Kaison Miller (KS) won by tech fall over Lilly Robbins (OK) (TF 8-0)
Reana Spangler (KS) won by decision over Krislynn Martinez (Ratliff) (KS) (Dec 6-6)

110 pounds
1st Place - Vivienne Popadiuc of NM
2nd Place - Nyzia Burney of KS
3rd Place - Bristol Norris of OK

Round 1
Nyzia Burney (KS) won by tech fall over Bristol Norris (OK) (TF 8-0)
Round 2
Vivienne Popadiuc (NM) won by fall over Nyzia Burney (KS) (Fall 0:31)
Round 3
Vivienne Popadiuc (NM) won by fall over Bristol Norris (OK) (Fall 0:24)

119 pounds
1st Place - Emily Beckley of OK
2nd Place - Gray Joyce of KS
3rd Place - Alexis Dubowsky of AR

Round 1
Gray Joyce (KS) won by tech fall over Alexis Dubowsky (AR) (TF 8-0)
Round 2
Emily Beckley (OK) won by tech fall over Alexis Dubowsky (AR) (TF 8-0)
Round 3
Emily Beckley (OK) won by decision over Gray Joyce (KS) (Dec 9-7)

127-136 pounds
1st Place - Clover Williams of OK
2nd Place - Tiffany Breshears of OK
3rd Place - Zoe Chamberlin of CO
4th Place - Abigail Counts of MO

Round 1
Clover Williams (OK) won by tech fall over Abigail Counts (MO) (TF 8-0)
Tiffany Breshears (OK) won by tech fall over Zoe Chamberlin (CO) (TF 9-0)
Round 2
Clover Williams (OK) won by fall over Zoe Chamberlin (CO) (Fall 0:20)
Tiffany Breshears (OK) won by tech fall over Abigail Counts (MO) (TF 12-4)
Round 3
Clover Williams (OK) won by tech fall over Tiffany Breshears (OK) (TF 8-0)
Zoe Chamberlin (CO) won by injury default over Abigail Counts (MO) (Inj. 0:00)

185 pounds
1st Place - Olyvia Besco of KS
2nd Place - Blake Baker of TX
3rd Place - Ayanna Cruz of OK

Round 1
Blake Baker (TX) won by tech fall over Ayanna Cruz (OK) (TF 11-0)
Round 2
Olyvia Besco (KS) won by fall over Ayanna Cruz (OK) (Fall 0:21)
Round 3
Olyvia Besco (KS) won by fall over Blake Baker (TX) (Fall 2:49)

12U Boys Freestyle Results
58 pounds
1st Place - Lillian Zuber of NM

63 pounds
1st Place - Channing Bowman of OK
2nd Place - Bowen Freisberg of KS
3rd Place - Jackson Parker of OK
4th Place - Karson Waag of OK
6th Place - Lillian Zuber of NM
6th Place - Orion Salazar of CO

1st Place Match
Channing Bowman (OK) won by decision over Bowen Freisberg (KS) (Dec 8-6)
3rd Place Match
Jackson Parker (OK) won by decision over Karson Waag (OK) (Dec 13-12)

67 pounds
1st Place - Levi Charles of IA
2nd Place - Hayes Daniel of AR
3rd Place - Colton Benwell of MO
4th Place - Brodie Harmon of OK
6th Place - Max Blanton of NM
6th Place - Kyan Smith of KS

1st Place Match
Levi Charles (IA) won by tech fall over Hayes Daniel (AR) (TF 14-4)
3rd Place Match
Colton Benwell (MO) won by tech fall over Brodie Harmon (OK) (TF 14-4)

70 pounds
1st Place - Andrew Taussig of KS
2nd Place - Colton Strange of NE
3rd Place - Cameron Rios of OK
4th Place - Leo Baker of OK
5th Place - Rudy Reyes of KS

Round 1
Colton Strange (NE) won by decision over Cameron Rios (OK) (Dec 8-2)
Leo Baker (OK) won by tech fall over Rudy Reyes (KS) (TF 10-0)
Round 2
Andrew Taussig (KS) won by tech fall over Rudy Reyes (KS) (TF 10-0)
Colton Strange (NE) won by tech fall over Leo Baker (OK) (TF 14-3)
Round 3
Andrew Taussig (KS) won by tech fall over Leo Baker (OK) (TF 10-0)
Cameron Rios (OK) won by decision over Rudy Reyes (KS) (Dec 10-9)
Round 4
Andrew Taussig (KS) won by tech fall over Cameron Rios (OK) (TF 10-0)
Colton Strange (NE) won by decision over Rudy Reyes (KS) (Dec 13-10)
Round 5
Andrew Taussig (KS) won by tech fall over Colton Strange (NE) (TF 10-0)
Cameron Rios (OK) won by forfeit over Leo Baker (OK) (FF)

74 pounds
1st Place - Alex Lobdell of TX
2nd Place - Tobias Martinez of KS
3rd Place - Luca Grasso of NE
4th Place - Aleks Routledge of OK

Round 1
Alex Lobdell (TX) won by tech fall over Aleks Routledge (OK) (TF 10-0)
Tobias Martinez (KS) won by tech fall over Luca Grasso (NE) (TF 10-0)
Round 2
Alex Lobdell (TX) won by tech fall over Luca Grasso (NE) (TF 10-0)
Tobias Martinez (KS) won by fall over Aleks Routledge (OK) (Fall 1:09)
Round 3
Alex Lobdell (TX) won by fall over Tobias Martinez (KS) (Fall 3:52)
Luca Grasso (NE) won by tech fall over Aleks Routledge (OK) (TF 10-0)

78 pounds
1st Place - Wyatt Hueftle of NE
2nd Place - Cole Martin of MO
3rd Place - Nash Denison of OK
4th Place - Tajuan Davis of OK
6th Place - Christian West of KS
6th Place - Eli Pomeroy of CO

1st Place Match
Wyatt Hueftle (NE) won by tech fall over Cole Martin (MO) (TF 13-2)
3rd Place Match
Nash Denison (OK) won by tech fall over Tajuan Davis (OK) (TF 12-1)

82 pounds
1st Place - Isiah Reed of NE
2nd Place - Jameson Ritchie of LA
3rd Place - Edisen Fullhart of IA
4th Place - Zolah Williams of MO
6th Place - Corbin Brown of OK
6th Place - Brantley Williams of KS

1st Place Match
Isiah Reed (NE) won by fall over Jameson Ritchie (LA) (Fall 1:47)
3rd Place Match
Edisen Fullhart (IA) won by decision over Zolah Williams (MO) (Dec 16-14)

86 pounds
1st Place - Dawson Beckley of OK
2nd Place - Hayden Bessette of MN
3rd Place - Reid Pfortmiller of KS
4th Place - Joshua Werner of VA
6th Place - Griffin Mehl of MO
6th Place - Kai Weiss of KS

1st Place Match
Dawson Beckley (OK) won by tech fall over Hayden Bessette (MN) (TF 10-0)
3rd Place Match
Reid Pfortmiller (KS) won by decision over Joshua Werner (VA) (Dec 13-10)

92 pounds
1st Place - Casen McAlister of KS
2nd Place - Xzavier Gomez of NM
3rd Place - Rocco Gambaiana of NE
4th Place - Esteban Aranguiz Jr. of KS
6th Place - Edric Funk of AR
6th Place - Alexandria Skidmore of OK

1st Place Match
Casen McAlister (KS) won by tech fall over Xzavier Gomez (NM) (TF 10-0)
3rd Place Match
Rocco Gambaiana (NE) won by fall over Esteban Aranguiz Jr. (KS) (Fall 1:50)

98 pounds
1st Place - Henry Scott McDoniel of AR
2nd Place - Avery Rios of OK
3rd Place - Adam Rea of MO
4th Place - Jaxon Petersen of NE
6th Place - Declan Keller of KS
6th Place - Steele Fury of KS

1st Place Match
Henry Scott McDoniel (AR) won by decision over Avery Rios (OK) (Dec 11-8)
3rd Place Match
Adam Rea (MO) won by fall over Jaxon Petersen (NE) (Fall 1:59)

108 pounds
1st Place - Evan MacCallum of NE
2nd Place - JaMarcus Siemens of OK
3rd Place - Broderick Perkins of OK
4th Place - Luis Alvarado of NM
5th Place - Colton Lock of TX

Round 1
Evan MacCallum (NE) won by fall over Broderick Perkins (OK) (Fall 1:14)
Luis Alvarado (NM) won by fall over Colton Lock (TX) (Fall 0:48)
Round 2
JaMarcus Siemens (OK) won by decision over Colton Lock (TX) (Dec 8-8)
Broderick Perkins (OK) won by decision over Luis Alvarado (NM) (Dec 15-6)
Round 3
JaMarcus Siemens (OK) won by fall over Luis Alvarado (NM) (Fall 3:49)
Evan MacCallum (NE) won by tech fall over Colton Lock (TX) (TF 10-0)
Round 4
Evan MacCallum (NE) won by tech fall over JaMarcus Siemens (OK) (TF 12-0)
Broderick Perkins (OK) won by fall over Colton Lock (TX) (Fall 2:38)
Round 5
JaMarcus Siemens (OK) won by decision over Broderick Perkins (OK) (Dec 10-5)
Evan MacCallum (NE) won by tech fall over Luis Alvarado (NM) (TF 11-0)

135 pounds
1st Place - Rosco Lewis of OK
2nd Place - Chase Montroy of OK
3rd Place - Kody Doran of MO
4th Place - Chayce Partridge of AR

Round 1
Kody Doran (MO) won by tech fall over Chayce Partridge (AR) (TF 10-0)
Rosco Lewis (OK) won by tech fall over Chase Montroy (OK) (TF 10-0)
Round 2
Chase Montroy (OK) won by fall over Kody Doran (MO) (Fall 2:16)
Rosco Lewis (OK) won by fall over Chayce Partridge (AR) (Fall 0:45)
Round 3
Rosco Lewis (OK) won by tech fall over Kody Doran (MO) (TF 12-2)
Chase Montroy (OK) won by tech fall over Chayce Partridge (AR) (TF 10-0)

160 pounds
1st Place - Tuxley Kirkhart of KS
2nd Place - Knox Washington of KS

Round 1
Tuxley Kirkhart (KS) won by fall over Knox Washington (KS) (Fall 1:01)
Round 2
Tuxley Kirkhart (KS) won by decision over Knox Washington (KS) (Dec 8-1)

12U Boys Greco-Roman Results
63 pounds
1st Place - Channing Bowman of OK
2nd Place - Bowen Freisberg of KS
3rd Place - Jackson Parker of OK
4th Place - Karson Waag of OK
6th Place - Lillian Zuber of NM
6th Place - Orion Salazar of CO

1st Place Match
Channing Bowman (OK) won by tech fall over Bowen Freisberg (KS) (TF 8-0)
3rd Place Match
Jackson Parker (OK) won by tech fall over Karson Waag (OK) (TF 12-1)

67 pounds
1st Place - Hayes Daniel of AR
2nd Place - Colton Benwell of MO
3rd Place - Levi Charles of IA
4th Place - Brodie Harmon of OK
6th Place - Kyan Smith of KS
6th Place - Max Blanton of NM

1st Place Match
Hayes Daniel (AR) won by decision over Colton Benwell (MO) (Dec 8-3)
3rd Place Match
Levi Charles (IA) won by fall over Brodie Harmon (OK) (Fall 2:42)

70 pounds
1st Place - Andrew Taussig of KS
2nd Place - Colton Strange of NE
3rd Place - Cameron Rios of OK
4th Place - Rudy Reyes of KS

Round 1
Andrew Taussig (KS) won by fall over Rudy Reyes (KS) (Fall 0:24)
Colton Strange (NE) won by tech fall over Cameron Rios (OK) (TF 12-4)
Round 2
Andrew Taussig (KS) won by decision over Cameron Rios (OK) (Dec 6-1)
Colton Strange (NE) won by fall over Rudy Reyes (KS) (Fall 2:00)
Round 3
Andrew Taussig (KS) won by decision over Colton Strange (NE) (Dec 11-6)
Cameron Rios (OK) won by tech fall over Rudy Reyes (KS) (TF 8-0)

74 pounds
1st Place - Alex Lobdell of TX
2nd Place - Tobias Martinez of KS
3rd Place - Luca Grasso of NE

Round 1
Tobias Martinez (KS) won by fall over Luca Grasso (NE) (Fall 2:57)
Round 2
Alex Lobdell (TX) won by fall over Luca Grasso (NE) (Fall 0:01)
Round 3
Alex Lobdell (TX) won by decision over Tobias Martinez (KS) (Dec 12-9)

78 pounds
1st Place - Wyatt Hueftle of NE
2nd Place - Christian West of KS
3rd Place - Tajuan Davis of OK
4th Place - Cole Martin of MO
5th Place - Kolin Carder of OH

Round 1
Christian West (KS) won by tech fall over Cole Martin (MO) (TF 8-0)
Wyatt Hueftle (NE) won by tech fall over Kolin Carder (OH) (TF 10-1)
Round 2
Wyatt Hueftle (NE) won by fall over Tajuan Davis (OK) (Fall 0:29)
Cole Martin (MO) won by tech fall over Kolin Carder (OH) (TF 8-0)
Round 3
Tajuan Davis (OK) won by fall over Kolin Carder (OH) (Fall 0:15)
Wyatt Hueftle (NE) won by tech fall over Christian West (KS) (TF 8-0)
Round 4
Tajuan Davis (OK) won by decision over Christian West (KS) (Dec 11-8)
Wyatt Hueftle (NE) won by tech fall over Cole Martin (MO) (TF 8-0)
Round 5
Cole Martin (MO) won by decision over Tajuan Davis (OK) (Dec 10-6)
Christian West (KS) won by tech fall over Kolin Carder (OH) (TF 8-0)

82 pounds
1st Place - Isiah Reed of NE
2nd Place - Jameson Ritchie of Louisiana
3rd Place - Blake Goucher of OK
4th Place - Rye Davis of AR
6th Place - Edisen Fullhart of IA
6th Place - Zolah Williams of MO

1st Place Match
Isiah Reed (NE) won by decision over Jameson Ritchie ( Louisiana) (Dec 6-4)
3rd Place Match
Blake Goucher (OK) won by tech fall over Rye Davis (AR) (TF 8-0)

86 pounds
1st Place - Dawson Beckley of OK
2nd Place - Reid Pfortmiller of KS
3rd Place - Kai Weiss of KS
4th Place - Joshua Werner of Virginia
6th Place - Connor Stricklin of KS
6th Place - Hayden Bessette of MN

1st Place Match
Dawson Beckley (OK) won by tech fall over Reid Pfortmiller (KS) (TF 10-2)
3rd Place Match
Kai Weiss (KS) won by decision over Joshua Werner (Virginia) (Dec 16-10)

92 pounds
1st Place - Casen McAlister of KS
2nd Place - Rocco Gambaiana of NE
3rd Place - Esteban Aranguiz Jr. of KS
4th Place - Xzavier Gomez of NM
5th Place - Bentley Anderson of OK

Round 1
Xzavier Gomez (NM) won by tech fall over Casen McAlister (KS) (TF 8-0)
Esteban Aranguiz Jr. (KS) won by tech fall over Bentley Anderson (OK) (TF 8-0)
Round 2
Rocco Gambaiana (NE) won by fall over Bentley Anderson (OK) (Fall 1:41)
Casen McAlister (KS) won by tech fall over Esteban Aranguiz Jr. (KS) (TF 8-0)
Round 3
Rocco Gambaiana (NE) won by tech fall over Esteban Aranguiz Jr. (KS) (TF 10-2)
Xzavier Gomez (NM) won by tech fall over Bentley Anderson (OK) (TF 8-0)
Round 4
Rocco Gambaiana (NE) won by tech fall over Xzavier Gomez (NM) (TF 8-0)
Casen McAlister (KS) won by tech fall over Bentley Anderson (OK) (TF 8-0)
Round 5
Casen McAlister (KS) won by tech fall over Rocco Gambaiana (NE) (TF 8-0)
Esteban Aranguiz Jr. (KS) won by fall over Xzavier Gomez (NM) (Fall 1:11)

98 pounds
1st Place - Henry Scott McDoniel of AR
2nd Place - Adam Rea of MO
3rd Place - Avery Rios of OK
4th Place - Jaxon Petersen of NE
6th Place - Declan Keller of KS
6th Place - Steele Fury of KS

1st Place Match
Henry Scott McDoniel (AR) won by tech fall over Adam Rea (MO) (TF 8-0)
3rd Place Match
Avery Rios (OK) won by decision over Jaxon Petersen (NE) (Dec 8-6)

108 pounds
1st Place - Evan MacCallum of NE
2nd Place - Colton Lock of TX
3rd Place - JaMarcus Siemens of OK

Round 1
Evan MacCallum (NE) won by tech fall over JaMarcus Siemens (OK) (TF 8-0)
Round 2
Evan MacCallum (NE) won by fall over Colton Lock (TX) (Fall 0:45)
Round 3
Colton Lock (TX) won by fall over JaMarcus Siemens (OK) (Fall 1:26)

135 pounds
1st Place - Rosco Lewis of OK
2nd Place - Chase Montroy of OK
3rd Place - Kody Doran of MO

Round 1
Rosco Lewis (OK) won by decision over Chase Montroy (OK) (Dec 12-5)
Round 2
Chase Montroy (OK) won by fall over Kody Doran (MO) (Fall 1:19)
Round 3
Rosco Lewis (OK) won by fall over Kody Doran (MO) (Fall 1:26)

160 pounds
1st Place - Tuxley Kirkhart of KS
2nd Place - Knox Washington of KS

Round 1
Tuxley Kirkhart (KS) won by fall over Knox Washington (KS) (Fall 1:18)
Round 2
Knox Washington (KS) won by fall over Tuxley Kirkhart (KS) (Fall 2:41)
Round 3
Tuxley Kirkhart (KS) won by decision over Knox Washington (KS) (Dec 12-7)

12U Girls Freestyle Results
65 pounds
1st Place - Jaelyn Anderson of NE
2nd Place - Justine Smith of AR

1st Place Match
Jaelyn Anderson (NE) won by tech fall over Justine Smith (AR) (TF 10-0)

70 pounds
1st Place - Davalyn Lea of KS

Exhibition 61-69 pounds
1st Place - Jaelyn Anderson of NE
2nd Place - Justine Smith of AR
3rd Place - Davalyn Lea of KS

Round 1
Jaelyn Anderson (NE) won by fall over Davalyn Lea (KS) (Fall 0:20)
Round 2
Jaelyn Anderson (NE) won by tech fall over Justine Smith (AR) (TF 10-0)
Round 3
Justine Smith (AR) won by forfeit over Davalyn Lea (KS) (FF)

75 pounds
1st Place - Laetyn Boltz of KS
2nd Place - Kylee Ooton of OK
3rd Place - Charlee Rea of MO

Round 1
Laetyn Boltz (KS) won by fall over Kylee Ooton (OK) (Fall 1:22)
Round 2
Kylee Ooton (OK) won by tech fall over Charlee Rea (MO) (TF 13-2)
Round 3
Laetyn Boltz (KS) won by tech fall over Charlee Rea (MO) (TF 10-0)

80 pounds
1st Place - Zolah Williams of MO
2nd Place - Emersyn Chase of KS

Round 1
Zolah Williams (MO) won by tech fall over Emersyn Chase (KS) (TF 10-0)
Round 2
Zolah Williams (MO) won by tech fall over Emersyn Chase (KS) (TF 10-0)

90 pounds
1st Place - Alexandria Skidmore of OK
2nd Place - Raeya Perkins of OK
3rd Place - Zainab Albadri of MO

Round 1
Alexandria Skidmore (OK) won by tech fall over Zainab Albadri (MO) (TF 10-0)
Round 2
Raeya Perkins (OK) won by tech fall over Zainab Albadri (MO) (TF 10-0)
Round 3
Alexandria Skidmore (OK) won by decision over Raeya Perkins (OK) (Dec 5-4)

95 pounds
1st Place - Cara Prock of OK
2nd Place - Jamiyah Thompson of KS
3rd Place - Alayah Losey of KS

Round 1
Cara Prock (OK) won by fall over Alayah Losey (KS) (Fall 3:38)
Round 2
Cara Prock (OK) won by decision over Jamiyah Thompson (KS) (Dec 12-9)
Round 3
Jamiyah Thompson (KS) won by fall over Alayah Losey (KS) (Fall 1:46)

100 pounds
1st Place - Sasha Williams of OK
2nd Place - Harley Miller of OK

1st Place Match
Sasha Williams (OK) won by decision over Harley Miller (OK) (Dec 12-4)

110 pounds
1st Place - Kenzie Hairston of MO

Exhibition 96-107 pounds
1st Place - Sasha Williams of OK
2nd Place - Harley Miller of OK
3rd Place - Kenzie Hairston of MO

Round 1
Sasha Williams (OK) won by decision over Harley Miller (OK) (Dec 12-4)
Round 2
Sasha Williams (OK) won by fall over Kenzie Hairston (MO) (Fall 1:41)
Round 3
Harley Miller (OK) won by tech fall over Kenzie Hairston (MO) (TF 10-0)

120 pounds
1st Place - Aaliah Guebara of KS
2nd Place - Alli Taber of OK

1st Place Match
Aaliah Guebara (KS) won by tech fall over Alli Taber (OK) (TF 10-0)

130 pounds
1st Place - Victoria Powers of NE

Exhibition 119-121 pounds
1st Place - Aaliah Guebara of KS
2nd Place - Victoria Powers of NE
3rd Place - Alli Taber of OK

Round 1
Victoria Powers (NE) won by tech fall over Alli Taber (OK) (TF 10-0)
Round 2
Aaliah Guebara (KS) won by tech fall over Victoria Powers (NE) (TF 10-0)
Round 3
Aaliah Guebara (KS) won by tech fall over Alli Taber (OK) (TF 10-0)

12U Girls Greco-Roman Results
75 pounds
1st Place - Kylee Ooton of OK
2nd Place - Laetyn Boltz of KS

Round 1
Kylee Ooton (OK) won by decision over Laetyn Boltz (KS) (Dec 6-4)
Round 2
Kylee Ooton (OK) won by decision over Laetyn Boltz (KS) (Dec 4-4)
Round 3

80 pounds
1st Place - Zolah Williams of MO
2nd Place - Madison Carder of OH

Round 1
Zolah Williams (MO) won by tech fall over Madison Carder (OH) (TF 8-0)
Round 2
Zolah Williams (MO) won by tech fall over Madison Carder (OH) (TF 8-0)

90 pounds
1st Place - Alexandria Skidmore of OK
2nd Place - Zainab Albadri of MO

Round 1
Alexandria Skidmore (OK) won by tech fall over Zainab Albadri (MO) (TF 8-0)
Round 2
Alexandria Skidmore (OK) won by fall over Zainab Albadri (MO) (Fall 2:40)

95-100 pounds
1st Place - Sasha Williams of OK
2nd Place - Alayah Losey of KS
3rd Place - Jamiyah Thompson of KS

Round 1
Sasha Williams (OK) won by fall over Alayah Losey (KS) (Fall 1:20)
Round 2
Sasha Williams (OK) won by tech fall over Jamiyah Thompson (KS) (TF 8-0)
Round 3
Alayah Losey (KS) won by decision over Jamiyah Thompson (KS) (Dec 9-3)

120-130 pounds
1st Place - Aaliah Guebara of KS
2nd Place - Victoria Powers of NE
3rd Place - Alli Taber of OK

Round 1
Victoria Powers (NE) won by tech fall over Alli Taber (OK) (TF 8-0)
Round 2
Aaliah Guebara (KS) won by tech fall over Alli Taber (OK) (TF 8-0)
Round 3
Aaliah Guebara (KS) won by fall over Victoria Powers (NE) (Fall 0:19)

10U Boys Freestyle Results
53 pounds
1st Place - Cayden Petersen of OK

56 pounds
1st Place - Raif Boltz of KS
2nd Place - Jaycie Harmon of OK

1st Place Match
Raif Boltz (KS) won by tech fall over Jaycie Harmon (OK) (TF 10-0)

59 pounds
1st Place - Charles Benwell of MO

Exhibition 51-57 pounds
1st Place - Raif Boltz of KS
2nd Place - Charles Benwell of MO
3rd Place - Cayden Petersen of OK
4th Place - Jaycie Harmon of OK

Round 1
Charles Benwell (MO) won by tech fall over Cayden Petersen (OK) (TF 10-0)
Raif Boltz (KS) won by tech fall over Jaycie Harmon (OK) (TF 10-0)
Round 2
Charles Benwell (MO) won by fall over Jaycie Harmon (OK) (Fall 0:59)
Raif Boltz (KS) won by tech fall over Cayden Petersen (OK) (TF 10-0)
Round 3
Raif Boltz (KS) won by tech fall over Charles Benwell (MO) (TF 10-0)
Cayden Petersen (OK) won by fall over Jaycie Harmon (OK) (Fall 2:35)

63 pounds
1st Place - Bennett Dawson of OK
2nd Place - Kason Wolfe of OK
3rd Place - Luke Taussig of KS
4th Place - Axel Stravlo of OK
6th Place - Ryker Langley of IA
6th Place - John Visaggio of NM

1st Place Match
Bennett Dawson (OK) won by fall over Kason Wolfe (OK) (Fall 1:02)
3rd Place Match
Luke Taussig (KS) won by fall over Axel Stravlo (OK) (Fall 0:53)

67 pounds
1st Place - Kai Hughes of NE
2nd Place - Jackson Hermann of KS
3rd Place - Covington Allen of OK
4th Place - Khylen Sanderson of KS
6th Place - Charlie Williams of MO
6th Place - Daniel Benca of AR

1st Place Match
Kai Hughes (NE) won by tech fall over Jackson Hermann (KS) (TF 11-0)
3rd Place Match
Covington Allen (OK) won by decision over Khylen Sanderson (KS) (Dec 17-8)

71 pounds
1st Place - Brooks Blevins of KS
2nd Place - Grant Lottmann of KS
3rd Place - Boaz Diaz of IA

Round 1
Brooks Blevins (KS) won by decision over Grant Lottmann (KS) (Dec 6-0)
Round 2
Grant Lottmann (KS) won by decision over Boaz Diaz (IA) (Dec 6-5)
Round 3
Brooks Blevins (KS) won by tech fall over Boaz Diaz (IA) (TF 10-0)

77 pounds
1st Place - Jackson Beckley of OK
2nd Place - Treyten Embrey of MO
3rd Place - Ali Albadri of MO
4th Place - Kepler Wicks of TX

Round 1
Ali Albadri (MO) won by fall over Kepler Wicks (TX) (Fall 0:49)
Jackson Beckley (OK) won by fall over Treyten Embrey (MO) (Fall 2:32)
Round 2
Treyten Embrey (MO) won by tech fall over Kepler Wicks (TX) (TF 10-0)
Jackson Beckley (OK) won by tech fall over Ali Albadri (MO) (TF 10-0)
Round 3
Jackson Beckley (OK) won by tech fall over Kepler Wicks (TX) (TF 10-0)
Treyten Embrey (MO) won by fall over Ali Albadri (MO) (Fall 0:46)

84 pounds
1st Place - Luke Bartholomaus of MN
2nd Place - Stryker Kyler of KS
3rd Place - Brayden Niedens of KS
4th Place - Cade Kreamer of OK

Round 1
Brayden Niedens (KS) won by decision over Cade Kreamer (OK) (Dec 13-11)
Luke Bartholomaus (MN) won by fall over Stryker Kyler (KS) (Fall 2:17)
Round 2
Luke Bartholomaus (MN) won by tech fall over Brayden Niedens (KS) (TF 14-4)
Stryker Kyler (KS) won by tech fall over Cade Kreamer (OK) (TF 10-0)
Round 3
Stryker Kyler (KS) won by tech fall over Brayden Niedens (KS) (TF 12-2)
Luke Bartholomaus (MN) won by fall over Cade Kreamer (OK) (Fall 2:22)

93 pounds
1st Place - Cragen Smith of KS

Exhibition 84-93 pounds
1st Place - Cragen Smith of KS
2nd Place - Luke Bartholomaus of MN
3rd Place - Stryker Kyler of KS
4th Place - Brayden Niedens of KS
5th Place - Cade Kreamer of OK

Round 1
Stryker Kyler (KS) won by tech fall over Brayden Niedens (KS) (TF 12-2)
Cragen Smith (KS) won by tech fall over Luke Bartholomaus (MN) (TF 18-8)
Round 2
Cragen Smith (KS) won by fall over Cade Kreamer (OK) (Fall 0:45)
Luke Bartholomaus (MN) won by fall over Stryker Kyler (KS) (Fall 2:17)
Round 3
Luke Bartholomaus (MN) won by fall over Cade Kreamer (OK) (Fall 2:22)
Cragen Smith (KS) won by tech fall over Brayden Niedens (KS) (TF 10-0)
Round 4
Brayden Niedens (KS) won by decision over Cade Kreamer (OK) (Dec 13-11)
Cragen Smith (KS) won by fall over Stryker Kyler (KS) (Fall 1:55)
Round 5
Stryker Kyler (KS) won by tech fall over Cade Kreamer (OK) (TF 10-0)
Luke Bartholomaus (MN) won by tech fall over Brayden Niedens (KS) (TF 14-4)

105 pounds
1st Place - Knox Page of KS

120 pounds
1st Place - Eastyn Scott of NE

Exhibition 102-112 pounds
1st Place - Eastyn Scott of NE
2nd Place - Knox Page of KS

Round 1
Eastyn Scott (NE) won by forfeit over Knox Page (KS) (FF)
Round 2
Eastyn Scott (NE) won by forfeit over Knox Page (KS) (FF)

10U Boys Greco-Roman Results
56 pounds
1st Place - Raif Boltz of KS
2nd Place - Logan Clarendon of CO
3rd Place - Konor Carder of OH

Round 1
Raif Boltz (KS) won by tech fall over Logan Clarendon (CO) (TF 8-0)
Round 2
Logan Clarendon (CO) won by fall over Konor Carder (OH) (Fall 0:20)
Round 3
Raif Boltz (KS) won by tech fall over Konor Carder (OH) (TF 8-0)

59 pounds
1st Place - Charles Benwell of MO
1st Place Match
Charles Benwell (MO) received a bye () (Bye)

Exhibition 56-59 pounds
1st Place - Raif Boltz of KS
2nd Place - Charles Benwell of MO
3rd Place - Logan Clarendon of CO
4th Place - Konor Carder of OH

Round 1
Raif Boltz (KS) won by tech fall over Charles Benwell (MO) (TF 10-2)
Logan Clarendon (CO) won by fall over Konor Carder (OH) (Fall 0:20)
Round 2
Raif Boltz (KS) won by tech fall over Logan Clarendon (CO) (TF 8-0)
Charles Benwell (MO) won by tech fall over Konor Carder (OH) (TF 8-0)
Round 3
Raif Boltz (KS) won by tech fall over Konor Carder (OH) (TF 8-0)
Charles Benwell (MO) won by decision over Logan Clarendon (CO) (Dec 11-4)

63 pounds
1st Place - Bennett Dawson of OK
2nd Place - Ryker Langley of IA
3rd Place - Axel Stravlo of OK
4th Place - Luke Taussig of KS
6th Place - Alexander Martinez (Ratliff) of KS
6th Place - Kason Wolfe of OK

1st Place Match
Bennett Dawson (OK) won by tech fall over Ryker Langley (IA) (TF 8-0)
3rd Place Match
Axel Stravlo (OK) won by tech fall over Luke Taussig (KS) (TF 10-0)

67 pounds
1st Place - Kai Hughes of NE
2nd Place - Covington Allen of OK
3rd Place - Khylen Sanderson of KS
4th Place - Charlie Williams of MO

Round 1
Kai Hughes (NE) won by tech fall over Khylen Sanderson (KS) (TF 8-0)
Charlie Williams (MO) won by decision over Covington Allen (OK) (Dec 8-8)
Round 2
Kai Hughes (NE) won by tech fall over Charlie Williams (MO) (TF 10-2)
Covington Allen (OK) won by tech fall over Khylen Sanderson (KS) (TF 10-2)
Round 3
Kai Hughes (NE) won by tech fall over Covington Allen (OK) (TF 10-0)
Khylen Sanderson (KS) won by tech fall over Charlie Williams (MO) (TF 10-0)

71 pounds
1st Place - Brooks Blevins of KS
2nd Place - Grant Lottmann of KS

Round 1
Brooks Blevins (KS) won by tech fall over Grant Lottmann (KS) (TF 8-0)
Round 2
Brooks Blevins (KS) won by tech fall over Grant Lottmann (KS) (TF 8-0)

77 pounds
1st Place - Jackson Beckley of OK
2nd Place - Treyten Embrey of MO
3rd Place - Ali Albadri of MO

Round 1
Treyten Embrey (MO) won by tech fall over Ali Albadri (MO) (TF 13-3)
Round 2
Jackson Beckley (OK) won by fall over Treyten Embrey (MO) (Fall 1:09)
Round 3
Jackson Beckley (OK) won by tech fall over Ali Albadri (MO) (TF 8-0)

84 pounds
1st Place - Stryker Kyler of KS
2nd Place - Luke Bartholomaus of MN
3rd Place - Brayden Niedens of KS

Round 1
Stryker Kyler (KS) won by tech fall over Brayden Niedens (KS) (TF 8-0)
Round 2
Stryker Kyler (KS) won by decision over Luke Bartholomaus (MN) (Dec 17-11)
Round 3
Luke Bartholomaus (MN) won by tech fall over Brayden Niedens (KS) (TF 8-0)

Exhibition 93 pounds
1st Place - Cragen Smith of KS
2nd Place - Stryker Kyler of KS
3rd Place - Luke Bartholomaus of MN
4th Place - Brayden Niedens of KS

Round 1
Cragen Smith (KS) won by tech fall over Luke Bartholomaus (MN) (TF 10-2)
Stryker Kyler (KS) won by tech fall over Brayden Niedens (KS) (TF 8-0)
Round 2
Cragen Smith (KS) won by tech fall over Brayden Niedens (KS) (TF 8-0)
Stryker Kyler (KS) won by decision over Luke Bartholomaus (MN) (Dec 17-11)
Round 3
Cragen Smith (KS) won by fall over Stryker Kyler (KS) (Fall 0:33)
Luke Bartholomaus (MN) won by tech fall over Brayden Niedens (KS) (TF 8-0)

93 pounds
1st Place - Cragen Smith of KS

105 pounds
1st Place - Knox Page of KS

120 pounds
1st Place - Eastyn Scott of NE

Exhibition 105-120 pounds
1st Place - Eastyn Scott of NE
2nd Place - Knox Page of KS

Round 1
Eastyn Scott (NE) won by fall over Knox Page (KS) (Fall 1:23)
Round 2
Eastyn Scott (NE) won by fall over Knox Page (KS) (Fall 0:38)

10U Girls Freestyle Results
55 pounds
1st Place - Steelie Boltz of KS
2nd Place - Kloe Routledge of OK
3rd Place - Jaycie Harmon of OK

Round 1
Steelie Boltz (KS) won by tech fall over Kloe Routledge (OK) (TF 10-0)
Round 2
Steelie Boltz (KS) won by decision over Jaycie Harmon (OK) (Dec 6-6)
Round 3
Kloe Routledge (OK) won by decision over Jaycie Harmon (OK) (Dec 8-4)

60 pounds
1st Place - Hanna Lollis of OK
2nd Place - Delaney Hardy of NE

Round 1
Hanna Lollis (OK) won by tech fall over Delaney Hardy (NE) (TF 10-0)
Round 2
Hanna Lollis (OK) won by fall over Delaney Hardy (NE) (Fall 2:48)

65 pounds
1st Place - Hadleigh Ray of KS
2nd Place - Mackenzie Williamson of NE
3rd Place - Mary Jane Zuber of NM

Round 1
Hadleigh Ray (KS) won by fall over Mackenzie Williamson (NE) (Fall 0:53)
Round 2
Mackenzie Williamson (NE) won by tech fall over Mary Jane Zuber (NM) (TF 10-0)
Round 3
Mary Jane Zuber (NM) won by decision over Hadleigh Ray (KS) (Dec 8-7)

10U Girls Greco-Roman Results
55 pounds
1st Place - Steelie Boltz of KS
2nd Place - Jaycie Harmon of OK

Round 1
Steelie Boltz (KS) won by decision over Jaycie Harmon (OK) (Dec 6-0)
Round 2
Steelie Boltz (KS) won by decision over Jaycie Harmon (OK) (Dec 3-2)

60-65 pounds
1st Place - Delaney Hardy of NE
2nd Place - Mary Jane Zuber of NM

Round 1
Mary Jane Zuber (NM) won by tech fall over Delaney Hardy (NE) (TF 14-6)
Round 2
Delaney Hardy (NE) won by fall over Mary Jane Zuber (NM) (Fall 3:46)
Round 3
Delaney Hardy (NE) won by decision over Mary Jane Zuber (NM) (Dec 13-11)

8U Boys Freestyle Results
43 pounds
1st Place - Jomi Kaupas of TX

45 pounds
1st Place - Hudson Waag of OK
2nd Place - Kemp Taylor of KS

1st Place Match
Hudson Waag (OK) won by tech fall over Kemp Taylor (KS) (TF 14-4)

Exhibition 43-45 pounds
1st Place - Hudson Waag of OK
2nd Place - Kemp Taylor of KS
3rd Place - Jomi Kaupas of TX

Round 1
Hudson Waag (OK) won by tech fall over Kemp Taylor (KS) (TF 14-4)
Round 2
Kemp Taylor (KS) won by fall over Jomi Kaupas (TX) (Fall 0:57)
Round 3
Hudson Waag (OK) won by fall over Jomi Kaupas (TX) (Fall 0:12)

49 pounds
1st Place - Bryan Alvarez of NM
2nd Place - Maxwell Roy of OK
3rd Place - Jett Joiner of MO
4th Place - Rein Meitler of KS
5th Place - Chevy Plank of KS

Round 1
Bryan Alvarez (NM) won by fall over Chevy Plank (KS) (Fall 0:13)
Jett Joiner (MO) won by tech fall over Rein Meitler (KS) (TF 12-2)
Round 2
Maxwell Roy (OK) won by tech fall over Jett Joiner (MO) (TF 11-0)
Bryan Alvarez (NM) won by tech fall over Rein Meitler (KS) (TF 10-0)
Round 3
Maxwell Roy (OK) won by tech fall over Rein Meitler (KS) (TF 12-2)
Jett Joiner (MO) won by tech fall over Chevy Plank (KS) (TF 12-1)
Round 4
Maxwell Roy (OK) won by tech fall over Chevy Plank (KS) (TF 10-0)
Bryan Alvarez (NM) won by tech fall over Jett Joiner (MO) (TF 10-0)
Round 5
Bryan Alvarez (NM) won by tech fall over Maxwell Roy (OK) (TF 10-0)
Rein Meitler (KS) won by fall over Chevy Plank (KS) (Fall 0:58)

53 pounds
1st Place - Brody Owens of KS
2nd Place - Sawyer Watkins of KS
3rd Place - Axel Gibson of OK
4th Place - Gabriel Tantillo of TX
5th Place - Rhett Ray of KS

Round 1
Brody Owens (KS) won by fall over Sawyer Watkins (KS) (Fall 0:11)
Axel Gibson (OK) won by tech fall over Rhett Ray (KS) (TF 10-0)
Round 2
Gabriel Tantillo (TX) won by tech fall over Rhett Ray (KS) (TF 16-6)
Sawyer Watkins (KS) won by tech fall over Axel Gibson (OK) (TF 10-0)
Round 3
Axel Gibson (OK) won by tech fall over Gabriel Tantillo (TX) (TF 14-4)
Brody Owens (KS) won by fall over Rhett Ray (KS) (Fall 0:15)
Round 4
Brody Owens (KS) won by fall over Gabriel Tantillo (TX) (Fall 0:09)
Sawyer Watkins (KS) won by tech fall over Rhett Ray (KS) (TF 10-0)
Round 5
Sawyer Watkins (KS) won by fall over Gabriel Tantillo (TX) (Fall 1:01)
Brody Owens (KS) won by fall over Axel Gibson (OK) (Fall 0:07)

56 pounds
1st Place - Max Corrado of NE
2nd Place - Elias Garten of KS

Round 1
Max Corrado (NE) won by fall over Elias Garten (KS) (Fall 2:39)
Round 2
Max Corrado (NE) won by fall over Elias Garten (KS) (Fall 0:53)

62 pounds
1st Place - Easton Terrell of AR
2nd Place - Axel Forsman of TX
3rd Place - Zeke Touchatt of KS
4th Place - Javon Dean of TX

Round 1
Easton Terrell (AR) won by fall over Axel Forsman (TX) (Fall 1:36)
Zeke Touchatt (KS) won by fall over Javon Dean (TX) (Fall 3:38)
Round 2
Easton Terrell (AR) won by fall over Javon Dean (TX) (Fall 1:13)
Axel Forsman (TX) won by tech fall over Zeke Touchatt (KS) (TF 10-0)
Round 3
Easton Terrell (AR) won by tech fall over Zeke Touchatt (KS) (TF 10-0)
Axel Forsman (TX) won by tech fall over Javon Dean (TX) (TF 10-0)

70 pounds
1st Place - Beau Blevins of KS
2nd Place - Declan Hardy of NE
3rd Place - James Gibbs of OK
4th Place - Lincoln Valentin of TX

Round 1
Beau Blevins (KS) won by tech fall over James Gibbs (OK) (TF 10-0)
Declan Hardy (NE) won by fall over Lincoln Valentin (TX) (Fall 1:34)
Round 2
Beau Blevins (KS) won by tech fall over Declan Hardy (NE) (TF 10-0)
James Gibbs (OK) won by fall over Lincoln Valentin (TX) (Fall 3:08)
Round 3
Beau Blevins (KS) won by tech fall over Lincoln Valentin (TX) (TF 10-0)
Declan Hardy (NE) won by tech fall over James Gibbs (OK) (TF 12-0)

8U Boys Greco-Roman Results
49 pounds
1st Place - Bryan Alvarez of NM
2nd Place - Maxwell Roy of OK
3rd Place - Jett Joiner of MO
4th Place - Chevy Plank of KS

Round 1
Maxwell Roy (OK) won by tech fall over Chevy Plank (KS) (TF 12-1)
Bryan Alvarez (NM) won by tech fall over Jett Joiner (MO) (TF 9-0)
Round 2
Maxwell Roy (OK) won by decision over Jett Joiner (MO) (Dec 7-2)
Bryan Alvarez (NM) won by tech fall over Chevy Plank (KS) (TF 10-1)
Round 3
Bryan Alvarez (NM) won by fall over Maxwell Roy (OK) (Fall 1:33)
Jett Joiner (MO) won by fall over Chevy Plank (KS) (Fall 0:38)

53 pounds
1st Place - Brody Owens of KS
2nd Place - Sawyer Watkins of KS
3rd Place - Gabriel Tantillo of TX
4th Place - Koen Carder of OH

Round 1
Gabriel Tantillo (TX) won by tech fall over Koen Carder (OH) (TF 8-0)
Brody Owens (KS) won by tech fall over Sawyer Watkins (KS) (TF 8-0)
Round 2
Brody Owens (KS) won by fall over Gabriel Tantillo (TX) (Fall 1:00)
Sawyer Watkins (KS) won by tech fall over Koen Carder (OH) (TF 13-2)
Round 3
Sawyer Watkins (KS) won by tech fall over Gabriel Tantillo (TX) (TF 12-2)
Brody Owens (KS) won by fall over Koen Carder (OH) (Fall 0:12)

56 pounds
1st Place - Max Corrado of NE
2nd Place - Boden Davis of AR

Round 1
Max Corrado (NE) won by fall over Boden Davis (AR) (Fall 0:39)
Round 2
Max Corrado (NE) won by decision over Boden Davis (AR) (Dec 11-5)

62 pounds
1st Place - Axel Forsman of TX
2nd Place - Zeke Touchatt of KS
3rd Place - Javon Dean of TX

Round 1
Axel Forsman (TX) won by tech fall over Zeke Touchatt (KS) (TF 8-0)
Round 2
Axel Forsman (TX) won by fall over Javon Dean (TX) (Fall 0:54)
Round 3
Zeke Touchatt (KS) won by tech fall over Javon Dean (TX) (TF 12-1)

70 pounds
1st Place - Beau Blevins of KS
2nd Place - Declan Hardy of NE
3rd Place - Lincoln Valentin of TX

Round 1
Declan Hardy (NE) won by tech fall over Lincoln Valentin (TX) (TF 12-3)
Round 2
Beau Blevins (KS) won by tech fall over Declan Hardy (NE) (TF 8-0)
Round 3
Beau Blevins (KS) won by tech fall over Lincoln Valentin (TX) (TF 8-0)

8U Girls Freestyle Results
50 pounds
1st Place - Hailey Lollis of OK
1st Place Match
Hailey Lollis (OK) received a bye () (Bye)

55 pounds
1st Place - Rylie Meitler of KS

60 pounds
1st Place - Norah Albadri of MO

1st Place Match
Norah Albadri (MO) received a bye () (Bye)

Exhibition 53-58
1st Place - Norah Albadri of MO
2nd Place - Rylie Meitler of KS

1st Place Match
Norah Albadri (MO) won by fall over Rylie Meitler (KS) (Fall 0:57)