News
USA Wrestling
High School & Youth
USAW
Ross, Knaack dominant in quest for Triple Crown at USMC 16U Greco-Roman Nationals; Team race developing between traditional powers
by Jason Bryant, Special to TheMat.com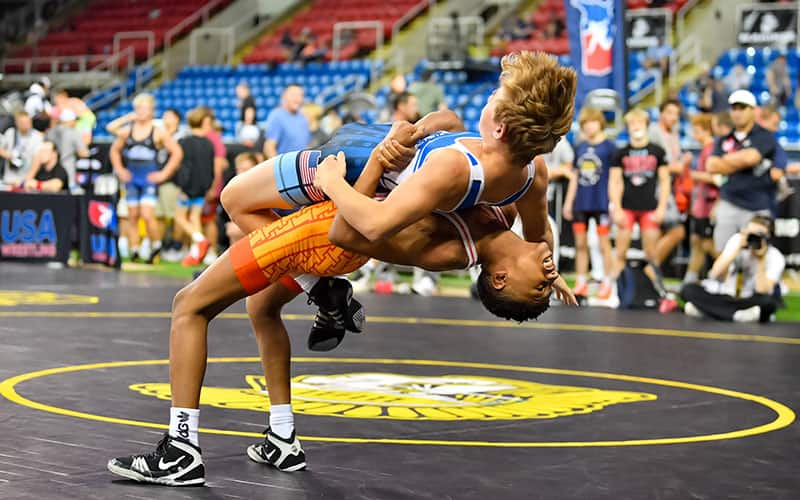 Caleb Noble (IL) with a big back arch throw during the 2023 16U Greco-Roman Nationals. Photo by Ty Lundquist, Mat Focus.

Fargo, North Dakota – Another day, another record-setting round in the Fargodome.
Eleven of the 12 past 16U champions, including three returning 16U Greco-Roman champions, survived to the reach the quarterfinals as the first session of the classic style got underway on Friday at the 2023
USMC 16U National Greco-Roman Championships
on the campus of North Dakota State University in Fargo, North Dakota.
A new record of 1,204 16U Greco-Roman combatants took to the 30 mats on Friday. Illinois and Iowa both have 13 wrestlers alive in the quarterfinals, followed by Pennsylvania's 11 and Ohio's 10. Illinois is trying to reclaim the team title for the first time since 2019. Iowa still has a tournament-leading 23 wrestlers left in the consolation rounds, followed by Illinois and Pennsylvania, which both have 19.
Thirty-six different states have wrestlers alive in the quarterfinals.
A pair of wrestlers from Iowa continued their drive towards the USA Wrestling 16U Triple Crown and they did it in dominant fashion.
Dreshaun Ross
spent exactly a minute on the mat – combined – in a trio of 8-0 technical fall wins to start his day at 195 pounds. Ross will face Tennessee's Standford Thompson in the quarterfinals.
Kyler Knaack
went 4-0 at 152 pounds, earning three technical falls on the way to the quarterfinals. Knaack will face Iowa teammate Keaton Moeller on Saturday morning.
Freestyle champion
Jarrett Smith
of Michigan went 2-0 to reach the quarterfinals at 94 pounds. Smith beat Daemen Duemmel of Missouri 8-0 and followed with an 8-0 win over Austin Hagevold of Illinois. Smith will face Tennessee's
Jose Cordero,
a returning Greco-Roman All-American and a freestyle placer earlier in the week. Iowa's
Hayden Schwab
will face Oklahoma's
Cason Craft
in another solid quarterfinal – both placed earlier in the week in freestyle.
At 100 pounds, returning Greco champion
Caleb Noble
of Illinois was expeditious in his wrestling on the first day, winning all three bouts by technical fall in just over a minute. The freestyle runner-up who won Greco for Wisconsin last year, will face Indiana's
Jensen Boyd
in the quarterfinals. A freestyle finals rematch with
Shamus Regan
of Tennessee was thwarted when Virginia's
Carter Shin
upended Regan 9-8 in the quarterfinals, hitting a four-point headlock in the closing seconds to tie the bout 8-8 but lead on criteria. Shin got the ninth point on a lost challenge.
Kentucky's
Jayden Raney
spent under a minute on the mat in his first two wins at 120 pounds. He moved into the quarterfinals with a stingy 5-2 win over freestyle All-American Deven Casey of Illinois. Raney will take on Georgia's
Josiah Boyde
n. Returning All-American
Maximus Riggins
is also in the top side of the bracket and will face Arizona's appropriately named
Gus Cardinal
. Colorado's
Austin Collins
, a 14U champion, will face returning All-American
Evan Sanati
of Virginia.
Colorado's returning Greco champion
Thomas Verrette
and this week's freestyle champion
Blue Stiffler
of Georgia are on a collision course on the top side of the bracket at 138 pounds. Verrette is 3-0 with a tech and a pin, while Stiffler is 4-0 with three techs. Verrette will face Virginia's freestyle All-American
Tyler Traves
while Stiffler will take on Washington's returning Greco All-American
Tre Haines
.
Three more 16U freestyle champions were impressive – Pennsylvania's
Melvin Miller
at 145 pounds, Illinois'
Aaron Stewart
at 160 pounds and Florida's
Michael Mocco
at 220 pounds combined to win eight of nine bouts by technical fall. The only non tech was Mocco's 29-second fall.
Illinois
' Bruno Cassioppi's
move up to 16U continues to go well. A freestyle runner-up earlier in the week, Cassioppi won three matches to start the tournament, including a win over freestyle All-American Zaiyahn Ornelas of Nebraska in the Round of 16 at 106 pounds. Cassioppi will face returning Greco-Roman All-American
Saxton Scott
of Idaho in the quarterfinals.
At 113 pounds, past 14U champion and 2023 freestyle All-American
Will Detar
of Pennsylvania is off to a 3-0 start. He pushed himself into the quarterfinals with an 11-4 win over freestyle All-American Rider Sequine of Idaho. Detar will face
Czar Quintanilla
of Washington on Saturday morning. Oklahoma's
Hunter Knox
upended returning Greco All-American Boden Banta of Idaho in the opening round and then won two more bouts to reach the quarterfinals where he'll face West Virginia's
Dominic Way
.
2023 USMC U16 GRECO-ROMAN NATIONALS
At Fargo, N.D.

Quarterfinals pairings
88 pounds
Hudson Chittum (Tennessee) vs. Urijah Courter (Iowa)
Landon Thoennes (Minnesota) vs. Loc Webber (Ohio)
Vincent Demarco (Illinois) vs. Eric Bice (Nevada)
Jameson Thomas (Alabama) vs. Kaden Oldroyd (Utah)
94 pounds
Daniel Goodwin (Illinois) vs. Kellen Downing (Montana)
Jarrett Smith (Michigan) vs. Jose Cordero (Tennessee)
Chase Kastner (Connecticut) vs. Eli Herring (Pennsylvania)
Hayden Schwab (Iowa) vs. Cason Craft (Oklahoma)
100 pounds
Caleb Noble (Illinois) vs. Jensen Boyd (Indiana)
Dylan Ota (Texas) vs. Tanner Tran (Tennessee)
Christopher Swann (Georgia) vs. Carter Shin (Virginia)
Drew Dawson (Oregon) vs. James Hemmila (Illinois)
106 pounds
Saxton Scott (Idaho) vs. Bruno Cassioppi (Illinois)
Christopher Grossman (Montana) vs. Carter Kendrick (South Dakota)
Konner Blaney (Ohio) vs. Caleb Schaefer (Indiana)
Alexander Pierce (Iowa) vs. Eric Casula (Oklahoma)
113 pounds
Hunter Knox (Oklahoma) vs. Dominic Way (West Virginia)
Titan Friederichs (Minnesota) vs. Dominic Thomas (Washington)
Czar Quintanilla (Washington) vs. Will Detar (Pennsylvania)
Khimari Manns (Ohio) vs. Jack Baron (Pennsylvania)
120 pounds
Jayden Raney (Kentucky) vs. Josiah Boyden (Georgia)
Gus Cardinal (Arizona) vs. Maximus Riggins (Iowa)
Evan Sanati (Virginia) vs. Austin Collins (Colorado)
Jacob Morris (Alaska) vs. Blaze Van Gundy (Ohio)
126 pounds
Zaydrein Hernandez (California) vs. Valentine Popadiuc (New Mexico)
Ned Kauffman (Pennsylvania) vs. Devon Miller (Oklahoma)
Zayn Navarrete (Texas) vs. Maksim Mukhamedaliyev (Illinois)
Isaiah Jones (Oklahoma) vs. Timothy Koester (Iowa)
132 pounds
Manuel Saldate (Nevada) vs. Austin Paris (Utah)
Jacob Herm (Wisconsin) vs. Jake Miller (Oklahoma)
Wyatt Medlin (Illinois) vs. Bryce Palmer (Texas)
Connor Peterson (Minnesota) vs. Declan Koch (Wisconsin)
138 pounds
Thomas Verrette (Colorado) vs. Tyler Traves (Virginia)
Blue Stiffler (Georgia) vs. Tre Haines (Washington)
Derek Barrows (Colorado) vs. Noah Bull (Utah)
Dane Renick (Arkansas) vs. Colton Weiler (Wisconsin)
145 pounds
Nathaniel Askew (Georgia) vs. Luis Alberto-Desilva (Pennsylvania)
Londen Murphy (Ohio) vs. Gabriel Logan (New Jersey)
Melvin Miller (Pennsylvania) vs. Kawayran Vazquez (Florida)
Daniel Gonzalez, Jr. (Nebraska) vs. Nolan Fellers (Iowa)
152 pounds
Joseph Jeter (Oklahoma) vs. Jimmy Mastny (Illinois)
Cooper Rowe (Minnesota) vs. Brandon Dean (New Jersey)
Eli Esguerra (Ohio) vs. Gage Losiewicz (Wisconsin)
Kyler Knaack (Iowa) vs. Keaton Moeller (Iowa)
160 pounds
Aaron Stewart (Illinois) vs. Achilles Evans (Colorado)
Owen Woll (Pennsylvania) vs. Maximus Norman (Tennessee)
Bradley Rodriguez-Little (Minnesota) vs. Jake Rheaume (Georgia)
Kalob Ybarra (Colorado) vs. Emmitt Sherlock (Maryland)
170 pounds
Kyle Scott (Pennsylvania) vs. Anthony Kroninger (Ohio)
Broedy Collins Hendricks (Iowa) vs. Bridger Foss (Oregon)
Carter Brown (Missouri) vs. Shawn Rounsaville, Jr (Oklahoma)
Junior Bumanglag (California) vs. Terrell Mcfarland (Pennsylvania)
182 pounds
Nicholas Ronchetti (Illinois) vs. Matt King (Washington)
Brayden Koester (Iowa) vs. Jackson Rotterman (Missouri)
Evan Perez (Colorado) vs. Adonis Bonar II (Nebraska)
Miguel Rojas (Indiana) vs. Ryder Wilder (Georgia)
195 pounds
Dreshaun Ross (Iowa) vs. Standford Thompson (Tennessee)
Kaleb Jackson (New Jersey) vs. Jaxon Penovich (Illinois)
David Calkins (California) vs. Danny Zmorowski (Ohio)
Wura Yinusa (Oklahoma) vs. Jake Conroy (Pennsylvania)
220 pounds
Michael Mocco (Florida) vs. Clayton Danielson (Minnesota)
Mason Koehler (Iowa) vs. Alex Taylor (Ohio)
James Bechter (Ohio) vs. Garett Kawczynski (Wisconsin)
Brycen Arthur (West Virginia) vs. Kai Calcutt (Illinois)
285 pounds
Trayvn Boger (Utah) vs. James Hartleroad (Indiana)
Micah Hach (South Dakota) vs. Mark Effendian (Pennsylvania)
Jonathan Romo (Kansas) vs. Cooper Martinson (Iowa)
Jonathan Rulo (Illinois) vs. Brayden Hill (Kansas)
Quarterfinalists by State
Illinois (13), Iowa (13), Pennsylvania (11), Ohio (10), Oklahoma (9), Colorado (6), Georgia (6), Minnesota (6), Tennessee (5), Wisconsin (5), Indiana (4), Utah (4), Washington (4), California (3), New Jersey (3), Texas (3), Virginia (3), Florida (2), Kansas (2), Missouri (2), Montana (2), Nebraska (2), Nevada (2), Oregon (2), South Dakota (2), West Virginia (2), Alabama (1), Alaska (1), Arizona (1), Arkansas (1), Connecticut (1), Idaho (1), Kentucky (1), Maryland (1), Michigan (1), New Mexico (1