News
USA Wrestling
International
Beach
Women
USAW
Loethen, Cook, Shalack win pool bouts at Beach World Series in Singapore, with World Beach Games berths on the line
by Gary Abbott, USA Wrestling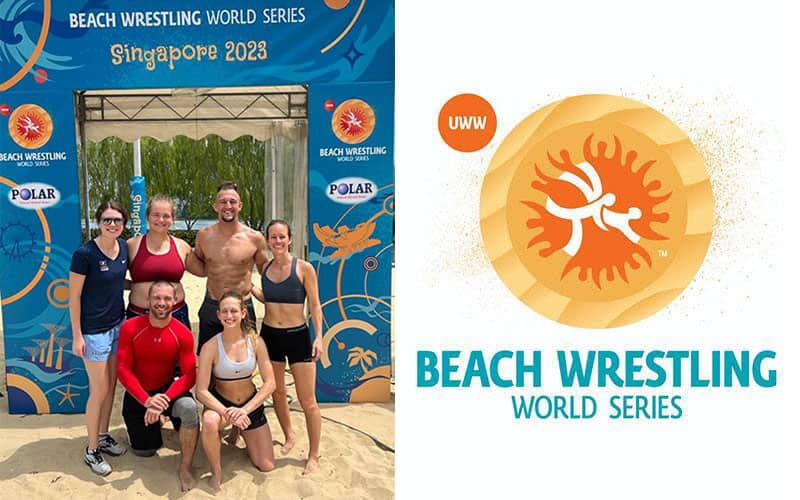 USA Team photo courtesy of Laura White
.
SINGAPORE – Three U.S. athletes won at least one bout during the pool competition at the
Beach World Series in Singapore
, which started on Saturday.
This is the fifth and final UWW Beach World Series event which is a qualifier for the 2023 World Beach Games in Bali, Indonesia. Team USA brought five athletes to Singapore, all who have a chance to secure the United States a berth in World Beach Games. From these five specific qualifiers, athletes from the top eight nations in each of the eight Beach World Series weight classes (four women's weights, four men's weights) qualify their nation to compete in the World Beach Games in Bali in August.
The first two rounds of competition were held on Saturday, with each wrestler getting two bouts in their Group of four wrestlers. Three U.S. wrestlers secured at least one victory,
Ty Loethen
of Columbia, Mo. at 80 kg in men's wrestling,
Mitch Cook
of Orland Park, Ill. at 70 kg in men's wrestling and
Isabeau Shalack
of Oak Lawn, Ill. at Over 70 kg in women's wrestling.
Coming into Singapore, in the World Beach Games qualifying standings, Cook is at No. 6 at 70 kg, Shalack is at No. 6 at Over 70 kg and Loethen is at No. 7 at 80 kg.
Loethen won both of his matches in Group D, with a 3-0 decision over Ewan Emile LePrince of France and a pin of Peilong Li of China in 30 seconds. To win his Group, Loethen needs one more win on Sunday against Kamruzzaman of Bangladesh (who lost twice on Saturday) and advance to the knockout round bracket quarterfinals. With a loss, Loethen could still advance if he places in the top two of his Group.
Cook and Shalack had 1-1 records during their Group competitions on Saturday.
Cook opened with a 3-1 loss to Yoshiki Yamada of Japan, then rebounded with a 3-1 win over Brian Oloo of Kenya. His fate will be determined on Sunday morning in his final Group C match against Oleksii Boruta of Ukraine.
Shalack opened with a 3-0 win against Naomi Rachel DeBruine of Australia, then dropped a tight 1-0 match to Catalina Axente of Romania, who is No. 1 ranked in the World Beach Games qualifying standings. Her final Group A match will be against Angelique Gonzalez of France, who is one place ahead of Shalack in the World Beach Games qualifying rankings.
The two other U.S. women athletes lost both of their Group matches on Saturday,
Laura White
of Duanesburg, N.Y. at 50 kg and
Mia Macaluso
of Otisville, N.Y. at 60 kg. Both will have at least one more match on Sunday morning, with a must-win situation if they are to advance from their pool.
Coming into Singapore, Macaluso is No. 5 at 60 kg and White is No. 6 at 50 kg in the World Beach Games qualifying standings.
Competition resumes on Sunday with the completion of the Group Rounds at 10:00 a.m. local time, followed by the Elimination Rounds and Finals at 4:30 p.m. local time. Singapore is 12 hours ahead of U.S. Eastern time zone.
The event will be broadcast live by FloWrestling.
BEACH WORLD SERIES

At Singapore, June 10-11


U.S. Senior Women's results
50 kg: Laura White, Duanesburg, N.Y. (Curby 3 Style WC)
Group B matches
LOSS Emine Cataloglu (Turkey), 3-0, 0:59
LOSS Xiaomin Xie (China), 3-1, 0:35
Vs. Ting Mei Seow (Singapore)
60 kg: Mia Macaluso, Otisville, N.Y.
Group C matches
LOSS Maria Baez Dilone (Spain), 3-0, 0:49
LOSS Dulguun Bolormaa (Mongolia), 3-0, 0:39
Vs. Anastasiya Kravchenko (Ukraine)
+70 kg: Isabeau Shalack, Oak Lawn, Ill. (Evergreen Park Stallions WC)
Group A matches
WIN Naomi Rachel De Bruine (Australia), 3-0, 1:08
LOSS Catalina Axente (Romania), 1-0
Vs. Angelique Gonzalez (France)
U.S. Senior Men's results
70kg: Mitch Cook, Orland Park, Ill. (Natural Athlete WC)
Group C matches
LOSS Yoshiki Yamada (Japan), 3-1, 1:00
WIN Brian Oloo (Kenya), 3-1, 1:00
Vs. Oleksii Boruta (Ukraine)
80kg: Ty Loethen, Columbia, Mo. (Purler Wrestling Academy)
Group D matches
WIN Ewan Emile LePrince (France), 3-0, 0:57
WIN Peilong Li (China), pin 0:35
Vs. Kamruzzaman (Bangladesh)