News
USA Wrestling
International
Beach
Women
USAW
Loethen places fifth, Shalack sixth at Beach World Series in Singapore, the final World Beach Games qualifier
by Gary Abbott, USA Wrestling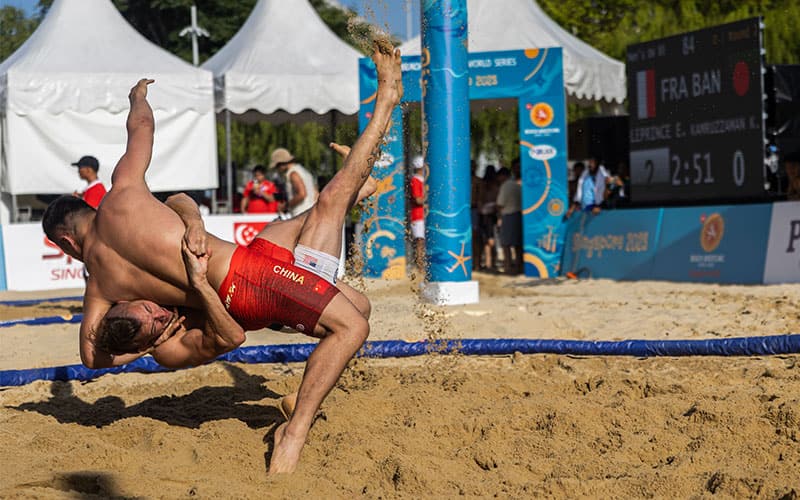 Ty Loethen (USA) tosses Peilong Li (China) for a pin at 80 kg at the Beach World Series in Singapore. UWW Photo by Cheem Photography
Two U.S. wrestlers placed in the top six of their weight class at the Beach World Series in Singapore on Sunday, the second UWW Beach World Series of the 2023 season.
Ty Loethen of Columbia, Mo. placed fifth at 80 kg in the men's division and Isabeau Shalack of Oak Lawn, Ill. finished sixth at Over 70 kg in the women's division, the top two finishes among the five U.S. wrestlers competing in Singapore.
This was the fifth and final UWW Beach World Series event which is a qualifier for the 2023 World Beach Games in Bali, Indonesia. Three of the qualifiers were held in 2022 and two in 2023. From these five specific qualifiers, athletes from the top eight nations in each of the eight Beach World Series weight classes (four women's weights, four men's weights) qualified their nation to compete in the World Beach Games in Bali in August.
Although UWW has not yet published the final standings of the World Beach Games qualifying process, Loethen and Shalack have secured the United States a berth in the Bali at their weight classes. Coming into Singapore, Loethen was ranked No. 7 for Bali and Shalack was ranked No. 6 for Bali.
Individual athlete does not qualify themselves for the World Beach Games, but earn their nation a place in the competition.
Loethen won his third pool match on Sunday morning, a pin in 2:02 over Kamruzzaman of Bangladesh. That made him 3-0 in Group D, winning his group and advancing into the knockout bracket quarterfinals. He was beaten in the quarterfinals by Ngor Niahkhe of Senegal with a pin in 0:09. Based upon his results from the entire event, Loethen placed fifth.
Shalack, who went 1-1 on the first day of competition, finished Group A with an injury default victory over Angelique Gonzalez of France. That placed Shalack second in Group A. However, this did not advance her to the knockout round semifinals, which included the three Group winners, plus Group B runner-up Noelia Canda of Spain.
The three other U.S. athletes entered in the tournament were also in a top eight position heading into Singapore. All three picked up valuable points in Singapore towards the World Beach Games and also have looked to secure the qualifying positions for Team USA.
We will await the final standings published by United World Wrestling before declaring their final placement in the Bali qualifying standings.
Laura White of Duanesburg, N.Y. finished ninth at 50 kg in the women's division. She lost her two matches on Saturday, then picked up an injury default win on Sunday morning to place third in Group B. Coming into Singapore, White was No. 6 in the Bali qualifying standings, and added 3,500 points to her total.
Mia Macaluso of Otisville, N.Y., placed 10th at 60 kg in the women's division. She finished the Singapore event with an 0-3 record, falling in her Sunday match to Anastasiya Kravchenko of Ukraine by pin. Macaluso was fourth in Group C. Macaluso was No. 5 in the Bali qualifying standings coming into Singapore and added 3,100 points to her total.
Mitch Cook of Orland Park, Ill. finished 11th at 70 kg in the men's division. He finished his Group C competition with a 1-2 record, losing his Sunday morning bout to Oleksii Boruta of Ukraine, 3-0. That placed Cook third in Group C. Cook came into Singapore ranked No. 6 in the Bali qualifying standings, and added 2,800 points to his total.
Once the official UWW standings for the World Beach Games are published, USA Wrestling will announce which athletes have qualified themselves for Bali, and in which weight classes there will be a special wrestle-off between the Bali qualifier and the 2023 U.S. Senior Beach Nationals champion.
BEACH WORLD SERIES
At Singapore, June 10-11

Men's Medalists
70 kg
Gold - Oleksii Boruta (Ukraine)
Silver - Shijian Zhou (China)
Bronze - Levan Kelekhsashvili (Georgia)
80 kg
Gold - Nika Kentchadze (Georgia)
Silver - Vasyl Mykhailov (Ukraine)
Bronze - Ngor Niakhe (Senegal)
90 kg
Gold - Dato Piruzashvili (Georgia)
Silver - Mahmut Ozkaya (Turkey)
Bronze - Ibrahim Yusubov (Azerbaijan)
Over 90 kg
Gold - Mamuka Kordzaia (Georgia)
Silver - Richard Vegh (Hungary)
Bronze - Modou Faye (Senegal)
Women's Medalists
50 kg
Gold - Stefania Priceputu (Romania)
Silver - Samnang Dit (Cameroon)
Bronze - Xiaomin Xie (China)
60 kg
Gold - Yue Zhang (China)
Silver - Anastasiya Kravchenko (Ukraine)
Bronze - Daria Medvetska (Ukraine)
70 kg
Gold - Oksana Herhel (Ukraine)
Silver - Olena Nikitinska (Ukraine)
Bronze - Manon Kury (France)
Over 70 kg
Gold - Catalina Axente (Romania)
Silver - Liudmyla Pavlovets Tychyna (Ukraine)
Bronze - Stefania Zacheila (Greece)
U.S. Senior Women's results
50 kg: Laura White, Duanesburg, N.Y. (Curby 3 Style WC), 9th place
LOSS Emine Cataloglu (Turkey), 3-0, 0:59
LOSS Xiaomin Xie (China), 3-1, 0:35
WIN Ting Mei Seow (Singapore), inj. dft. 0:03
60 kg: Mia Macaluso, Otisville, N.Y., 10th place
LOSS Maria Baez Dilone (Spain), 3-0, 0:49
LOSS Dulguun Bolormaa (Mongolia), 3-0, 0:39
LOSS Anastasiya Kravchenko (Ukraine), pin, 0:13
+70 kg: Isabeau Shalack, Oak Lawn, Ill. (Evergreen Park Stallions WC), 6th place
WIN Naomi Rachel De Bruine (Australia), 3-0, 1:08
LOSS Catalina Axente (Romania), 1-0
WIN Angelique Gonzalez (France), inj. dft., 0:03
U.S. Senior Men's results
70kg: Mitch Cook, Orland Park, Ill. (Natural Athlete WC), dnp/11th place
LOSS Yoshiki Yamada (Japan), 3-1, 1:00
WIN Brian Oloo (Kenya), 3-1, 1:00
LOSS Oleksii Boruta (Ukraine), 3-0, 1:50
80kg: Ty Loethen, Columbia, Mo. (Purler Wrestling Academy), 5th place
WIN Ewan Emile LePrince (France), 3-0, 0:57
WIN Peilong Li (China), pin 0:35
WIN Kamruzzaman (Bangladesh), pin 2:02
LOSS Ngor Niahkhe (Senegal), pin 0:09