News
USA Wrestling
International
Women
College
USAW
Steveson, Gray, Schultz among winners of first bout of their Final X Series; second matches set for 6 p.m. ET
by Gary Abbott, USA Wrestling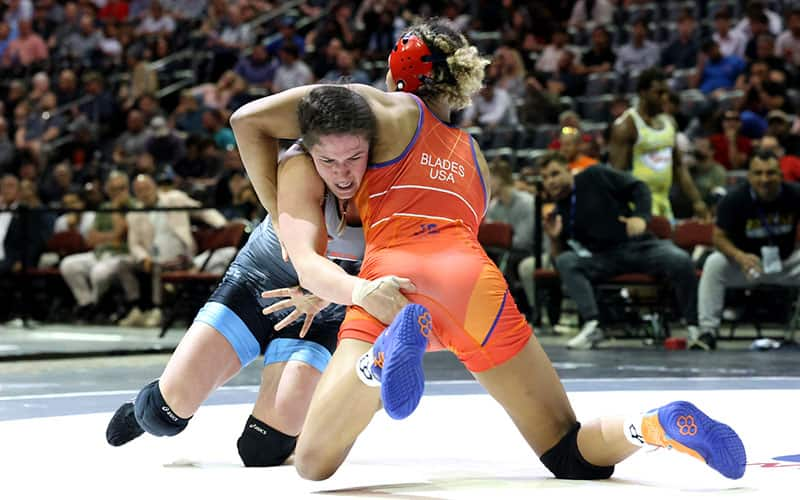 Adeline Gray takes down Kennedy Blades at 76 kg in first session of Final X. Photo by Anne Sachs, Tech-Fall.com

The first round of the Final X best-of-three series was held in Prudential Center this afternoon, with some amazing action and some upsets of note.
The second round will follow at 6:00 p.m. ET, live on FloWrestling.
Men's freestyle winners in the first round of their best-of-three series were Zane Richards (57 kg), Vitali Arujau (61 kg), Nick Lee (65 kg), Zain Retherford (70 kg), Kyle Dake (74 kg), Jordan Burroughs (79 kg), David Taylor (86 kg), Zahid Valencia (92 kg), Kyle Snyder (97 kg) and Gable Steveson (125 kg).
Richards scored a takedown with about 20 seconds left to secure a 4-3 win over World champion and Olympic medalist Gilman, who scored three one-point scores during the match.
Arujau won a battle of Cornell grads, getting a big four-point move on the way to a 6-5 win over Nahshon Garrett.
Lee opened the match up over 2022 World silver medalist Yianni Diakomihalis with a caution and one, followed by a turn to lead 7-3 in the second period. Diakomihalis was able to close it to 7-6 when time ran out.
After giving up the first takedown, 2022 World silver medalist Retherford scored 11 straight points with a relentless attack to defeat Tyler Berger, 11-2.
Dake, a four-time World champion and Olympic medalist, shut out Jason Nolf, 6-0.
Olympic champion and six-time World champion Burroughs won his match over Chance Marsteller on criteria, 3-3, after a challenge showed Marsteller pulled on Burroughs' singlet in the closing seconds, with a caution and one point penalty call. Marsteller had broken a 2-2 tie with a step out point, and that was the score when time ran out before the Burroughs corner threw the challenge brick.
Olympic champion and two-time World champion Taylor was strong in his 6-0 decision over Aaron Brooks.
Valencia scored first period takedown and turn and went on to an 8-0 win over Michael Macchiavello. 8-0.
Olympic champion and three-time World champion Snyder did not have a match, as two-time World champion and Olympic medalist J'den Cox did not compete in an injury default. Cox can still wrestle the second round if he chooses.
Olympic champion Steveson scored takedowns in both periods on the way to a 6-2 win over Mason Parris.
Women's freestyle winners in the first round were Sarah Hildebrandt (50 kg), Dominique Parrish (53 kg), Jacarra Winchester (55 kg), Jennifer Page (59 kg), Kayla Miracle (62 kg), Macey Kilty (65 kg), Emma Bruntil (68 kg), Amit Elor (72 kg) and Adeline Gray (76 kg)
Hildebrandt, a World and Olympic medalist, was in control in an 8-0 shutout of high school star Audrey Jimenez.
Parrish, a 2022 World champion, pinned emerging star Katie Gomez in their first meeting.
Winchester, a 2019 World champion, got her offense untracked against U23 World medalist Alisha Howk, securing a 10-0 technical fall.
Page also got her offense untracked, finishing an 11-0 technical fall over Michaela Beck with a number of gut wrenches.
Miracle, a two-time World silver medalist, took over later in the match with a takedown and turn, to defeat Adaugo Nwachukwu, 6-1.
Kilty trailed two-time World bronze medalist Mallory Velte, 2-0, then turned her to tie it at 2-2 and secured a fall with 10 seconds left in the bout.
Bruntil stopped 2021 World bronze medalist Forrest Molinari, 6-3, with two key exposures in the second period.
2022 World Champion Elor was in total control in a 10-0 technical over Joye Levendusky.
Falling behind 5-0, six-time World champion and Olympic medalist Gray rallied back with three straight takedowns, including one on the buzzer to defeat Kennedy Blades, 7-5.
Greco-Roman winners in the first round were Dalton Duffield (55 kg), Ildar Hafizov (60 kg), Xavier Johnson (63 kg), Alejandro Sancho (67 kg), Justice Scott (72 kg), Kamal Bey (77 kg), Spencer Woods (82 kg), Alan Vera (87 kg), Josef Rau (97 kg) and Cohlton Schultz (130 kg)
Duffield scored his points on two big throws in an 8-0 technical fall victory over Brady Koontz.
Hafizov, a two-time Olympian, was able to pin his Army WCAP teammate and past World Team member Dalton Roberts in their opening battle. This is the third Final X pairing between these two wrestlers.
Johnson, a former Marine now with Army WCAP, had some big throws in a 10-1 technical fall over Hayden Tuma.
Sancho, a 2020 Olympian, broke open a tight match in the second period to secure a 3-2 win over U.S. Open champion Robert Perez III.
Scott, a 2023 U.S. Open champion, claimed a 3-3 criteria decision over three-time World Team member Patrick Smith.
Bey, a two-time World Team member, finished off his 9-0 technical fall over Aliaksandr Kikiniou with a four-point throw.
Woods, who competed at the 2022 Senior Worlds, also won a 3-3 criteria decision over Army WCAP teammate Ryan Epps.
Vera, a two-time World Team member, unleashed his offense in an 11-0 win over college star Zachary Braunagel.
Rau, a two-time World Team member, won a tight 3-2 win over Christian Dulaney.
Two-time World Team member Schultz edged 2018 World silver medalist Adam Coon.
Final X First Session Results
At Newark, N.J., June 10
Men's freestyle
57 kg – Thomas Gilman (Nittany Lion WC/Titan Mercury WC) vs. Zane Richards (Illinois RTC/Titan Mercury WC)
Bout One: Richards dec. Gilman, 4-3
Bout Two: At 6:00 p.m. session
61 kg – Vitali Arujau (Spartan Combat RTC/Titan Mercury WC) vs. Nahshon Garrett (Titan Mercury WC/Lehigh Valley WC)
Bout One: Arujau dec. Garrett, 6-5
Bout Two: At 6:00 p.m. session
65 kg –Nick Lee (Nittany Lion WC/Titan Mercury WC) vs. Yianni Diakomihalis (Spartan Combat RTC/Titan Mercury WC)
Bout One: Lee dec. Diakomihalis, 7-6
Bout Two: At 6:00 p.m. session
70 kg – Zain Retherford (Nittany Lion WC/Titan Mercury WC) vs. Tyler Berger (Pennsylvania RTC/Sunkist Kids WC)
Bout One: Retherford dec. Berger, 11-2
Bout Two: At 6:00 p.m. session
74 kg – Kyle Dake (Nittany Lion WC/Titan Mercury WC) vs. Jason Nolf (Nittany Lion WC/Titan Mercury WC)
Bout One: Dake dec. Nolf, 6-0
Bout Two: At 6:00 p.m. session
79 kg – Jordan Burroughs (Pennsylvania RTC/Sunkist Kids WC) vs. Chance Marsteller (York City RTC/Titan Mercury WC)
Bout One: Burroughs dec. Marsteller, 3-3
Bout Two: At 6:00 p.m. session
86 kg – David Taylor (Nittany Lion WC/Titan Mercury WC) vs. Aaron Brooks (Nittany Lion WC/Titan Mercury WC)
Bout One: Taylor dec. Brooks, 6-0
Bout Two: At 6:00 p.m. session
92 kg –. Zahid Valencia (Sunkist Kids WC) vs. Michael Macchiavello (Wolfpack WC/Titan Mercury WC)
Bout One: Valencia dec. Macchiavello, 8-0
Bout Two: At 6:00 p.m. session
97 kg – Kyle Snyder (Nittany Lion WC/Titan Mercury WC) vs. J'den Cox (Cliff Keen WC/Titan Mercury WC)
Bout One: Snyder inj. dft. Cox, 0:00
Bout Two: At 6:00 p.m. session
125 kg – Gable Steveson (Gopher WC-RTC) vs. Mason Parris (Cliff Keen WC/Titan Mercury WC)
Bout One: Steveson dec. Parris, 6-2
Bout Two: At 6:00 p.m. session
Women's freestyle
50 kg – Sarah Hildebrandt (New York AC/USOPTC) vs. Audrey Jimenez (Sunkist Kids WC)
Bout One: Hildebrandt dec. Jimenez, 8-0
Bout Two: At 6:00 p.m. session
53 kg – Dominique Parrish (Sunkist Kids WC) vs. Katie Gomez (Sunkist Kids WC)
Bout One – Parrish pin Gomez, 1:54
Bout Two: At 6:00 p.m. session
55 kg –Jacarra Winchester (Titan Mercury WC/USOPTC) vs. Alisha Howk (Sunkist Kids WC)
Bout One: Winchester tech fall Howk, 10-0
Bout Two: At 6:00 p.m. session
59 kg –Jennifer Page (Titan Mercury WC/Nittany Lion WC) vs. Michaela Beck (Sunkist Kids WC)
Bout One: Page tech fall Beck, 11-0
Bout Two: At 6:00 p.m. session
62 kg – Kayla Miracle (Sunkist Kids WC) vs. Adaugo Nwachukwu (Titan Mercury WC)
Bout One: Miracle dec. Nwachukwu, 6-1
Bout Two: At 6:00 p.m. session
65 kg – Macey Kilty (Sunkist Kids WC) vs. Mallory Velte (Beaver Dam RTC/Titan Mercury WC)
Bout One: Kilty pin Velte, 5:50
Bout Two: At 6:00 p.m. session
68 kg – Emma Bruntil (Titan Mercury WC/USOPTC) vs. Forrest Molinari (Sunkist Kids WC)
Bout One: Bruntil dec. Molinari, 6-3
Bout Two: At 6:00 p.m. session
72 kg – Amit Elor (New York City RTC/Titan Mercury WC) vs. Joye Levendusky (Southern Oregon RTC)
Bout One: Elor tech. fall Levendusky, 10-0
Bout Two: At 6:00 p.m. session
76 kg –Adeline Gray (New York AC) vs. Kennedy Blades (Sunkist Kids WC)
Bout One: Gray dec. Blades, 7-5
Bout Two: At 6:00 p.m. session
Greco-Roman
55 kg – Brady Koontz (Titan Mercury WC/Dubuque RTC) vs. Dalton Duffield (Army WCAP)
Bout One – Duffield tech fall Koontz, 8-0
Bout Two: At 6:00 p.m. session
60 kg –Ildar Hafizov (Army WCAP) vs. Dalton Roberts (Army WCAP)
Bout One: Hafizov pin Roberts, 4:01
Bout Two: At 6:00 p.m. session
63 kg –Xavier Johnson (Army WCAP) vs. Hayden Tuma (Suples WC)
Bout One: Johnson tech fall Tuma, 10-1
Bout Two: At 6:00 p.m. session
67 kg –. Alejandro Sancho (Army WCAP) vs. Robert Perez III (Sunkist Kids WC)
Bout One: Sancho dec. Perez III, 3-2
Bout Two: At 6:00 p.m. session
72 kg – Justus Scott (Army WCAP) vs. Patrick Smith (Minnesota Storm)
Bout One: Scott dec. Smith, 3-3
Bout Two: At 6:00 p.m. session
77 kg – Kamal Bey (Army WCAP) vs. Aliaksandr Kikiniou (California)
Bout One: Bey tech fall Kikiniou, 9-0
Bout Two: At 6:00 p.m. session
82 kg – Spencer Woods (Army WCAP) vs. Ryan Epps (Army WCAP)
Bout One: Woods dec. Epps, 3-3
Bout Two: At 6:00 p.m. session
87 kg – Alan Vera (New York AC) vs. Zachary Braunagel (Illinois RTC/Illini WC)
Bout One: Vera tech fall Braunagel, 11-0
Bout Two: At 6:00 p.m. session
97 kg – Josef Rau (Titan Mercury WC) vs. Christian DuLaney (Minnesota Storm)
Bout One: Rau dec. DuLaney, 3-2
Bout Two: At 6:00 p.m. session
130 kg – Cohlton Schultz (Sunkist Kids WC) vs. Adam Coon (Cliff Keen WC/New York AC)
Bout One: Schultz dec. Coon 3-2
Bout Two: At 6:00 p.m. session